Hemp-derived Delta 10 THC is in a grey area in the Treasure State, as all THCs, even from hemp, are still a controlled substance. The questions remain; Is Delta 10 THC legal in Montana and available to purchase?
Can you order it online? What do you need to know before ordering a product like this from out of state or even locally?
Let's explore all your options!
Main Keypoints:
Delta 10 THC is a robust, best-in-class innovation with mildly intoxicating properties.
Delta 10 THC is a controlled substance in Montana.
Recreational Use of Marijuana is legal in Montana.
Delta 10 may be considered legal federally, but that's still debatable.
The Federal Government hasn't decided whether or not Delta 10 THC is real tetrahydrocannabinol.
The legislation banned synthetic substances that replicate the effects of THC.

Is Delta 10 THC Legal in Montana?
As of now, the answer is questionable. The state law doesn't explicitly say it's prohibited.
However, the state law does say all plants related to Cannabis, such as hemp, should not have more than 0.30% Delta 9 THC on a dry weight basis and still includes all THCs, including Delta 10 THC, as controlled substances. After the 2018 farm bill, the state legalized hemp.
The law seems to target what amount the marijuana dispensaries can sell rather than possession of federally-compliant products made from hemp plants.
Online might be your safest bet if you cannot find Delta 10 THC locally.
What is Delta 10 THC, Anyway?
Delta 10 THC is a robust, best-in-class innovation with mildly intoxicating properties. This compound exists in minimal quantities, and even while isolating it from hemp plant extract, scientists can mistake other cannabinoids for D10 presence, as the process still needs to be refined.
The Delta 10 THC is known to leave you with an uplifting, energy-boosting "high" that simultaneously relaxes the body.
This substance is reported to provide the same effects as plant cannabis Sativa strains, but in a mellow manner, making it perfect for daytime use!
If you look at the hemp-derived cannabinoids Delta 8 THC, it will fall on one end of this spectrum because it's more of a soothing experience – makes it great for evening use, especially if it's tougher to wind before bedtime.
The scientists haven't formally picked up these cannabinoids yet and started the studies. This means that most formal information comes from anecdotal reports about how people who consumed them describe their experience: some said they felt nothing at all, while others mentioned elevated moods and increased mental clarity.

As mentioned earlier, the state of Montana's controlled substances act doesn't allow for an exception for hemp-derived THCs with more than 0.30% Delta 9 THC in them. While it classifies all THC as controlled substances, it hasn't explicitly mentioned a total Delta.
While shops in various cities sell D10, the safest bet might still be online.
At BiowellnessX, you'll find genuine, high-quality THC concentrates like our comprehensive and popular vegan THC gummies. There is no compromising on quality, and all of our hemp products are made with natural and organic ingredients, vegan, and made in the USA.
If you are in any of the cities listed below, you can check out the local dispensary to find Delta 10 THC products available in your jurisdiction.
Top 10 Cities in Montana:
Billings
Missoula
Great Falls
Bozeman
Helena
Kalispell
Anaconda
Belgrade
Livingston
Whitefish

Frequently check your local state laws to stay updated with all changes.
Understanding The Legalities of Delta 10 THC
Montana has listed THC isomers, salts, and derivatives as a Schedule I Controlled Substance. The legislation also banned synthetic substances that replicate the effects of THC because they are dangerous drugs to use!
Farm Bill
The Hemp Farming Act is a critical piece of legislation that impacts farmers, ranchers, and rural communities all across the U.S. Recently, there has been a lot of discussion about hemp-derived THCs such as Delta 10 THC in Montana and how it could impact the bill.
Delta 10 THC is a chemical compound that is mainly cultivated through hemp.
Many discussions have been going on lately about whether or not hemp-derived THCs should be included in the bill.
One of the main arguments is the intoxication level and how much hemp-derived trans tetrahydrocannabinol (THC) can be in a product. After the farm bill was put in place in 2018, the federal law accepted all products made from the hemp plant material and its isomers as long the total Delta 9 THC was to stay below the 0.30% mark on a dry weight basis,
Recreational Marijuana Is Now Legal In Montana
2022 started great for the citizens of Montana. You can possess and purchase up to one ounce of adult-use recreational marijuana with no criminal penalties.
You may also cultivate up to four mature marijuana plants and four seedlings.
With this new state law in place, the doors are starting to open, yet, the cannabis laws seem to target the sale of hemp products.
So the real question is, what is the plan in Montana? We'll have to wait for it and see. In the meantime, you can get Delta 10 THC products here.
Federal Law and Delta 10 THC
Delta 10 THC may be federally legal, but that's still debatable. The compound is manufactured in ways that can affect its legality, which has something to do with what kind of chemical ingredients are used during production.
This cannabinoid is so rare that it took labs months to find purer ways of isolating this molecule from hemp-derived material.
The lab initially confused its molecular structure when they separated the compound. It took chemists months to isolate this molecule and produce purer ways of doing so because typical manufacturing processes involve lots of chemicals, which isn't ideal for humans!
The DEA Still Says THC Is a Controlled substance.
The DEA has confirmed that all synthetically derived tetrahydrocannabinols remain Schedule I Controlled Substances.
Despite being created through a modification of hemp compounds and falling under their legal complexities, these THC-based compounds are still regulated by the government due to the potential for abuse liability with heavily modified molecules such as those found in the cannabis plant.
Federal legislation has yet to decide whether or not Delta 10 THC is real tetrahydrocannabinol. This means that Delta 10 THC is legal in most states and restricted in others, which creates a grey area.
Substances in such plants can have hallucinogenic substances; however, D10 has sown to have less than the more favorite Delta 9 THC.
Les Find Out If Delta 10 THC Fully Legal?
Although products derived from marijuana plants are considered controlled substances, they're still illegal in many states. However, THC products derived from the hemp plant are legal in most states due to a loophole in the 2018 Federal Farm Bill.
This opened the door for hemp-derived THC products to make their way into homes all over the country.
Delta 10 THC is commonly processed from hemp-derived CBD oil, as is Delta 8 THC, making Delta 10 THC legal on a federal level.
However, as with Delta 8 THC, certain states are trying to outlaw Delta 10 THC independently.
Does that mean you can order your Delta 10 THC products with us today?
Yes, you can.
We ship nationwide and directly to your door—fully compliant and federally legal hemp-derived products.
Order today and get free shipping with us.
Delta 10 THC Effects: What Does It Do To Your Body?
Delta 10 THC is one of many cannabinoids found in minimal amounts in the hemp plant. While this exciting cannabinoid extract is still very new to the cannabis market, researchers have concluded that it likely interacts with our endocannabinoid systems like other cannabinoids and THC compounds.
Our endocannabinoid system is a network of chemical messenger molecules and receptors found in all mammals.
Some scientists think that Delta 10 THC has a similar chemical structure to Delta 9, which interacts similarly with CB1 receptors at high levels.
Will Delta 10 THC Show Up In A Drug Test?
Here's the deal: drug testing won't be able to decipher what THC compound is in your body; test results won't differentiate between Delta 10 THC or Delta 9.
All forms of THC get broken down by the metabolism into THC metabolites, making it nearly impossible for most drug tests to tell the difference between the compounds.
If you think you might fail a drug test coming up (whether it's a blood test, urine test, saliva test, or hair follicle test), it's wise to avoid using Delta 10 THC for a couple of weeks and even more so if you have to take hair follicle tests (up to a whopping three months).
If you take Delta 10 THC often or in high doses (or any THC/cannabis for that matter), you should wait anywhere between 2 weeks and a month for it to be completely flushed from the body to pass a drug test safely.
Related Article: How Long Does Delta 10 Stay In Your System?
The Legal and the Restricted States
Most of the states in the U.S. are hemp friendly; those include but are not limited to Alabama, California, Connecticut, Florida, Georgia, Hawaii, Illinois, Indiana, Kansas, Maine, Maryland, Massachusetts, Michigan, Minnesota, Missouri, Nebraska, Nevada, New Hampshire, North Carolina, New Jersey, New Mexico, Ohio, Oklahoma, Oregon, Pennsylvania, South Carolina, South Dakota, Tennessee, Texas, Virginia, Washington, West Virginia, Wisconsin, Wyoming.
Other states like those below have decided to ban or regulate Delta 8 THC and Delta 10 THC.
Delta 8 THC and D10 THC are currently restricted in 14 states: Alaska, Arkansas, Colorado, Delaware, Idaho, Iowa, Montana, New York, Nevada, North Dakota, Rhode Island, Vermont, Utah, and Washington.
What's The Difference Between Delta 9 And Delta 10?
Delta 9 THC, which has to be less than 0.3% to be legal nationwide, is the most commonly known form of THC. Delta 10 THCfalls in line with the other D9 conditions, differing only by placing a double bond at carbon 6 and 8, making it along the spectrum.
The D9 term implies that these are all 9th carbons to hydrogenated forms of THC. Delta 9 THC is the more psychoactive form of THC because it hits CB1 receptors in the brain, while Delta 10 THC doesn't seem as active on these CB1 sites.

Delta 9 Is More Potent Than Delta 10 THC
It shows some terpenoid differences as well as some different effects. Delta 10 THC has a lower boiling point than D9, which is a crucial factor in the chemical process of THC-Acid being converted to THC on heating.
D9 THC has a more sedating effect, while D10 seems slightly "happier." Delta 10 THC is less sedating overall because it doesn't interact as strongly with CB1 receptors in the brain.
D10 THC doesn't seem to be as potent as D9 THC Delta; however, it has shown anticonvulsant properties similar to CBD.
When you extract Delta 10 THC, you get not only Delta 10 THC but also Delta 8 THC, Delta 9, and CBD, with CBN as other minor cannabinoids, which genuinely makes this compound a potent blend; in other words, you get to experience what we like to call the trifecta effect.
Delta 8 THC Vs. Delta 10: Which One Is Better?
Well, we suppose that would be entirely up to you! It depends on your goals and what you want in a cannabis product.
The main difference between these two THCs is that Delta 8 THC is more commonly used for its euphoric effects, alleviating anxiety and making users feel relaxed. On the other hand, Delta 10 THC, while still giving users a euphoric high, is best used to spark creativity and maintain focus.
Everyone is different; some may find that they love taking Delta 8 THC in small doses throughout the day, or they may prefer it as a nightcap visa versa with D10, daytime use.
The only way to know which one you like better or choose for certain activities is to try and experiment!
Final Thoughts
As of this writing, tetrahydrocannabinols are in a legal grey area in the Treasure State. This may change soon as attitudes around Cannabis continue to shift, but for now, if you want to purchase THC from hemp in Montana, you might be better off online.
Try our best-selling organic delta 10 gummies or our fast working 20mg Delta 10 tablets.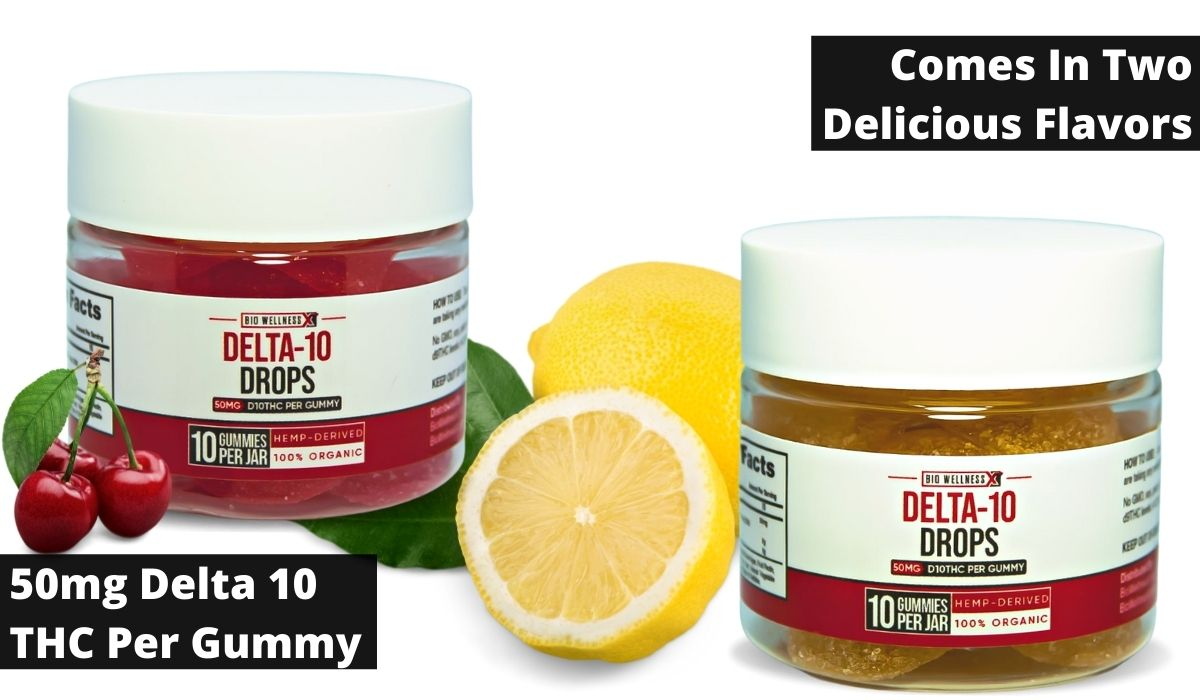 References:
LEGAL DISCLAIMER
By reading this legal information, you agree to release the author of any liability related to or arising from your use of this data. This post contains no legal advice. The legal status surrounding Delta 8 THC, Delta 9 THC, and Delta 10 THC is new and constantly changing. We continuously work hard to do our best to give you the most updated information. We recommend checking your current state's laws or federal hemp laws before purchasing any industrial hemp-derived products (CBD, THC) in Montana. The data in this post is not intended to diagnose, treat, cure or give any medical advice. Do your due diligence and seek your doctor's advice, especially if you are in doubt or are currently taking any prescription medications. Safer than sorry is always a great idea when consuming new products.
Frequently Asked Questions (FAQs)
Can I take Delta 10 THC while on medication?
We highly recommend that you seek your doctor's advice before consuming any hemp or supplemental dietary products if you are on any medications.
Is Delta 10 THC FDA approved?
No, Delta 10 THC is not yet approved by the Food and Drug Administration.
What is the legal age to buy Delta 10 THC?
Most retailers require you to be 21 to purchase any hemp-derived THC or CBD products.
Does Delta 10 THC show up on a drug screen?
YES! Since Delta 10 is a THC compound, it will trigger a positive drug test. However, other products like CBD with no traceable THC or low amount THC products from full-spectrum products should be a different story.
How Long Does It Take For Delta 10 THC Gummies To Work?
Delta 10 THC gummies are edibles used for recreational purposes. They can be found in the form of either small cubes or long strips and come in various flavors.
Effects will vary depending on your consumption, but it typically takes 30 minutes to start working. They can last anywhere from 4 to 6 hours when the effects start.
To avoid possible side effects, ensure you eat these with food and drink lots of water throughout the day.
Can I buy Delta 10 THC online in my state?
If you're in any hemp-friendly state, yes, you can.
If your state has restricted the sale of THCs from hemp-derived compounds like the state of Montana has, make sure you check your current state laws.