Whether you've been around the cannabis block or not, you must have heard of CBD! And CBD Wellness gummies are definitely the new trend in the health and wellness industry, and we're here with the details on these tasty treats.
Main Keypoints
Wellness Gummies are a great way to get the benefits of cannabis without dealing with THC.
Wellness CBD gummies carry many health benefits, such as pain and anxiety relief.
Broad-spectrum CBD products sourced from hemp are legal federally.
You can shop for Wellness Gummies online.
What Are Wellness Gummies Plus?
Our Wellness Gummies Plus are delicious vegan CBD gummies. These gummies provide a potent CBD product for pain management, anxiety relief, and relaxation without any trace of THC.
Our customers rave about Wellness Gummies Plus being a natural alternative to nonsteroidal anti-inflammatory drugs to help with pain.
If you're looking for some support in your daily life, these delicious and healthy treats could help manage and soothe you—from feeling stiff all over your body to daily busy tasks around the house or at work.
Say goodbye to those rough days and negative thoughts with one tasty treat after another! You'll be able to get things done and potentially experience less of that pesky stress weighing down on you.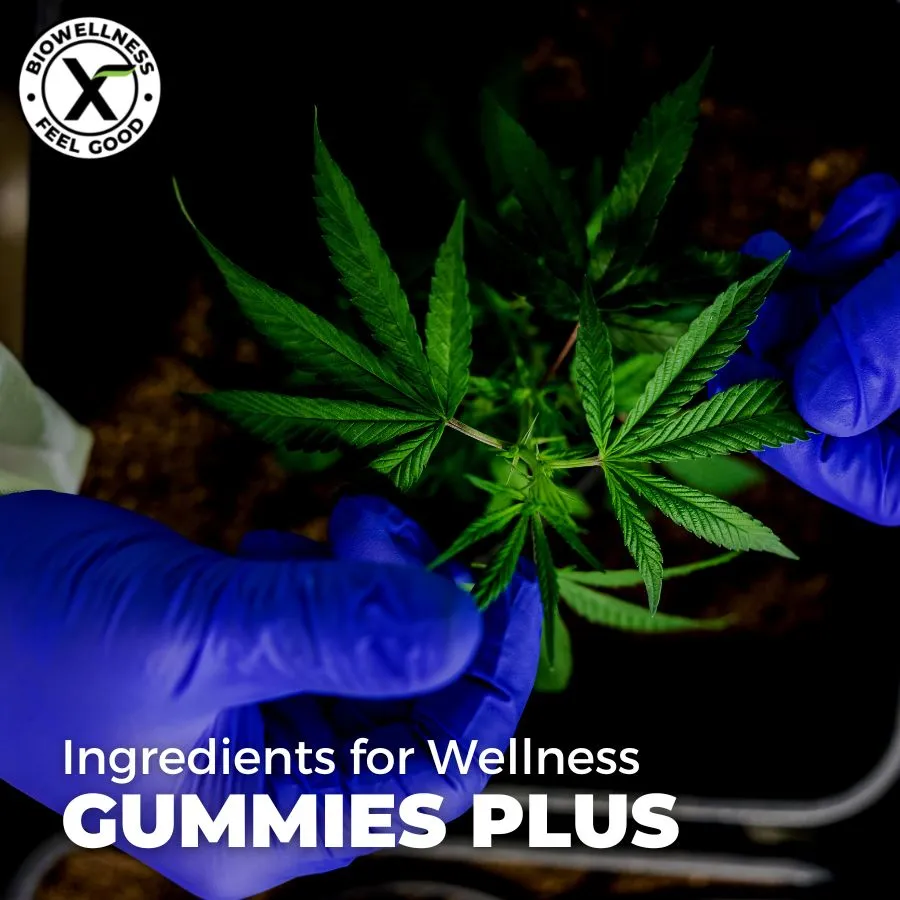 Ingredients Of Wellness Gummies Plus
At BioWellnessX, we put quality above all else; all of our products come from organic hemp. Our gummies are vegan, 100% natural, gluten-free, and, most importantly, extremely potent.
Each CBD gummy comes with 25 mg of CBD and 5 mg of Myrcene.
Our CBD Wellness Gummies Plus comes in a natural, irresistibly delicious wild berry flavor that tastes like a tropical oasis.
Broad-Spectrum Oil (NON-THC)
Get ready to enjoy a minimum of 25 mg of CBD oil without any trace of THC! Our Wellness Gummies Plus is infused with the purest, safest broad-spectrum CBD distillate oil, along with other minor cannabinoids and terpenes, and of course, without the THC.
The list of CBD benefits is too long to include in one paragraph, but on top of the list come pain relief, anxiety relief, and better sleep.
Myrcene
Topping off our broad spectrum distillate with 5 mg of Myrcene, one of the most popular cannabis terpenes. Terpenes are compounds that give plants their unique aromas; they also have medicinal qualities.
Research suggests that Myrcene has sedative and relaxing qualities that could alleviate anxiety and help you manage everyday feelings of stress.
The benefits of Myrcene don't stop there; it also has anti-inflammatory properties that can provide some pain relief.
All-natural Ingredients
Organic Tapioca Syrup: Tapioca Syrup is a natural sweetener derived from the tapioca starch of cassava or yucca roots. This low-glycemic syrup has a deliciously sweet flavor with no artificial taste.
Organic Cane Sugar: Organic cane sugar is considered the healthiest version of cane sugar. It's free of pesticides and goes through the least amount of processing.
Organic Flavor Extracts: These organic flavor extracts make our tropical gummies irresistibly delicious.
Potassium Citrate: Naturally found in avocados, prunes, and squash, potassium citrate keeps BioWellnessX Delta 8 THC Gummies fresher for longer — without the need for harmful artificial preservatives.
Citric Acid: For certain flavors, citric acid extracted from natural fruits such as blood orange and Meyer lemon to flavor some of our gummies help wake up the flavor and balance sweetness with acidity.
Natural Fruit and vegetable juice and extracts: Vegetable and fruit extracts, like beet juice, help match flavors with their natural colors without using artificial dyes, as well as give unique flavors.
How Do Wellness Gummies Plus Feel Like?
From our personal experience and customer feedback, we can tell that these babies make you feel relaxed and uplift your mood. Just imagine your true self coming out from under all the stress and anxiety.
You won't feel high with these Broad-Spectrum CBD Gummies, but you will feel calm, like getting in touch with your inner zen.
If you're suffering from anxiety or body ache, get ready to kiss that goodbye with Wellness Gummies Plus.
Broad-Spectrum vs. Full Spectrum vs. Isolate
If you're new to the cannabis industry, here's a crash course on what CBD products you might encounter so you can make an informed decision.
When it comes to CBD and hemp-derived products in general, they fall under one of three categories, Full-spectrum, Broad-spectrum, and Isolate products.
Full Spectrum
Think of Full-spectrum CBD as more of an "all in one" type of product. Where you get all the goodness of cannabis wrapped in one product, and that includes some amounts of the psychoactive cannabinoid THC along with other cannabinoids and terpenes.
A lot of our customers love full-spectrum gummies and oils. However, we can't forget about the customers that don't enjoy THC as much and would like to get the benefits without THC. Enter; Broad-spectrum.
Broad Spectrum
Broad-spectrum means THC-Free! With Broad-spectrum, you get all of the miraculous cannabis compounds without having to deal with any traces of THC.
So, if you wanted to ride the cannabis wave but were worried about THC, then "Broad-spectrum" are your new favorite word.
Isolate
From the name, isolates are the purest form you can achieve, which means you get up to 99% of a specific compound with no other compounds getting in the way, just like the CBD isolate oil used in our CBD gummies and CBD oil.

Benefits of Taking Wellness Gummies
According to research, CBD and Myrcene can provide some amazing health benefits, such as:
Relieve from discomfort
Feeling less high strong
Provide body relaxation
Promote better sleep
Other convenient benefits of CBD Gummies:
Easy to dose
Taste great
Come with many potencies to choose from
Easy to carry around
Has an extended effect
How to Use Gummies Plus for Optimal Results
First and foremost, don't take these gummies lightly! Try not to give in to their delightful texture and delicious flavors and munch on them too much. Remember, one gummy a day is a good place to start.
Second, use our CBD gummies in tandem with a potent CBD oil. They tend to amp up each other's benefits.
Thirdly, Once your body is used to the gummies, take one gummy in the morning to give you a pump of relaxation and another one 2 hours before bed for even better sleep.
Lastly, don't mix CBD Gummies with prescription medication without consulting your doctor first.

Any side Effects of Wellness Gummies Plus?
According to most users Wellness Gummies Plus fit into their health routine nicely without a hitch. However, a small percentage might experience mild symptoms such as red eyes and dry mouth.
Who should take BioWellnessX Wellness Gummies?
Wellness Gummies Plus is perfect for those who:
Looking to manage everyday stress.
Searching for relief.
Trying to enjoy the benefits of cannabis without getting high on THC.
Want to maintain a healthy lifestyle.
Should You Consult a Doctor Before Taking?
We always advise you to consult your doctor before taking any health products, especially if you're on medication or have a health condition.
Where to Buy Wellness Gummies Plus?
There's only one place you can shop the best CBD gummies, and that's right here at BiowellnessX!
If you're new to BiowellnessX, here's a welcome gift: 15% off your first order and free delivery for orders above $50. You can either reach out to us via our live chat, email, or phone. Or even better, sign up for our newsletter to get your code.
Final Thoughts on – Wellness Gummies Plus Review
Wellness Gummies Plus is amongst the best CBD gummies to date; it can help put some pep in your step without having to deal with THC.
Each CBD gummy carries a minimum of 25 mg of CBD and 5 mg of Myrcene, along with other minor cannabinoids, these gummies will provide you with a potent, relaxing feeling without the need for THC.
These CBD gummies have most certainly earned a permanent spot in our wellness routine for their pain and anxiety-relieving benefits. Besides, these tasty candies taste even better than our favorite gummy bears, LOL. Don't take our word for it; try it and see for yourself.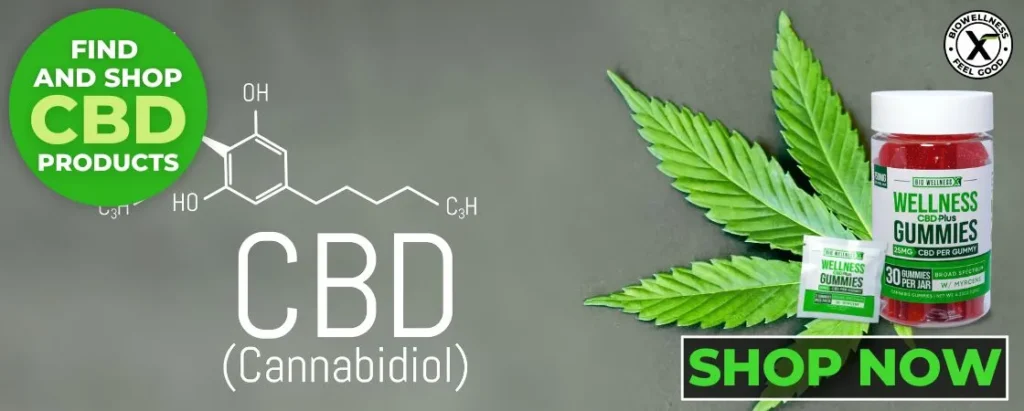 Other topics that may interest you:

Resources:
Legal Disclaimer:
By reading this information presented, you agree to release the author of any liability that comes from using this data. This post does not constitute legal advice. Claims about cannabinoids have not yet been approved by the food and drug administration FDA. Read the full legal disclaimer here.
FAQ About Our Wellness Gummies PLUS
What do wellness gummies Plus do?
Wellness Gummies help with your overall health. They can help relieve pain and ease daily tension and stress without getting you high or interfering with your daily tasks.
What are wellness gummies good for?
Wellness gummies are good for relieving body aches, alleviating anxiety and stress, relaxing your body and mind, and helping your overall health.
Are gummies as effective as CBD oil?
Gummies and oils complement each other; CBD oil comes in a super concentrated formula, while gummies come with other cannabinoids and terpenes to amplify the benefits.
What is the difference between broad-spectrum vs. full-spectrum?
Broad spectrum means a hemp extract with Zero THC, while full spectrum includes some THC.