The Beaver State is home to some intriguing marijuana innovations as it's been legal there since 2014, so THC is not something new. However, hemp is and all its new cannabinoids like Delta 10 THC. The question is, with mary jane being legal, is hemp-derived THC such as Delta 10? If so, where to buy Delta 10 in Oregon? Is it even possible?
Today, we'll explore the hemp laws and regulations around this newer type of cannabinoid and give you suggestions on where to get some of the best out there.
Main Keypoints
Delta 10 THC is quickly becoming one of the most prevalent cannabinoids on the market.
Many are seeking out Delta 10 THC for its Sativa-like energetic and euphoric properties.
We highly recommend not purchasing products from gas stations or convenience stores.
Mary Jane is legal for medical and recreational use in Oregon.
You can buy Delta 10 products online today!
Is Delta 10 THC Legal in Oregon?
Yes, it is!
Delta 10 THC is likely legal in Oregon and other CBD products alike.
According to its state law, which can be a little misleading because of how its worded, the state legalized hemp-derived products as long they contain a maximum of 0.30% Delta 9 THC.
Furthermore, they passed the state's HB3000 in July 2021, which also defined certain cannabinoids such as Delta 8 THC and introduced various guidelines. For example, these types of products are not available to minors, which we can only agree on.
What is Delta 10 THC, and Why Is It So Popular?
Delta 10 THC is quickly becoming one of the most prevalent cannabinoids on the market. And it's no wonder this potent compound offers a unique blend of psychoactive properties (low levels) and therapeutic effects that is tough to find anywhere else.
But what exactly is Delta 10 THC, and what makes it unique? Let's take a closer look.
Delta 10 THC is a semi synthetically derived form of THC that is created in a laboratory. It is found in the hemp plant (cannabis plants) in minuscule amounts, so it's often extracted and isolated for use in products like carrier oil, edibles, and topicals.
There are many different strain options for Delta products, but Delta 10 THC has its own unique set of effects. Delta 10 THC works on the same receptors as other THC forms but at a lower level which means you will not feel the massive head high as you normally would with high THC strains. However, you will still feel the body high," but it's a different feeling that has to be experienced.
Delta 10 is a Different Experience
This substance is similar to Delta 9 THC (the prominent psychoactive cannabinoid in cannabis), but it's considered less potent than the other Deltas. Now when we say less potent doesn't necessarily mean it will work any less; it's just a different experience and feeling. It's like Delta 10 has had a few more distillations for it to become purer.
Due to its potency and unique effects, Delta 10 THC is becoming increasingly popular among marijuana connoisseurs and first-time users. And because it's relatively new to the hemp market, there's still a lot of excitement and curiosity surrounding this healing substance.

Where To Buy Delta 10 THC in Oregon?
Now that we know Delta 10 is lawful in Oregon and it's a Sativa-like experience let's see where you can get your hands on some premium Delta 10 products.
Not sure if Sativa, Indica, or Hybrid strains are right for you? Read our in-depth article here.
If you live there, you might already have found local dispensaries carrying Delta 10, especially now marijuana is legal there. Even if you haven't, it's very common that the general quality standards of these products are subpar and, in most cases, don't live up to their name. Wrong labeling and loads of artificial ingredients are not uncommon to see.
We highly recommend not purchasing products from gas stations or convenience stores. They might sell hemp goods cheaply but most likely do not adhere to quality standards. Saving money doesn't equal better products, and an unlicensed business is not the best place to purchase your products. Stick to what you know.
Because hemp-derived products face lighter regulations, getting them in various stores is easier, and lower subpar products come with that.
Quality over price?
If you want the best high-quality Delta at better prices, we recommend you buy online as you can quickly find additional details about the product and easy access to ingredients, lab reports, reviews, and more. That said, you can also find what some would call snake oils online.
Finding a reputable retailer is hard, but we're here to help. BiowellnessX is a small but booming company that offers a wide array of fully legal THC and CBD products. We sell hemp goods at an affordable price with quality you can't beat since 2017. Make sure to check out all of the reviews on the site too!
Explore Delta 10 Today
No matter your needs or preferences, we can most likely offer you a solution to your needs, so why wait? Start exploring the benefits of Delta 10 THC today.
Many still prefer to buy online because of the convenience of receiving the items directly to their doorstep. If you have the expertise needed, you can simply call the customer service phone number, and one of our trained agents can help with your questions.
If online is not your thing, pop into a local smoke shop to check out the products for yourself.
Find Hemp Products Locally
If you happen to live near or in any of the cities listed below, you will be able to find THC products on store shelves.
Portland
Bend
Eugene
Corvallis
Salem
Hillsboro
Beaverton
Medford
Springfield
Ashland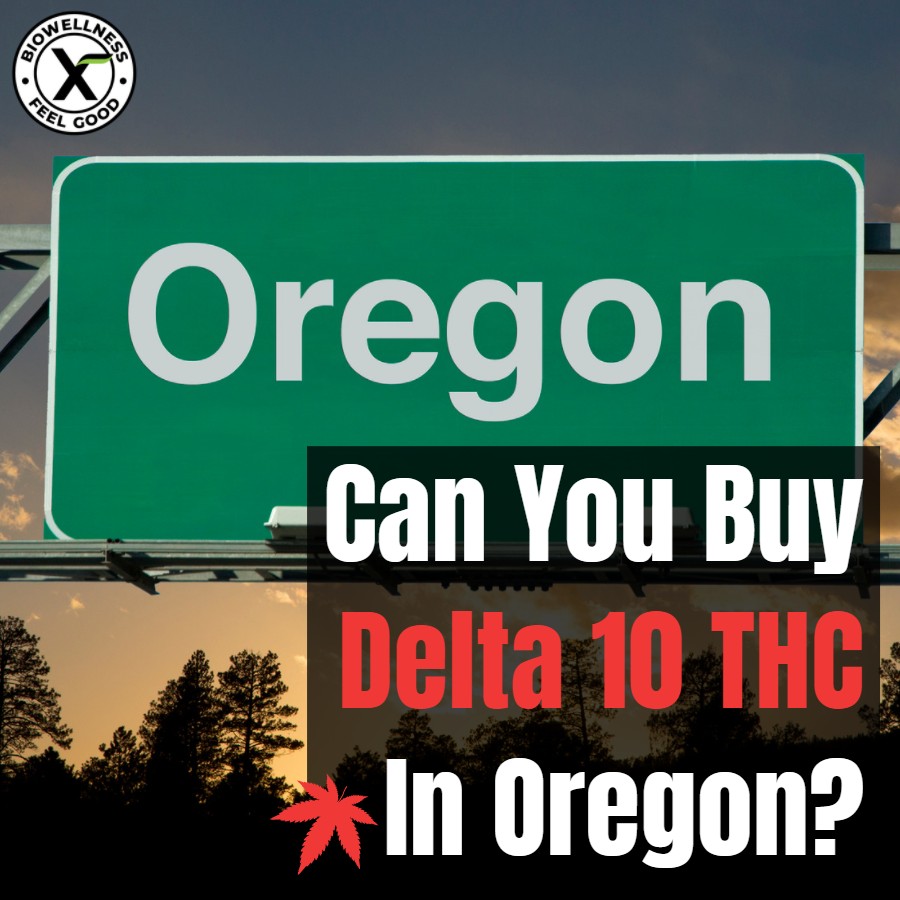 The Legalities of Delta 10 THC in Oregon
State Laws:
Oregon has long been underway figuring out which restrictions to put on hemp products, and with HB3000 being put in place in July 2021, you can find Delta 8 is mentioned in the bill; however, Delta 10 has yet to be cited.
The OR Liquor Control Commission and the Department of Agriculture could set potency limits on "artificial" cannabinoids.
They could also clarify testing requirements for consumable products like edibles or tinctures so that consumers know exactly what they're getting themselves into before consuming them! Yes, that's what we like to hear. Consumers should be able to know exactly what is inside their products.
The new bill defines artificial cannabinoids, adult-use cannabis, and Delta 9 THC. As long it stays below its 0.30% D9 THC dry weight limit, you can enjoy your Delta 10 all day long. Delta 10 gummies, anyone?
One goal behind these restrictions is to protect minors from any harm that might come their way and to any local communities.
Is It Federally Legal?
Delta 10 THC is not an illegal drug. However, how it's being manufactured complicates its legalization.
Delta 10 THC is not an illegal drug. However, how it's being manufactured complicates its legalization.
The Delta 10 THC compound has caused a stir in the cannabis community. Some experts claim that it is federally legal under the 2018 Farm Bill because of its hemp origins, while others take an even stricter approach and say this synthetic form falls into one category: synthetically tetrahydrocannabinols which are illegal by definition according to federal law.
It's important to note that this compound is made in a lab, making it semi-synthetic. However, it's derived from hemp and has some CBD mixed in, meaning you're getting something more natural instead of entirely synthetic! And the result is something fantastic.
The U.S. DEA has confirmed that "synthetically derived tetrahydrocannabinols" are illegal in America and cannot be imported or sold on American soil, but what about Delta 10 THC?
The FDA's Orange Book of approved drug products does not officially define or prohibit its use; either way, you can consume it as long as it does not contain more than 0.3% Delta 9 THC. The moment it surpasses, it's deemed a controlled substance.
What About Regular Weed, Legal in Oregon?
Marijuana is also lawful in Oregon, and the recreational marijuana program makes it all possible.
Oregon's Rec. Marijuana Program is officially called the Medical Marijuana Dispensary Program. This program was established in 2013 and allowed adults back in 2014 to purchase, possess, and use marijuana for recreational purposes. The program ensures that individuals can access safe, quality marijuana from licensed dispensaries throughout the state.
To participate in the program, you must be a resident with a valid driver's license or state I.D. You must also be 21 years or older to buy products from a dispensary.
Medical Marijuana Program
What about the medical side? The Medical Marijuana Program in Oregon is a program that allows patients with certain medical conditions to use marijuana for symptom relief. The Health Authority oversees the program, and some specific rules and regulations must be followed to participate.
The program has been legal in the state since 1998 and successfully provided relief to thousands of patients across the state; it continues to grow each year. While some critics argue that medical marijuana is too loosely regulated, most people believe that the program's benefits outweigh any potential risks.
Final Thoughts – Buy Delta 10 in Oregon
Delta 10 THC is federally legal and legal in Oregon, with similar regulations as in other states. The total Delta 9 cannot surpass the 0.30% limit. If so, it's unlawful to buy, sell, and consume. Check your local jurisdiction as laws periodically change.
This cannabinoid has been shown to relieve various conditions, so it's worth considering if you're looking for an alternative remedy. With its Sativa-like properties and refined feeling of serenity, Delta 10 will not disappoint. It will rather surprise you!
Ready to get started? Try our best-selling organic Delta 10 Gummies. Each carries a whopping 50mg pure Delta 10 per gummy.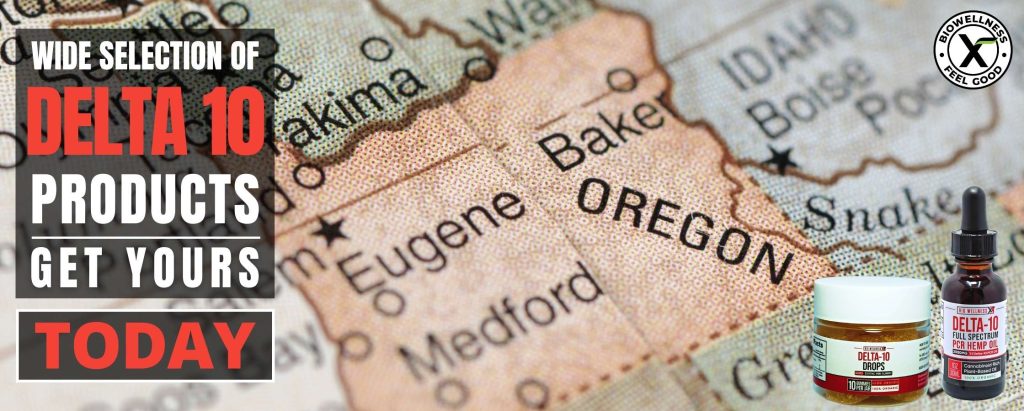 LEGAL DISCLAIMER
By reading this legal information, you agree to release the author of any liability related to or arising from your use of this data. This post contains no legal advice. The legal status surrounding Delta 8 THC, Delta 9 THC & Delta 10 THC is new and constantly changing. We continuously work hard to do our best to give you the most updated information. We recommend checking your current state's laws or federal laws before purchasing any industrial hemp products (CBD, THC) in Oregon. The data in this post is not intended to diagnose, treat, cure or give any medical advice. Do your due diligence and seek your doctor's advice, especially if you are in doubt or are currently taking any prescription medications. Safer than sorry is always a great idea when consuming new products.
References:
FAQs About Delta-10 THC
What is stronger, Delta 10 or Delta 8?
Both THC compounds are much milder than their cousin Delta 9, yet they both offer similar effects. Delta 8 THC has said to be the strongest of the two. Delta 8 is more for evening use, whereas Delta 10 can be used during the daytime.
Will Delta 10 get you High?
Yes, you can get a high from Delta 10, but it's not as intense as a high you would get from Delta 9.
Will Delta 10 fail a drug test?
Unfortunately, yes! As Delta 10 is THC, it will appear on drug tests. If you have one coming up, we strongly advise avoiding THC.
Is hemp-derived THC safe?
Generally, yes, THC from hemp is safe to consume. However, we're dealing with THC here, and any products containing THC or CBD should always be consumed responsibly.
What is the age requirement to buy Delta 10?
You must be at least 21 to purchase Delta 10 and any derivatives.
Is Delta 10 legal in all the states?
On a federal level, it is not legal in all states. Every state has the authority to implement its laws regarding the cannabis plant (high THC or high CBD.)