With so many states becoming more aware of the cannabinoid world, new laws mentioning cannabinoids by name, and with continuing restrictions of the beloved Delta-8 THC in so many states, many users are starting to turn to the new hope of HHC with for a good reason. One question that often comes up is, is HHC legal in my state?
It's not only you that ask, but many others have questions circling around HHC legality, and we'll try our best to clear it up for you in this article.
Quick Key Points of this Article
Hemp-derived HHC is federally legal, containing less than 0.3% THC of total dry weight.
Most states legalized hemp and its derivatives.
Some states have placed strict laws around THC and other THC isomers; however, most of them don't specifically mention HHC to be an illegal substance.
You can buy HHC products online and have them delivered to you in most states.
The Legal Status of HHC In The U.S: Is HHC legal in your state?
Under the farm bill, the federal government removed the hemp plant, and other hemp derivatives from the controlled substance list, making hemp-derived products containing less than 0.3% Delta 9 THC of total dry weight legal under federal law.
Now there are some states that follow the same laws regarding hemp products, while others are a bit more puckish about the topic.
HHC sourced from marijuana is still illegal under the controlled substances act, except for the states that allow recreational and medical cannabis.
Want to know more about HHC? Read our in-depth article here.
The Best Legal HHC Products
Now, some states don't like psychoactive smokables sourced from hemp or not, so to avoid confusion, HHC edibles, especially gummies, are your best bet.
Gummies aren't just the best from a legal standpoint, but their effects last longer. Gummies are delicious, convenient, and above all, great for keeping a low profile and avoiding unnecessary hassles.
With gummies, you can always keep track and control your intake, and did we mention how divine they taste? Ready to get yours? Shop it here.
Where To Buy Legal HHC Products
To stay legal with HHC, there are three cardinal rules:
Make sure your product is made from hemp-derived extracts.
Not all states legalize medical cannabis, and only a handful legalized recreational cannabis. Some companies might make their products from marijuana-derived cannabinoids, which could get you in some unwanted trouble depending on your state.
Ensure your hemp product has less than 0.3% Delta 9 THC of total dry weight.
This is equally important; if your product doesn't have a certificate of analysis with its THC contents, then it's a red flag. See the COA example here.
The third rule goes without saying: always check your local laws for any changes.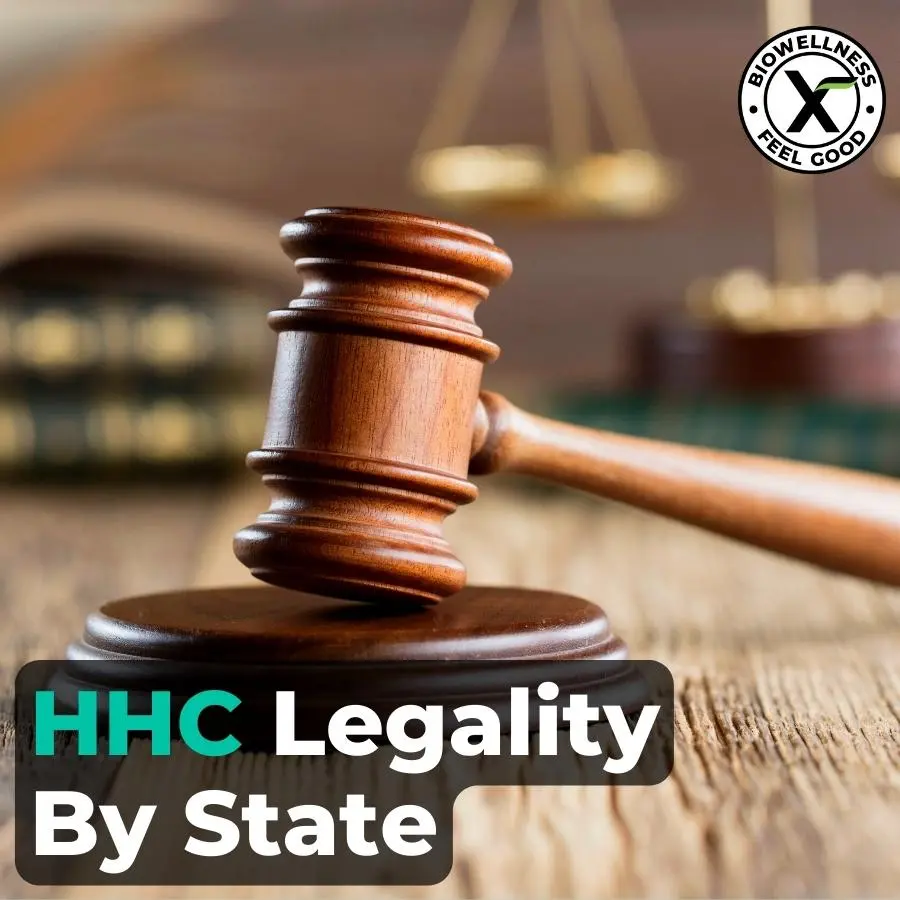 HHC State Laws
Alabama: HHC is legal
Alaska: HHC is questionable legal
Arizona: HHC is questionable legal
Arkansas: HHC is legal
California: HHC is legal
Colorado: HHC is questionable legal
Connecticut: HHC is legal
Delaware: HHC is questionable legal
Florida: HHC is legal
Georgia: HHC is legal
Hawaii: HHC is legal (With restrictions)
Idaho: HHC is restricted
Illinois: HHC is legal
Indiana: HHC is legal
Iowa: HHC is questionable legal
Kansas: HHC is legal
Kentucky: HHC is legal
Louisiana: HHC is legal
Maine: HHC is legal
Maryland: HHC is legal
Massachusetts: HHC is legal
Michigan: HHC is legal
Minnesota: HHC is legal
Mississippi: HHC is legal
Missouri: HHC is legal
Montana: HHC is legal
Nebraska: HHC is legal
Nevada: HHC is legal
New Hampshire: HHC is legal
New Jersey: HHC is legal
New Mexico: HHC is legal
New York: HHC is questionable legal (a gray area)
North Carolina: HHC is legal
North Dakota: HHC is legal
Ohio: HHC is legal
Oklahoma: HHC is legal
Oregon: HHC is legal
Pennsylvania: HHC is legal
Rhode Island: HHC is questionable legal (a gray area)
South Carolina: HHC is legal
South Dakota: HHC is legal
Tennessee: HHC is legal
Texas: HHC is legal
Utah: HHC is questionable legal (a gray area)
Vermont: HHC is legal
Virginia: HHC is legal
Washington: HHC is legal
West Virginia: HHC is legal
Wisconsin: HHC is legal
Wyoming: HHC is legal
Below we'll further explain the states where HHC seems to be questionable legal to purchase:
Alaska HHC Laws
Alaska's legislature classifies THC and all its isomers as controlled substances. Because HHC is technically not a THC isomer, it isn't explicitly categorized, but the probability that it comes with restrictions is high.
Arizona HHC Laws
Arizona law prohibits psychoactive cannabinoids from both the cannabis plant (Marijuana) and Cannabis Sativa (hemp plant.) This means HHC derived from hemp might receive the same treatment as HHC derived from marijuana.
Colorado HHC Laws
Colorado bans any form of cannabinoid modification regardless of whether or not they're found naturally in hemp, which means HHC might be restricted.
Delaware HHC Laws
Delaware law, unfortunately, doesn't differentiate between the psychoactive ingredients sourced from marijuana versus hemp. Any psychoactive compound from the genus cannabis is illegal in Delaware.
Hawaii State Laws
Hawaii follows the same federal view regarding hemp products. However, it banned smokables for the time being. Will HHC see any issues? Only if it's used in smokables.
Idaho HHC Laws
Idaho still bans hemp extracts — this includes Delta-8 THC and HHC. The state only brought CBD products that come from an isolated form to the legal fold.
Maryland State Laws
Maryland doesn't look kindly to psychoactive cannabinoids, regardless of whether it's hemp or cannabis products. This means HHC is most likely restricted.
Rhode Island HHC Laws
While there's no mention of HHC in Rhode Island law, currently, it's restricted to produce but legal to buy.
Utah HHC Laws
Utah state law is unclear whether HHC or other hemp-derived cannabinoids are under the controlled substance list or not. However, there are several shops in Utah selling these products without conflict.

But, What Is HHC?
Hexahydrocannabinol, otherwise known as HHC, is a naturally occurring cannabinoid found naturally in cannabis and hemp plants. Tiny concentrations of HHC appear when THC oxidizes into CBN over a long period. Because there's so little of it, brands usually synthesize HHC from other natural compounds, such as THC, making it a semi-synthetic cannabinoid.
While some states criminalize synthetic cannabinoids, HHC falls into the gray area, as it's a semi-synthetic.
Does HHC Make You High?
Absolutely! Users rave about HHC because of its potent psychotropic effects; most users tell us that the HHC high is about 80% of the mighty Delta-9 THC and almost twice as strong as the fan-favorite Delta-8.
Want to know more about HHC and how it makes you high? Check our detailed article here.
How Does HHC Feel Like?
Cannabinoids are a personal experience, but from our experience, HHC feels like Sativa on a bunch of Redbulls. You know that relaxing yet energizing high you get with Sativa? Imagine that with more clarity and focus.
HHC is impossible to explain this briefly. You can check a full review experience to understand it more clearly.
Can HHC Fail A Drug Test?
The jury is still out on that, but so far, science theory tells us that; quality HHC products without any traceable Delta 9 THC, like our 50 MG HHC gummies, shouldn't show on a drug test. However, some of us may metabolize it as THC, which can fail a drug test.
It's best to take a test yourself at home with our gummies and see if your body will show it or not.
Check our in-depth article here about how HHC can potentially fail a drug test.
Final Thoughts On Is HHC Legal in your state?
After the federal government specifically legalized hemp, more cannabinoids are getting a chance to shine, and more users are getting to enjoy its excellent benefits.
Hemp-sourced HHC is a great loophole for those who want to enjoy a good buzz in states where THC products aren't available and for those who want a more "upbeat high."
Hemp-derived HHC gummies are legal across most states; others are left in a gray area, and a few have placed an HHC ban.
Start exploring new horizons with our deliciously legal HHC gummies made of organic hemp and ingredients.
Visit our website for the best hemp-derived products and exclusive discounts www.BiowellnessX.Com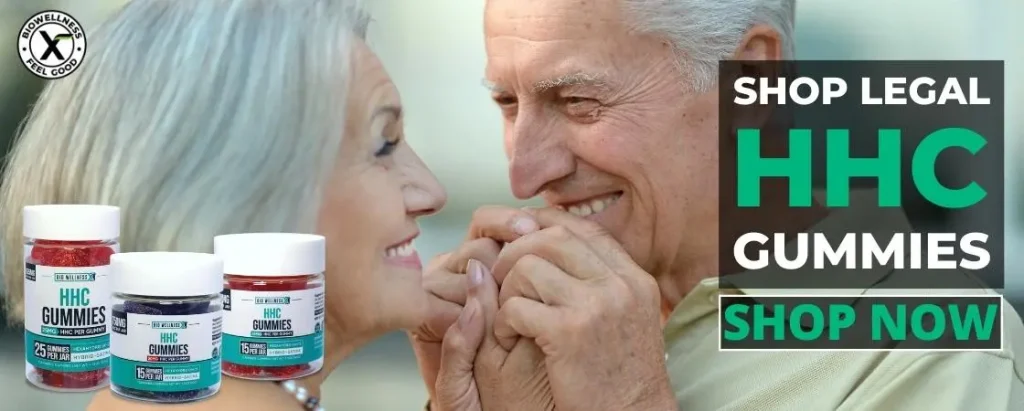 Other Articles Related to HHC
Resources:
Hexahydrocannabinol
https://en.wikipedia.org/wiki/Hexahydrocannabinol
https://pubmed.ncbi.nlm.nih.gov/839438/
A S Bloom, W L Dewey, L S Harris, K K Brosius – 9-nor-9beta-hydroxyhexahydrocannabinol, a cannabinoid with potent antinociceptive activity: comparisons with morphine. J Pharmacol Exp Ther, 200, 263-270.
Hardening Vegetable Oils Through Hydrogenation
https://www.youtube.com/watch?v=2iKczqO1TiE
Legal Disclaimer:
The efficacy of HHC products has not been confirmed by FDA-approved research. These products are not intended to diagnose, treat, cure or prevent any disease. All information presented here is not a substitute or alternative to health care practitioners' knowledge.

Before using any product, consult your healthcare professional about potential interactions or complications. The Federal Food and Drug and Cosmetic Act requires this notice.

Frequently Asked Questions (FAQ)
Is HHC Legal?
HHC sourced from hemp, containing no more than 0.3% Delta 9-THC, is federally legal.
Is HHC banned?
HHC is not a banned hemp compound; however, some states have restricted the use of hemp-derived derivatives, which makes HHC questionable legal in some states.
How High Can HHC Get You?
We'd say pretty high, it's about 80% of the strength of Delta-9 THC, but of course, everyone experiences it differently.
Is HHC the same as HHC-P?
No! The two compounds share many similarities; they're like cousins but, evidently, two different compounds!
Is HHC-P Legal like HHC?
Under federal law, both compounds are legal, given they're sourced from hemp and contain less than 0.3% Delta-9 THC.
HHC not enough for you? Try this hack to enhance your HHC Gummy experience.
Not sure what HHC product to go with? Check our in-depth review of what HHC gummies can do.