As many people realize, CBD has become one of the hottest and most popular available supplements. It is a recent favorite for its accessibility to more individuals as its popularity has shot through the roof in just a short time. This popularity is driven by numerous studies that have shown that it may provide relief for various physical and emotional challenges.
It's important to note that there is not just one type of CBD, which makes things even more complicated. The most common types you will find in stores and online include Full Spectrum, Broad Spectrum, and Isolate.
In this blog post, we will mainly focus on the Full Spectrum side and what we call PCR and why this, in our opinion, is the best way to consume and enjoy all the benefits the hemp plant has to offer.
Exploring the science of Full Spectrum PCR Hemp Oil
PCR Hemp Oil is a type of oil that contains high levels of phytocannabinoids. It is beneficial in many ways, including providing relief from chronic pain and aiding with anxiety disorders. The question is, what exactly is PCR? Is it the same as CBD? We will explore these questions and more in this blog post!

What if we tell you, you have yet to try the most powerful CBD oil on the market?
CBD oil is made from hemp plants. Hemp plants have many compounds, and researchers still discover new ones daily. You might be getting only a few of the 400 compounds that exist in hemp plants, so you should try to find CBD oil with more of the 400 compounds.
PCR oil is a true full-spectrum hemp oil: why it delivers the most potent entourage effect out of all CBD oils.
What is PCR Hemp Oil?
Phytocannabinoid-rich hemp oil, or PCR oil, is the crème de la crème of all CBD products. This high potency product is made with quality and purity in mind by extraction standards that are more stringent than those used to produce full-spectrum CBD varietals. PCR hemp oil is rich in vitamins, minerals, fatty acids, phytonutrients, and other natural materials in the cannabis plant.
PCR hemp oil is a true full-spectrum CBD oil: why it delivers the most potent entourage effect out of all CBD oils. Phytocannabinoid-rich hemp contains not just cannabidiol but also other cannabinoids like THC, which interacts synergistically with CBD isolate to produce what scientists call an "entourage effect" that produces greater therapeutic benefits than either cannabinoid alone could ever do on its own.
To do so, it is important to keep in mind the following:
The easiest way to identify phytocannabinoid-rich hemp is by looking for a THC percentage on the bottle. Any product that contains less than 0.03% THC will not cause any psychoactive effects and can be classified as PCR Hemp Oil.
If you are purchasing from an online dispensary or shop, make sure that they have a certificate of analysis verifying their products' active compounds (PCR). This will ensure that your purchase has been tested before delivery and give peace of mind knowing what each individual bottle offers regarding its cannabinoid profile – including CBD potency levels. For example, if you take a look at our PCR Hemp Oil with CBG Extract, you'll see the COA not only have CBD but also shows CBG, CBC, CBGA, CBDV, and Terpenes, which lead to the famous "entourage effect" you want to look for.
The Endocannabinoid System and its Benefits
The Endocannabinoid System (ECS) is a network of naturally occurring receptors that control various life functions, including the immune system, anxiety, and pain. These are commonly found in the central and peripheral nervous systems and throughout other parts of your body, like organs or muscles.
In the 1990s, scientists found a system that was critical for bodily function and could be manipulated to improve health. This discovery is called anandamide which means "joy" in Sanskrit because it has been shown to produce euphoric feelings when released by nerve cells. The researchers who coined this name were Raphael Mechoulam from Hebrew University, NIMH (National Institute of Mental Health) researcher William Devane, and Dr. Lumir Hanus at Central European Synchrotron Radiation Facility.
The body's endocannabinoid system (ECS) supports balance in every cell, tissue, and organ. It is responsible for regulating homeostasis or the balancing of hormones to support brain health and maintain your immune function, which keeps our nervous systems healthy too! Experts think the main function of this is to regulate homeostasis through its ability to keep everything balanced.
PCR oils are the best way to experience all the hemp plant offers.
The full range of naturally occurring elements in these concentrated extracts works directly with your Endocannabinoid System, providing a "full entourage" effect and more relief than you can imagine. So when looking for the best result and most natural experience, the full spectrum PCR is the cleanest way you can go about it.
PCR Hemp Oil vs. CBD Oil
Many people may have heard of "CBD," "Cannabidiol," or "Hemp Extracts." However, what is a CBD Oil? A quick explanation is that it encompasses a variety of types of CBD products, including Full Spectrum, Broad Spectrum, and Isolate. Furthermore, they can be found in different levels of cannabinoids (THCA/CBDA), terpenes (myrcene/limonene), and flavonoids.
Unlike CBD or hemp oil in general, PCR Oil is unique. In short, it contains a different chemical profile than CBD Oil.
Unlike most CBD isolate oils which tend to be clear, PCR Oil contains the whole plant. They come in many colors with a golden brown color because they're made from every part of the cannabis plant, not just CBD extract.
In short, PCR Hemp Oil is a more comprehensive version of CBD oil. It's manufactured through a different manufacturing and processing process, keeping its vitamins, fatty acids, terpenes, and flavonoids that occur naturally in the hemp plant intact.
Benefits of PCR Hemp Oil
Given their similarities, it can be difficult to distinguish between CBD Oil and PCR Oil.
The popularity of Phytocannabinoid-Rich oil stems from its ability to fight a wide range of issues. It is popular among humans and some animals such as dogs.
The below list shows the benefits of PCR hemp but is not limited to:

There are many important benefits in choosing a PCR oil over other products on the market, including:
The hemp plants used for this extraction process have an absence of any pesticides or heavy metals while being grown so that you can enjoy peace of mind knowing your product will be free from contamination and has been verified by third-party testing labs (more about this below).
PCR oils offer maximum bioavailability – meaning they go into your system quicker than traditional methods like vaping or smoking, which means you get more bang for your buck!

Who should use Phytocannabinoid-Rich oil?
Phytocannabinoid-Rich oil is perfect for those who want to supplement their diet with rich CBD levels but do not want to experience the psychoactive effects of THC. Phytocannabinoid-Rich oil is a unique, organic substance that has been shown to provide health benefits and can help with medical issues. This product may benefit those who cannot use cannabis due to legal, financial, or ethical restrictions.
How to use PCR Hemp Oil Extract?
The best way to experience PCR Oil is to put a half dropper under your tongue, hold it for 30-60 seconds and swallow it. Another way we have seen customers use it is to add it to a skincare product. You can mix a few drops with any skincare or apply it directly to your skin. It is best not to use the oil in cooking products because of its low stability due to rapid oxidation.
What does PCR Oil taste like?
Our oils are made from the whole hemp plant, meaning that all its naturally occurring components will be in your product. You might have a hard time tasting these natural flavors because they're very subtle, but once you pass this initial taste, you'll experience an almost silky feeling in your mouth.
Our oil's light golden color and fresh, earthy taste tell you it's a high-quality product. Furthermore, the oils are free from any overflow of unwanted plant matter such as chlorophyll or waxes that would otherwise take away its original flavor and coloring. We want to stay true to its original effects with only one other ingredient: organic MCT Oil, which has shown itself to be a perfect carrier without leaving an unpleasant aftertaste on your tongue!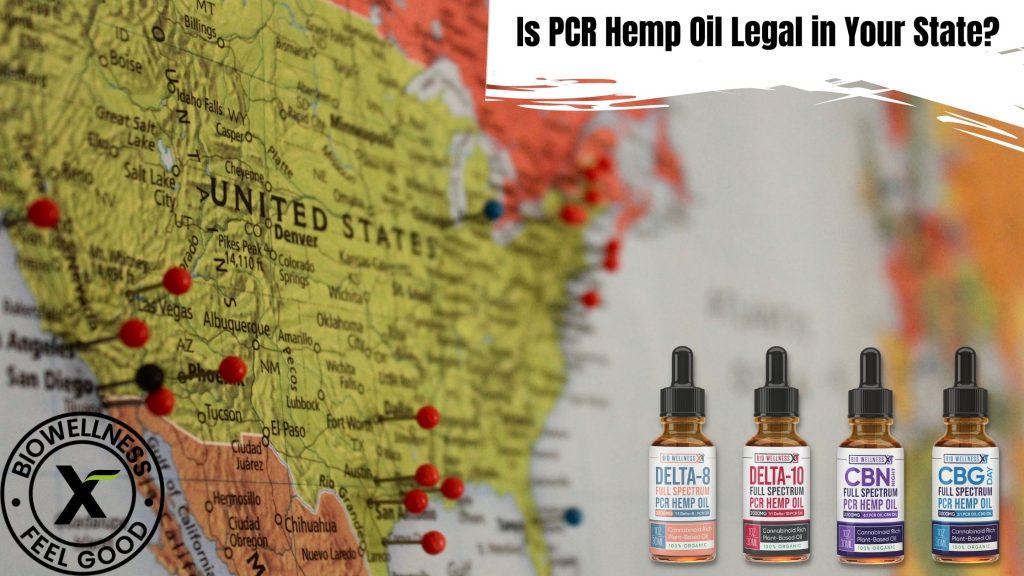 Is PCR Hemp Oil Legal in Your State?
Can you purchase PCR oil legally in the United States?
Yes, you can legally buy PCR oil in the U.S. Although it acts similarly to CBD oil, hemp oil PCR is yet another natural remedy that is allowed under federal law — less than 0.3% THC and below the legal limit on Industrial Hemp.
In 2018, the Agriculture Improvement Act legalized hemp-derived CBD. If the hemp used to produce PCR complies with the 2018 Farm Bill that legalized hemp, it is federally legal.
The legality of CBD varies greatly from state to state, and as such, consumers are not recommended to purchase Full-Spectrum hemp oil without doing their research.
The FDA has recently questioned the safety of hemp-derived products, but they have not yet decided. Some states are taking action to support these new and innovative products by legalizing them for production or sale within their borders. In contrast, others want clarification from federal agencies first before doing anything else.
As more people in America turn away from traditional pharmaceuticals like opioids due to addiction risks coupled with an increase in overdose deaths, some say that legal access to marijuana could be one way out. Hemp-derived products contain cannabidiol (CBD), which is said by many health experts to be able to help reduce pain without feeling high at all; this was reported several times over just last year alone on various news stations and research articles.
Check the List Below for states where PCR Hemp Oil is currently Legal.
States where PCR (phytocannabinoid-rich) hemp oil is fully legal:
ALABAMA
COLORADO
GEORGIA
KENTUCKY
MASSACHUSETTS
MONTANA
NEW MEXICO
OHIO
TENNESSEE
VIRGINIA
ALASKA
CONNECTICUT
ILLINOIS
LOUISIANA
MICHIGAN
NEBRASKA
NEW YORK
OKLAHOMA
TEXAS
WASHINGTON
ARIZONA
DELAWARE
INDIANA
MAINE
MINNESOTA
NEVADA
NORTH CAROLINA
OREGON
UTAH
WEST VIRGINIA
ARKANSAS
FLORIDA
IOWA
MARYLAND
MISSISSIPPI
NEW JERSEY
NORTH DAKOTA
PENNSYLVANIA
VERMONT
WISCONSIN
States where PCR (phytocannabinoid-rich) oil is in a gray area or is legal with certain restrictions:
CALIFORNIA (legal with restrictions/not allowed in food, cosmetics, etc.)
MISSOURI (legal only for eligible patients)
HAWAII (legal with restrictions/not allowed in food, cosmetics)
WYOMING (legal with restrictions)
KANSAS (legal only with a prescription)
DISTRICT OF COLUMBIA (unregulated)
States where the use of PCR (phytocannabinoid-rich) oil is restricted include:
NEW HAMPSHIRE
SOUTH DAKOTA
IDAHO
SOUTH CAROLINA
RHODE ISLAND
Where can I buy High-Quality Full Spectrum PCR Hemp Oil?
You'll need the best quality product to use PCR hemp oil effectively. There are a few questions that can help you determine whether or not your hemp oil is of high quality:
Is it made from organic industrial hemp? If not, how was it processed, and what chemicals were used in the extraction process?
Did they use food-grade ethanol as a solvent for extracting cannabinoids (and if so, did they remove all traces after processing)? Did they test for heavy metals such as mercury before distribution? Are there any residual solvents left behind after distillation/extraction? What about pesticides & herbicides on the plants themselves – do these get absorbed into your body when using this kind of extract.
We offer a variety of high-quality oils that can be customized for your personal needs.
BioWellnessX offers PCR Hemp Oil with a max of 0.3% THC without potential psychoactive effects. Our oil is potent, so you still have to step a little carefully, but you will find our oil to be a dark golden color and rich in a variety of cannabinoids, terpenes, and fatty acids. Don't mistake it for CBD oil!
Our oils come in various selections of high-quality PCR oils that can be used as part of any wellness regimen. We are currently offering our 2000mg therapeutic PCR hemp oil with 1000mg CBG extract to give you a complete body revied experience. Alternatively, if you need help sleeping at night, check out our 2000mg PCR with 300mg CBN extract.
On top of that, if you want something that also gives you that extra body euphoric experience or your pain levels are high, try our 1:1 2000mg PCR help oils with either Delta 8 THC or Delta 10 THC.
High Potency PCR Hemp Oils
BiowellnessX offers various selections of high-quality PCR oils. Currently, we have our 2000mg PCR hemp oil with either added CBG Extract for complete body revied experience or our CBN extract version for better sleep… Also, we are now offering our PCR oil with either Delta 8 THC or Delta 10 THC.
Our oil is slowly extracted with organic 200-proof ethanol to secure the highest quality product possible; all stems from the compliant industrial hemp plant. Our extraction process also prevents unwanted waxes and chlorophyll while preserving terpenes that provide therapeutic benefits like CBD and THC.
LEGAL DISCLAIMER
By reading this legal information, you agree to release the author of any liability related to or arising from your use of this data. This post contains no legal advice. The legal status surrounding Delta 8 THC, Delta 9 THC, and Delta 10 THC is new and constantly changing. We continuously work hard to do our best to give you the most updated information. We recommend checking your current state's laws or federal hemp laws before purchasing any industrial hemp-derived or marijuana products (CBD, THC). Do your due diligence and seek your doctor's advice, especially if you are in doubt or are currently taking any prescription medications. Safer than sorry is always a great idea when consuming new products.
Frequently Asked Questions
What is a PCR Hemp Oil?
PCR hemp oil is an extract that comes from the industrial hemp plant, also known as "cannabidiol" or CBD. It contains high concentrations of cannabidiol (CBD), other phytocannabinoids, and terpenes to create the "full entourage" effect, along with Delta 9 THC levels below 0.30%. Unlike THC, which gets people high, CBD does not have psychoactive properties, but our oil will have a euphoric effect and heighten sensation if you take enough of it. Besides that, it has been proven to be an effective treatment for various things, such as seizures for both children and adults with epilepsy and other ailments.
Is Full Spectrum PCR Hemp Oil Legal?
The legality of hemp oil will depend on where you are in the world. In the United States, it is legal as long as THC levels stay under 0.03%. It's not always easy to tell when buying online or at a store because there may be no labeling requirements for hemp products if they're sold alongside non-hemp items such as soap and lotion. Make sure to look for the lab report (COA) before you buy the product.
What's the difference between PCR and CBD Isolate oils?
PCR Oil is made from the whole hemp plant, whereas CBD isolates oil from only one part of the plant.

The main difference between PCR and CBD oils is their cannabinoid content – Phytocannabinoids are very diverse and can be found in different combinations within any given strain or product type. THC (tetrahydrocannabinol) levels will generally vary depending on other cannabinoids present in a specific extract. Anytime you have two different types of extracts with varying levels of THC, it's challenging to answer whether they're more potent than each other because so many variables are involved.
Which is more effective, CBD oil or hemp oil?
PCR hemp oil is different from CBD oil in a few ways. First of all, PCR hemp oil contains cannabinoids such as cannabidiol (CBD) and tetrahydrocannabinol (THC). CBD oil is the most common form of cannabinoid therapy, rich in the non-psychoactive compound cannabidiol. On the other hand, THC has psychoactive properties that may make it unsuitable for some patients with mental health conditions or those undergoing treatment for cancer who do not want to be high while undergoing chemotherapy treatments. With PCRs, THC and CBD can provide therapeutic relief without going through unpleasant experiences like highs or getting sick.
Can PCR Hemp Oil Get you high?
The short answer is no. PCR hemp oil will not get you high because it contains less than 0.3% delta-9-tetrahydrocannabinol (THC). However, if you do take several dosages, you can potentially feel what we like to describe as a body sensation. A very calm and relaxed state of mind, as someone could describe as a very mild high feeling.