Can Delta 8 THC Bloom in the Sunflower State? Delta 8 THC is in a "grey area" in Kansas. This means that it is not technically legal to purchase or possess, but there is no law on the books that specifically prohibits it. So, where to buy Delta 8 THC in Kansas? Well, there are a few options. Read on, and let's find out together.
Main Keypoints:
The legality surrounding Delta 8 in Kansas is in a legal grey area.
Delta 8 has several potential health benefits.
Gas stations and convenience stores are not the best places to purchase hemp products.
There are many options to find good quality Delta 8 products in Kansas.
Products with 0.3% total THC is legal in Kansas.

Is Delta 8 THC Legal in Kansas?
The legality surrounding Delta 8 THC in Kansas is in a grey area, yet you can find these unique products all over the state.
So Is D8 legal or illegal? The state is not entirely clear on whether or not its legal. However, the Attorney General issued an opinion statement in December 2021, saying Delta-8 THC is allowed if it is contained in lawful hemp products and has less than 0.3% total THC.
Furthermore, it states that possessing Delta-8 products that do not comply is illegal. When this "news" hit the media, it prompted several stores to remove Delta-8 from their stock, so ordering through online stores may be the best bet.
So, where does that leave you? We suggest ordering online and starting with our 10mg Delta 8 gummies to be on the safe side. Because of total dry weight, you'll be below the 0.3% total THC.
And best of all, they are very delicious > get your 10mg delta 8 gummies now. Vegan, natural, and organic ingredients are used as real fruit flavors. You'll immediately taste and feel the difference!
What Is Delta 8 THC? Here's a Brief Background.
Delta 8 THC is a cannabinoid found in trace amounts in the cannabis plant. It has similar effects to Delta 9 THC, the psychoactive component of medical cannabis, also known as marijuana, but it is less potent. Delta 8 is legal in some states, but the legality in Kansas is still unclear. Comparing the state's hemp laws to Florida, it's significantly tougher to truly figure out what is what vs. having a clear bill that tells what you can and cannot like the sunshine state is so properly showcasing.
Delta 8 THC was first isolated in the 1970s, but it was not until recently that it became available as a commercial product. You'll find it sold in the form of oils, edibles, and tinctures. It can also be smoked or inhaled using a vape cartridge/pen.
Delta 8 has several potential medical benefits. It has been shown to help relieve pain, nausea, and anxiety. Delta 8 THC is also known to stimulate appetite and reduce inflammation.
Delta 8 THC is Mostly Created From Industrial Hemp-Derivatives.
However, Delta 8 THC is not approved by the FDA for any medical use. This means that there is no regulation of its quality or safety. As a result, it is essential to purchasing Delta 8 THC products from a reputable source.
It is unclear whether Delta 8 is legal in Kansas. The state has not explicitly legalized or decriminalized the compound.
However, based on the opinion statement released last year by the Attorney general, there is at least a bit of clarity on what is legal and what is not. Yet, the state law has not officially said it's illegal or added it to its definition of recreational marijuana or medical cannabis list.
This means that, technically, Delta 8 is legal in Kansas. However, the state may change its stance on the compound. It is best to be cautious and only purchase Delta 8 THC products from a trusted source.
Where To Buy Delta 8 THC in Kansas?
The market for hemp products is largely unregulated, and the laws vary from state to state.
This means that you must do your research before buying any hemp derivatives. Whether in person or looking at products online, you should check lab reports so there won't be any surprises when trying out new hemp products!
BiowellnessX offers hemp-derived THC and cannabinoid products 100% derived from the industrial hemp plant and lab-tested for safety and product accuracy. You can be sure that what you consume is safe, effective, and within legal limits. You can easily see all of the lab tests listed for every product on the BiowellnessX site.
As mentioned before, we suggest you start with some of the smaller mgs to keep you on the safer side.
We offer our 10mg in both Delta 8 gummies and Delta 9 gummies. Both offer their own uniqueness.
Delta 8 Vs. Delta 9: Which do I pick?
Delta 8 is known for a more evening remedy, whereas Delta 9 is daytime, plus more of a head high over a body high that D8 offers.
Besides our best-selling delta 8 gummies, we also offer a wide assortment of other D8 products.
Pick between delta 8 soft gel capsules, delta 8 tinctures in the form of Delta 8 oil extract, and disposable delta 8 vapes. You can check it all out here too.
You'll feel safe and confident in your purchase because we never use ingredients that harm animals or make you sick. All THC and CBD products are vegan, non-GMO, and gluten-free.
We ensure that your purchase is worth the peace of mind and that our products undergo rigorous testing for quality assurance, ensuring you feel safe and confident in what we sell!
Go Local and Support Small Businesses
You can also try visiting a local smoke shop if you want to see, touch, and smell your hemp product before purchasing it. Most people prefer making purchases from online retailers as they offer convenience and come in discreet packaging.

If You Happen to Live Near or In Any of The Cities Listed Below, You Might Be Able to Find Your Hemp-Derived CBD And THC Products on Store Shelves.
Wichita
Overland Park
Kansas City
Olathe
Topeka
Lawrence
Shawnee
Manhattan
Lenexa
Salina
Hutchinson

The list is long of local stores in the above cities. The common denominator is always to ask questions about the content in the product, look at the label, and ask for the COAs, aka lab reports. Not sure what a COA is? We break it down here.
Try and look for local smoke shops or if you have any dedicated stores that carry hemp and CBD products. Here you will find the best guidance and education behind each product. In contrast, gas stations, for example, tend not always to be as knowledgeable about the products, leading to a risk to consumer safety.
For example, you do not want to start with a high dose if you have never tried THC before. If you accidentally end up with too high of a dose, the best you can do is get to bed and relax.
Federal Law and Delta 8 THC
The federal government has designated Delta 8 and other psychoactive compounds as Schedule I controlled substance. According to the FDA orange List, these chemicals have no medical use, which means they're illegal in most states due to their high potential for abuse.
The cannabis laws are changing quite dramatically on a state level. Still, federal law and legislation have an exemption for tetrahydrocannabinols per the 2018 farm bill. As long as there is no more than 0.3% Delta 9 THC present in any hemp product and it originates from the plant Cannabis Sativa aka the hemp plant, it's unlawful.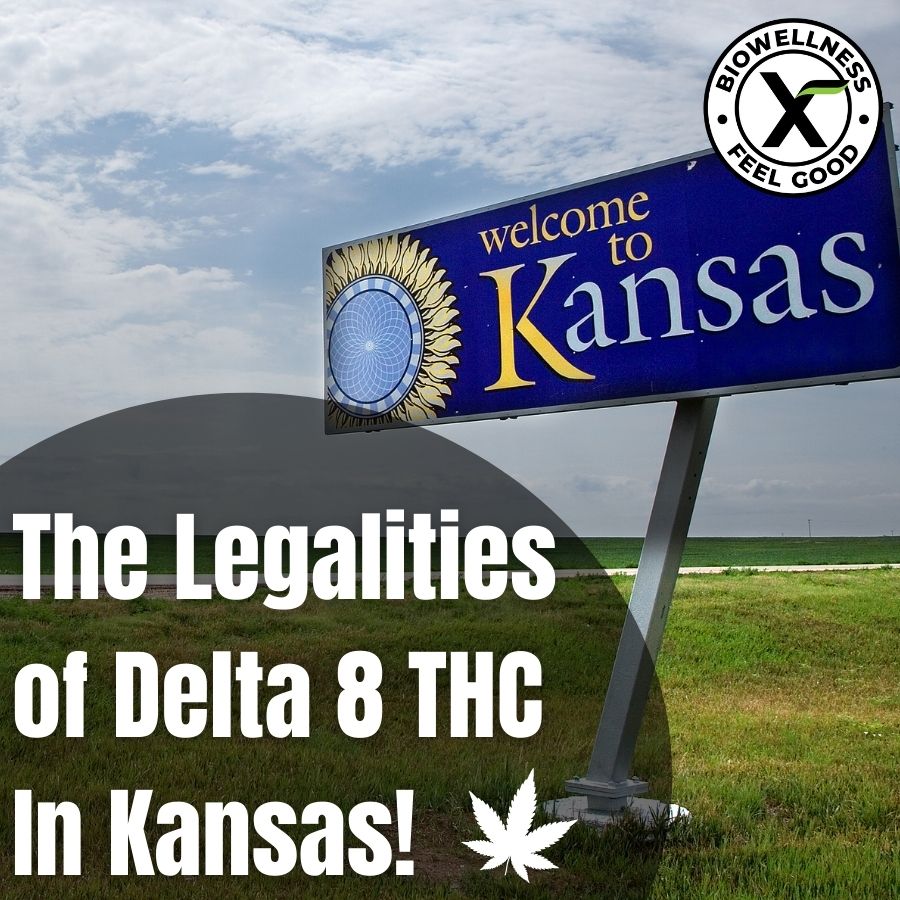 State Law on Delta 8 In Hemp products
The laws surrounding hemp in Kansas are a bit complicated, as you could read further up, making it hard for consumers to know what they can and cannot buy. The Delta 9 THC level must be below 0.3%; it further uses the Total THC phase, putting it into a different confusion matter. Start with a lower dose, and you can adjust as the regulations get more open.
Delta 8 is a cannabinoid similar to Delta 9 THC, the main psychoactive component in cannabis.
Delta 8 THC is present in smaller concentrations in cannabis plants than Delta 9, and it has shown to have some medical benefits, though not as well studied as Delta 9.
In 2018, the U.S. Farm Bill made it federally legal to grow, sell, and use hemp products that contain 0.3% or less of Delta 9 THC. This includes CBD oil and other hemp products containing Cannabidiol (CBD). However, Delta 8 THC is not explicitly mentioned in the Farm Bill, and its legalities are therefore unclear.
In Kansas, the legal status of Delta 8 THC is currently in a grey area.
The state has not passed any laws specifically regulating Delta 8 THC, but it has enacted laws that could be interpreted as making Delta 8 illegal. For example, Kansas has a law on the books that makes it unlawful to possess, sell, or distribute any "substance containing tetrahydrocannabinols," including Delta 8 THC.
However, this law also excludes industrial hemp and hemp-derived products containing 0.3% or less of Delta 9 THC, excluding Delta 8 THC from its scope. This exception is in line with the federal Farm Bill, suggesting that Kansas lawmakers do not consider Delta 8 THC a controlled substance.
The bottom line is that the legal status of Delta 8 THC in Kansas is currently unclear. It's possible that the state could pass other laws specifically regulating Delta 8 in the future, which the latest opinion letter showed us. For now, you still have the option to purchase Delta 8 THC.
Don't forget to stay up to date with your local state laws.
The Controlled Substances Act in Kansas
Kansas updated their State's Controlled Substances Act to clarify the difference between cannabis-derived tetrahydrocannabinols (THC) and those found in hemp. The following phrase was added to the list of Schedule I controlled substance:
"except tetrahydrocannabinols obtained from industrial hemp as defined in section 1…."
THC is now technically a substance extracted from medical marijuana but does not contain more than 0.3% cannabinoid content per dosage unit.
Kansas doesn't consider Delta 8 THC derived from legal hemp material to be a controlled substance yet.
Comparing Delta 8 THC To Delta 9 THC
Delta THC is a molecule that binds to cannabinoid receptors in the brain and elsewhere. THC has two primary forms, including Delta 11, which can only be found naturally in minimal quantities in cannabis plants or synthesized for research purposes. Delta 11 shows up in the body after it's been broken down.
It cannot bind as efficiently as Delta 9 THC leading some people to say this form of THC is inactive if consumed at low doses. However, it all comes down to you and your body. What is your age, how often do you consume THC, your body's metabolism, etc., when THC binds to your body's endocannabinoid system and causes you to feel high.
Chemically, Delta 8 and Delta 9 are similar because they have double bonds in their chemical structures. This double bond is said to produce the intoxicating effects that make you feel high.
Delta 8 is a minor cannabinoid and can only be found in minimal quantities in the hemp plant, which is why most utilized CBD isolate to convert it over to THC.
While Delta 8 binds to the endocannabinoid system slightly differently, more research is needed to see whether it is less potent than regular THC.
Many gravitate towards Delta 8 because it is less potent and works more as an indica, ideal for evening use. You will still enjoy all the great benefits of THC as a whole; it's just now more than ever easier to control how you want to feel from it.
Final Thoughts – Where Can I Buy Delta 8 THC In Kansas?
As of now, Delta 8 remains somewhat in the grey area in Kansas. As we have pointed out throughout this post, keep it safe if you want to enjoy this widely popular hemp-derived THC compound. You can find it everywhere and even products online too.
Stay informed about the products you get if federal and local laws change to avoid issues.
Kansas residents can find it at local physical stores, CBD stores, and online retailers. Cannabis products in all variations are readily available.
Please stay up to date and check back with us as new rules and regulations are implemented for the cannabis industry.
Try our 10mg Delta 8 Gummies now. Need that Sativa feeling? Try our 10mg Delta 9 gummies.
Also, it comes in our famous 2-packs. Take your vegan THC Gummies with you on the go!


References:
LEGAL DISCLAIMER
By reading this legal information, you agree to release the author of any liability related to or arising from your use of this data. This post contains no legal advice. The legal status surrounding Delta 8 THC, Delta 9 THC, and Delta 10 THC is new and constantly changing. We continuously work hard to do our best to give you the most updated information. We recommend checking your current state's laws or federal hemp laws before purchasing any industrial hemp-derived products (CBD, THC) in Kansas. The data in this post is not intended to diagnose, treat, cure or give any medical advice. Do your due diligence and seek your doctor's advice, especially if you are in doubt or are currently taking any prescription medications. Safer than sorry is always a great idea when consuming new products.
Frequently Asked Questions (FAQs)
What is the legal age to purchase Delta 8?
Most retailers will not let you buy any hemp-related products for safety reasons unless you are 21. There are exceptions for medical marijuana situations.
Does Delta 8 THC Get You High?
Some people describe the high feeling as clear-headed, more of a euphoric body sensation. Others have said they don't feel anxiety or paranoia, typically associated with its analog Delta 9.
Can Delta 8 THC Make you Fail a Drug Test?
Yes, you will most likely test positive if you consume Delta 8 THC and do so frequently.
Is Delta 8 legal in all 50 U.S. states?
Yes, on a federal level, each state does not have the same laws. Each state makes its own laws regarding cannabis. There are over a dozen states that have already banned this hemp derivative.