Many think of cannabis as the psychoactive compound Delta 9 tetrahydrocannabinol (THC). However, another tetrahydrocannabinol, Delta 8 THC, has become widely popular recently. It has gained chiefly popularity because of its health properties and less of the psychoactive effects you get with Delta 9 THC. So, where can you buy D8 THC in Charlotte? The options indeed are endless. Let's take a look.
Main Key Points
Delta 8 THC is only present in minimal amounts in most cannabis strains and is not as potent as Delta 9 THC.
Customers in Charlotte can purchase their quality goods in local stores and online.
All current legal products in Charlotte are produced from hemp since the more potent marijuana plants will exceed the legal limit of THC.
Recreational marijuana is not permitted in Queen City!
Where Can I Buy Delta 8 in Charlotte Area?
Nowadays, people are turning to hemp-derived THC and CBD products for their wellness needs. However, there's no better way of getting the real thing when buying online from a reputable retailer than with a trustworthy company that will be able to provide you with pure products at competitive prices without sacrificing quality!
At BiowellnessX, we offer a vast selection of high-quality THC, CBD, and Delta 8 THC products, that are lab-tested for purity, potency, and safety, so you know exactly what's inside each itty-bitty bottle.
Nobody wants to put nasty chemicals into their bodies; we care about your well-being, so all our THC and CBD products are made with natural and organic ingredients to provide you with the best experience. We guarantee that our products meet high-quality standards.
But if the internet isn't your cup of tea (or coffee), then run to the nearest CBD stores or smoke shops in your city. You will be able to find all you need.
And hey, some places even have a pet line and offer pet treats. North Carolina is also famous for its countless local small farms growing high-quality hemp flower.

Find Delta 8 And Other Cannabinoids in A CBD Shop Around Charlotte:
GreenLife Remedies – 501 Penman St. Charlotte, North Carolina 28203
KANNA | Delta 8, CBD, & Hemp – 209 W Worthington Ave, Charlotte, NC 28203
Queen Hemp Company – 9524 Hebron Commerce Dr, Charlotte, NC 28273
Crowntown Cannabis Charlotte – 2419 Central Ave, Charlotte, North Carolina 28205
Hemp Hop Cannabis Delivery & Dispensary – 227 Old Hebron Rd, Charlotte, NC 28273
Blue Flowers Cannabis Hemp Dispensary (pharmacist-owned cannabis boutique) – 4717 Sharon Rd #2B, Charlotte, NC 28210
Apotheca – CBD, Delta8, & Kratom – 1801 Yorkmont Rd Building B Space 10, Charlotte, NC 28217
Vapor Smoke Shop CBD & Delta 8 -1627 Sardis Rd N #4B, Charlotte, North Carolina 28270
Delta 8 THC, What Is This Popular Compound Anyway?
Delta 8 is a cannabinoid that materializes naturally in the cannabis plant. It is one of the more than 100 cannabinoids found in cannabis, similar to Delta 9 THC, the active ingredient in marijuana.
However, Delta 8 THC is only present in trace amounts in most cannabis strains and is not as potent as Delta 9 THC. It has shown some therapeutic benefits, including reducing anxiety and improving appetite.
It is also being studied for its potential use in treating various health conditions, but what most use it for today is to achieve a new level of relaxation, help with those body aches and use it as a powerful sleep aid.
Delta 8 THC is available in several forms, including tinctures with Full-Spectrum PCR Hemp Oils, edibles (like our best-selling organic Delta 8 gummies,) vape cartridges, and more.
It can be used orally or inhaled. When taken orally, Delta 8 THC is metabolized by the liver and has a more psychoactive effect, still much less than D9. Inhaling Delta 8 THC produces a more relaxing effect.
Some people who use Delta 8 THC report feeling less anxious and paranoid than when they use Delta 9 THC.
Don't get us wrong; if you overdo it, you can feel the anxiety. For example, if you are not used to THC and start with 100mg Delta 8 gummies, you might regret you took it about an hour later.
What Types Of Delta 8 THC Or CBD Products Can You Shop For In Charlotte?
Hemp is an excellent plant for many reasons, but finding the best ways to use it cannot be accessed without knowing its capabilities. Thankfully with help from BiowellnessX, you'll see how easy peasy it can be!
Many options are available to suit your needs: smoke it, vape it, sip it, chew it, or anything in between!
BiowellnessX delivers high-quality hemp-derived products at your doorstep, so shop your favorites directly from our website now!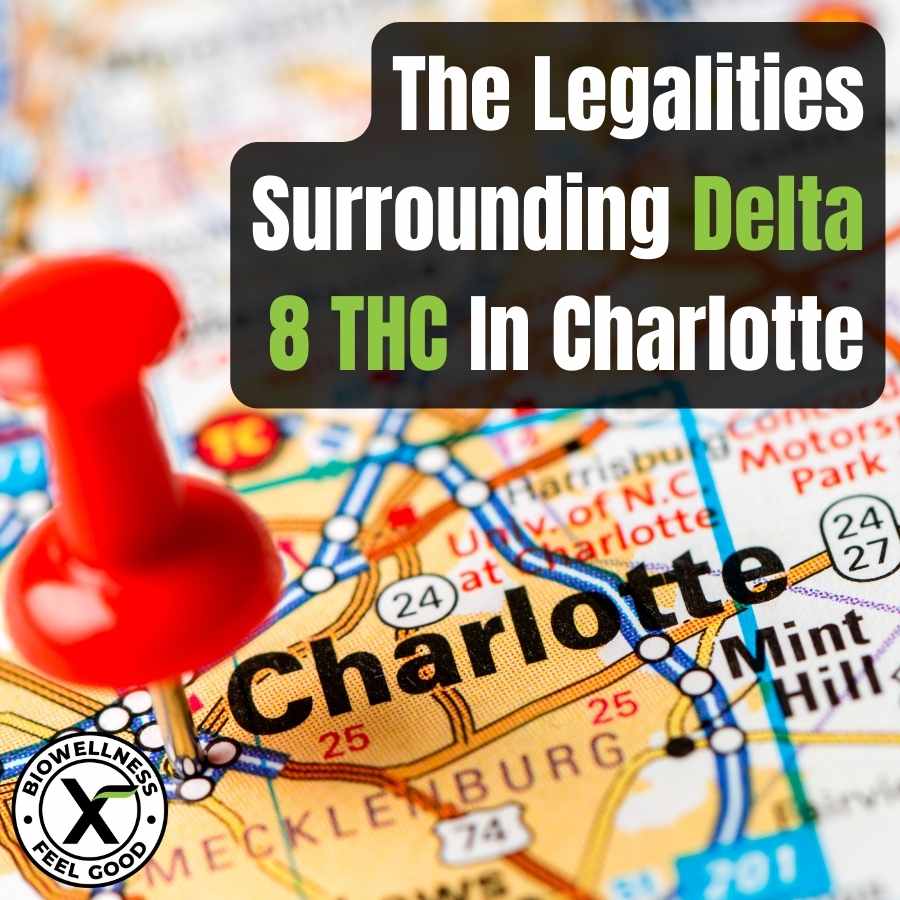 Is Delta 8 legal in Charlotte?
At this point, you might have already guessed the answer to that.
Delta 8 THC is permitted in most states, while others have implemented restrictions. D8 can be purchased online, in a CBD store, or at a dispensary in states where it is permitted.
The US Food and Drug Admin. has not regulated Delta 8 THC products, so it's essential to do your research before purchasing.
The 2018 Farm Bill allows Charlotte residents to purchase Delta 8 products as long as they don't have a high dose of Delta 9 THC (no more than 0.30%).
This means that all current legal THC and CBD products in the state are produced from hemp plants since the more potent marijuana plants will exceed the lawful THC limit for consumers in North Carolina.
So, the good news is yes, Delta 8 THC is legal in Charlotte, North Carolina!
What About Marijuana, Is That Legal In Charlotte?
With Delta 8 being lawful to sell, some might wonder if you can buy, sell, or even grow marijuana legally in Charlotte, North Carolina.
In North Carolina, marijuana possession is decriminalized for half an ounce or less. This means that you could face a fine of up to $200, but it would not lead to any other charges like arrest.
Jail time isn't part of the equation when dealing with these cases, making things easier for everyone involved!
Now, if you carry any larger amounts, you can get into serious trouble with the law, as recreational marijuana is unlawful.
Many consumers in the state are for recreational marijuana legalization, so it will be interesting how all this plays out. Hopefully, legalization will be here sooner than we thought!
What About Medical Marijuana in The Queen City?
Medical marijuana is legal in North Carolina! This means that Charlotte residents can now enjoy this natural medicine's advantages.
There are many ways to get your medical marijuana fix, including edibles, flowers, tinctures, and topical products. You can buy these products from local dispensaries.
To purchase medicinal cannabis, you must have a medical marijuana card.
There are a few ways to get a card in Charlotte.
First, you can go to your doctor and ask for a recommendation. Your doctor will likely give you a card if you have a qualifying condition or disease, such as cancer or chronic pain. You can also go to any dispensary and ask for an application.
Once you complete the application, you must send it to the state with a $50 fee. After your request is clarified, you will get your card in the mail. You can then use your card to purchase medicinal marijuana at any dispensary in Charlotte. Pretty straightforward process.
If you're new to using medicinal marijuana, it's essential to do some research before you start. Ensure you understand the different strains and how they affect your body. You should also be aware of the various laws surrounding medicinal marijuana use in Charlotte.
Final Thoughts – Buy Delta 8 THC in Charlotte, NC
Now that Delta 8 THC is legal in Charlotte, there are many places to buy from, but if you're looking for some of the highest quality Delta 8 THC products in Charlotte, BiowellnessX is a fan favorite go-to source.
You'll find some of the finest products available in the cannabis industry. Check out our website; you'll be happy you did!
You can also call us at (747) 236-6616; our team would be happy to hear from you. You'll be impressed with the extraordinary customer care and support you receive.
Don't forget to ask about our military discount and first-time customer discounts.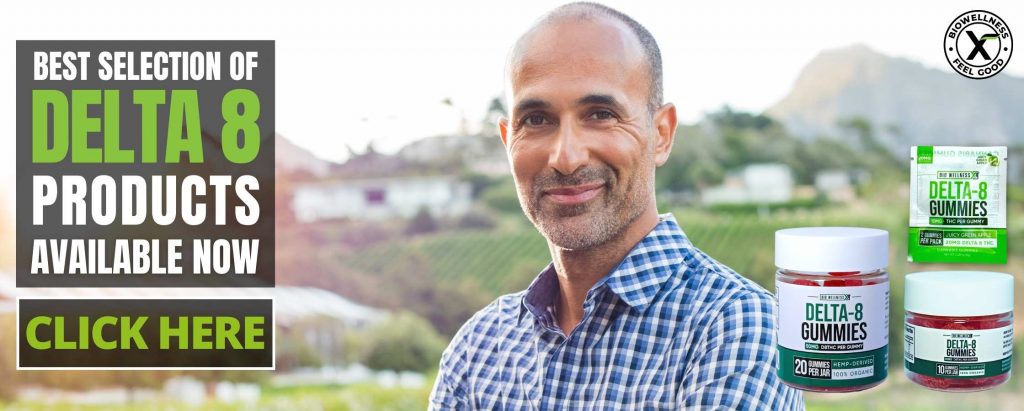 Legal Disclaimer:
By reading this information presented, you agree to release the author of any liability that comes from using this data. This post contains no legal advice. Claims about cannabinoids have not yet been approved by the FDA. Read the full legal disclaimer here.
Is THCA Flower Legal In North Carolina? Understanding The Laws Behind It!

References:
Frequently Asked Questions (FAQs)
Is Delta 8 legal in all of the states?
Though Delta 8 is technical "federally legal," Delta 8 is lawful in most states; over a dozen states have banned the substance and all other hemp cannabinoids. Stay current and check your local state laws before purchasing your CBD and THC products.
Can I order Delta 8 online?
Let's say you're at home hanging out on a Saturday morning, drinking your coffee, and being lazy. You want some D8, but you don't want to leave the house. Well, the good news is you can now order D8 online. Make sure you find an online store you can trust, like BiowellnessX. And make sure to check the law in your local jurisdiction for hemp law updates.
What is the legal age to buy Delta 8 products?
You must be 21 to buy any Delta 8 and other hemp-derived cannabinoids.
Is Delta 8 stronger than Delta 9?
No, it's not. D8 has a lower psychotropic potency than what you typically find in products with high levels of Delta 9 THC, which is why so many gravitate to D8. You still get all the advantages of THC and its neuroprotective properties.
Can I take Delta 8 while nursing?
Never take D8 or other CBD or THC products while pregnant or nursing. You can potentially harm the baby, so be smart and avoid it.