In the ever-evolving cannabis industry, new discoveries and their subsequent products are seemingly always making waves and sparking intense interest. It should come as a surprise to absolutely no one that the latest buzz-worthy product, THCV gummies, has quickly become one of the most sought-after goodies. This compound has many wonderful therapeutic benefits, and researchers discover more about it every day. Whether you're an avid user or somebody looking into medical marijuana treatment options, THCV may be the suitable compound for you to begin exploring today.
So, what is THCV, and how can it help you on your journey to wellness? Let's find out a bit more about this exciting new compound.
Main Points:
THCV is yet another exciting and rare weight loss cannabinoid found in the cannabis plant in small quantities.
Although similar in structure, THCV does not have the same effects on the body as THC.
THCV likely moves through the body's digestive system.
While THCV has earned its nickname "diet weed," it packs quite a punch in its potential therapeutic and medicinal benefits.

What Is THCV?
Tetrahydrocannabivarin (THCV) is one of the many phytocannabinoids (or cannabinoids) found in the cannabis plant. Although less prominent than its cousins THC and CBD, THCV has several potential therapeutic benefits, and it's believed it may even limit the psychoactivity of THC.
THCV is synthesized in the cannabis trichomes and binds to both CB1 and CB2 receptors like all other phytocannabinoids.
How Is THCV Made?
You extract THCV through a chromatography process that separates the compounds from the organic hemp plant. You then evaporate the solution, leaving a high-purity THCV concentrate behind. THCV is found in very low levels of plant biomass, making it quite expensive to extract, but the process is essentially the same as with the other cannabinoids. That is why most are starting to use hemp plant biomass to lower its cost.
What Are The Best THCV Gummies Online?
The best THCV gummies online are made with natural and organic, premium quality ingredients that have undergone third-party testing. In the cannabis industry, there are many incredible brands but also riddled with scammers.
Here's what you need to look for when buying any THC or cannabis products online:
Natural ingredients: Only organic ingredients for the purest effect.
Independent third-party lab: Transparent labs that are up to date show the levels of cannabinoids in the product, so you know what you are paying.
Verified customer reviews: Make sure others have tried the products out before you so you know it works.
Easy and simple return policy: A transparent return policy in place. A customer service that you can reach, email, and call.
The reality is you can't know how you'll react to THC or THCV until you've tried it. Opting for brands with a solid return policy and verified customer reviews help ensure your experience is positive and beneficial.
Where Can I Buy THCV Gummies Near Me?
Although new to the market, THCV gummies and other products are quickly popping up all over. You can find THCV products on sale at your local dispensaries and online, where cannabis sales are legal, and soon enough, we'll have THCV Gummies for sale too.
What Is The Difference Between THC & THCV?
THCV is similar to THC in molecular structure and psychoactive properties, but that's about where the similarities end. THCV has an entirely different set of pronounced effects, and as mentioned above, can be used to counteract or limit the psychoactive effects of THC (that "couch-locked" or paranoid feeling some cannabis users can experience).
Specifically, THC activates CB1, while THCV blocks it (this is also the main reason THCV is believed to cause appetite suppression, which we'll diver deeper into down below). THCV additionally has a high boiling point than THC, so if you're planning to consume it with a vaporizer, you will need to get the THCV to a higher temperature.
THCV activates both the CB1 and CB2 receptors at high doses and exhibits effects that more closely resemble THC. It results in enhanced euphoric and cognitive impact and is believed to have therapeutic benefits.
Difference Between THCV Gummies vs Delta-8 THC Gummies
THCV can also cause a psychoactive effect when consumed at very high doses, but the results are different from regular THC (also known as Delta-9 THC). Like THCV, Delta-8 THC is one of the cannabinoids present in Cannabis that occurs in tiny concentrations. Delta-8 THC has more similarities to THC in its chemical structures, and it also causes a mild, euphoric high when consumed in large doses.
It's no secret that Delta-8 THC gummies have become one of the most exciting and popular new hemp products to hit the cannabis market in the last year or so.
Delta-8 THC is known for its calming properties and is often compared to Indica strains, and users turn to Delta 8 gummies to help with chronic pain and anxiety and manage stress levels. If you're looking for similar effects to Delta-8, then THCV gummies may be a disappointment.
Delta-8 gummies offer a heady but functional, euphoric high; THCV gummies act more like a stimulating, offering a boost of energy and focus while potentially being appetite suppression.
THCV Gummies vs Delta-10 THC Gummies
Delta-10 THC gummies have some psychoactive effects on consumers, but to a lesser and different extent than Delta 8 or Delta 9. Although they're similar because of their daytime options, the two have very different therapeutic properties. Those who have tried Delta 10 report an uplifting experience where they feel focused and alert yet calm. In that sense, since THCV is also known for offering an uplifting, focused experience, the two can be thought of as somewhat similar—but it's tough to compare the two as so little research has been done on either of them.
THCV is a psychoactive cannabinoid that seems to reduce inflammation and pain associated with joint issues and even diabetes, putting it in a category beyond "casual daytime" use. And while Delta-10 has its own list of incredible benefits, such as chronic pain relief, they differ from THCV's.
Will THCV Gummies Make Me Feel High?
THC Effects
In short: yes, THCV can make you feel high, but only if taken in large doses. THCV is known as the "race car" cannabinoid due to how briefly its effects are felt so that any high feeling will subside faster than with THC.
Given its low concentrations in cannabis cultivars, THCV isn't so easy to come by as an isolated concentrate. Many strains high in THCV are also high in THC, so you can't entirely separate the experiences. There are specific cannabis strains where THCV is present in higher levels. With the advancement in the extracting process, you can isolate this compound; it's just a matter of time till it gets cheaper and more mainstream.
Those who have tried THCV report enhanced focus, improved mood, energy, and a reduced appetite for potential weight loss.
What Is THCV Good For?
Perhaps the most exciting and interesting of the compounds at the moment, THCV has shown great potential in studies to improve several physical functions, treat several diseases, and manage chronic symptoms. Along with providing increased energy and reduced appetite, THCV packs quite a punch when it comes to its potential medicinal benefits.
While more research is needed to fully understand the scope of THCV's effects on the human body, several studies have identified a variety of potential therapeutic uses for this clever minor cannabinoid:
THCV could assist with regulate blood sugar levels and reduce insulin resistance in people with diabetes.
Could reduce or curb panic attacks in PTSD patients.
Shown to assist with tremors, loss of motor control, and brain lesions associated with Alzheimer's disease.
Could promote the growth of new bone cells, an effect that could potentially help treat osteoporosis and other bone-related conditions.

Are THCV Gummies A Safe Appetite Suppressant?
In contrast to THC, yes, THCV gummies may dull the appetite, earning them a few clever nicknames such as "diet weed." While this may be a good option for consumers focused on weight loss or concerned with weight gain, THCV should be avoided by patients treating appetite loss or other eating disorders or patients on specific prescription medications.
Who Can Benefit Most From THCV Gummies?
While THCV may be beneficial for those suffering from a variety of chronic aches and ailments, this cannabinoid can potentially benefit anyone looking to add THCV to their wellness routine or for a cannabinoid that can offer a clear-headed and stimulating experience.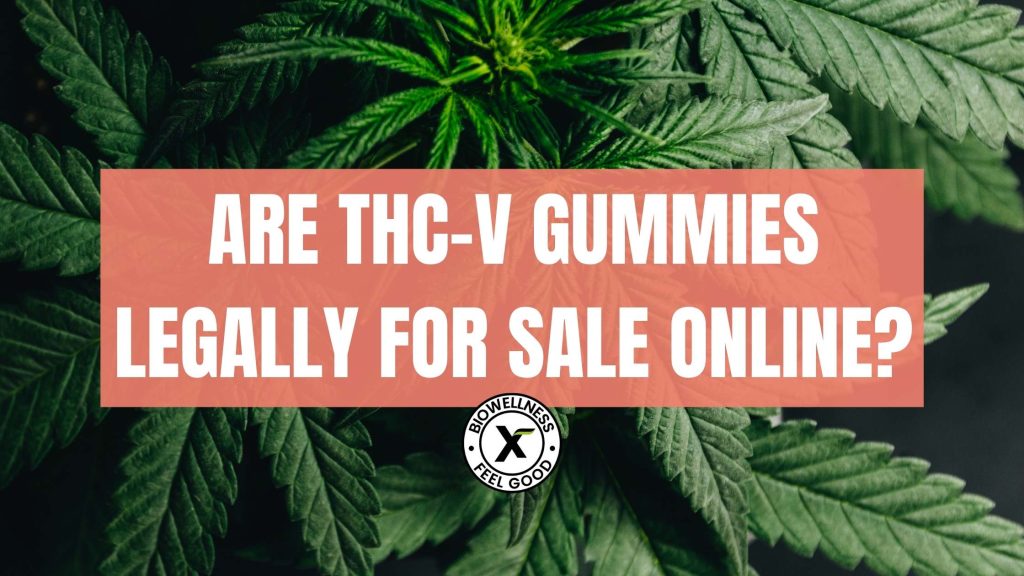 Are THCV Gummies Legally For Sale Online?
Cannabis products containing only THCV made from 100% hemp plants can be fully legally manufactured, distributed, and sold to consumers in the United States. Thanks to the 2018 Farm Bill, ratified and signed into law in December 2018, Cannabis containing less than 0.3% Delta 9-THC is legally classified as hemp and is legal under federal law.
That said, it's always important to do your due diligence and research your local laws before purchasing any products, as each state have their own regulations in place.
Final Thoughts:
If you're curious about trying THCV gummies (or any other cannabinoid products, for that matter!), it's always best to do your research, start small, and see how each product makes you feel. THCV has amazing potential benefits, and we hope to see more details emerge about this incredible cannabinoid as more research is conducted.
With so many new products emerging onto the market, we couldn't be more thrilled to have you along for the journey of discovering all of the life-changing benefits of Cannabis.
While we are waiting to get our THCV Gummies manufactured, you should check out our other popular products, such as organic Delta 8 THC gummies and oils, organic D10 THC gummies, and oils. Looking for something less potent but still with great benefits, our full spectrum products, such as our CBN Gummies, can offer you enhanced sleep patterns.
LEGAL DISCLAIMER
The legalities surrounding THC are constantly changing. We continuously work hard to do our best to give you the most updated information. We recommend that you always check your current state hemp laws- or federal law before purchasing any hemp-derived products (CBD, THC). The data in this post is not intended as legal advice nor to diagnose, treat or give any medical advice. In any event, do your due diligence and always seek your doctor's advice, especially do if you are in doubt or are currently taking any prescription medications. Safer than sorry is always a great idea when taking new products.