Cannabis consumers are always on the hunt for the next big thing! And we can safely say they found it with THCA Diamonds.
Shaped like rock candy, THCA Diamonds are amongst the most potent cannabis concentrates, and we're here to tell you all about it!
Main Keypoints
Cannabis Diamonds are cannabis extract concentrates in the shape of crystals.
THCA Diamond concentrates contain pure THCA.
THCA is the acidic precursor to THC in the cannabis plant.
THCA is non-psychoactive but converts to pure THC when heated.
Studies show that THCA has many potential health benefits.
Many users enjoy the pure and potent THC experience that comes with a THCA Diamond.
There are different ways to enjoy your THCA Diamond, such as dabbing, baking or sprinkled on a THC flower.
What Are THCA Diamonds?
THCA diamonds or "THC diamonds" are a crystal-like form of THCA concentrates. But unlike other concentrates, THCA Diamonds have nearly pure THCA.
THCA, or tetrahydrocannabinolic acid, is a cannabinoid acid existing naturally in the cannabis plant. Cannabinoid acids form first in cannabis plants. Sunlight and heat then convert THCA to THC. Read more about THCA.
So, in short, THCA is the mother compound that gives us the usual THC. Without THCA, we wouldn't have THC.
The great thing about THCA Diamond concentrates is that they contain 97-99% pure THCA, which doesn't have psychoactive effects by itself. But when heated, the high levels of THCA convert into pure THC.
Spoiler alert! Our very own THCA Diamonds are here.
How Are THCA Diamonds Made?
There are a few methods to make THCA Diamonds, but it all depends on how well the manufacturer uses the extraction process.
The Crystalline method: mixes THCA isolate with liquid solvent to create a supersaturated solution. And then adding heat and pressure to the process so that THCA molecules start separating from the solution and bonding with other THCA molecules to form THCA Crystalline or "diamonds."

Closed-loop System (CLE): uses a liquid solvent to separate the THCA and terpenes from other plant materials. The solvent then slowly purges over several weeks, allowing for the diamonds to form.

Diamond mining is an extraction process used to harvest isolated THCA from a terpene-rich extract.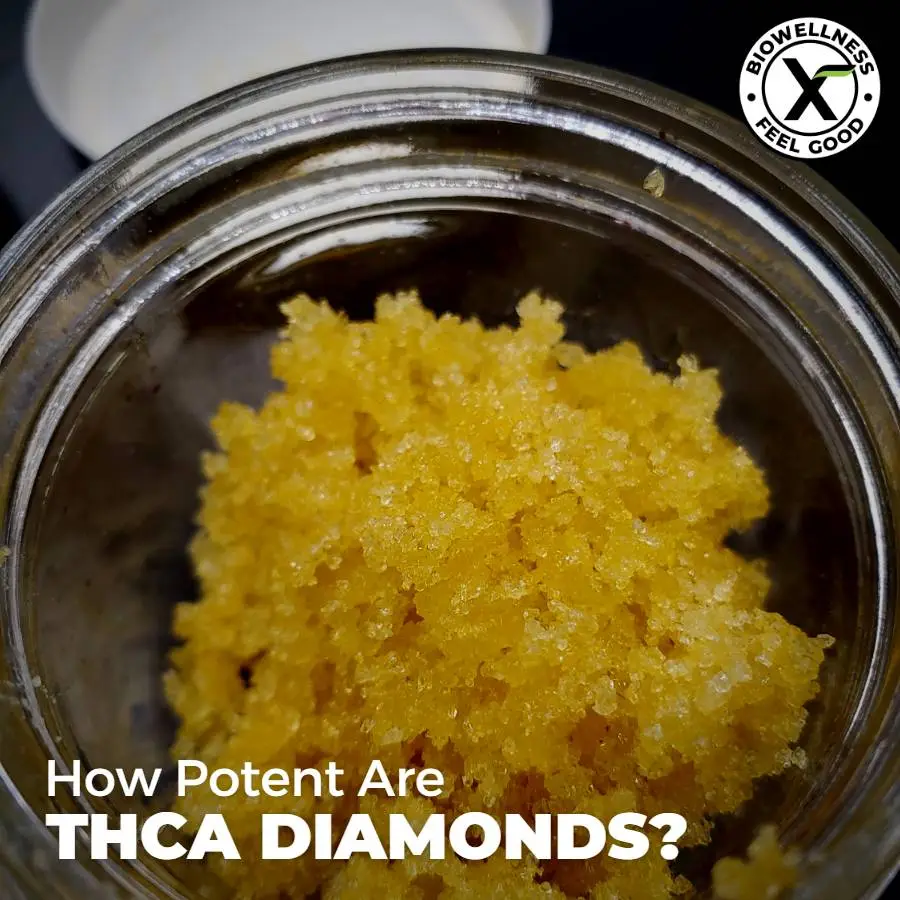 How Potent are THCA Diamonds?
Many consumers love the purity and high potency of the THCA Diamonds. Their crystalline structure contains high levels of refined THCA.
The way THCA Diamonds are made leaves no room for any other compounds to exist within it, leaving users with pure THCA.
THCA Diamonds take the cake as a heavy hitter. The high is unlike any other you've tried before and is so potent that it can last for hours.
Some THCA Diamonds have Diamond sauce coating, which is added terpenes found naturally in the plant to add flavor, and some come as pure as they get.
Are THCA Diamonds Safe?
The safety of your THCA Diamonds depends on your retailer! The Diamonds extraction process is sophisticated, and if the manufacturer doesn't have the proper labs and scientific knowledge, you could end up with harmful residues in your Diamond concentrates.
Reputable companies always test their products for safety and provide a certificate of analysis or a lab report to that effect. See the lab report example here.
What Are The Benefits of THCA?
Research into THCA shows that it has anti-inflammatory and analgesic properties that can alleviate pain.
Studies show that THCA also has anti-emetic qualities that can stop nausea and vomiting.
Studies also suggest that THCA can help suppress seizures and spasms.
While THCA is non-intoxicating, when heated, it turns to pure THC, with all of its benefits.
Read more about THCA benefits.
How Do You Best Consume THCA Diamonds?
There are so many ways to enjoy THCA Diamonds, especially if you're trying to get a THC experience better than THC flowers and other THC concentrates.

Dabbing Diamonds with a dab rig
THCA Diamonds usually require high heat to get the best effects, which is why a dab rig provides the perfect way to get the best out of your Diamonds.
Consuming Diamonds with an electronic vaporizer
Some electronic vaporizers are set to work with Diamond concentrates, while others are dual-function designed to work with both Diamonds and THC flowers.
Consuming Diamonds with cannabis flower
You can sprinkle some THCA diamonds on your cannabis flower to enhance its effects. You simply crush the diamond to make powder, then add some of it to your dried flower.
Making THCA Edibles
Crush up some THCA Diamonds to make THCA Powder, then add it to your favorite recipe to make delicious edibles.
P.S. For baking, we recommend getting a THCA Diamond without Diamond Sauce, which is terpenes that coat the crystal to enhance the flavor.
Is THCA Legal?
Hemp-derived products containing less than 0.3% Delta-9 THC are federally legal across all states. However, each State can lay its own laws regarding cannabis products; check your local laws before buying.
Final Thoughts
THCA Diamonds are the closest thing to pure concentrate you'll ever get. They're one of the most potent cannabis concentrates on the market.
The THCA crystals or Diamonds convert to pure THC, offering THC fans a whole new level of enjoying THC.
In the meanwhile, check out some of our THC top sellers:
Knock-out Gummies (100 mg of pure Delta-8)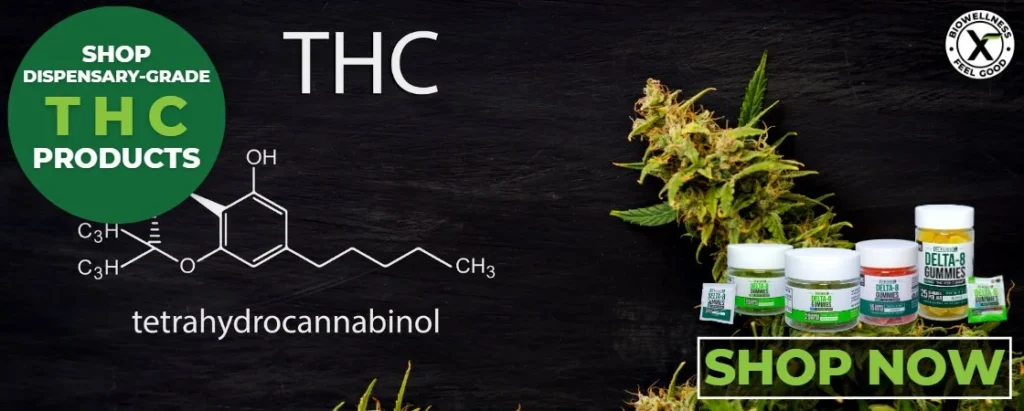 Interested in THCA Wholesale? Click here for options
Read also:
Resources
Legal Disclaimer:
By reading this information presented, you agree to release the author of any liability that comes from using this data. This post contains no legal advice. Claims about cannabinoids have not yet been approved by the FDA. Read the full legal disclaimer here.
FAQs
How potent are THCA Diamonds?
THCA Diamonds contain pure THCA, which converts to pure THC without interfering with other cannabinoids and terpenes. Small diamonds can have more THC than a gram of THC flower.
What's The Difference between THCA Diamonds And THC Diamonds?
Nothing! THCA Diamonds and THC Diamonds are two names for the same thing.
What do THCA Diamonds look like?
From the name, they come in the shape of crystal concentrates. Depending on the manufacturer, they can look transparent or semi-transparent
Are THCA diamonds live resin?
They can be extracted from live resin, but they're not precisely live resin. They provide an even more potent experience than live resin.