Get the latest deets on where you can buy Delta 8 THC products in Georgia, aka the peach State!
For those in the know, Delta 8 THC was what started this hemp-derived THC craze we now see all over the country and blowing up the cannabis scene. This mildly potent cannabinoid offers many of the same benefits as Marijuana. With a milder high, Delta 8 is more conducive to a broader audience and not just the cannabis connoisseur.
As a result, Delta 8 THC has become a popular choice for those looking for an alternative to traditional cannabis products. But where can you purchase premium Delta 8 THC in Georgia? Where do you find legal Delta 8 products that actually work?
The answer, unfortunately, is not as straightforward as one might hope. While a few retail stores sell Delta 8 THC products, the selection is often limited, and the prices can be high. But don't worry, we're here to help. Read on and get all the deets on this prevalent minor cannabinoid.
Main Key Takeaways
The Farm Bill legalized the cultivation of hemp plants for commercial and industrial purposes.
You can buy legal Delta 8 THC in Georgia!
Delta 8 THC and 9 THC have similar chemical makeup, offering many benefits. One gets you higher than the other, can you guess which one?
Shopping online is a convenient, fast and safe option for buying high-quality Delta 8 in Georgia.
Just want to know where you can buy some THC products? Click here and go straight to the meat of this article.
Let's Talk About Delta 8 THC and Exactly What It Is!
As many are already aware, THC is the primary psychoactive compound in cannabis, representing both the marijuana and hemp plant.
Delta 8 is a THC compound you can find in very small quantities in the hemp plant. While it is similar to Delta 9 THC in some ways, it has different effects on the body and mind. For example, Delta 8 THC produces a more calming, relaxing, and euphoric body high vs. a head high, plus you can expect less anxiety and paranoia than Delta 9 THC if you take the recommended dosage.
Legislative History Surrounding Delta 8 THC in Georgia
In 2019, Georgia passed the Georgia Hemp Farming Act (HB213,) which was intended for use as part of its agricultural reform program, which means Delta 8 THC was removed from Georgia's controlled substances list. Since then, state law has not changed the Georgia Hemp Agriculture Act.
The only other changes to this bill were made in 2020, removing criminal penalties for possessing Delta 8. The language specifically states that "all tetrahydrocannabinols, except for Delta 8 THC, are included within the definition of marijuana". Therefore, Delta 8 is currently legal in Georgia.
The act also removed all limitations on selling, transporting, and possessing hemp-derived cannabinoids, including Delta 8 THC. Delta 8 THC is legal to buy, sell, and possess in Georgia.
With so many options, stick to high-quality Delta 8 THC products.
You should only purchase high-quality Delta 8 THC and other hemp products from licensed vape shops, head shops, smoke shops, CBD stores, or online retailers. There is a general lack of regulations, which means you could end up with a product that can do more harm than good.
Keep an eye out if you purchase from gas stations and convenience stores. Your best option might be to find an online store that gives you easy access to all the info needed.
Federal Regulations Surrounding Delta 8 THC
Federal legal status regarding Delta 8 is still evolving, but the consensus is that it is federally legal per the 2018 farm bill. This means you can buy, sell, and consume Delta 8 THC products without fear of breaking the law. But, each state does have a right to make its cannabis laws, so always check your state and local laws for updates. With all that said, there are some catches the federal law:
First, Delta 8 must be derived from hemp rather than marijuana. Hemp is legal at the federal level, while marijuana is not. Most Delta 8 products are made from hemp flower or hemp oil.
Second, the federal law states the legal limit for Delta 9 THC in Delta 8 THC products is 0.3%. The same limit applies to CBD products. So, if you wanna stay on the safe side, make sure your Delta 8 THC product contains less than 0.3% Delta 9 THC.
Finally, it's essential to note that the FDA does not currently recognize Delta 8 as a legal substance. This means that no regulations exist for its sale or consumption. However, this is unlikely to be an issue for most people, as the FDA has bigger fish to fry than going after people who are consuming a relatively harmless substance like Delta 8.
Overall, Delta 8 THC is legal in Georgia at the federal level. It's very important to be aware of the limitations on THC content and the lack of regulation from the FDA. As long as you know these things, you can buy, sell, and consume Delta 8 without fear of breaking the law.
With Delta 8 being legal, can you buy medical marijuana in Georgia?
You may be wondering if you can purchase medical marijuana in Georgia. The answer is yes, but there are some restrictions.
First, you must be a legal Georgia resident with a valid ID.
Second, you must have a qualifying medical condition certified by a licensed physician.
Finally, you must register with the state's medical marijuana program.
If you meet all of these criteria, you should be able to purchase medical marijuana from a registered dispensary. Remember that recreational marijuana use is still illegal in Georgia and a controlled substance.
Ok, So, Where To Buy Delta 8 THC in Georgia?
What might be the easiest for many is to look online first. You'll find it's fast and convenient to shop online, plus you can often find some seriously good deals.
BiowellnessX, one of the all-time faves for shopping online, offers high-quality Delta 8, 9, and 10 THC products that help ease muscle tension and calms your over-busy mind while aiding in a peaceful, deeper sleep.
You can feel good knowing you are buying directly from the manufacturer, which helps keep prices low. Unlike other stores that sell a product without any information on where or how it is produced, BiowellnessX is proud to advocate for clean cannabis with a focus on organically grown hemp flowers!
If you rather want to adventure outside to a local smoke shop or CBD store nearby, there are plenty in the state of Georgia. Depending on what side of the state you are in, you shouldn't have to travel too far to find a store. Below are a few ideas to look for.
According to Google, below are some of the most popular smoke shows around:
Vape City 3895 Cherokee St NW Ste 330, Kennesaw, GA 30144-
Green Diamond CBD 129 S Hill St, Griffin, GA 30223
Hemp Haven ATL 2765 E College Ave, Decatur, GA 30030
ATL Dispensary 728 Monroe Dr. NE Suite B, Atlanta, GA 30308
Sam's Paradise Vape 3380 Sunset Ave, Hapeville, GA 30354
Xhale City 1977 Jonesboro Rd, McDonough, GA 30253

The good part of Georgia is it doesn't matter if you live in any of the below cities or nearby; you'll be able to find your hemp-derived THC products:
McDonough
Columbus
Wilmington Island
Augusta
Savannah
Douglasville
Roswell
Johns Creek
Warner Robins
Albany
Not sure what to get?
Here are some of our best-selling Delta 8 THC Products that are readily available from our shop:

Final Thoughts – Buy Delta 8 THC in Georgia
So, there you have it! Delta 8 is legal in the great state of Georgia, and you can purchase it at many reputable stores. Hopefully, this info has been helpful, and you can now go out and buy yourself some Delta 8 with confidence.
Delta 8 can be an excellent remedy and help you feel better overall. We'd love to help search through the best products with high potencies of Delta 8. Call (747) 236-6616 or check us out at BiowellnessX. We are also available on social networking platforms:
Thanks for reading, and happy hemping!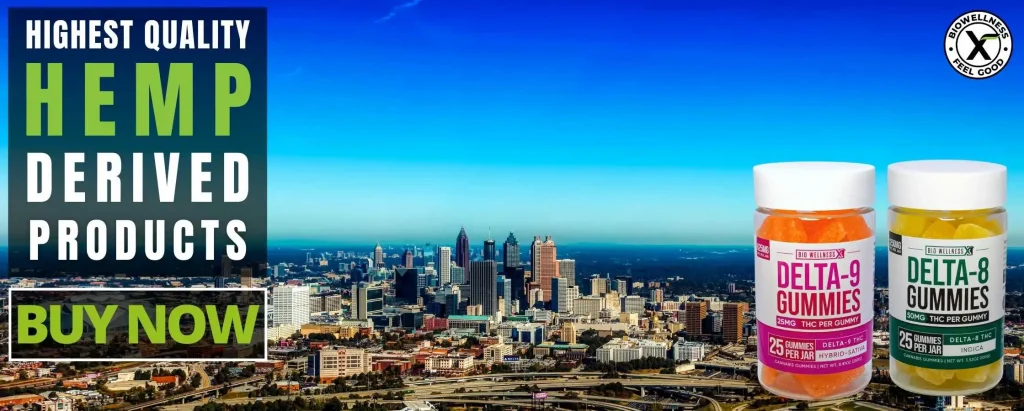 Not sure where to start? Get Free Delta-8 Samples and test before you commit!
LEGAL DISCLAIMER
By reading this legal information presented, you agree to release the author of any liability arising from using this data. This post contains no legal advice. The legal status surrounding Delta 8 THC, Delta 9 THC, and Delta 10 THC is constantly changing. We continuously work on giving you the most updated information. We recommend checking your current state laws and federal guidelines before purchasing any industrial hemp-derived THC or CBD products (cannabinoids) in Georgia. This post does not intend to prevent, diagnose, treat, or cure diseases. Consult your doctor, especially if you are taking any prescription medication or have a severe medical condition. Always play it safe when consuming new products.
References:
FAQs About Delta-8 THC In Georgia
How old do you have to be to buy Delta 8 in Georgia?
Anyone aged 21 and beyond can purchase Delta 8.
Can you buy Delta 8 gummies in Georgia?
Yes, of course, you can. Online is the best way to purchase them, but you can also buy them in-store.
Can I legally buy Delta 8 online?
If you live in a Delta 8-friendly state, then yes. Otherwise, check your local laws on hemp-derived products. Visit our online shop and find any NON-THC or Full Spectrum products containing Delta 9 THC below 0.3% of total dry weight.
Is Delta 8 safe?
Be responsible as you are dealing with a potent THC compound. It is safe but always bought from a trusted source. You'll want to know precisely what is in your hemp products. Also, please don't overdo it. Start small and increase as needed. Many users don't report any significant side effects.