Unless you've been living under a rock, you've likely heard about the benefits of CBD oil. But what about Delta 8 THC? Asheville, North Carolina, is known for its art and culture scene. But some people might not know that a thriving cannabis community is hidden in the smokey mountains. You're in luck if you're wondering where to buy Delta 8 THC in Asheville. Several dispensaries carry these high-quality compounds.
This article will tell you the best hot spots to buy D8 THC in Asheville, NC, and give you access to a quick way to order today with big savings on some of the most potent Delta 8 edibles.
Main Key Points
Delta 8 THC works more as an Indica, making it perfect for evening use.
The Food and Drug Administration does not regulate D8 products at the moment.
D8 THC affects the body and minds differently than Delta 9 THC.
A reputable company should always have easy access to support, reviews, and lab reports on its website.
D8 is not hard to find in Asheville; however, quality products are not so easy.
What Is Delta 8 Anyway?
D8 THC is a cannabinoid that occurs naturally (in minimal amounts) in the cannabis plant. D8 is a common cannabinoid in recent years, along with CBD, CBN, and CBG.
Delta 8 THC is similar to Delta 9 THC, the primary psychoactive cannabinoid in marijuana. However, it affects the body and minds differently than Delta 9 THC and is also said to be slightly less potent. But don't let that fool you; it just hits you differently.
D8 THC is legal in most states, and it's becoming increasingly popular as a way to get the benefits of THC without the high. It's especially becoming popular in the states where recreational marijuana is still unlawful as THC from hemp is the same as THC from MJ.
D8 THC binds to the CB1 receptors in the brain, which are responsible for pain, inflammation, and anxiety. Studies also found it binds to the CB2 receptors responsible for immune function and inflammation. Hence, many have gone to this compound to help ease the pain and body aches and improve sleep patterns.

Where To Buy Delta 8 in Asheville, North Carolina?
So, where can you find D8 THC and all the other hemp-derived products on the market? One way is to find a trusted brand that offers products online, like BiowellnessX.
Our company has been in the hemp game since 2017. We offer a wide selection of hemp-derived products, including Delta 8, Delta 9, Delta 10, even NON-THC, and much more. Each offers solutions such as sleep aid, energy & focus, discomfort, and recovery.
Best-selling organic Delta 8 Gummies
One of our most popular edibles is our organic Delta 8 gummies. What makes us different is we have perfected the perfect gummy over the years. You get the same consistency each time, it's made with natural and organic ingredients only, vegan and dairy free, plus you can pick between four potencies ranging from 10mg and up to 100mg in various flavors.
Try them today and get 15% OFF and free shipping.
If you need your products ASAP, pop into one of the many CBD stores or a smoke shop in your town. You'll be able to get all your goodies quickly.
Find Delta 8 And Other Hemp Products In A CBD Shop Around Asheville, NC:
Do your research and always buy from reputable companies. Ask for lab reports, so you know what you are getting.
What Types Of Delta 8 THC Or CBD Products Can You Find In Asheville?
Hemp is the most versatile plant, but finding products that work for your needs can be complicated when you have no clue what D8 has available. Luckily with help from BiowellnessX, we will show how easy it can be!
Many options are available to suit your needs: smoke it, vape it, sip it, chew it, or anything in between!
With gas so expensive these days, the easiest is to order online and get your quality D8 delivered right to your door. Check out our website, contact us directly by phone at (747) 236-6616 or follow us on any one of our social media platforms:
Facebook: @Biowellnessxinc
Instagram: @Biowellnessx_inc
Pinterest: @Biowellnessx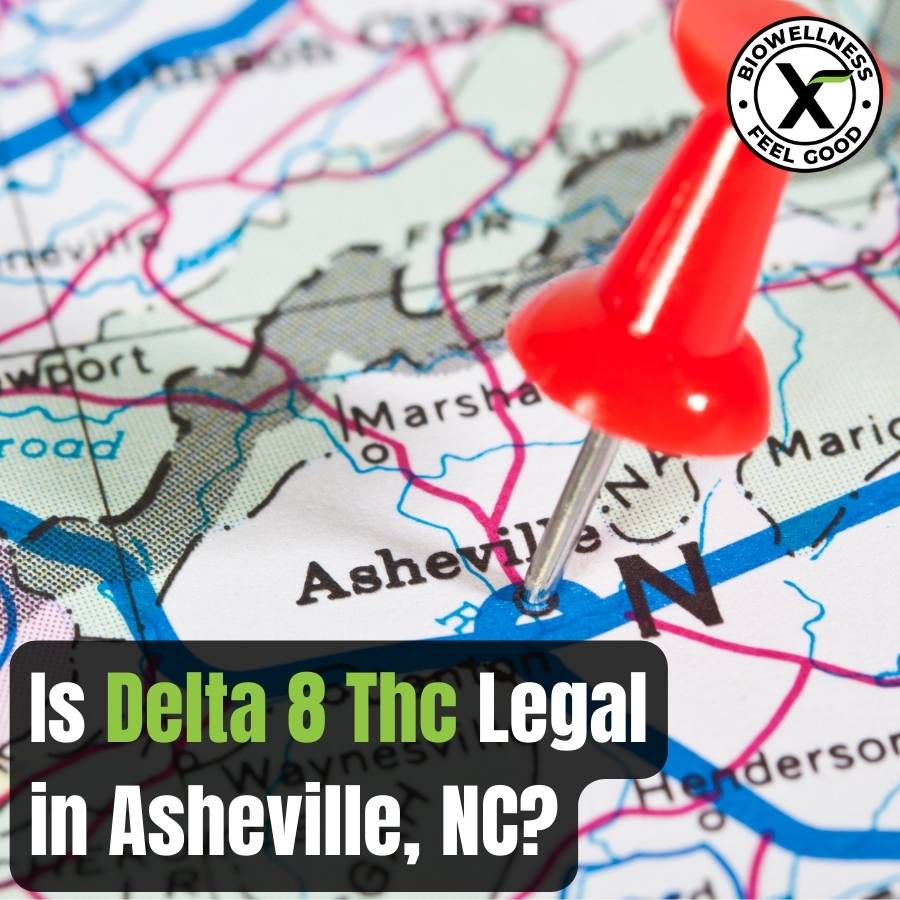 Delta 8's Legality in Asheville, North Carolina.
Hemp-derived cannabidiol (CBD) and D8 THC are legal under state law.
This means you can use, possess or sell products containing this ingredient without fear of penalty or prosecution from local authorities!
However, checking with your local municipality to ensure compliance with their regulations is essential.
Delta 8 THC is legal in Asheville, and you can purchase it from a retail shop or online retailer. You don't need a prescription to buy D8 THC products. However, you should be aware that the potency of these products can vary greatly. Always kick off your regimen with a low dose and gradually increase as needed.
Please advise your healthcare provider before beginning any new supplement regimen.
The Food and Drug Administration has not evaluated the statements made regarding these products.
Is Delta 8 Safe To Consume?
So, is D8 THC safe to consume? The short answer is yes, D8 is safe to consume. However, as with anything, keep in mind these few things before consuming any D8 product.
The first thing to consider is that D8 is a mildly potent cannabinoid. D8 THC is around 30-50% as psychoactive as Delta 9 THC, the primary form of THC in MJ. This means that it can produce similar effects in users as Delta 9, including feelings of relaxation, euphoria, and increased appetite.
Because it is not as potent as Delta 9 THC, the effects of D8 are often less intense and more manageable for first-time users. Start with 10mg D8 gummies.
Another thing to consider is that D8 products are not currently regulated by the Food and Drug Administration (FDA). This means that there is no quality control for D8 products, and it is essential to do your research before purchasing any product.
There is no substitute when your health is involved!
Finally, while D8 is safe to consume, it is essential to remember that it is still a mildly potent cannabinoid. If you are new to D8 THC, start with a low dose and increase gradually as needed.
Always listen to your body and avoid consuming more than you are comfortable with. If you consume too much, you can end up getting intoxicated.
Final Thoughts – Buy Delta 8 in Asheville, NC
Suppose you are looking for the finest place to buy your D8 products; look no further than our website, BiowellnessX. We have a wide variety of options, and we know you won't be disappointed with your purchase. Plus, buying online is the most convenient option – you can do it right from the comfort of your own home!
So what are you waiting for? Visit us today.
Thanks for reading, and we hope to see you soon!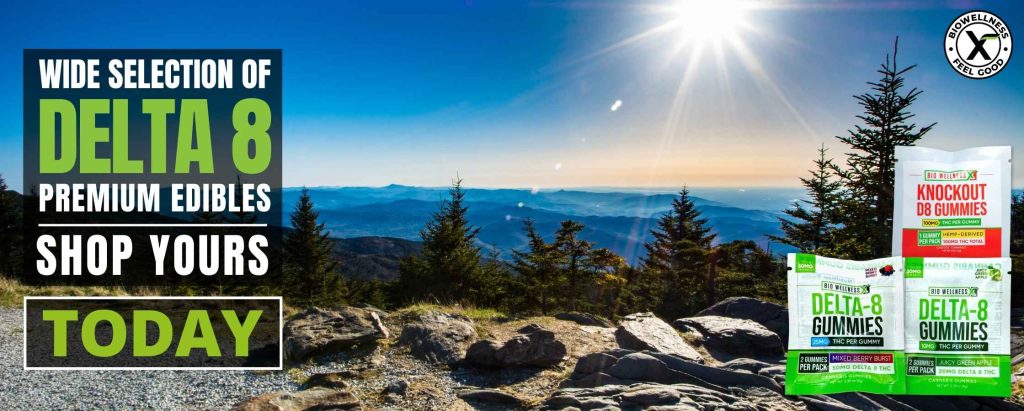 LEGAL DISCLAIMER
By reading this legal information, you agree to release the author of any liability related to or arising from your use of this data. This post contains no legal advice. The legal status surrounding Delta 8, Delta 9, and Delta 10 THC is constantly changing. We continuously work on giving you the most updated information. We recommend checking your current state or federal hemp flower laws before purchasing hemp-derived cannabinoids (CBD, THC) in Asheville, NC. The data in this post is not intended to diagnose, treat, cure or give any individual medical advice. Do your due diligence and always get your doctor's advice, especially if you are in doubt, taking any prescription medicines, or have a medical condition. Better safe than sorry is always a great idea when consuming new products.
Is THCA Flower Legal In North Carolina? Understanding The Laws Behind It!

References:
Food and Drug Administration (Cannabis)- FDA Regulation of Cannabis and Cannabis-Derived Products, Including Cannabidiol (CBD) | FDA
Food and Drug Administration (Farm Bill)- Hemp Production and the 2018 Farm Bill – 07/25/2019 | FDA
Controlled Substances Act- The Controlled Substances Act (dea.gov)
FAQs About Delta-8 THC
Does the FDA approve D8 or any Delta products?
As of now, no! The FDA does not approve any D8 or Delta products.
What if a company doesn't want to show me their lab reports?
Do not buy from that company, plain and simple. Any company that doesn't disclose its information is not a reputable source for your products. Even if ordering online, companies have all their information on their website. Never substitute quality for cheapness; you should always know what's going into your body.
Can I buy D8 from a smoke shop?
Yes, you can!
Is Delta 8 stronger than Delta 9?
No, it's not. D8 has a lower psychotropic potency than what you typically find in products with high levels of Delta 9 THC, which is why so many gravitate to D8. You still get all the benefits of THC and its neuroprotective properties.
Can I take Delta 8 while nursing?
Never take D8 or other CBD or THC products while pregnant or nursing. You can harm the baby for sure.