Nashville is a city with a rich musical history, and it is also home to several dispensaries that sell Delta 8 THC. For those unfamiliar with Delta 8, it is a cannabinoid found in hemp plants. Unlike Delta 9 THC, which is the primary psychoactive component of cannabis, Delta 8 does not produce the same intense "high." Instead, it creates a more mild psychoactive effect. Some of our users have reported feeling more relaxed and focused after using Delta 8. So, if you want to feel a new level of chill, keep reading, and we will tell you where to buy Delta 8 THC in Nashville, TN.
We will also shed light on a few legalities that you should know before purchasing this fantastic hemp compound.
Main Keypoints
Delta 8 THC is legal in Tennessee.
Purchasing hemp-derived products online is still one of the easiest and safest ways.
D8 is a minor cannabinoid found in the cannabis plant, and yes, it can get you high.
Marijuana is illegal in Tennessee, but hemp and CBD are not.
Delta 8 has the same properties as an Indica strain.
Where To Buy Delta 8 in Nashville, Tennessee?
Although Delta 8 THC is federally legal and sold in many CBD stores throughout the city, it's still important to request lab-tested results before purchasing any hemp-derived products to ensure they are pure and high-quality. The same goes for the ingredient list. Don't go for the cheap corn syrup stuff; especially now you have other options.
You can buy from a reputable brand like us here at BiowellnessX. You'll easily find our lab-tested results, full ingredient list, and reviews on all product pages, so you don't have to search and get confused. Our hemp products are safe, organic, and made in America – not to mention they come at a competitive price; who doesn't want to save money?
Buying Delta 8 Online In Nashville Has Never Been Easier!
You can't go wrong with a wide selection, affordable prices, and fast shipping. The best part? If something happens to your order – no matter how big or small- we will ensure it gets fixed immediately so that nothing is going unmatched.
With that said, we know not everyone feels safe shopping online, and that's ok. If you plan on in-store shopping, make sure that you do your research and find a trustworthy CBD store, CBD boutique, head shop, or smoke shop that offers quality cannabis products. Some places even offer local delivery and have education focussed staff. So do your due, and find the best CBD store for your needs.

Listed below are some of the best CBD store locations based on Google searches. Find a hemp & CBD dispensary locally where you can buy Delta 8 in Nashville, TN:
Clara Jane Hemp Dispensary | Delta-8, CBD, Edibles – 914B Woodland St, Nashville, TN 37206
LabCanna East CBD Hemp Dispensary – 1006 Gallatin Ave, Nashville, TN 37206
Nashville CBD Solutions – 4004 Hillsboro Pike Unit 150R, Nashville, TN 37215
Mellow Vape – eCigs, Eliquids & More – 2124 Gallatin Pike N, Madison, TN 37115
4EverEcig – THC, Vapes, Kratom, and Headshop – 14827 Lebanon Rd, Old Hickory, TN 37138
Perfect Plant Hemp Co | Cannabis Dispensary – CBD, THC, & More – 300 White Bridge Pike suite b, Nashville, TN 37209
It's not hard to find a hemp dispensary located in Nashville. The state has been a front-runner when it comes to cannabis for years. That said, you do find some bad apples here and there, and as with anything in life – you get what you pay for! So do your research, buy from reputable sources, ask for lab reports to know what you're getting into, and read closely on that label before you adventure out or get into some of the local delivery offered.
BUT WAIT! Not entirely sure what Delta 8 is?
You might already have a pretty good idea of what it is. It's THC, comes from hemp, and it gets you high too. So even when we say it's less potent than D9 THC, it can still hit you pretty hard.
Looking at D8, It's a minor cannabinoid found in cannabis, also known as the hemp plant for most. Unlike Delta 9, the primary active ingredient in marijuana, Delta 8 is only present in trace amounts, so if someone would have to rely on getting it directly from the plant, you'll end up using a whole lot of material, plus the cost would go up even more. With that in mind, converting it from the cannabinoid CBD makes more sense, which most manufacturers do today when producing Delta 8 THC.
Delta 8 (less potent) does show similar effects to Delta 9, including mild psychoactive effects, and comes with various health benefits that THC, in general, offers. It is no wonder this "little" compound has blown up as much as it has.
What Benefits Does Delta 8 Has?
Sleep aid, mild aches, relaxation, recovery, and peace of mind are just a few of its many benefits.
Some find that Delta 8 THC provides a more body high than Delta 9 THC, making it ideal for evening use.
It's also said to be less anxiety-inducing than Delta 9, making it a good choice for those new to cannabis or looking to have a relaxing and pleasant experience. Don't get us wrong; you can be intoxicated if you take too much, so please step carefully if you are not used to consuming high-quality hemp and THC products.
Curious about the legalities, keep reading.
First, Let's See If Marijuana Is Legal in Nashville, TN!
While marijuana is legal in many states across the country, it remains illegal in Tennessee. The state has some of the strictest laws against marijuana use, possession, and cultivation and doesn't allow recreational- and medical marijuana. Possession of any small amount of marijuana can lead to a misdemeanor charge, while more significant amounts can lead to felony charges. The penalties for marijuana offenses can include jail time, high fines, and a driver's license suspension. As a result, be aware of the state's laws before using or possessing any amount of marijuana.
The only qualifying condition as of now is seizure patients. Legislation is trying to pass a bill for other conditions, so only time will tell.
Now Marijuana Isn't Legal in Tennessee, How is Delta 8 THC?
It's federal legal because hemp plant material is used in the extraction process when creating Delta 8, which also makes it legal in Tennessee.
CBD oil and hemp products are legal in most states, thanks to the 2018 farm bill. Their popularity has recently increased due to their unique mix of effects.
While Delta 9 THC is the more well-known cannabinoid (not for much longer,) Delta 8 is gaining tremendous popularity for its unique effects as we learned further up.
Unlike D9 THC, which can cause anxiety and paranoia, D8 is known for its calming and relaxing properties. In addition, it's also less likely to cause cognitive impairment than Delta 9 THC, making it a safer option for those who want to enjoy the benefits of THC without the risk of impairing their judgment or memory.
Living in Tennessee, all Delta 8 products must contain less than 0.3% Delta 9 THC to be legally sold and consumed. Additionally, we suggest checking with your local laws to ensure that Delta 8 is legal in your area before purchasing or consuming any products is suggested.
What Kind of Delta 8 THC Products Can You Find In Nashville, TN?
If you are ready to buy Delta 8 in Nashville, it's an easy task. Delta 8 has many different items to choose from, but it might be tricky if you're unfamiliar with their products.
However, there is an option no matter your requirements. If you are just starting out, lower milligrams might be where you should start, vs. if you are an experienced user, you can enjoy some of the higher milligram Delta 8 products. Below are a few examples to look through:
Many hemp-derived CBD products are available to purchase, including oils, bath bombs, topicals, and CBD tinctures.
Final Thoughts
So, if you are visiting or live in the Nashville area and are looking for a legal THC product, Delta 8 may be a good option. Many seek Delta 8 in Nashville for its relaxing, and sleep aid properties.
However, it's essential to do your research before purchasing any THC or CBD products to ensure that you know what you're getting yourself into. We hope this article has been helpful and provided some valuable information about Delta 8. Thanks for reading!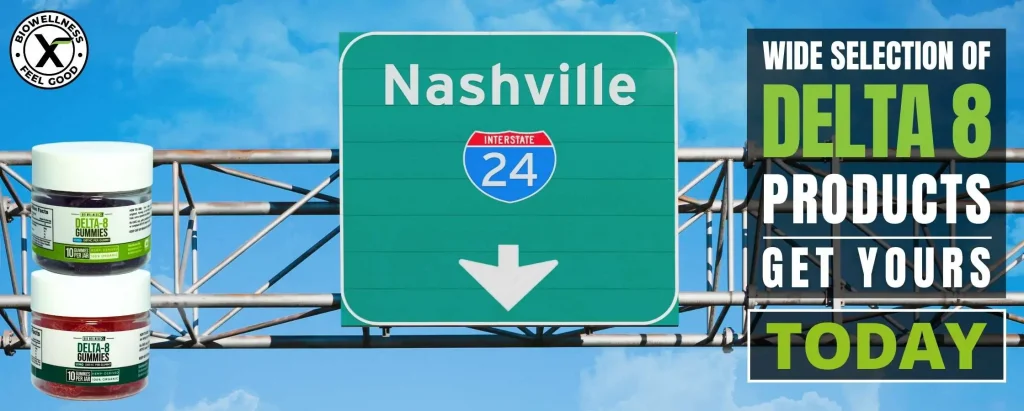 References:
Controlled Substances Act- The Controlled Substances Act (dea.gov)
LEGAL DISCLAIMER
By reading this legal information, you agree to release the author of any liability related to or arising from your use of this data. This post contains no legal advice. The legal status surrounding Delta 8, Delta 9, and Delta 10 THC is constantly changing. We continuously work on giving you the most updated information. We recommend checking your current state's laws or federal government cannabis laws before purchasing any hemp-derived cannabinoids (CBD, THC) in Nashville, TN. What is listed is not intended to diagnose, treat, cure, or give medical advice. Do your due diligence and always consult your doctor for advice, especially if you are in doubt, taking any prescription medications, or have a medical condition. Better safe than sorry is always a great idea when consuming new products.
Frequently Asked Questions (FAQs)
What is the legal age to buy Delta 8?
Most retailers will not sell to you unless you are 21.
Is it legal in Tennessee to purchase Delta 8 online?
YES, but only if you are in a hemp-friendly state. The federal law and the 2018 farm bill make this new compound legal nationwide.
Are there any adverse side effects with Delta 8 I should know about?
The studies on Delta 8 have shown that it is generally safe, but some users have reported feeling light-headed or having an increased heart rate and dry mouth after using this hemp product. THC, in general, can cause anxiety in some users, but you can avoid triggering anxiety from Delta 8 if you stay within the recommended dosage.
Will Delta 8 Get U High?
Yes, you can get a high from Delta 8, but it will not be as intense as a high you would get from Delta 9. So go ahead and enjoy this fantastic hemp cannabinoid. 
Does each state have the same laws regarding cannabis?
No, each state is different and can set its state laws regarding cannabis. Always check your state laws beforehand to stay up to date.
How will I know a Delta 8 product is safe?
When shopping around for Delta 8 products, check for third-party lab testing, company reputation, customer reviews, return policies, customer services, price and value, and hemp source. A reputable brand should have nothing to hide. From hemp source to lab testing to customer reviews and product ingredients, all information should be available for you to view. 
Can I take Delta 8 when taking medication?
Always seek your doctor's advice before taking anything other than your medications.
Is Delta 8 legal in all 50 states?
Under current federal law, yes, it is legal. Each state can develop its regulations regarding hemp. Many states already have put a limit on what is allowed to be sold or not. According to the 2018 farm bill Delta 8 is legal nationwide.