As the cannabis industry booms and new innovative products hit the market, Delta 8 THC is receiving much attention. Everyone wants to experience these superior plant-based products of the highest quality, but not everyone knows the best sources. Some people ask, "What is Delta 8 THC?" And, "Where can I buy D8 in San Antonio, Texas?" Let's explore together:
Main Key Points:
Delta 8 THC is a hemp-derivative compound that originates from the cannabis plant and is currently legal in the state of Texas.
You can currently find Delta 8 products all over San Antonio.
Texas has legalized the use of mary jane for specific medical conditions.
Quality Delta 8 products are a safe alternative to marijuana.

What Is Delta 8 THC?
Delta 8 THC is a hemp-derivative of the cannabis plant, providing mildly psychoactive effects, unlike the intense well-known impact of Delta 9 THC from marijuana. These two compounds have an almost identical chemical structure but deliver different outcomes in the human body.
Hemp is Mary Jane's cousin, so to speak, and has shown to be half as psychoactive. Hemp-derived wellness products make a perfect alternative health treatment for people who experience adverse side effects of anxiety or paranoia from marijuana. Another bonus is that D8 is federally legal and might already be at your local tobacco shop, vape shop, or CBD shop in San Antonio.
Related Article: What Is Delta 8 THC? Read Our In-Depth Guide Here
Where Can I Buy Delta 8 in San Antonio, TX?
The battle for Delta 8 THC legalization in Texas has been fought and won by a Travis County judge. Delta 8 in San Antonio is now legal after he temporarily blocked the state's classification of hemp as a controlled substance. These green botanicals are putting people in a frenzy!
So, where can you find these hemp-derived products? Shopping online with a trusted CBD store like BiowellnessX is your best bet for high-quality products beyond the industry standard. Online retailers have minimal overhead, offer competitive prices, and host flash sales and free shipping. Skip the lines at the local CBD dispensaries in San Antonio, save gas, and shop from your computer or phone.
If you want better quality hemp-based products, check out BiowellnessX. We pride ourselves on product innovation and quality testing and guarantee customer satisfaction—so many companies on the market today cut corners. We have our products lab-tested for product purity. Read through our lab results and many reviews from our loyal customers on our website.
We offer the highest quality CBD, D8, D9, and D10 gummies, tinctures, soft gels, capsules, and topicals. Our vape products are disposable. You won't need any battery or special vape equipment to enjoy the benefits of D8 immediately. We currently do not offer pet products- but stay tuned.
We know some San Antonio residents want to get their goods ASAP! So if you need a local CBD store, check out the many CBD dispensaries listed below.

Find Delta 8 and other Hemp Products in a CBD Store around San Antonio:
Mary Jane's CBD Dispensary – 7115 Blanco Rd suite 113, San Antonio, TX 78216
Emerald Forest CBD Dispensary – 9230 Potranco Rd Ste 107, San Antonio, TX 78251
King Smoke and Novelty – 6104 Montgomery Dr, San Antonio, TX 78239
Artisan Vapor & CBD San Antonio – 9123 N Loop 1604 W Acc Rd #102, San Antonio, TX 78249
SA Botanicals – 213 Alamo Plaza San Antonio, Texas 78205
Alamo Botanicals – 19141 Stone Oak Pkwy #301, San Antonio, TX 78258
CBD Kings – 914 Nolan St, San Antonio, TX 78202
Do your research and always buy from reputable companies. Ask for lab reports so you know what you are getting. If you are near Houston, you can expect as many, if not more, shops that carry all kinds of Deta 8 products. Check our local guide here for local smoke shops in Houston.
Safety Alert! Is Delta 8 THC Safe To Consume?
Well-known Delta 8 THC from the hemp plant is a safe alternative to Delta 9. Cannabis enthusiasts would agree that D8 may be one of the best cannabis products on the market today. There may be risks and potential interactions with some medications. If you have certain medical conditions, consult your health care professional. NOTE: To purchase THC and CBD products, you must be 21.
Mary Jane's Legality in San Antonio, TX.
Marijuana is not federally legal, but Texas has legalized its use for specific medical conditions. The good news is that natural remedies like CBD products are permitted in Texas and found in stores across the state. CBD oil is derived from the hemp plant and offers many benefits, including muscle pains and anxiety.
Herbal remedies such as Ashwagandha, Chamomile, and Valerian work similarly to CBD and are also available and often used to treat the same conditions as CBD oil products. It is essential to note that the FDA does not regulate CBD products, so make sure you look closely at the labels and even ask for lab reports.
Suppose you are considering using marijuana for medicinal purposes, it is essential to consult with health care practitioners to ensure that it is safe for you to do so. You should also be aware of the potential legal consequences of using these substances.
Currently, possession of up to two ounces of marijuana in Texas is a misdemeanor offense. The offense is punishable by up to 180 days in jail and fined up to $2,000. However, first-time offenders may be eligible for deferred adjudication, which would allow them to avoid a criminal record if they complete probation.
It is important to note that the legality of marijuana and high-quality CBD products is constantly changing, so always check your local laws and regulations before purchasing.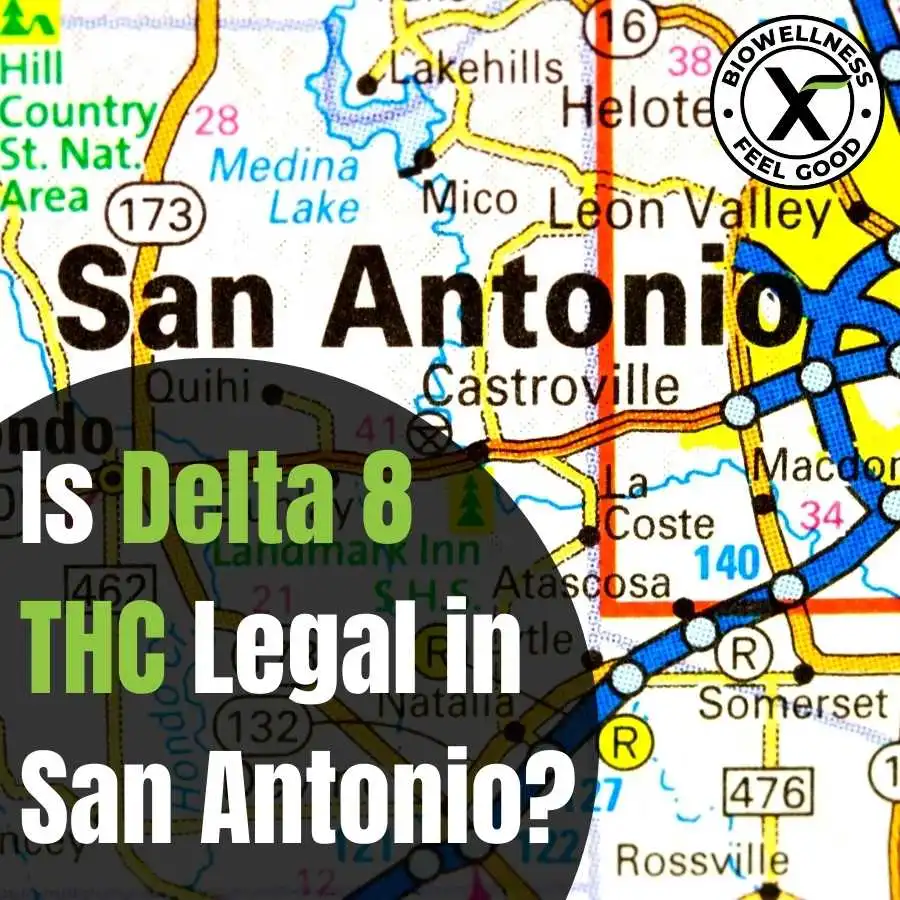 Delta 8's Legality in San Antonio
The legality of Delta 8 THC in San Antonio, Texas, is currently a gray area. While Texas has legalized the use of medical marijuana for specific medical conditions, it has not yet taken a stance on Delta 8.
Many people are left wondering if it is legal to purchase and use this product in San Antonio.
Currently, there are no laws in Texas that specifically mention Delta 8 THC. However, the sale and possession of this product could leave you at risk.
For example, it is illegal under Texas law to sell any substance intended to be used as a drug unless it has FDA-approved research. The FDA has not approved D8 yet, so selling it could technically be illegal.
Possessing Delta 8 in San Antonio is also technically a gray area. At the same time, the state of Texas currently has a law that makes it illegal to possess any controlled substance.
Being Delta 8 isn't classified as a controlled substance means that, technically, it is not unlawful. Ordering online is the most straightforward remedy to avoid confusion with the law.
What Types of Delta 8 or CBD Products Can You Find In San Antonio?
It's not easy finding the perfect hemp products for your needs when you don't know what Delta 8 has to offer, but no worries, let BiowellnessX help you explore!
Skip the lines at Mary Jane's CBD Dispensary or Alamo Botanicals. Save your gas to the vape shop and get your quality Delta 8 delivered right to your door.
Many options are available to suit your needs: smoke it, vape it, sip it, chew it, or anything in between!

Final Thoughts
We have you covered if you are looking for a dispensary that sells Delta 8 THC in San Antonio, TX. Ultimately, we believe online shopping is the best method. And BiowellnessX remains the CBD kings on the net. Come get the Royal Treatment.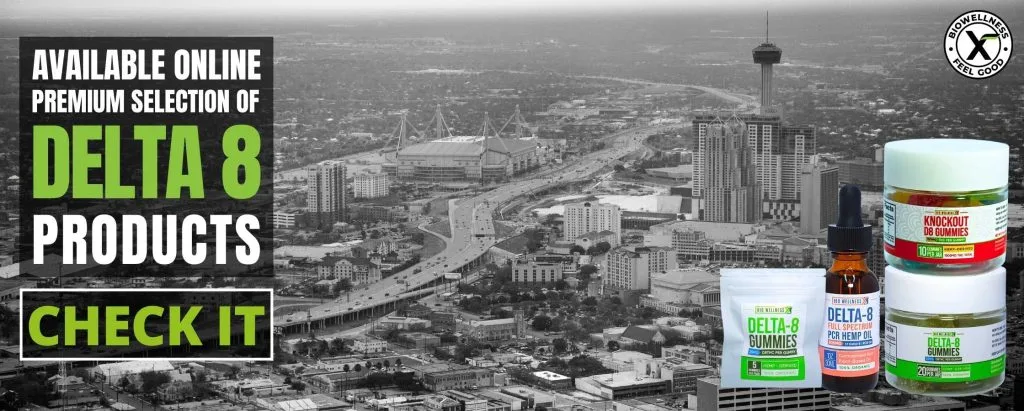 References:
LEGAL DISCLAIMER
By reading this legal information, you agree to release the author of any liability related to or arising from your use of this data. This post contains no legal advice. The legal status surrounding Delta 8 THC, Delta 9 THC, and Delta 10 THC is new and constantly changing. We continuously work hard to do our best to give you the most updated information. We recommend checking your current state's laws or federal hemp laws before purchasing any industrial hemp-derived products (CBD, THC) in Clearwater, Florida. The data in this post is not intended to diagnose, treat, cure or give any medical advice. Do your due diligence and seek your doctor's advice, especially if you are in doubt or are currently taking any prescription medications. Safer than sorry is always a great idea when consuming new products.
Frequently Asked Questions (FAQs)
Can you buy Delta 8 anywhere?
As long the state you are in hasn't put restrictions on D8 and THC, you can.
Is Delta 8 legal in all of the states?
D8 is legal in most states, but over a dozen states have banned the substance and all other hemp cannabinoids. Stay current and check your local state laws before purchasing your CBD and THC products.
Can I order Delta 8 online?
You sure can. Countless online stores offer all kinds of Delta 8 products. You can also check out BioWellnessX's wide range of premium D8 products. Always verify your local laws before buying any hemp-derived CBD and THC products. Hemp laws change often.
What is the legal age to buy Delta 8 products?
You must be 21 to buy any D8 and other hemp-derived cannabinoids.
Is Delta 8 FDA approved?
Unfortunately, D8 is not FDA-approved; hopefully, it will be soon.
Is Delta 8 stronger than Delta 9?
No, it's not. D8 has a lower psychotropic potency than what you typically find in products with high levels of Delta 9 THC, which is why so many gravitate to D8. You still get all the benefits of THC and its neuroprotective properties.
Can I take Delta 8 while nursing?
Never take D8 or other CBD or THC products while pregnant or nursing. You can harm the baby for sure.