Delta-10 THC from the hemp plant is the latest wonder in the cannabis world. This short guide will tell you all you need to know.
Scientists keep discovering more about hemp-based compounds, and Delta-10 THC is the latest psychoactive cannabinoid to take off. But what is Delta-10 THC? How does it compare to traditional marijuana? And why are Delta-10 oil tinctures one of the best ways to consume this potent compound?
We'll answer all your questions about Delta-10 THC and reveal our favorite Delta-10 oil tincture using only organically-grown hemp plants.
Main Key Points
Delta-10 THC is one of the major cannabinoids found in hemp and tends to offer an energetic, uplifting, yet relaxed high.
Delta-10 oil tinctures are fast-acting and, when paired with PCR oil and a carrier oil, can be one of the more effective forms of Delta-10 consumption.
The best Delta-10 oil tinctures start with organic hemp and are free of chemical additives and artificial preservatives.
Delta-10 benefits may include anti-anxiety, stress relief, muscle and joint relief, restful sleep, increased energy and focus, appetite stimulation, and more.
What's with All the Hype? What is Delta-10 THC?
Like traditional Delta-9 THC, Delta-10 THC is a major cannabinoid found in hemp and cannabis plants. It is most similar to the common Sativa strain found in most cannabis shops around the globe. Delta-10 THC is known for its energizing, invigorating, and focused mind and body high. This uplifting yet thoughtful experience makes it highly popular for daytime use among creative types and consumers who love the outdoors.
Delta-10 is available in limited amounts in hemp plants. Thankfully, its past scarcity is no longer a problem. Today's scientists have found a way to safely and efficiently extract enough Delta-10 from hemp for it to be commonly available today. Unlike marijuana, however, thanks to the Farm Bill passed in 2018, hemp-derived cannabinoids like CBD products and Delta-10 THC are considered federally legal.
That opens the door to trusted brands producing and selling real, hemp-based THC completely compliant under federal law. Unfortunately, it also opens the door for not-so-trusted brands. Luckily, this guide will help educate and inform you about what to look for in the best Delta-10 oil and other Delta-10 THC products.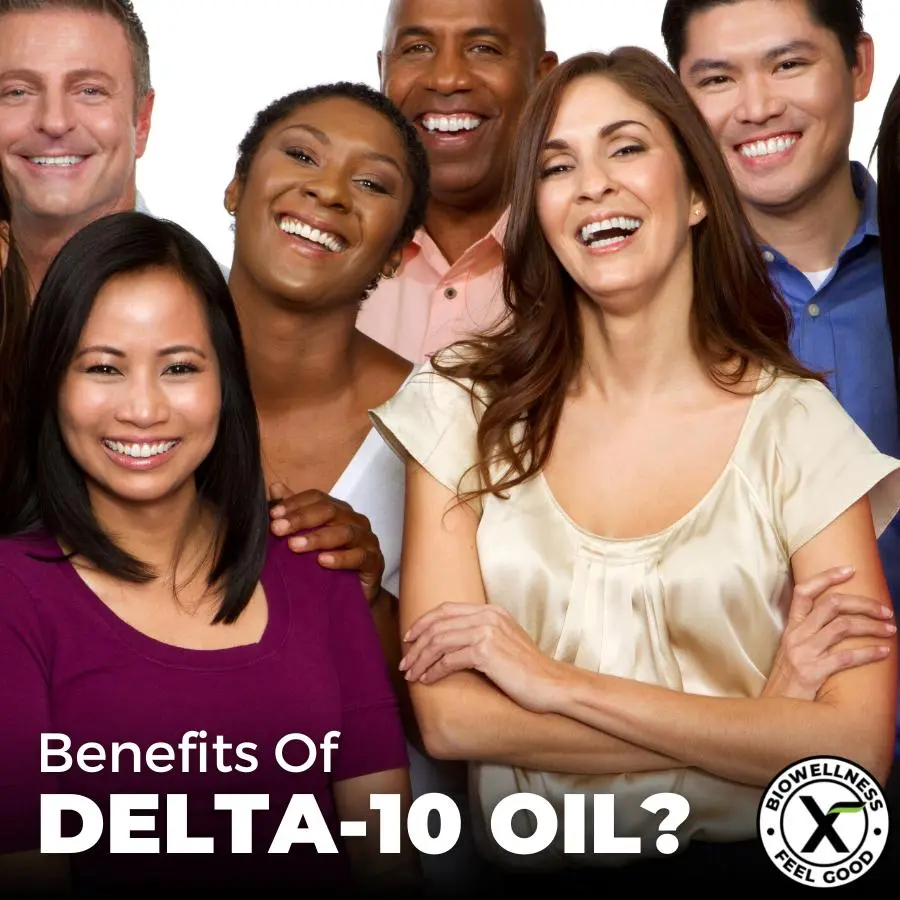 What Are the Potential Benefits of Delta-10 Oil?
Delta-10 THC oil is not your ordinary supplemental dietary product, and it's not just about the psychoactive effects that occur when using Delta-10. By itself, Delta-10 THC oil can provide dozen of benefits for natural relief. When combined with full-spectrum CBD oil, or (even better) PCR Oil, its effects can be even stronger and last even longer.
Here's a short list of potential benefits of taking a high-quality Delta-10 oil tincture:
Natural Relief from Discomfort
Anti-Stress Benefits
Focused, Cognitive, and Energizing Effects
Potent Physical and Cerebral Buzz
Help Promote an overall Healthy Lifestyle
Though many benefits have been reported by verified users, typically, results vary from person to person. If you're concerned about how you might react to Delta-10 THC or if you have a medical condition, we highly encourage following your doctor's advice or consulting a medical advisor.
How Does A Delta-10 THC Oil Tincture Work In the Body?
Like Delta-8 THC and other cannabinoids, Delta-10 oil works by interacting with the body's endocannabinoid system. Once consumed as a tincture or in other forms, the Delta-10 molecules bond with both the CB1 and CB2 receptors to trigger an uplifting psychoactive but relaxed feel.
There are a few different effects Delta-10 offers users that Delta-8 and Delta-9 do not. First, it interacts with these cannabinoid receptors in such a way it promotes a more energetic and invigorating experience with less paranoia. Secondly, it has a slightly weaker affinity, and potency than traditional Delta-9, so higher doses might be more beneficial to experienced THC users.
As with most hemp-derived compounds, Delta-10 THC tinctures have much less risk of negative side effects like increased heart rate or paranoia.
Something to keep in mind: while Delta-10 THC tinctures naturally induce an uplifting experience, added terpene profiles may alter Delta-10 effects to be more like a Sativa-hybrid or even indica-dominant.

What's the Difference Between Delta-10 THC and Delta-8 THC?
Both Delta-10 THC oil tinctures and Delta-8 oil tinctures can offer users fast-acting, completely natural relief from aches, discomfort, worry, and more. Both are found naturally in hemp plants and offer a full physical or mental high.
Those are the similarities; the difference between Delta-10 and Delta-8 is like the difference between Sativa and Indica. Delta-8 is known for its relaxing and sedative feel, helping calm users and providing a laid-back and restful euphoria. Delta-10 is more geared toward active users, creative types, and general daytime or highly-energetic use.
Going to see a comedy with some friends? Delta-10 can keep you focused while enjoying your typical THC buzz. Ready for a full restful night of sleep? You might want to check out some Delta-8 oils or even CBN oils with trace amounts of THC.
Is Delta-10 THC Oil from Hemp and Cannabis Plants Legal?
That's one of the best parts about Delta-10 tinctures; because of the Farm Bill passed in 2018, hemp-derived compounds, including psychoactive THC compounds, are considered federally legal and safe to produce, sell and possess. The only catch is that hemp-based CBD and THC products must contain less than 0.3% Delta-9 THC concentration. Thankfully, our products are all in full compliance with that law.
We do recommend checking State and local guidelines, as some states still have restrictions on hemp production and the sale of hemp products. So while legal at the federal level, we highly encourage checking your State laws.
What Forms Can Delta-10 THC Products Come In?
As one of the newer cannabinoids discovered, Delta-10 is still catching up to traditional Delta-9 THC and the popular Delta-8 THC. Luckily, BioWellnessX is catching up at a fast rate. We offer Delta-10 THC in oil tincture form, Delta-10 THC tablets, and our best-selling organic Delta-10 THC gummies.
We're hoping to have more options soon, like Delta-10 disposable vapes, baked edibles, and more. For now, you can check out all of our Delta-10 THC inventory by clicking here.
Will Psychoactive Hemp Products Like Delta-10 THC Get Me High?
Delta-10 THC is a highly potent cannabinoid. Experienced marijuana users report it feeling like a more clear, level-headed Sativa experience. Delta-10 customers report an energetic yet focused full body high. Users can expect an enjoyable physical euphoria with a mental buzz while feeling a natural cognitive boost.
While slightly less potent than traditional marijuana-derived THC, Delta-10 THC is still a remarkably potent substance. For beginners, we recommend starting with a fraction of a product's recommended dose until discovering individual tolerance. For THC oil tinctures, that would mean half, or even a quarter, of one dropper.
Are Delta-10 THC Tinctures Safe?
One of the best things about compounds derived from hemp and cannabis plants is that they are all-natural and considered generally safe for public use. While traditional marijuana-derived THC comes with mild to moderate side effects, hemp compounds, like Delta-10 THC, have fewer and less severe side effects.
Additionally, at BioWellnessX, the health and safety of our consumers are our top priorities. That's why every carefully formulated product is made with the highest-quality ingredients, including the best Delta-10 distillate derived exclusively from organic, US-grown hemp. Combined with organic PCR oil and natural, coconut-derived MCT oil, our Premium Delta-10 THC Tinctures are some of the cleanest around.
To take it one step further, all of our THC and CBD products are sent away for independent third-party lab testing to ensure quality, safety, and potency.
Will Delta-10 THC or Hemp-Derived CBD Show Up on a Drug Test?
Unfortunately, yes, it will. Since Delta-10 THC is so similar to traditional THC, the best Delta-10 products will more than likely show a positive result. For this reason, if users are subject to scheduled or random drug tests, we recommend avoiding any THC product or even full-spectrum CBD products.
For zero-THC relief, look for broad-spectrum products. Broad-spectrum simply means the product has all the non-THC cannabinoids, like CBD, CBN, and CBG, with no trace amounts of THC whatsoever. For all of our premium zero-THC relief options, click here.
What Makes the Highest-Quality Delta-10 THC Oil?
We believe the best Delta-10 THC starts with the organic hemp plant. Even with the usual concentration and the best extraction techniques, if you don't start with the best plants, you'll never produce the best oils. After the hemp reaches maturity, it's important to use a slow, high-concentration extraction technique to both capture and maintain all the beneficial compounds of the hemp plant.
Most importantly, the Delta-10 oil must remain pure, with no additives or artificial preservatives, to degrade the safety and efficacy of the distillate.
To help a high-quality Delta-10 THC oil reach its full potential, it's best to pair it with both full-spectrum cannabis oil and what experts call a carrier oil. In our BioWellnessX Delta 10 Tincture, we combine our premium THC oil with PCR Oil and coconut-derived MCT Oil for unrivaled energy and focus boost.
Full Spectrum vs. PCR Oil
So most of us have heard of full-spectrum CBD products, but just what is full-spectrum PCR Oil?
Simply put, PCR oil is like Full-spectrum CBD's bigger, badder cousin. Like CBD, it contains all the beneficial and potent cannabinoids from cannabis plants (including trace amounts of THC), but due to its unique extraction technique, PCR Oil is more concentrated, potent, and ultimately more effective. While full-spectrum CBD is popular today, it's due to be overtaken by PCR Oil as other brands catch on to its enhanced power.
PCR Oil benefits include much of the same as CBD: anti-anxiety, stress relief, relief from pain and excess inflammation, relaxation, better sleep cycles, and more.
What is the Best Delta-10 THC Tincture?
The best Delta-10 THC tincture has a complete combination of everything we've discussed. It should use the highest-quality hemp possible, be paired with a full-spectrum cannabis oil and a natural carrier oil, and be subject to independent, third-party testing to ensure potency and quality.
At BioWellnessX, we believe we have the most beneficial Delta-10 oil tincture on the market today. With 2000mg of total cannabinoids, a premium PCR Oil, and naturally derived MCT oil, our Delta-10 Tincture can offer users an invigorating psychoactive experience with more energy and more mental clarity.
If you're looking to try this potent cannabinoid, then try the best product with the most trusted brand on the market.
Order our Delta-10 Oil Tincture today, and if you're not blown away, just send the rest of your order back within 60 days and get your entire payment refunded. That's how confident we are in the effectiveness and quality of our product.
Where Can I Go If I Have More Questions About Delta-10 Oil Tinctures?
The world of Delta-10 THC is still in its blossoming stages. More and more research is being done about this exciting new cannabinoid. What we do know is that a high-quality Delta-10 THC tincture can offer consumers an uplifting euphoric high, similar to a Sativa feel.
If you or someone you know could use the natural relief properties of Delta 10 oils, but you'd like to know more about these healthy cannabinoids, you can contact our team at any time.
Simply call our customer service line Monday-Friday, or visit our Contact page for more information.
You can also visit our Blog page, where you can find additional educational materials about Delta-10 and all of our other cannabinoid products.
Final thoughts – Delta-10 THC Oil Tincture
Not all Delta-10 oil tinctures are made the same. With such a popular new cannabinoid, there are bound to be brands that don't offer the relief of higher-quality companies.
Our BioWellnessX Delta-10 THC Tincture is made from organically grown and expertly sourced hemp. We boost our formula with the gold standard of full-spectrum oils, PCR Oil and even further enhance Delta-10 effects with coconut-derived MCT Oil.
When it comes to clean, healthy, and completely natural relief, no one does it better than BioWellnessX.
Order Our Delta-10 Oil Tincture Today and Experience A Uniquely Energetic Experience!
Looking for an alternative to oil, try our best-selling Delta 10 Gummies. Read our review here.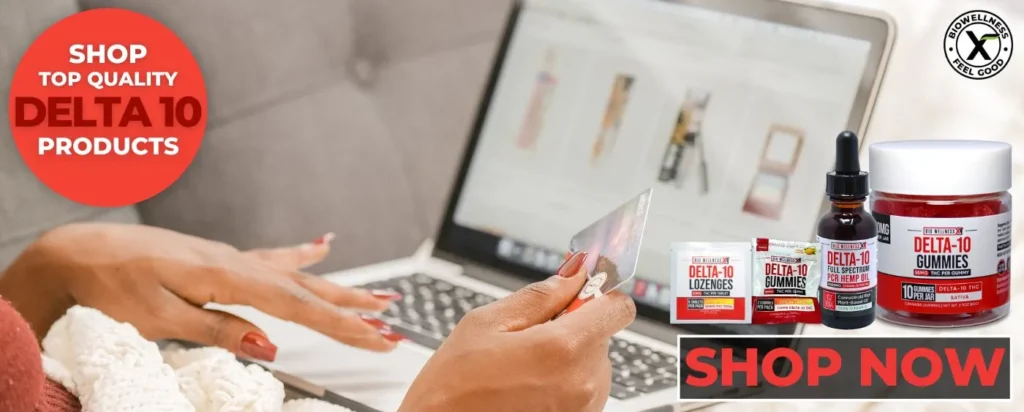 Legal Disclaimer:
By reading this information presented, you agree to release the author of any liability that comes from using this data. This post does not constitute legal advice. Claims about cannabinoids have not yet been approved by the food and drug administration FDA. Read the full legal disclaimer here.
References:
FAQs About Delta-10 THC Oil Tincture
What is Delta-10 THC and how does it work?
Delta-10 THC is one of the most popular hemp products today. It's a naturally occurring cannabinoid found in hemp and other cannabis plants. It's psychoactive effect is similar to traditional sativa terpenes, but Delta-10 is known to be more energetic, uplifting, and can offer a more clear-headed high.
What other ingredients are in BioWellnessX Delta-10 Oil Tincture?
We try to keep our products as simple and clean as possible. To help bolster the Delta-10 benefits and physical effects, we include an organic full-spectrum PCR Oil and a cognitive-boosting MCT Oil. All of our ingredients are organic, non-GMO, and free from harmful additives and chemicals.
Are THC products derived from advanced hemp processing safe?
Our brand is dedicated to promoting optimal health and wellness. Because of this, we make sure to take extra steps in ensuring the safest, highest-quality CBD and THC products. This means pure and clean isolate oils, no harmful chemicals, and no artificial additives. If you're worried about how you might react using Delta-10 oils, we highly encourage speaking with your personal medical advisor!
Will Delta-10 or other hemp products get me high?
Absolutely! Hemp-derived Delta-10 is a legal THC cannabinoid that is highly psychoactive, especially with our strong formula and premium ingredients. Just be aware, this compound is real THC, so there's a strong possibility it will be flagged on any drug tests you might need to take.
Where can I buy the best Delta-10 oil tinctures online?
First, make sure when you're buying Delta-10 oil online, you're in full compliance with your state laws. Then, we recommend finding a trusted brand that uses organic, or at least all-natural, ingredients. Make sure they have verified customer reviews and a good money-back policy to protect your wallet.
Is Delta-10 oil a type of legal hemp-derived THC?
Thanks to the 2018 Farm Bill, our Delta-10 THC tincture is indeed a federally legal and protected hemp compound. But while it's legal to produce and sell at a federal level, we encourage all customers to check local and state laws to make sure you're in full compliance of the law.
Can I use a high-quality THC tincture with existing prescription medications?
While Delta-10 and other cannabinoids are considered generally safe for the public, we always recommend and encourage users speak with their personal medical advisor before starting any new dietary supplement, especially psychoactive cannabinoids like Delta-10