South Dakota is known for many things, including its beautiful nature and agricultural history. And with this agricultural heritage comes Delta 10 THC, which is now legal in Mount Rushmore State. But where to buy Delta 10 THC in South Dakota, you ask? Keep reading to find out.
Main Keypoints
Hemp-sourced Delta 10 THC is legal in South Dakota (on the condition that your product contains less than 0.3% Delta-9 THC of total dry weight.

Delta 10 THC exists in trace amounts in hemp and cannabis plants.

Delta 10 THC is a cannabinoid with mild psychoactive properties.

Online stores are the best place to purchase quality, legal hemp-derived products.

South Dakota has removed hemp from its definition of marijuana.

Rapid City and Sioux Falls are famous cities selling Delta 10 and other CBD and THC products.

Recreational marijuana is still illegal in South Dakota.
Is Delta 10 THC Legal in South Dakota?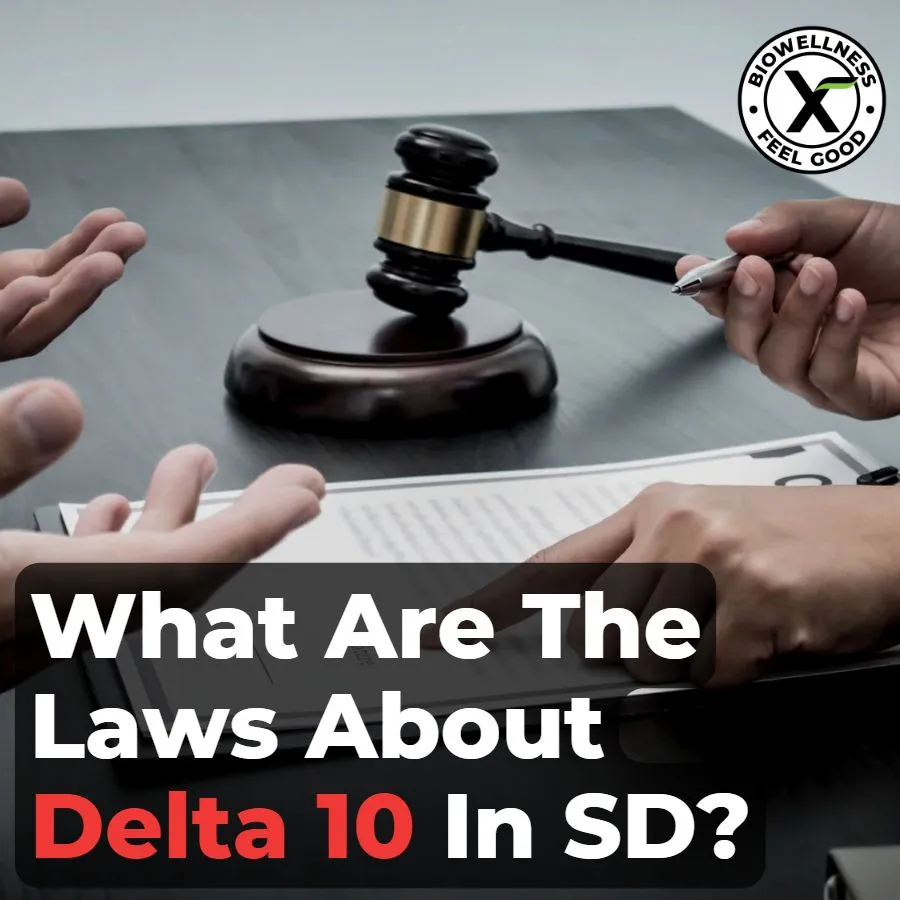 YES, YES, and YES, that is a resounding YES! Delta 10 THC is legal in South Dakota.
You can enjoy hemp products in this hemp-friendly State and even buy Delta 10 products online in South Dakota!
South Dakota State law followed the federal laws and removed hemp from its definition of marijuana, which means Delta 10 is not a controlled substance in this area.
The 2018 Agricultural Improvement Act (Farm Bill) has officially changed the hemp production and consumption laws in South Dakota.
The new legislation permits the manufacture and sale of hemp-derived Delta 10 THC products. This includes all derivatives and extracts with less than 0.3 percent on a dry weight basis of Delta 9 THC concentration.
But Wait! What Is Delta-10 THC?
Delta 10 THC is a lesser-known cannabinoid found in trace amounts in certain hemp plant varieties. Delta 10 is a THC isomer, which means it belongs to the THC family, the main psychoactive compound found in marijuana,
Don't let the term THC isomer fool you, the shift in Delta 10's double bond makes it a completely different compound with its unique effects.
Learn more about Delta 10 THC here.
Benefits of Delta 10 THC
Like other cannabinoids, Delta 10 works by interacting with our endocannabinoid system, a network of receptors that help regulate multiple functions in the body.
Some of the potential benefits associated with Delta 10 include relief from pain, anxiety, and inflammation.
How Does Delta 10 Feel Like?
Users report that Delta 10 is mildly psychoactive! They also report that the Delta 10 has uplifting and energizing effects.
Delta 10 THC effects are similar to those of Sativa strains, where you feel energizing euphoria, which stirs your creativity and boosts your energy and focus, making it great for daytime use.
What Delta 10 THC Products Can I Find In South Dakota?
There are plenty of great quality hemp-derived Delta 10 products made from natural extracts that you can find in SD and on our website:
Where To Buy Delta 10 THC in South Dakota?
The best place to start is online if you're looking to purchase a high-quality Delta 10 in South Dakota. Once you find a reputable online retailer, you are golden. But finding one might be a bit tricky.
Many retailers offer what seem to be high-quality cannabis products but turn out to be junk. Especially if you purchase your products from gas stations or convenience stores in South Dakota, most of their brands don't adhere to the proper hemp regulations.
But luckily, you won't have to go through all that mumbo jumbo because we here at BiowellnessX got you covered. We carry a wide array of Delta-8 THC, Delta-10 THC, THC, and CBD products stocked just for you. We have all of our third-party test results listed on our product pages for full disclosure (we don't hold anything back). You can read reviews from our customers on our site as well.
Check out our website; we have a large assortment of federally compliant hemp-derived cannabinoids that suit everyone's needs.
Even though online is the best place to purchase from, you can run into a store and scoop up some of your favs.
Listed Below Are Cities With Dispensaries So You Can Pop In And Do Some In-Person Shopping.
South Dakota Cities Where You Can Find Delta-10 THC Products
Sioux Falls

Flandreau

Harrisburg

Rapid City

Aberdeen

Pierre

Brookings

Watertown
Delta 10 THC VS Delta 8 THC
Both Delta 10 and Delta 8 can be found in minuscule trace amounts of the hemp plant, and both have less potent psychoactive properties than Delta 9 THC.
Anecdotally, Delta 10 provides energizing effects, whereas Delta 8 can be more sedating and relaxing.
While Delta 10 is more stimulating similar to Sativa strains, Delta 8 is more relaxing like Indica strains.
Delta 10 promotes flow states, creativity, euphoria, and focus, while Delta 8 gives a body high, relaxation, and pain relief.
In short, the main difference between Delta 8 THC and Delta 10 is that Delta 8 can be more calming while Delta 10 can be more energizing and uplifting.
Try some of our best Delta-8 products.
Of course, everyone has unique body chemistry, and compounds will affect people Differently.
Final Thoughts On Where To Buy Delta 10 in South Dakota
Currently, in South Dakota, Delta 10 THC is legal and is also legal at the federal level in the United States. However, some states have enacted their own laws regarding Delta 10 THC and other hemp-derived CBD products. Make sure to check your local laws before using D10 THC to ensure that it is legal in your state.
Thanks for reading, happy hemping!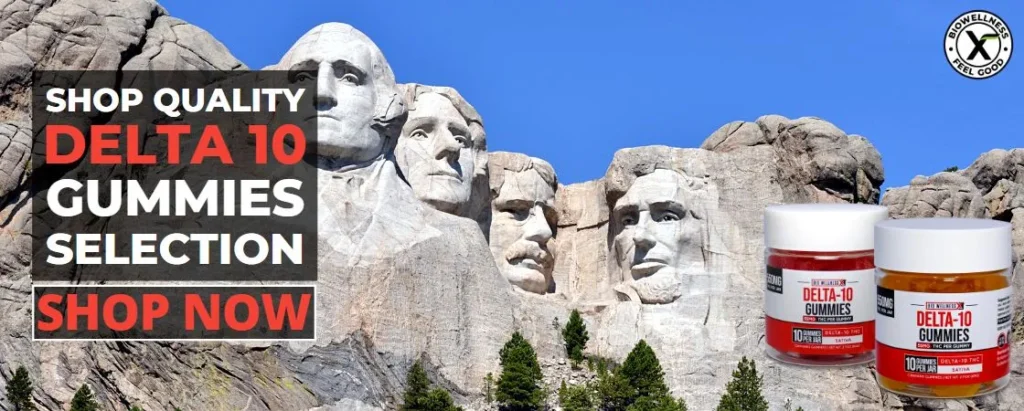 More topics that might interest you:
Is Delta 10 legal in North Dakota?


References:
FDA Final Interim Rule- Hemp Production | Agricultural Marketing Service

Is Delta 10 legal in all the states?
Legal Disclaimer:
By reading this information presented, you agree to release the author of any liability arising from using this data. This post contains no legal advice. Read the full legal disclaimer here.
(FAQs)
What is more robust, Delta 10 or Delta 8?
Both THC compounds are much milder than their cousin Delta 9 THC, yet they both offer similar effects. Delta 8 THC has said to be the strongest of the two. Delta 8 is more for evening use, whereas Delta 10 can be used during the daytime.
Can you buy Delta 10 in South Dakota?
SD is a hemp-friendly State, you can buy Delta 10 and other THC isomers from local dispensaries and online shops. (Your hemp products must have less than 0.3% Delta-9 THC of total dry weight tho.)
Is Delta 10 legal in South Dakota?
Currently, in South Dakota, Delta 10 is legal under both federal and State laws.
Will Delta 10 Get You High?
Yes, you can get a high from Delta 10, but it's not as intense as a high you would get from Delta 9.
Will Delta 10 fail a drug test?
Unfortunately, yes! As Delta 10 is THC, it will appear in a drug test. If you have one coming up, we strongly advise avoiding THC.
Is hemp-derived THC safe?
Generally, yes, hemp-derived THC is safe to consume. However, we're dealing with THC here, and any products containing THC or CBD should always be consumed responsibly. Brand reputation is important! Do your due and research a reputable brand that offers premium quality products that have undergone third-party lab tests.
What is the age requirement to buy Delta 10?
You must be at least 21 to purchase D10 and any hemp derivatives.
Is Delta 10 legal in all the states?
Nope, it is not legal in all of the states. Each state can create its own laws regarding cannabis. States do not have to follow the same rules.