Maine is one of the states in the US that has legalized cannabis for recreational use. While this could be a bright side for consumers who love the cannabinoid, there are still some things to know about the Cannabis laws of Maine you want to look into before indulging in any cannabis products.
Here we will go over what you need to know about cannabis in Maine, from where you can and cannot smoke it to how much you can possess. So, whether you're a resident of Maine or just visiting, read on to learn all about cannabis in the Pine Tree State!
Main Key Points
The Cannabis laws of Maine have made it possible for both Recreational and Medical Marijuana to be legalized.
Qualifying patients and registered caregivers can buy medical Marijuana in Maine.
Consumers can possess Marijuana under the Maine Marijuana Act.
Marijuana use is illegal in vehicles; it goes for both the passenger and driver.
Besides Marijuana, Maine also offers other legal hemp-derived THC products.

Is Weed Legal in Maine?
Yes, it sure is. Maine's medical and recreational cannabis use is available to adults 21 and over.
Since November 8, 2016, the Cannabis laws of Maine were voted in to legalize Marijuana, and cannabis dispensaries have grown in number every day. As long you are over 21 years of age or older, you can visit any and buy recreational Marijuana, including visitors from out of State.
The current regulation states adults can possess up to 2.5 ounces of Marijuana, marijuana concentrate, or marijuana products such as edibles.
Curious about what the landscape looks like in other states? Check our guide

Where To Buy Weed In Maine?
For recreational marijuana consumers and patients seeking medical Marijuana in Maine, you can find what you're looking for in many registered dispensaries. A lot of dispensaries in the Maine area also offer delivery as well as curbside pickups.
Bangor
Augusta
Portland
Lewiston
Biddeford
Saco
South Portland
Sanford
Westbrook

Hemp-Derived THC Products
Besides marijuana products, you can also find other THC alternatives such as hemp-derived products such as Delta 8, Delta 9 (similar to Marijuana's THC), and even Delta 10.
Related Articles: Delta 10 Vs Delta 8: What Is The Difference?
As long the total Delta 9 THC is under 0.30% in these hemp-derived products, you can enjoy them legally and offer an excellent solution for those that seek something else.
For many that do not want to adventure out to local dispensaries, the best way to get your THC products is to purchase them online, and with hemp-derived THC being legal in the State, you can find a large assortment of low and high-potency THC products.
BiowellnessX has been a trusted supplier for customers all over the country for many years.
Is Hemp-Derived THC the Same As Marijuana?
For those used to the good ole Marijuana, you might wonder if THC from hemp is the same!?! The short answer is yes, it's the same. However, there is a difference.
THC from Marijuana is what we know as Delta 9 THC. For hemp products to be legal, the total Delta 9 THC cannot surpass 0.30% of total dry weight, but that doesn't mean you can't get potent products. You have various options.
If you like, say, edibles, you can enjoy Delta 9 THC gummies that have 10mg or 25mg, essentially the same as those you would find in any dispensaries around Maine. The difference? You can buy them online and get them shipped directly to your door.
For more information, check our THC gummy selection.
Besides Delta 9 THC, you can also enjoy Delta 8 THC Gummies with dosages as high as 100mg per gummy.
Many use Delta 8 for evening use or to assist with body aches, as the feeling resembles what you know as an Indica.
On the other end, you have Delta 10 THC, which is similar; however, it works more as a Sativa.
Not sure if Sativa or Indica is right for you? Learn more here.
So you got options when shopping online. We offer a full line of oils, smokables, and gummies just waiting for you to explore. Even if you are NOT into THC, you might be asking yourself, is CBD oil legal in Maine too? It sure is, and you can find various products with just CBD in them.
That said, let's look into Maines's medical marijuana program.
The Cannabis Laws Of Maine: What To Pay Attention To?
The laws in Maine are particular when it comes to the use of recreational and medical Marijuana. Maine is one of the states that have legalized both recreational and medical Marijuana, and as such, there are specific laws in place to regulate its use.
For instance, the Medical Use of Marijuana Act states that only medical patients with valid patient identification credentials can consume cannabis. Additionally, the act prohibits the use of marijuana products on private property.
It is important to note that smoking weed in public is still illegal in Maine. This includes national forests, parks, monuments, and courthouses. Marijuana can not be used in a motor vehicle; it is unlawful. Cannabis is also illegal in vehicles; this applies to passengers and drivers.
Here's How To Buy Medical Marijuana In Maine.
A qualifying patient with a medical card may buy Marijuana legally through their medical provider or a registered dispensary. Only Maine residents can receive the card.
Patients visiting Maine or another State might be able to purchase medical Marijuana from a registered healthcare provider. Visit the Maine Medical Cannabis Program website for rules and statutes.
How To Join The Maine Medical Use Marijuana Program
To join the MMMP (Maine Medical Marijuana Program), qualifying patients must receive a physician's consent. A patient must have a valid driver's license or state-issued identification when they purchase Marijuana at a Maine pharmacy.
The patient can apply to be registered or have their own registry number. This card is free of charge. There are no medical conditions required to apply for Medical Marijuana. A physician can prescribe Marijuana to anyone who feels the benefits of Marijuana can be reduced.
Maine Medical Use Of Marijuana Act: What, How, And Where?
The Maine Medical Use of Marijuana Act ( aka. Maine Marijuana Legalization Act) legalized the use of Marijuana for adults 21 and over, both recreational and medical. The act allows for retail sales of Marijuana and establishes a regulated cannabis industry.
It also provides for the medical use of MJ and sets up a system of recreational Marijuana dispensaries to provide access to medical Marijuana.
The act prohibits the use of Marijuana on federal property, such as national parks, and imposes excise taxes on the sale of Marijuana. It also establishes a program within the Administrative and Financial Services Department to oversee the act's implementation.
Carry up to 2.5 ounces of Weed Legally.
The act allows purchasing up to 2.5 ounces of Marijuana from a licensed retailer, and adults can grow their own mature marijuana plants for personal use. Marijuana concentrate and possessing marijuana paraphernalia are also legal for purchase and use under the act.
The same goes for qualifying medical patients with a recommendation from a licensed medical provider who can possess up to 2.5 ounces of medical cannabis. Registered caregivers are also allowed to possess up to 2.5 ounces of Marijuana on behalf of a qualifying patient.
The act allows for the establishment of state-licensed medical marijuana dispensaries to sell Marijuana to qualifying patients and registered caregivers. It also provides for the sale of adult-use marijuana products at licensed retail stores and outdoor or rooftop cafes.
Marijuana sales are subject to a 10% State excise tax used to fund the act's implementation and support public health and safety initiatives.
A portion of the tax revenue is also used to fund research on medical cannabis use.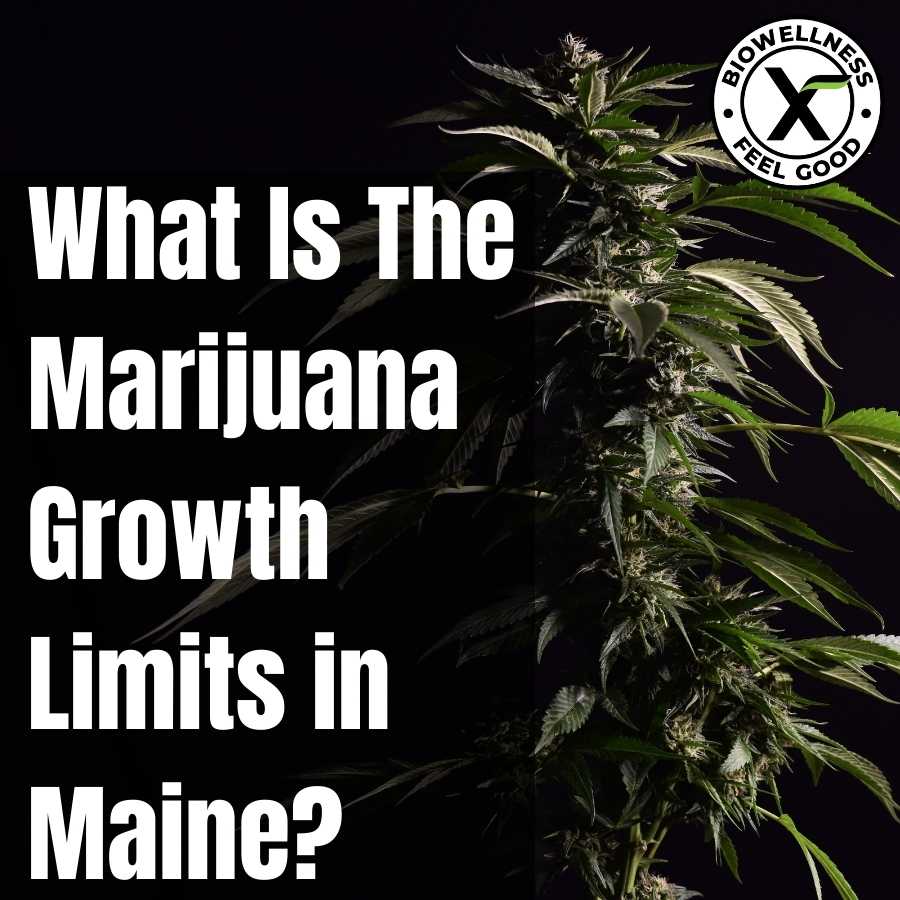 Marijuana Growth Limits in Maine: What's The Limit?
Residents in Maine may plant as many as three mature and twelve Immature marijuana plants with an unlimited seedling population.
They may also possess six ounces of prepared Marijuana, two and a half ounces of cannabis concentrate, and forty-eight ounces of Liquid Marijuana.
These amounts are for private adult-use marijuana and are not to be sold.
Medical cannabis for patients in Maine can possess as much as they need for personal medical use, but a doctor must recommend it.
Maine has legalized personal adult use of Marijuana. However, there are some restrictions in place. For example, consuming Marijuana in public or on school grounds is illegal. It is also illegal to cultivate cannabis on a rented property unless the owner has given written permission.
Some businesses, such as outdoor or rooftop cafes, may consume marijuana on their premises.
However, it is up to the sole business owner to decide whether or not to allow it. Patients must have a valid patient certification and identification card to consume Marijuana.
Final Thoughts
Maine has been a trailblazer in cannabis reform, reflecting its laws. If you want to purchase or consume cannabis in the State, familiarize yourself with the current regulations. As more states legalize cannabis, Maine's laws will likely continue to evolve.
If you're interested in trying hemp-derived THC and feel the effects visit our store today.

References:
Marijuana Legalization Act – Rules and Statutes | Office of Cannabis Policy (maine.gov)
Department of Administrative and Financial Services Office of Cannabis Policy – Medical Use | Office of Cannabis Policy (maine.gov)
Maine Legislature (Maine Revised Statutes) – Title 22, Chapter 558-C: MAINE MEDICAL USE OF MARIJUANA ACT (mainelegislature.org)
LEGAL DISCLAIMER
By reading this legal information, you agree to release the author of any liability related to or arising from your use of this data. This post contains no legal advice. The legal status surrounding Delta 8 THC, Delta 9 THC, and Delta 10 THC is new and constantly changing. We continuously work hard to do our best to give you the most updated information. We recommend checking your current state's laws or federal hemp laws before purchasing any industrial hemp-derived or marijuana products (CBD, THC) in Maine. The data in this post is not intended to diagnose, treat, cure or give any medical advice. Do your due diligence and seek your doctor's advice, especially if you are in doubt or are currently taking any prescription medications. Safer than sorry is always a great idea when consuming new products.
Frequently Asked Questions
How many states is Mary Jane legalized?
Recreational Marijuana is legal in 19 states, that includes Guam.
Can you smoke weed at 18 in Maine?
In Maine, the minimum age for adult-use Marijuana is 21 years old.
Is Maine recreationally legal?
On November 16, 2015, Maine voters approved Question 1. The bill is part of a consensus between seven states in which the state allows the use of recreational Marijuana.