This time we're exploring Delta 8 THC in the piney State of Maine, where it is welcomed with open branches. (Pine joke). We'll take a look at everything you need to know about Delta 8 THC and how it is regulated in Maine.
Main Points
Delta 8 THC is legal in the State of Maine for anyone over 21 years of age.
You do not need to have a medical card to purchase Delta 8 THC.
Delta 8 THC is federally legal per the Farm Bill of 2018, which defines hemp, in all its final forms, as having a Delta 9 THC concentration of 0.3% or less.
Delta 8 THC is a cannabinoid that is extracted from the hemp plant and is used to help with issues such as sleep, pain, anxiety, etc.
Federal law as well as Maine law both State that hemp products are legal, and there is no limit to how much a person can carry.
You can find local shops or trusted online vendors to buy Delta 8 THC.

Is Delta 8 THC Legal In Maine?
Fortunately, for those of you residing or visiting the State of Maine, Delta 8 THC is very much legal. The State law allows for the use of the Hemp plant, Cannabis Sativa L., from which Delta 8 THC is extracted.
The law defines hemp as containing a delta-9-tetrahydrocannabinol concentration of no more than 0.3% on a dry weight basis.
The definition of hemp also includes agricultural commodities such as concentrates, food additives, and ingestible consumer products derived from the plant, such as Delta-8 products.
So with its legal status in Maine, you can enjoy a quality lobster with some hemp-derived Delta 8 THC on the side. Sounds like heaven!
What is Delta 8 THC?
Delta 8 tetrahydrocannabinol (THC) is one of many different cannabinoids which are found in the Cannabis Sativa L. (Hemp) plant.
Cannabinoids are basically hemp derivatives with unique benefits that go into hemp products.
Delta 8 THC elicits more of a body high than a mental high. This makes it ideal for those of you who might get paranoia or anxiety with cannabis. So if you freak out when you get high, you should definitely try Delta 8's.
Is Delta 8 THC good for sleep and pain?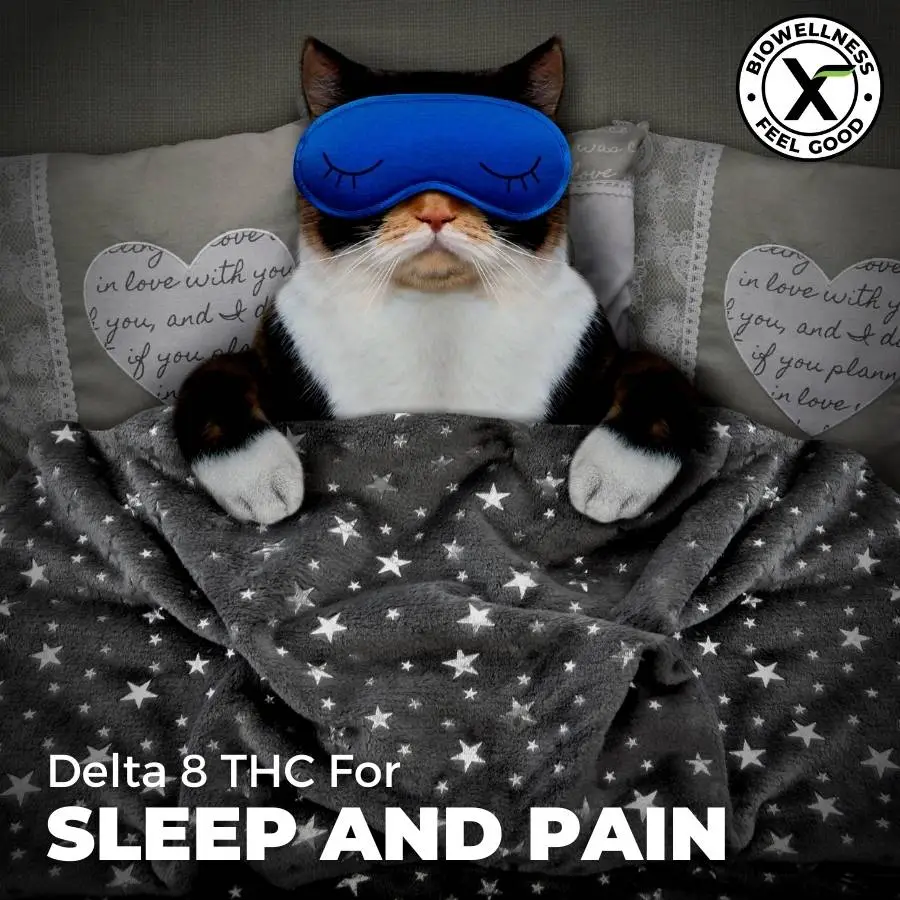 For those of you struggling to get a good night's sleep or are dealing with some form of pain, Delta 8 THC might be just what you need.
Research has shown that Delta 8 THC can be beneficial for both sleep and pain. Delta 8 THC binds to cannabinoid receptors in the nervous system, causing relaxation and pain relief.
Our customers love Delta 8 THC because of its various therapeutic benefits and the body high that it produces.
Where to Buy Delta 8 THC In Maine?
You have many choices when it comes to buying Delta 8 THC in Maine. You can hop in a local store nearby, or better yet, you can shop Delta 8 online!
Shop Delta-8 Online In Maine
Online shopping gives you a wide range of options all at your fingertips. Allows you to browse various products before choosing the one that fits.
Our Delta products are available online and ship to Maine, no need to leave home to partake.
Shop Locally For Some Delta-8 THC In Maine
There are many locations in Maine where you can pick up some Delta 8 THC, and we've listed some for you to aid in your quest.
Highbrow – 767 Western ave. Manchester, ME 4351
Green Island Herb – 1 Maple st. Verona Island, ME 4416
Richardson Remedies – 9 Bog rd. Caribou, ME 4736
Firestorm Premium Craft Cannabis – 1172 Hammond st. Bangor, ME 4401
Forbidden Fruit – 148 Water st. Hallowell, ME 4347


Is Delta 8 THC safe to consume?
It is always recommended to consult with your doctor, especially if for medical use. Delta 8 has much milder psychoactive effects than its counterpart Delta 9 THC, making it safer psychologically, especially if you have little to no experience with marijuana.
Physically, it is generally deemed safe, but for a comfortable experience, you must dose properly per the product instructions. You don't want to guess here, people!
Smokables and food products derived from hemp will always come with dosage information, making it easy to know what's the right amount to consume.
How much Delta 8 THC can you carry on you?
An unlimited amount! Well, technically, yes, but how much could you need to have on you at once? Maine has legalized all forms of cannabis and hemp, so you can possess Delta 8 and other hemp products.
Am I required to have a medical card to purchase Delta 8 THC in Maine?
Since Delta 8 THC is legal in the State of Maine, it is not required to have a medical card in order to make a purchase.
In Maine, Delta 8 THC can be considered to be for medical and recreational use depending on the consumer themselves.
If Hemp Is Legal In Maine, What About Marijuana?
Back in 2016, Maine legalized the Marijuana plant and did away with the Maine medical marijuana act, allowing for its full use, even as recreational cannabis.
You do have the choice in this State to go with a marijuana product or hemp product, but most users prefer Delta 8 as a potent alternative that has fewer side effects and produces a body high.
Very potent cannabis tinctures, which include marijuana concentrate, are very expensive, whereas products derived from hemp are an inexpensive alternative to the harvested marijuana plant. If it includes marijuana concentrate, expect to pay top dollar.
Final Thoughts – Delta 8 THC In Maine
To wrap things up, Delta 8 THC is a cannabinoid, one of the hundreds of identified cannabinoids within the hemp plant Cannabis Sativa L. Since both Maine and the federal government have legalized hemp, there is no need for a medical card in order to purchase Delta 8 THC, and there is no limit to how much you can carry.
With proper dosing, Delta 8 THC is considered safe, and with low levels of Delta 9 THC, it is much less psychoactive, with most people describing it as a good body high.
Delta 8 THC can help with sleep and pain as it binds to cannabinoid receptors in the human body that are responsible for relaxation. Overall, it is a natural product with low risk and a high reward.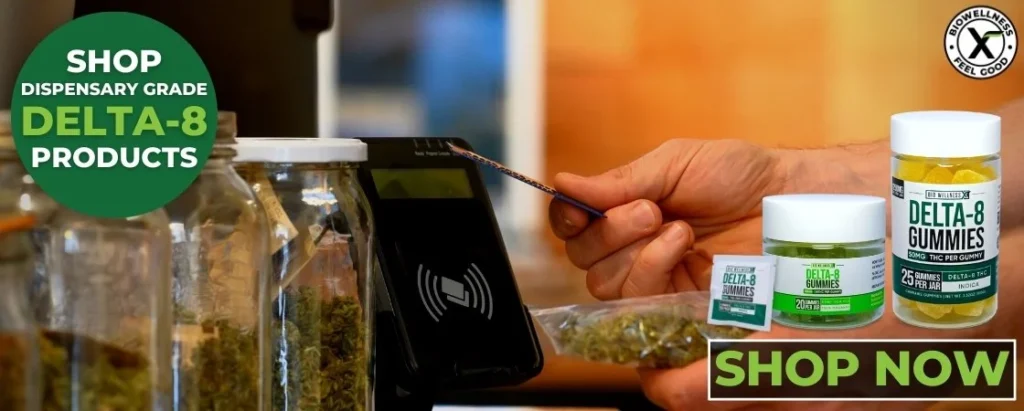 Legal Disclaimer:
By reading this information presented, you agree to release the author of any liability that comes from using this data. This post does not constitute legal advice. Claims about cannabinoids have not yet been approved by the food and drug administration FDA. Read the full legal disclaimer here.
Resources:
The Marijuana legalization act: https://www.congress.gov/bill/117th-congress/house-bill/3617
Industrial hemp definition: https://www.ucop.edu/research-policy-analysis-coordination/policies-guidance/cannabis/industrial-hemp-background.html
Controlled substances act: https://www.dea.gov/drug-information/csa
Title 7 section 2231 of Maine law:
Legality of marijuana ointment, marijuana tincture, and adult-use marijuana pursuant: https://legislature.maine.gov/lawlibrary/recreational_marijuana_in_maine/9419
FAQs About Maine and Delta-8 THC
Is Delta 8 legal in Maine?
Yes, it is both legal on State and federal levels.
Can you legally travel with Delta 8?
You can legally travel with Delta 8 THC both in a plane and in a vehicle. But, if you are flying, you must be sure that the State you are flying to considers Delta 8 THC legal.
Does Delta 8 THC get you high?
Depending on the product concentration and your tolerance, Delta 8 THC can induce a very light buzz or a strong one similar to the one you get from an edible marijuana product.
Do you have to be 21 to buy Delta-8 in Maine?
You must show proof that you are 21 years of age if you are thinking of purchasing Delta 8 THC in Maine.