So you've heard the name Delta-8 THC thrown around like it's the new holy grail of cannabis -which it kinda is, and now you're thinking of giving it a shot, but the question is, do you need a medical card for Delta-8 THC?
An easy enough question, but the answer… Not so much; keep reading, and we'll get to that.
Do You Need a Medical Card For Delta 8 THC?
Oh, man! This is a complicated answer! But long story short, it depends on your State regulations. The first thing to note is that Delta-8 THC mostly comes from hemp, NOT marijuana.
Thanks to one of the best bills ever passed, "The 2018 Farm Bill", the Federal Government removed hemp and all of its derivatives from the controlled substances list, making hemp-derived Delta-8 THC federally legal. "With a little catch that the Delta-9 THC content has to be less than 0.3% of total dry weight."
Most states actually do follow the same federal law, allowing hemp-derived Delta-8 THC products without a medical marijuana card, and you can even buy Delta-8 THC gummies online. But some states caught on and made laws specifically for Delta 8 THC.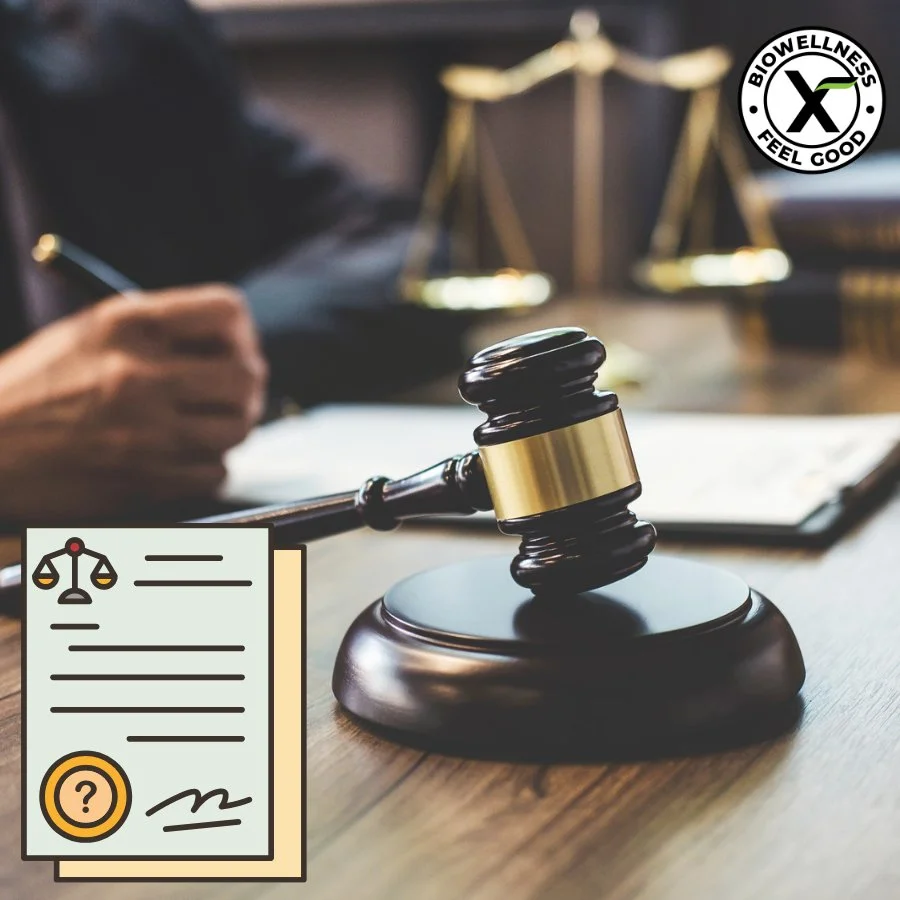 Check out more about the legality of Delta-8 on this blog.
Is Delta 8 THC Legal In My State?
Many states legalized hemp according to federal regulations, meaning you can buy Delta-8 without a card.
Other states legalized recreational and medical marijuana. Consequently, you can purchase hemp products from dispensaries in those states.
If you're 21 and older and living in these states, you can get your Delta-8 without a card locally or online (as long as it comes from hemp and has less than 0.3% Delta-9 THC):
Florida

Georgia

Hawaii

Illinois

Indiana

Kansas

Kentucky

Maine

Maryland

Massachusetts

Minnesota

Missouri

New Hampshire

New Jersey

New Mexico

North Carolina

Ohio

Oklahoma

South Carolina

Tennessee

Texas

Virginia

Washington

Wisconsin

Wyoming

Washington, D.C.
Now, the below states view hemp-sourced Delta-8 THC as the same as recreational cannabis.
Connecticut

Michigan

Nevada
The below states have a restricted view of Delta-8 THC, so it's important to check your local laws for updates.
California (restricted with max 0.30% THC)
Mississippi

Nebraska

Oregon (All sales are restricted)
South Dakota (restricted with max 0.30% THC)
But Wait A Minute! What's Delta 8 THC to Begin with?
Delta-8 THC is a natural compound that exists in the hemp plant but in trace amounts. From the name, it belongs to the THC family, which gives the cannabis plant its psychoactive effects.
Studies show promising potential benefits of Delta-8 THC, such as anti-anxiety, anti-nausea, pain-relieving, and relaxing benefits. Customers rave about Delta-8 THC for pain, anxiety, sleep, and overall relaxation! However, it's important to remember the FDA has yet to acknowledge the true effects of this compound.
If you'd like to know more about Delta-8, check out this blog.

What's The Point Of A Medical Marijuana Card?
Well, medical marijuana cards could come in handy mainly in two cases:
Delta-8 THC is banned in your State, and only medical cannabis/hemp is legal.

Your State only allows a local dispensary purchase.
Here are some pros and cons of Medical Marijuana Cards:
The Big Pros:
Access to medical cannabis dispensaries

You save more on medical cannabis and recreational marijuana

(because of sales taxes)

Ability to grow marijuana
On a side note, that first advantage isn't an advantage at all when it comes to hemp products because they usually come with pocket-friendly price tags, unlike marijuana products.
Here are the cons:
A long application process

Some states don't accept OFS cards "out of State."

Annual renewal fees

You need qualifying conditions
How To Get A Medical Marijuana Card?
The requirements and steps to apply for a medical marijuana card are pretty straightforward. You need to be 21 of age, have a qualifying medical condition "according to your State regulation," your physician's recommendation, and have a valid ID.
How Can I Buy Delta 8 THC Without A Medical Marijuana Card?
Well, if you're one of the happy residents of the states listed above, rejoice! You can buy hemp-derived Delta-8 THC from a local dispensary, brick-and-mortar stores, or even better, ONLINE!
Shop high-grade Delta 8 THC products here.
A word of caution, you can even find Delta-8 THC products in gas stations and convenience stores, but that's a terrible idea; most of those products don't have tests for safety, which means they could have harmful chemicals and come from god knows where!

Can I Buy Delta 8 THC Online?
Shopping for Delta-8 THC is about the best thing you can do! It's by far the most convenient option. You can check for company reputation and lab reports, read reviews, and even get exclusive deals, not to mention door-to-door delivery!
When it comes to hemp products, look no further than BiowellnessX, we don't like to brag, but we're one of the best hemp brands on the market. "Ok, maybe we bragged a little bit."
But seriously, we thrive in providing dispensary-grade products and use a rigorous quality testing process to ensure you're getting the best possible quality.
Always keep in mind that the online heaven is full of phonies, just like those "gas-stations-brands," so make sure to do your research before you add-to-cart.
Can I Buy Delta-8 THC From Dispensaries?
Heck yes! You can absolutely shop some legal Delta-8 from your local dispensary or CBD store, but… dispensary products usually carry a dispensary price tag! Online hemp stores like BiowellnessX come with competitive prices that you won't find at a dispensary.
Shop Delta 8 THC Products Like a Pro
Now that you're about to go shopping for some good ol' Delta-8 THC, here are some tips so you'd do it like a pro!
First and foremost, make sure there's a certificate of analysis or a lab report! Many hemp brands online and in stores are unknown and lack proper distillation procedures! Because of the way Delta-8 THC is produced, it's important to know that the brand performs the distillation process and that your product is pure without any harsh chemicals.
Secondly, make sure it's a hemp product, not a marijuana product! Some brands sell marijuana-sourced Delta-9 THC products as Delta-8 products, which is illegal!
Thirdly: Check for the product's Delta-9 THC contents; it has to be less than 0.3% and sourced from a hemp plant to be legal in most cases.
Finally: Turn and learn those ingredients, and make sure you're not allergic to any component.
If you're ready to start hemping, then BiowellnessX has got you covered with all-natural, vegan, and organic products unlike anything else.
Final Thoughts – Do You Need A Medical Card For Delta-8 THC
Unlike cannabis products, hemp-derived Delta-8 THC is federally legal and isn't considered a drug! Which means that most states legalize the substance.
In most states, you can get your hands on legal Delta-8 THC products from local stores and online without a medical card. Some states ban Delta-8, so make sure to check your local laws before any purchase.
Now, if you're ready to get your hands on some dispensary-grade hemp-derived products, visit our website and scroll away!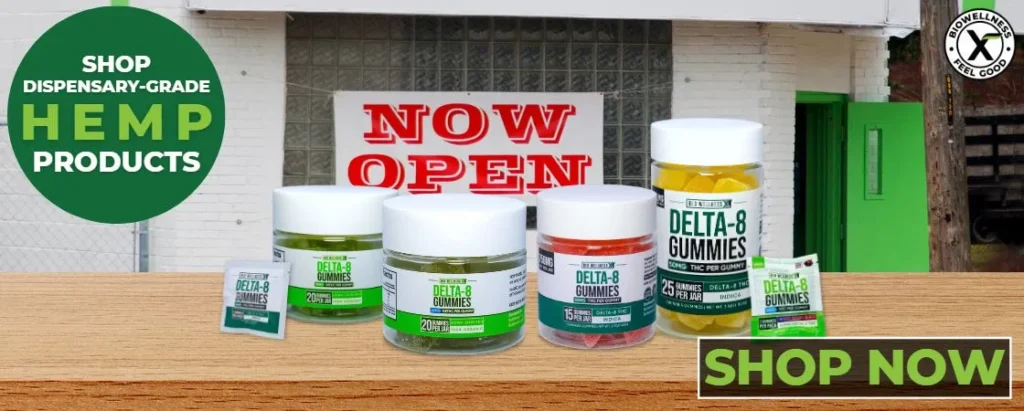 Want to learn more about Delta 8 THC and its properties? Check the below articles.
Read more about Delta-8 for anxiety.
The best Delta-8 edibles.
Delta-8 for sleep.
Legal Disclaimer:
By reading this information presented, you agree to release the author of any liability arising from using this data. This post contains no legal advice. Read the full legal disclaimer here.
Resources:
FDA Hemp Regulations- FDA Regulation of Cannabis and Cannabis-Derived Products, Including Cannabidiol (CBD) | FDA

Controlled Substances Act- Schedule of Controlled Substances
Frequently Asked Questions (FAQs)
Do you need a medical card to buy Delta-8 THC?
Delta-8 THC products are federally legal and can be purchased online and in stores without a medical card in most states; however, each state regulation and legislation applies individually! Check your local laws before buying.
What's the legal age to buy Delta-8 THC?
The minimum age to buy Delta-8 THC is 21 in most states.
What do you need to get a medical card?
You have to be 21 years of age, with a qualifying condition and your physician's recommendation.
What are the side effects of Delta-8?
Delta-8 usually has minor side effects, such as dry mouth and red eyes.