The exploration of alternative remedies and supplements has surged in recent years, with an increasing number of individuals seeking natural solutions to improve their overall well-being. One such supplement that has gained significant attention is the hemp-derived Delta-8 THC, particularly in organic 50mg gummies.
This article dives into the various benefits, effects, and considerations surrounding these Delta-8 THC gummies, offering valuable insights for those interested in exploring this burgeoning domain. As a close relative of the well-known Delta-9 THC found in marijuana plants, Delta-8 THC offers similar therapeutic properties while maintaining a lower psychoactive potency. It also presents a viable option for those seeking relief from pain, anxiety, and sleep disorders without experiencing the intense high and undesirable effects of traditional cannabis products.
Key Takeaways
Organic 50mg Delta-8 THC gummies offer potential therapeutic benefits for pain relief, anxiety, and sleep disorders while maintaining lower psychoactive potency than Delta-9 THC.
Delta-8 THC interacts with CB1 and CB2 receptors in the endocannabinoid system, providing potential health benefits such as reduced nausea, appetite stimulation, and anti-inflammatory properties.
Consumers should look for high-quality delta-8 products derived from organic hemp, with all-natural ingredients, third-party lab testing, and verified customer reviews to ensure safety and efficacy.
To minimize adverse effects and maximize potential benefits, it is crucial to follow recommended dosage instructions provided by manufacturers or healthcare professionals and consult a doctor before using any new supplement or medication.
What is Hemp-Derived Delta-8 THC?
Hemp-derived Delta-8 THC, a minor cannabinoid found in the Cannabis sativa plant, exhibits psychoactive properties with a comparatively milder effect than its more prominent counterpart, Delta-9 THC. This compound gets sourced from hemp plants and can get synthesized through various extraction methods. Using organic ingredients during the production process ensures that consumers reap the benefits of this unique cannabinoid without exposing themselves to harmful chemicals or additives.
Hemp-derived Delta-8 THC has gained popularity due to its potential therapeutic effects and lower risk of inducing anxiety or paranoia than Delta-9 THC. The cannabis plant contains numerous cannabinoids, each exhibiting distinct effects on the human body's endocannabinoid system. Among these compounds, hemp-derived Delta-8 THC is a mild psychoactive substance with potential health claims such as pain relief, appetite stimulation, and reduced nausea.
50mg Delta-8 THC Gummies: The "Ideal" Dose
In determining the optimal dosage, 50mg Delta-8 THC gummies often strike a balance between catering to experienced users and accommodating beginners, ensuring an enjoyable experience for all. This is because organic 50mg Delta-8 gummies contain a moderate amount of THC that can provide the desired effects without overwhelming those new to cannabis consumption. For individuals with a medium tolerance, 50mg Delta-8 THC gummies can offer the perfect middle ground between low-dose options that may not produce significant results and higher-dosage alternatives that may be too intense.
To help users find their ideal dosage, starting low and gradually increasing intake as needed is generally recommended. The following table provides guidelines on how different dosages of mg Delta-8 THC might affect users based on their tolerance levels:
| Tolerance Level | Suggested Starting Dosage | Effects |
| --- | --- | --- |
| Low | 10-20mg | Mild |
| Medium | 30-40mg | Moderate |
| High | 50mg+ | Strong |
In addition to offering an adaptable experience for various tolerance levels, organic 50mg Delta-8 gummies also come in delicious flavors, making them an appealing option for casual consumers and seasoned enthusiasts alike. By choosing a suitable dosage and enjoying the diverse taste profiles available, individuals can maximize their enjoyment of these potent yet accessible cannabis-infused treats.
Delta-8's Similarities to Delta-9 THC: A Natural Indica Strain
Closely related to its more well-known cousin, Delta-9 THC, the Delta-8 variant shares several key characteristics with this natural Indica strain, allowing users to experience familiar sensations (ex: body high or head high) and therapeutic properties.
Organic 50mg Delta-8 gummies, made from organic cane sugar and infused with Delta THC, offer an earthy taste reminiscent of the original plant. The use of natural colors in these Delta gummies adds to their appeal for health-conscious consumers seeking a more wholesome alternative to synthetic additives.
The similarities between Delta-8 and Delta-9 THC extend beyond flavor profiles; they also pertain to the effects both compounds have on users. An indica strain is known for its sedative and relaxing properties, similarly exhibited by Delta-8 THC. Users can expect a sense of calmness, reduced anxiety, and pain relief when consuming 50mg Delta-8 gummies.
However, you should note that while the same effects may be comparable to those produced by an indica strain containing Delta-9 THC, the overall psychoactive impact of Delta-8 is less potent (mild high). This makes it an attractive option for individuals who desire the benefits of cannabis but prefer a milder experience devoid of intense euphoria or disorientation common with higher concentrations of Delta-9 THC products.
50mg Gummies for Sleep
Utilizing cannabinoids for sleep improvement has gained popularity in recent years, with a focus on products such as Delta-8 infused gummies that provide gentle relaxation and aid in achieving restful slumber. Organic 50mg Delta-8 gummies, specifically designed for sleep, offer an alternative to traditional sleep aids by delivering the desired effects without the harsh side effects often associated with certain medications.
These gummies have been praised for their ability to promote relaxation and improve overall sleep quality. Organic ingredients ensure consumers are ingesting a pure and natural product free from harmful chemicals or pesticides. This specific dosage balances relaxation and psychoactive effects, allowing even the most experienced user to experience a calm state conducive to restorative sleep.
One of the primary benefits of 50mg Delta-8 gummies is their capacity to induce a sense of relaxation necessary for falling asleep quickly and staying asleep throughout the night. In addition to promoting sleep, these gummies may help alleviate anxiety and stress, further contributing to an improved quality of life. As a bonus, these gummies taste great!
Combining high-quality organic ingredients with the beneficial properties of Delta-8 THC can offer users a safe and effective method for achieving better rest while avoiding negative consequences frequently associated with other types of sleep aids.
Choosing a 25mg or 50mg Dose of Delta-8 for Pain Relief
Selecting the appropriate dosage of Delta-8 THC for pain relief, such as 25mg or 50mg, is crucial in optimizing its therapeutic potential and ensuring individualized treatment outcomes. The optimal dose varies depending on factors like body weight, metabolism, individual tolerance levels, and the severity of pain experienced.
Organic Delta-8 gummies provide a convenient means of administering consistent doses to achieve desired effects. Generally, it is advisable to start with a lower dose (e.g., 25mg) and gradually increase it if necessary until you reach the desired level of pain relief.
The comparison between a 25mg and 50mg dose of organic Delta-8 gummies for pain relief should consider not only the intensity of pain but also the side effects that may arise from higher doses. A higher dose (i.e., 50mg) might be more effective in providing significant analgesic effects; however, it may also yield unwanted psychoactive effects (especially if you have a low tolerance) that could impair day-to-day functioning. A lower dose (i.e., 25mg) may still offer some degree of pain relief while minimizing potential side effects associated with Delta-8 THC consumption.
Are 50mg Delta-8 Gummies Effective for Anxiety and Stress?
Investigating the efficacy of 50mg Delta-8 THC in alleviating anxiety and stress is essential for determining its potential as a therapeutic option for individuals coping with these mental health challenges.
Delta-8 gummies, specifically organic 50mg variants, have gained popularity among consumers seeking alternative treatments for anxiety and stress due to their anecdotal benefits.
Although research on Delta-8 THC remains limited compared to other cannabinoids, such as CBD or Delta-9 THC, preliminary studies suggest that it may possess anxiolytic (anti-anxiety) properties.
While there is a need for more extensive research to validate the effectiveness of organic 50mg Delta-8 gummies for anxiety and stress relief, some users have reported positive experiences.
The lower psychotropic potency of Delta-8 THC compared to Delta-9 THC may contribute to its potential therapeutic benefits without causing undesirable side effects associated with traditional cannabis use.
Further investigation into the safety profile, appropriate dosing levels, and long-term effects of this cannabinoid could provide valuable insight into its suitability as a treatment option for those who struggle with anxiety and stress-related conditions.
What Are Some Other Medicinal Benefits of 50mg Delta-8 THC Gummies?
Exploring the medicinal potential of 50mg Delta-8 THC gummies reveals a range of possible therapeutic applications beyond anxiety and stress relief. Delta-8 gummies, particularly those made from organic ingredients, may offer additional medicinal benefits owing to their cannabinoid content. These benefits include pain relief, anti-inflammatory properties, and neuroprotective effects.
The unique profile of Delta-8 THC allows for its interaction with CB1 and CB2 receptors in the ECS (endocannabinoid system), which play a crucial role in modulating various physiological processes. Research conducted on the effects of Delta-8 THC has demonstrated its potential as an effective analgesic agent for managing different types of pain. It also possesses antiemetic properties that can help alleviate nausea and vomiting induced by chemotherapy or other medical treatments.
Studies show that Delta-8 THC may contribute to increased appetite stimulation – a crucial therapeutic aspect for patients suffering from conditions causing weight loss or reduced food intake. Organic 50mg Delta-8 gummies could provide an accessible and convenient method for individuals seeking alternative treatment options while also benefiting from the synergistic effects of other cannabinoids present in the product.
Potential Side Effects of Delta-8 Products
While the therapeutic potential of Delta-8 products is promising, it is essential to consider the possible side effects associated with their use. As with any cannabinoid, users may experience varying reactions depending on factors such as individual sensitivity, dosage, and frequency of consumption. Organic 50mg Delta-8 gummies contain a high dose of Delta-8 THC, which may lead to more pronounced effects and potential side effects.
Drowsiness: Delta-8 products are known for their sedative properties, which can induce drowsiness or sleepiness in some users. This may not be suitable for individuals who need to remain alert or perform tasks requiring focus and attention.
Dry Mouth: A common side effect reported by users of Delta-8 products is dry mouth or cottonmouth sensation that results from decreased saliva production.
Increased Heart Rate: Some individuals have reported increased heart rate after consuming Delta-8 products, which could potentially exacerbate pre-existing cardiovascular conditions.
Anxiety or Paranoia: While less common than with Delta-9 THC (found in marijuana), there have been reports of anxiety or paranoia experienced by some users after ingesting high doses of organic 50mg Delta-8 gummies.
Consumers must start with a lower dosage of organic 50mg delta-8 gummies to understand how their body reacts and monitor any potential side effects before increasing the dose gradually if needed. Consultation with a healthcare professional before using any cannabinoid product is also advisable for individuals with pre-existing medical conditions or concerns about potential interactions with other medications they may be taking.
How to Choose High-Quality Delta-8 and Minimize Adverse Effects
Selecting high-quality Delta-8 products and adhering to proper usage guidelines can significantly reduce the risk of experiencing adverse effects and enhance the overall experience for users. To ensure the optimal benefits and effects, consumers should look for Delta-8 gummies derived from organic hemp, which have undergone third-party lab testing, contain all-natural ingredients, and have received verified customer reviews.
A high brand reputation is another crucial factor to consider when searching for quality Delta-8 gummies. By choosing a reputable brand with stringent quality control measures, users can trust that they are consuming a product that meets industry standards and safety regulations.
To minimize adverse effects while maximizing the potential benefits of Delta-8 gummies, manufacturers or healthcare professionals must follow recommended dosage instructions. New users should start with a low dose to gauge their reaction to the product before gradually increasing it.
Where to Find the Best 50mg Delta-8 Gummies Online
Navigating the vast online marketplace for high-quality cannabinoid products can be daunting, but knowing where to look and what criteria to consider is crucial in discovering the best 50mg Delta-8 gummies available.
When searching for organic, potent, and reliable Delta-8 gummies, it is important to prioritize reputable vendors that provide third-party lab testing results to ensure product safety and efficacy. Additionally, customer reviews and testimonials may be valuable when determining which brands offer the most satisfactory outcomes.
Some key factors that contribute to finding the best 50mg Delta-8 gummies online include:
Transparency: The vendor should openly share information about their sourcing practices, extraction methods, and ingredients used in their products.
Quality: Look for organic ingredients free from pesticides and contaminants. The presence of natural flavorings and colorings is also indicative of higher-quality products.
Customer Support: A responsive customer service team demonstrates a company's commitment to addressing concerns or inquiries about its offerings.
Considering these factors while shopping online will help buyers make informed decisions when seeking 50mg Delta-8 gummies that provide the desired benefits and effects. By prioritizing transparency, quality, and customer support within an online vendor's offerings, individuals can confidently experience all that these potent cannabinoid-infused gummy treats have to offer.
Final Thoughts: 50mg Delta-8 THC Gummies
Utilizing 50mg Delta-8 THC gummies offers numerous potential benefits, from improved sleep to pain relief. These organic hemp-derived products provide a natural alternative for individuals seeking medicinal effects similar to traditional Delta-9 THC without the associated psychoactive properties.
As interest in Delta-8 THC grows, consumers must prioritize high-quality products and be aware of potential side effects. Doing so can maximize the therapeutic benefits while minimizing adverse reactions as they explore this emerging avenue within cannabinoid therapies.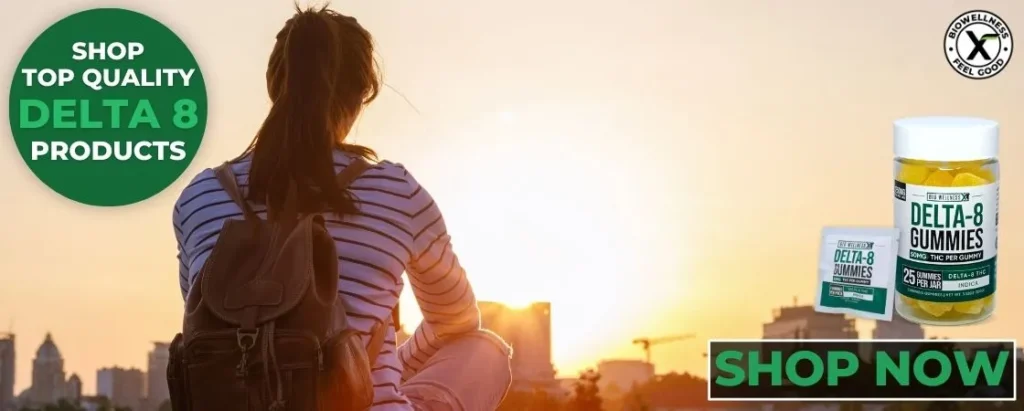 Legal Disclaimer:
By reading this information presented, you agree to release the author of any liability that comes from using this data. This post does not constitute legal advice. Claims about cannabinoids have not yet been approved by the Food and drug administration FDA. Read the full legal disclaimer here.
Other Articles About THC Gummies
References:
FAQs About 50mg Delta-8 Gummies
How long do the effects of a 50mg Delta-8 gummy take to start, and how long do the effects last?
The onset of effects from a 50mg Delta-8 gummy typically occurs within 45 minutes to 2 hours. Once manifested, these effects may persist for approximately 4 to 8 hours, depending on individual factors and dosage.
Are 50mg Delta-8 gummies safe for pregnant or breastfeeding individuals?
Insufficient research exists regarding the safety of 50mg Delta-8 gummies for pregnant or breastfeeding individuals. Until further studies get conducted, it is advisable to avoid consumption during pregnancy and lactation.
How should 50mg Delta-8 gummies be stored to maintain potency and freshness?
Proper storage is essential to maintain the potency and freshness of 50mg Delta-8 gummies. Store in a cool, and dark place away from direct sunlight. We recommend airtight containers to prevent moisture and air exposure.
What are some of the ingredients in a Delta-8 gummy?
Some ingredients include: Organic Cane Sugar, Natural flavors, Citric Acid, just to name a few.