With CBD making headlines in the mainstream, other cannabinoids are getting their chance to shine. One compound, in particular, is getting all the attention! And we're here for it! In this article, we will take a deep dive and do a Delta 8 edible review so you are better informed if this compound is right for you.
Hemp-Derived Delta-8 is taking the cannabis industry by storm! You might have heard the chatter about Delta-8 THC gummies and wonder if it is worth the hype. Let's find out!
Main Key Points
Delta-8 is a naturally occurring compound in hemp plants in trace amounts
Delta-8 is an isomer of THC, which means it belongs to the THC family.
Delta-8 THC is psychoactive; it does produce a high.
Research shows that Delta-8 has many therapeutic effects.
Research and user reports show that Delta-8 THC gummies have about half of the psychoactive effects of the traditional Delta-9 THC while maintaining the same health benefits.
Delta-8 THC is available in many products, such as tinctures, gummies, edibles, smokables, and tablets.
Users prefer Delta-8 THC gummies over other products for their candy-like nature and convenience.
Hemp-derived Delta-8 is federally legal as long as the product contains less than 0.3% Delta-9 THC on a total dry weight basis.
Delta-8 THC gummies are available online and in stores, making waves in the cannabis market.
What is Delta-8 THC?
Delta-8-Tetrahydrocannabinol (Delta-8-THC) is a minor cannabinoid found naturally but in small quantities in the cannabis plant; as you may know, THC is what gives cannabis strains their psychoactive effects.
Delta-8 has about half of the psychoactive effects of Delta-9, which makes it perfect for those who don't like the overwhelming high of THC but still want to reap its therapeutic benefits. Hemp-derived Delta-8 THC is also a potent alternative for those living in Marijuana unfriendly states.
Like its more famous relative Delta-9 THC, Delta-8 belongs to the psychoactive family of THC, which is the component in cannabis and hemp that gives the plant its intoxicating effects.
Delta-8 is an isomer! Simply put, it has the same chemical structure as other THCs, but it's arranged differently. This difference in arrangement gives Delta-8 different effects on the body.
Users report that Delta-8's effects are similar to those of Indica strains, where it can promote relaxation and stress relief with a euphoric feeling unique to Delta-8, which makes it "high in demand with users." No pun intended.
Is Delta 8 Different from THC?
To make it less confusing, think of THC as the family name, with many siblings belonging to that family. The members of the THC family are referred to as Deltas; the most known Deltas right now are Delta-8, Delta-9, and Delta-10.
Delta-9 THC was the most famous sibling everyone recognizes, so they started referring to it as "THC."
The main distinction between Delta-8 and Delta-9 is their intoxicating powers. Delta-8 THC possesses about half the psychoactive potency of Delta-9 THC, which is why so many users gravitate toward it.
Why Try Hemp-Derived Products Like Delta 8 THC?
Delta-8 THC is raved about for its various health benefits and the science to back it up.
According to this research and the national cancer institute, Delta-8 is categorized to possess the following qualities:
Analgesic
Sedative
Anti-inflammatory
Anticonvulsant
Neuroprotectant
Anti-depressant/Anxiolytic
To put it in more layman's terms, research suggests that Delta-8 shows the potential to aid you with sleep, ease discomfort, alleviate anxiety, and relax your body, amongst other things. Please keep in mind this is all based on research and consumer feedback; the FDA has yet to approve this THC compound.
Some studies show that THC effectively mimics the effects of Melatonin (and may even boost its production), which is your natural sleep hormone.
Start getting your hands on these delicious gummies if you're ready to chill out and catch up on some Zs.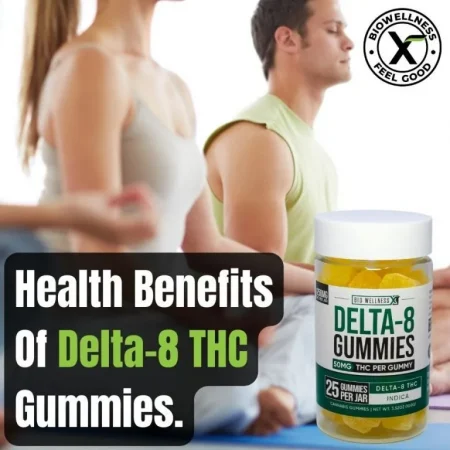 Tell Me The Health Benefits of Delta-8 THC Gummies.
Delta-8 THC is a treasure trove of benefits; it can help with pain, anxiety, relaxation, and even as a neuroprotectant!
You'd be surprised how the therapeutic benefits of Delta-8 work when you first get to try it!
Delta-8 THC is an analgesic: The THC family, including Delta-8 THC known for its pain-killing effects.
This research suggests that Delta-8 THC may reduce pain and inflammation.
Another study indicates that Delta-8 THC could be a treatment for pain and inflammation. However, more research is needed before it can be said with assurance.
None of us is a stranger to lower back pain or joint pain! Reach out for one of these fruitilicious Delta-8 gummies and feel a sense of pain relief like no other.
Delta-8 THC is a strong relaxant. It can reduce stress and anxiety due to its affinity with CB1 and CB2 receptors, which signal the "happy hormones in the brain; Serotonin and Dopamine."
If you've ever had an unpleasant experience of paranoia while using the traditional Delta-9 THC, rest assured that Delta-8 THC has about half of the psychoactive effects of its counterpart. According to this research, people talk of a more clear-minded experience with deep relaxation.
As with any potent compound, you need to take everything with balance. Even though D-8 is less potent, you can still get intoxicated if you take too much.
If you're ready to kiss anxiety goodbye for the night, try out these tasty Gummies.
Our sleep cycles are strongly connected to our endocannabinoid system; when our sleep cycle is disturbed, it means that our system isn't functioning properly. Delta-8 THC acts like our own body's cannabinoids and aids the system to operate normally, helping to increase our sleep hormones naturally.
Some research even suggests that Delta-8 THC can mimic our body's natural sleep hormone Melatonin.
If sleep problems are bugging you, reach out for the tried and true sleep remedy of Delta-8 THC Gummies; they taste great and could also help you develop better sleeping habits.
Delta-8 For Relaxation
This research suggests that Delta-8 THC has sedative properties, which give the user a feeling of deep relaxation in both mind and body. Delta-8 THC influences our receptors to manage stress response, making us feel more relaxed.
After a long day, try D8 THC gummies and see what true relaxation feels like.
What type of Delta 8 THC Edibles are available?
With the popularity of Delta-8 on the rise, more and more Delta-8 edibles are hitting the cannabis market, such as chocolates, cookies, gummies, and even chocolate bars! But the edible that won most users' hearts and pockets was Delta-8 THC gummies!
Where to Buy Delta 8 THC edibles?
You can buy delicious Delta-8 THC edibles from brick-and-mortar stores, but if you really want a better experience, then try buying them online HERE!
Buying gummies online gives you the chance to;
Read countless reviews and hear customer experiences from actual users.
Read up on the brand's credentials.
Choose the gummy flavors and the potency you like.
Save up on exclusive deals.
Get it delivered to your door and save yourself the drive 😉
How to Choose The Best Delta-8 THC Gummies?
The first thing is to decide on what you need the gummy for. Do you need something to manage your pain, or do you need something to knock insomnia out of the window?
The second thing to consider is how your body reacts to Delta-8 THC in general and whether you're an experienced user or not. If you're just starting with THC, then start at a low potency gummy.
Some reputable brands could have artificial colors, additives, or harmful chemicals to achieve the desired effect, while others could have products with fewer cannabinoid percentages than they advertise. You could never know without third-party lab testing!
To help you in your hunt for the best gummies, here are some pointers to pay attention to:
Brand Reputation
THC brands reputation is vital when choosing the best gummy for you; with many fly-by companies hitting the scene, a well-established company stands out with the quality of its products.
Does the company offer a money-back guarantee? Are they willing to stand behind their products till the end?
Do they have a helpful customer service team that can help you and actually listen to your questions?
Do they do independent lab testing?
A premium brand will be willing to share information about each product's sourcing and manufacturing process and specific certificates of analysis to verify the credibility of those products.
Ingredients
Like any other supplement, you want the best of the best ingredients; an excellent gummy doesn't need a ton of corn syrup and artificial coloring!
You should ask yourself these questions:
Are the ingredients GMO-free?
Does it come from organically grown hemp?
Does it have artificial flavors?
Do they list all the ingredients? Are you allergic to any of them?
Does the company provide independent lab testing of its products?
Effectiveness
Effectiveness relies heavily on the company's distillation process and the amount of cannabinoids in their hemp products! Reputable companies will have no problems sharing this information with their customers validated by third-party lab tests.
Price
A quality gummy delivering good results with reasonable price tags that won't break your bank is a quest that isn't easy to achieve; if the price of the gummy is too good to be true, then it probably is.
So to summarize: make sure you purchase products with natural ingredients sourced from organic hemp and third-party lab tested.

Delta-8 Edibles Review
At BiowellnessX, we source from industrial hemp farms with organic components and use only natural ingredients for our hemp products. Even our delicious taste comes from natural fruit flavors.
According to our users, our Delta-8 THC gummies are a great remedy for sleep, chronic pain, and anxiety!
10mg Delta-8 THC gummies
Our 10mg Delta-8 vegan-friendly gummies are the best option for those starting out their THC journey and wanting to keep up with their vegan diet! If you're used to CBD products, then these gummies will take you on a unique journey with their delicious green apple flavor!
When you bite on these tasty candies, you won't feel much at first; then, within half an hour or so, you'd start feeling a unique euphoria; with full relaxation in your body, you'd feel your pain starting to ease, and your anxiety replaced with happy feelings.
Get them in our delicious flavors, such as green apple, here.
25mg Delta-8 THC gummies
The happy middle ground for our anxiety-soaked, insomnia-plagued users! Our 25mg gummies and their oh-so-delicious fruit flavors are a great way to munch the anxiety away. These gummies received a lot of positive feedback from our customers!
According to our users, you get the nicest high without the brain fog and wash the stress of the day away from your poor shoulders! These mid-strength gummies can ease your pain and stop you from tossing and turning for a good night's sleep!
They come in ten and twenty gummies packs; get them in Blue Razz & Mixed Berry Flavor here.
50mg Delta-8 THC gummies
If you've built up some tolerance to THC, and your chronic pain is ruining your day, then our 50 mg gummies have got something to say! These potent gummies do pack a punch; we have to warn you.
If you have a high tolerance for THC, then these deliciously potent gummies will help with your pain and give you some well-deserved anxiety relief!
You'll enjoy a unique body-warming high as if your body is weightless, and all those rushing thoughts will start to fade away, leaving you a relaxed body and mind.
Choose your favorite fruity flavor here.
100mg Delta-8 THC gummies
CATION! EXPERIENCED USERS ONLY!
Our Knockout Gummies come with a potency of 100mg per gummy, and as the name suggests, it's a first-class ticket to dreamland! These highly potent gummies are suitable for those who are used to Delta-9 THC or built up a tolerance to the lower potency Delta-8 THC gummies.
Get ready for a relaxing experience like no other with the strongest Delta-8 THC gummies on the market! Get them in various delicious flavors here.
Is Delta-8 Legal?
The short answer is yes! According to the 2018 Farm Bill, hemp products are legal to contain less than 0.3% THC on a total dry weight basis.
With state laws changing every now and again, it's best to check your local laws for updates before making a purchase.
The following states are not so keen on THC;
Alaska
Arizona
Arkansas
Colorado
Delaware
Idaho
Iowa
Mississippi
Montana
Rhode Island
Utah
How Many Gummies should you take?
Depending on your experience and tolerance of THC, our best advice is to start low with smaller quantities and go slow, especially if you're only used to non-psychoactive cannabinoids such as CBD.
That being said, keep in mind that if you're sensitive to THC, high potency Delta-8 THC gummies could backfire on you, inducing anxiety-like effects.
We recommend you start with smaller doses, like half a gummy of the lowest potency, wait up about an hour, or in some cases up to two hours before you go to bed, see how your body reacts, and gradually up your dosage to one gummy.
If you feel that the lowest strength didn't quite do it for you. You can try higher potency gummies following the same steps.
You can try out our sample pack from each potency and flavor and see which wins you over. Buy it here.
The recommended dosage for our gummies is to start with half a gummy and work your way up to no more than two gummies a day.
What Other THC Alternatives Are There to Delta-8?
If you want to try a little something different, the THC family never disappoints!
Along with Delta-8, there are also Delta-10 and Delta-9 THC, each one different from Delta-8.
Delta-10 Gummies
Delta-10 is also a minor cannabinoid occurring naturally in hemp. It has less affinity to our Endocannabinoid system resulting in different effects on the body!
Delta-10 is maybe the odd one out in the family! Unlike Delta-8, Delta-10 has more uplifting and energizing qualities similar to those of the Sativa strain.
Our Delta-10 gummies are available with a potency of 50mg and come in lemon and cherry flavors, choose your flavor here.
On the other hand, Delta-8 has more sedative and relaxing qualities similar to those of the Indica strain.
Choose your favorite Delta-8 gummies here.
Delta-8 vs. Delta 10 Effects
Let's visualize for a second here; at the end of a stressful day, your body is super tense, and your head is filled with rushing thoughts.
You munch on a Delta-8 gummy, and you start feeling all the stress flee your body and mind. Your body starts feeling light and relaxed with a body-warming euphoria, and you start feeling a unique high while your mind clears the noise inside.
But if you bite into a Delta-10 gummy, you feel a little bit relaxed with a mild buzz but with more energy to work or hang out with friends; it helps you calm the anxiety and rushing thoughts enough for you to get inspired and get your creativity going, and maybe even get motivated to do some work.
Delta-9 Gummies
The THC that everybody knows, if you've ever smoked up or had a special brownie, you'd know exactly what we're talking about!
Delta-9 is the most commonly known THC sibling, mainly because it's found in larger quantities in the plant than the other siblings. Delta-9 has the most binding affinity to our ECS system, making it the most potent THC, which will potentially stay longer in your system, and yes, Delta 9 THC does get you high!
Delta 8 vs. Delta 9
As we've mentioned above, Delta-9 has more binding affinity to our ECS system, which gives the strongest high. Both Delta-8 and Delta-9 have pain-relieving and sedative qualities.
Delta-8 has about half of the intoxicating power of Delta-9. The one main difference that we can tell you as a user is that Delta-8 is usually suitable for everyone; rarely, you'd find body chemistry that doesn't like Delta-8, while with the powerful Delta-9, your body chemistry will either love it or hate it.
Delta-8 vs. Delta-9 Effects
With Delta-9, you will definitely get a strong high; from there, it depends on your THC sensitivity; if your body handles Delta-9 well, you'll get a relaxing, calming effect and, of course, pain-relieving effects; you also might get your creativity going and feel motivated to work. However, if your body doesn't tolerate it well, you'll find yourself in paranoia and conspiracy land with a risk of remembering your embarrassing memories from 7 years ago while staying stuck to your couch.
Ready for some Delta-9 power? Get a here taste here.
As for Delta-8, you'd get a relaxing feeling with anxiety and stress reduction for both body and mind, leaving you with happy and calming thoughts. If you're suffering from sleep problems or pain, you can forget about them with Delta-8 gummies.
Have you decided on Delta-8 gummies? Get them here.
Or are you still deciding between the three Deltas? Try our sampler pack from each one and see which one works for you.
Does Delta-8 Get Me High?
Delta-8 belongs to the THC family, which means it can make you high. However, it has about half of the psychoactive effects of its mainstream sibling, Delta-9 THC. Delta-8 gives what consumers describe as a "clean body high," where you get the heightened sensations without the mind fog, and couch-locked feeling. So, in other words, yes, Delta-8 can offer a euphoric high feeling. So, in other words, Delta 8 THC gummies offer almost the same effect as regular weed edibles, just with more focus on a body high vs. a head high.
Non-THC edibles
If you're on the fence about THC but still want to get the benefits, BiowellnessX has something for everyone! You can try one of these tasty vegan-friendly and gluten-free treats that are not THC-focused. These gummies are made with only natural and organic ingredients. You'll not find any artificial additives in our gummies.
HHC Gummies
Hexahydrocannabinol, or HHC, is a hydrogenated form of THC. The main aspect where HHC stands out is its affinity to bind with CB1 and CB2, as well as the TRP pain receptors. Thus, this affinity indicates that HHC has a pain-killer ability.
Like THC, HHC has psychoactive effects, feelings of euphoria, as well as altered visual and auditory perceptions.
If you love Delta-8 THC gummies for pain management, but it relaxes you too much, then these sweet treats will be up your alley!
Our HHC gummies start at 25mg strength; for those who like it stronger, it also comes in 50mg potency!
Double the strength of Delta-8 THC and offers the same body high, but with focus, energy, and clarity as effects.
Shop your favorite HHC gummies here.
Wellness Gummies Plus
If you undergo regular drug tests at work or just want to stay away from THC and the strong high, our Wellness Gummies Plus will do you right!
Our Non-THC, broad spectrum gummies come packed full of hemp plant goodness, with 25mg CBD, along with other minor cannabinoids, and 5mg of the famous cannabis terpene called Myrcene which possesses sedative qualities.
These delicious gummies will relax your body and mind without a high while catering to your taste buds.
Get your Wellness Gummies Plus here.
What Are The Side Effects of Delta-8 Gummies?
Most users never reported side effects as a result of using Delta-8 gummies. However, some users did report mild adverse effects such as red eyes, dry mouth, and nausea.
Some users with low THC tolerance have reported paranoia and anxiety with our high potency 100 mg knockout gummies; that's why we always recommend starting low if you're new to THC gummies and see how your body reacts.
Don't let the name fool you; D8 is potent and resembles the same effects as some of the strongest weed edibles in local dispensaries.
Final Thoughts
Delta-8 is most certainly the new coolest kid on the block! It can help with discomfort, stress, relaxation, insomnia, and even sex drive!
If you're like the rest of us, after two years of working from home, suffering from back pain, irregular sleep, and overthinker syndrome, then Delta-8 THC gummies deserve a permanent spot on your nightstand!
Visit our website www.biowellnessX.com and shop your favorite vegan-friendly THC gummies in various strengths and flavors.

LEGAL DISCLAIMER
By reading the information presented, you agree to release the author of any liability arising from using this data. This post is intended for information and education; it does not diagnose, treat, cure, or prevent disease. Always consult a health care professional or seek your doctor's advice, especially if you are taking any prescription medication or have a medical condition. This post contains no legal advice. The legal status surrounding Delta 8, Delta 9, and Delta 10 THC is constantly changing. We continuously work on giving you the most updated information. We recommend checking your current state law before purchasing any hemp-derived cannabinoids and hemp-derived products.
Frequently Asked Questions
Does Delta-8 make me high?
Yes! Delta-8 has about half of the intoxicating effects of Delta-9; it will make you high; however, how high depends on the gummy's potency and your body's reaction.
How long does it take for Delta-8 gummies to work?
It depends on each person; your age, body weight, and experience with THC are all factors. Usually, it takes anywhere between 30 minutes and 2 hours.
Can Delta-8 gummies show on a drug test?
Unfortunately, drug tests are designed to detect Delta-9 THC, and Delta-8 has a very similar chemical structure, so it will be detectable.
What are the strongest Delta 8 edibles?
The strongest on the market right now are our 100mg Delta-8 knock-out gummies! These gummies are extremely potent, and it's not designed for inexperienced users.
What is the best Delta gummy?
It depends on what you look for! Delta-8 gummies are great for relieving pain, relaxation, sleep, and alleviating anxiety, Delta-10 is amazing for creativity and energy boost, and Delta-9 has the strongest high and sedative effects.
What should I look for when buying Delta 8 gummies?
You should look for natural components and ingredients and the potency level, and make sure it's sourced from hemp with less than 0.3% THC.