Making plans to visit the Grand Canyon anytime soon, but you're not sure if you can bring your Delta 10 THC? Is Delta 10 legal in Arizona? Being caught with THC in Arizona could get you into huge trouble. The legal status of this brand-new cannabinoid is complicated so read on to find out your possibilities before you pack your hemp products.
Main Points
Delta 10 THC is currently restricted in Arizona; the same goes for Delta 8 THC
Arizona is a CBD-friendly state, and you can freely purchase any CBD products.
As an exception, you can still purchase hemp products containing a maximum of 0.30% Delta 9 THC total dry weight.
Delta 10 THC has different psychoactive effects than Delta 9 THC.
You can find low potency Delta 10 products in the state of Arizona.

Is Delta 10 THC Legal in Arizona?
The definitive answer to this question is it's restricted!
When purchasing your Delta 10 THC in Arizona, you must step carefully as the current regulatory state is unlawful to purchase any hemp-derived products that contain more than 0.30% Delta 9 THC, as stated in bill 1098, which can be a bit confusing with the prop 207 passed into law in 2020 that gives adults in Arizona the permission to carry up to five grams of marijuana or any concentrate. You would think Delta 10 was included in that. However, it's not as if the hemp laws belong to their own bill.
With that in mind, when searching for Delta 10 products, keep an eye on how much D10 might be in the product. Your best bet might be to find a reliable brand online.
What Is Delta 10 THC?
Delta 10 THC is a synthetic isomer compound similar to tetrahydrocannabinol (THC), except it has a cyclic group attached to the terpenoid structure. D10 THC is not found in nature and can only be created in a lab.
It's less known to many people than Delta 9 THC; even Delta 8 THC that's only recently gained popularity here in the United States. Yet, Delta 10 is still a molecule that has been studied in recent years.
While the primary purpose of Delta 10 research is not so much about gaining new insight into medical applications, scientists have found some exciting results from studying this "synthetic isomer" cannabinoid.
In the past, laboratories have found that Delta 10 THC affects the CB1 and CB2 receptors differently than Delta 9 THC, meaning that the two cannabinoids exhibit different properties. Similar to the research done on the Delta 8 THC synthetic isomer, it has a slightly different effect on the body than D9THC.
Researchers determined this by administering both Delta 9 THC and Delta 10 THC to test subjects. It was found that while both are cannabinoid agonists (meaning they react with cannabinoid receptor sites), only Delta 9 THC showed significant effects on CB1 sites.
Delta 10 THC was also a partial agonist of CB2 receptors, indicating that Delta 10 THC has different psychoactive effects than Delta 9 THC.
Where To Buy Delta 10 THC In Arizona?
We don't recommend you buy Delta 10 THC products in Arizona unless you know exactly what's in the product. Arizona cannabis state laws are still in flux.
While some dispensaries or local smoke shops might offer Delta 10 THC products, they might not be the most legit, so you have to be careful. Always ask for recent lab tests and compare them with the label before purchasing them.
If you want to avoid the headache by adventuring out the door, you can go online.
BiowellnessX offers Delta 10 THC products, but we also have many other hemp-derived CBD products that may be legally purchased in Arizona. Especially hemp enthusiasts would be pleased to know they can still enjoy products with some THC in them, as long the total Delta 9 THC is at or below 0.30% dry weight.
Currently, for consumers in states where Delta 10 THC and Delta 8 THC are restricted, regulations state that the total THC can max be 0.30%, which means you can still enjoy effective products and benefit from THC.
For example, our Delta 9 THC gummies have a total THC below 0.30% dry weight, making them legal federally and can be enjoyed freely.
The Legalities Of Delta 10 In Arizona
With the state being in a grey zone, it can be complicated to answer the question: Is delta 10 THC legal or what?
Arizona has its own regulations in place. First of all, Delta 10 is legal at a federal level, thanks to the 2018 Farm Bill, despite being listed as controlled substances in many states. Unlike some of the states where THC is legal, like Alabama, North Dakota, South Dakota, North Carolina, West Virginia, New Mexico, New Jersey, and New Hampshire, to name a few.
Arizona has a highly complex history when it comes to hemp and hemp-derived items. Since voters approved medical marijuana (MJ) in 2010, this state has been at odds with federal law.
By 2013, the Arizona Criminal Justice Commission concluded that legalizing cannabis for recreational use would "create an industry similar to what the community currently experiences with alcohol."
In 2016, Proposition 205 was on the ballot, and Arizona citizens were voting for the legalization of recreational cannabis.
Proposition 205 failed to pass; however, legislators didn't stop there. Led by House Majority Leader Steve Montenegro, they published HCR 2037. They request the removal of all drug scheduling language from state legislation and ask that it be replaced entirely with language that mirrors federal legislation. HCR 2037 also asks for the removal of the following:
-The Arizona Medical Marijuana Act (AMMA)
-The Industrial Hemp Agricultural Pilot Program
-All protections related to medical MJ and industrial hemp, including laws like ARS. Title 36 §§2801 – 2814 and ARS. Title 36 §§2901 – 2907
All of this legal terminology can get confusing, and Arizona citizens should be worried about the future of cannabis (hemp) in the state.
Why?
HCR 2037 will not make any sense because it is asking to remove laws created to protect people's rights and safe access to medical MJ.
-It would make it harder for patients to access medical MJ because you cannot grow plants, and dispensaries cannot participate in the state's industrial hemp program. The AZ Dept. of Agriculture says, "the removal of the industrial hemp plant, also classified as the plant Cannabis Sativa from the definition of 'marijuana' under ARS 12-2801(19) would have a consequential effect on ARS 36-2814, which would become unenforceable."
According to an AZCentral poll, 71% of responders thought passing Proposition 205 in 2016 was a good idea, and 55% felt the same about HCR 2037.
However, despite the legalization of the industrial hemp plant in Arizona, HCR 2037 passed with overwhelming support (48 Yes votes to 6 No votes).
What's the future of the hemp plant in this state?
-The definition of marijuana under Arizona state law would include THC derived from the hemp plant, such plant, not just "resin extracted" like federal law. But if HCR 2037 passes, CBD oil extracts, including Delta 9 Tetrahydrocannabinol (THC), are not allowed.
-HCR 2037 will ban dispensaries from selling CBD products even if they are derived from the hemp plant, also known as Cannabis Sativa. This means that all medical MJ cardholders in Arizona's possession of any THC product will be breaking the law, regardless of whether or not they have a medical card.
-HCR 2037 would remove the protection of industrial hemp from Arizona state law which means that it could no longer be grown in Arizona or processed into CBD products, effectively killing the industry here. AZ Dept. of Agriculture says, "Removal of industrial hemp from ARS 36-1601(3) would have a consequential effect on ARS 36-1601(4), 16-1620, and 29-121, which would become unenforceable."
Is Delta 10 Safe?
The short answer is yes; it appears to be very safe. It has been tested on subjects, and research shows it had no side effects from consuming Delta 10 THC. Now, do keep in mind that the research is still very limited, and even if there's no evidence it's safe to consume, don't overdo it, as with everything else. The difference here is that we are dealing with THC, which has potent properties.
Some claim that there is a possibility of Delta 10 THC being cancer's "cure.". However, we are far from even being able to state whether that is true. A lot of research would still have to be done to back that up correctly.
Furthermore, Delta 10 THC has been the subject of studies that have yielded data suggesting it can assist with glioblastoma multiforme, colon, and leukemia. These findings have been published in the journal Molecular Cancer Therapeutics. Again, these findings do require more in-depth research and should not be understood as a potential solution.
Cannabinoids are now being used to help people with epilepsy who are not responding well to regular medication, along with various other ailments.
As the medical community gets its head around the genus cannabis, they understand that different types of cannabis compounds have varying effects on the user.
Delta 10 THC and The Controlled Substances Act In Arizona?
According to the CS Act, Delta 10 THC is a controlled substance in Arizona,
Although Delta 9 THC is the primary psychoactive ingredient that gives MJ its intoxicating cannabinoid effects. Taking smaller amounts with other cannabinoids can also impact a person's broad experience when using hemp. If you are generally sensitive to THC, it's always advised to start small.
Delta 10 THC is one of these cannabinoids, and it too can also be found in the hemp plant because it derives from Delta 9 THC and can further be converted from CBD isolate, which seems to be the main direction most labs use are creating this new THC substance.
Another cannabinoid, CBN (cannabinol), is a controlled substance in Arizona under the same schedule 1 drug classification as Delta 10 THC, Delta 9 THC, and Delta 8 THC. Studies show that "old" cannabis turns into CBN and has also been shown to have a euphoric effect when taken with other cannabinoids too. To learn more about CBN, check out our post, where we dive into this potent and sedative cannabinol in greater detail.
Final Thoughts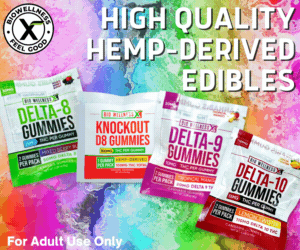 While writing this post, Delta 10 THC is legal on a federally level but still restricted in AZ. We recommend that you do not buy anything illegally if you live there or going to visit.
Always read the laws in your state to get the latest and most updated legal information.
Now, on the bright side, you can purchase hemp-derived products as long it has the legal limit of a max of 0.30% Delta 9 THC.
References:
LEGAL DISCLAIMER
By reading this legal information, you agree to release the author of any liability related to or arising from your use of this data. This post contains no legal advice. The legal status surrounding Delta 8 THC, Delta 9 THC, and Delta 10 THC is new and constantly changing. We continuously work hard to do our best to give you the most updated information. We recommend checking your current state's laws for medical marijuana or federal hemp laws before purchasing any medical cannabis products or industrial hemp-derived (CBD, THC) in Nevada state. Do your due diligence and seek your doctor's advice, especially if you are in doubt or are currently taking any prescription medications. Safer than sorry is always a great idea when consuming new products.
Frequently Asked Questions
Can I still enjoy THC products in the state of Arizona?
Yes, you can still enjoy THC as long it's Delta 9 THC and below the legal limits of 0.30% dry weight, along with various other hemp products.
Are gummies the only way to get Delta 10 THC?
No, there are other ways to ingest your Delta 10 THC. Even though our Delta 10 THC gummies are a favorite among our customers, we offer a wide variety of products, including oils, gummies, capsules, and creams, to name a few.
What is the legal age to purchase Delta 10 THC?
Most retailers require you to be 21 to purchase any hemp-derived CBD or THC products.
Is Delta 10 THC FDA approved?
No, Delta 10 THC is not yet approved by the Food and Drug Administration.
Does Delta 10 THC get you high?
Yes, you can expect to feel a euphoric experience when consuming our delta 10 gummies or delta 10 THC oil.