Florida has always done things their way. Instead of following other states like Rhode Island, the Sunshine State decided not to ban Delta 10 THC and all other cannabinoids and hemp-derived compounds. Why didn't Florida legislators see a need to control Delta 10 THC and similar hemp products? Maybe Florida wants to keep hemp enthusiasts happy and a freedom spirit alive in their state, or perhaps they just saw no real threat from these cannabinoids. We may never know for sure.
Is Delta 10 THC legal in the Sunshine State? Let's dive into the legalities of this synthetic cannabinoid.
LEGAL DISCLAIMER
The legal status surrounding Delta 10 THC is new and constantly changing. We strive to do our best to give you the most updated information. We recommend that you always check your current state- or even federal law before purchasing any hemp products (CBD, THC) in Florida. The data in this post is not intended as legal advice nor to diagnose, treat or give any medical advice. In any event, do your due diligence and always seek your doctor's advice, especially do if you are in doubt or are currently taking any prescription medications. Safer than sorry is always a great idea on new products.
Main Takeaways
Yes! Delta 10 THC is legal in Florida. The same goes for Delta 8 THC.
Delta 10 THC is a synthetically derived cannabinoid that is not yet well-known.
You can go to almost any marijuana retailer, but online is the best way to order.
Delta 10 is federally legal in all 50 states, but over a dozen states have banned it altogether.
The Farm Bill makes hemp legal for agricultural purposes and removes it from the controlled substance list.
The popularity of these products suggests a positive future for Delta 10 THC.
Is Delta 10 THC Legal in Florida?
Absolutely, YES! Delta 10 THC is legal in Florida, and we are very excited about this state as they keep being very opening-minded when it comes to most hemp-derived products.
What Is Delta 10 THC?
Delta 10 THC is a hemp-derived cannabinoid found in trace amounts in the hemp plant. Scientists have comprehensively researched only major cannabinoids like cannabidiol (CBD), Delta 9 THC, and cannabigerol (CBG) along with a few other minor cannabinoids, so as of now we know little about this newer THC compound.
What we do know from our consumers is that Delta 10 THC produces a mild, mellow, and relaxing "high." It's best described as the offspring of Delta 8 THC and cannabinol (CBN) that has a pleasant "body high" and less "head high., plus it seems to offer a boost of energy, and creativity, which means many prefer to use Delta 10 as a daytime remedy.
This synthetically derived cannabinoid is not yet well-known, but Delta 10 THC is quickly gaining a reputation for its potency and unique psychoactive effects. The high levels of this cannabinoid are one of the main reasons that shops in Florida are rushing to carry more Delta 10 products.
Many people have heard about Delta 9 THC, but few realize it is just one part of a more prominent cannabinoid family. The term "THC" actually refers to Delta 9 THC and Delta 8 THC, two of the most common and well-known THC compounds. Delta 8 THC has gained a lot more popularity recently and also offers a more substantial effect.
Florida residents should be thrilled to have Delta 10 THC in their grasps.
Where Can I buy Delta 10 THC in The Sunshine State?
Because of the high levels of Delta 10, shoppers can find some fascinating new products that are only available in hemp-friendly states.
These products include gummies, capsules, vape carts, tinctures, and edibles. Most of these products are so potent that a little goes a long way, making them an excellent value for the money.
You can go to almost any retailer and smoke shop and find hemp derivatives, THC, and CBD products. If they are a well-respected retailer, they will have no problem showing you their lab reports and CoAs. You'll want to be sure that your hemp products are safe. Also, since Delta 10 is still fairly new, not all will have Delta 10 products.
However, most customers prefer to order their products online anyway as it's more safe, fast, discrete, and it gets delivered straight to your door.
BiowellnessX is a reputable online retailer with 100% hemp, THC, and CBD products. For example, our 55mg Delta 10 THC gummies consist of 50mg pure Delta 10, whereas the rest is Delta 8 THC and Delta 9 THC content (<0.30%). We dare to say our Delta 10 gummies are one of the strongest you'll find on the market today.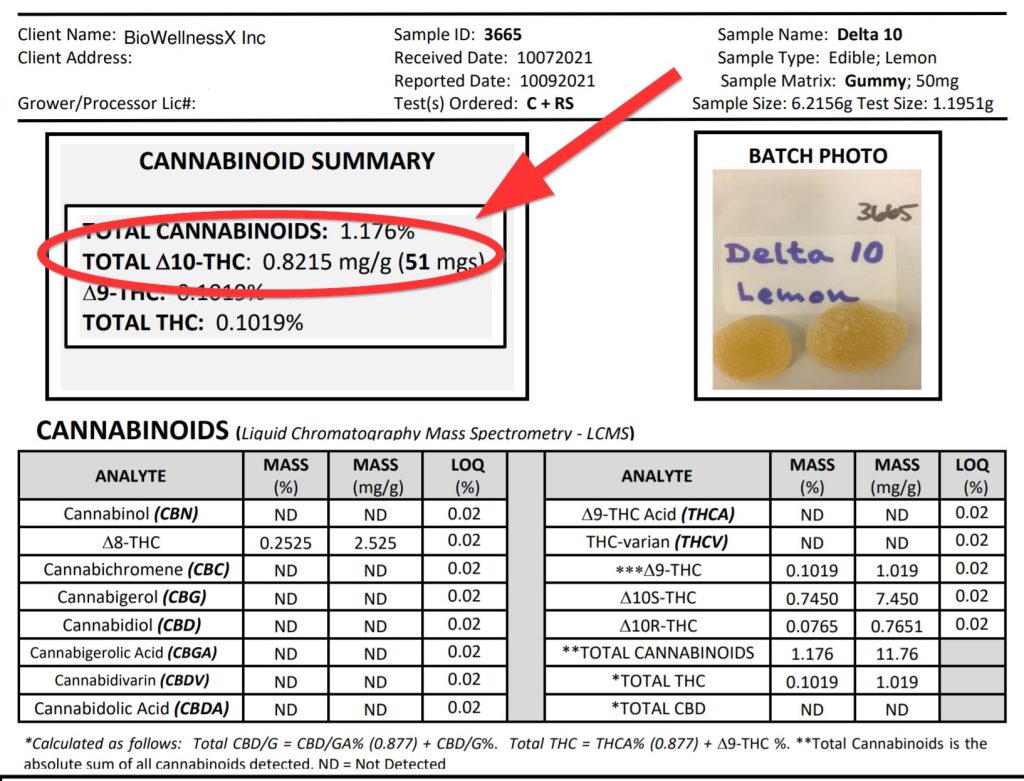 Many other outlets claim that they are selling delta 10, but when you look deeper into their lab reports you'll often find that the total amount of Delta 10 is little to none, so make sure you look closer into the reports. Unfortunately, this is a common practice in the hemp business and has been for years, that many brands sell products with much less content than what the labels are showing.
Our products are lab-tested and safe. We also list our lab reports and testing results on our website for anyone to see. For example, if you take a look at the below lab report you can see each of our gummies has just about 50mg of Delta 10 THC, along with around 13mg of Delta 8, and 5mg of Delta 9. So when you get our gummies you are sure to experience what true Delta 10 is.
Some of our customer's other favorite products include our Delta 8 gummies, the Mellow Drops, and our CBN Gummies (Dream Drops), to name a few.
State Laws, Federal Laws, and Delta 10 THC
What's Up With Delta 10 On The Federal Level?
Federal Law
It's hard to dispute the many health benefits of cannabis, but things get a little more complicated when we talk about Delta 10. Delta 10 is hemp-derived cannabidiol, and it exhibits mildly psychotropic properties. Because of this, some say that it exists in the greyest legal area that any cannabinoid has existed.
Under federal law, the only hemp-derived cannabinoid that's illegal is Delta 9 THC, and only if present in products over 0.3% concentration. This leaves us with a vague understanding of what exactly Delta 10 is legally allowed to be sold as – for now!
The Farm Bill allows all derivatives, extracts, and compounds as long as they come from hemp plant material with less than 0.3% THC aka Delta 9 THC.
The difficult part about this situation is that Delta 10 is not naturally derived but produced synthetically in a lab.
In August 2020, the DEA issued an interim final rule stating that any THC products with synthetic cannabinoids are illegal. The law does not change if the THC is infused with a synthetic cannabinoid, but it does matter what level of Delta 9 THC your hemp product contains.
The DEA classifies Delta 10 as a Schedule I drug for the time being.
What about Florida State Law and Delta 10?
State Law
The Hemp Farming Act (Farm Bill) makes hemp legal for agricultural purposes and removes it from the controlled substance list.
Removing hemp from the controlled substances list has allowed it to be produced and sold as an agricultural commodity.
This has many potential benefits but also some drawbacks. One advantage is that this could increase competition among producers, which will lead to lower prices for consumers.
However, there are some drawbacks to passing the controlled substances act into law because American farmers may not compete with foreign countries that have less strict regulations on their production processes.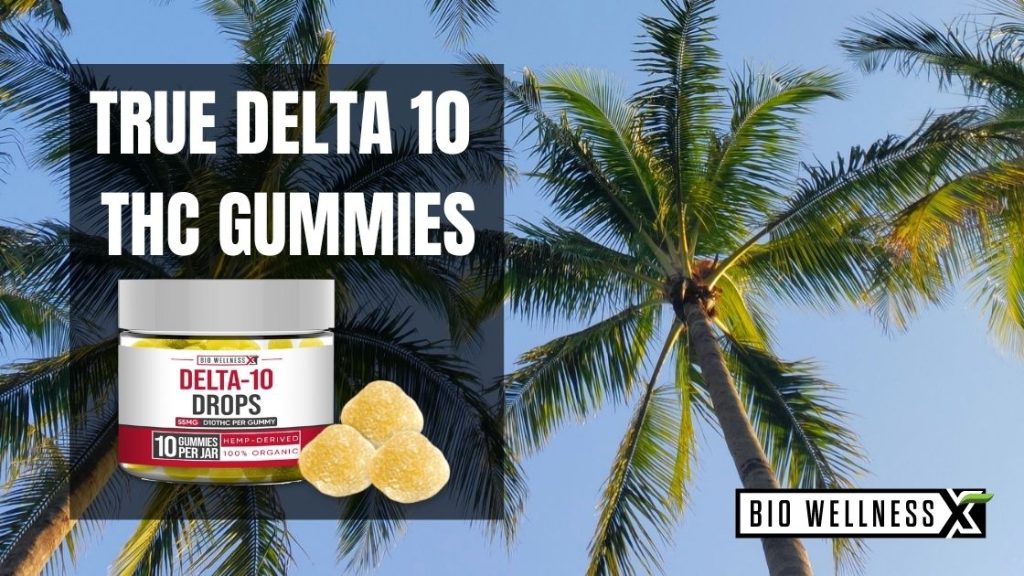 Final Thoughts
It is promising that shops are carrying products with this novel cannabinoid. The popularity of these products suggests a positive future for Delta 10 THC and its relatives as more people are made aware of their unique effects. Be sure to check back for updates on the legality of Delta 10 THC and other cannabinoids as the story unfolds.
References:
Florida's Hemp and CBD information- Hemp and CBD Information (Florida) for Law Enforcement (fdacs.gov)
Florida Marijuana.net- Breaking!! Hemp to Be Removed From Controlled Substances Act with New Bill (floridamarijuana.net)
Controlled Substances Act- Schedule of Controlled Substances Florida