Will This Strict State Loosen Its Cannabis Laws Anytime Soon?
In November 2018, Idaho's voters approved a ballot measure to legalize hemp and hemp-derived cannabinoids. The state was the last in the nation to do so after a federal law passed by Congress removed hemp from Schedule I of the Controlled Substances Act under Section 10114 of the Agricultural Improvement Act of 2018, also known as the Farm Bill.
What does that mean for hemp-derived cannabinoids like Delta 10? Is Delta 10 THC Legal In Idaho? Let's look at how it's regulated & what its future may be in this post.
LEGAL DISCLAIMER
The legal status surrounding Delta 10 is new and constantly changing. We consistently strive to do our best to give you the most updated information. We recommend that you always check your current state- or even federal law before purchasing any hemp products (CBD, THC) in Idaho. The data in this post is not intended as legal advice nor to diagnose, treat or give any medical advice. In any event, do your due diligence and always seek your doctor's advice, especially do if you are in doubt or are currently taking any prescription medications. Safer than sorry is always a great idea on new products.
Main Points
NO, Delta 10 THC is restricted in Idaho.
Delta 10 favors a more nootropic, uplifting, and energizing high than Delta 8 THC.
Hemp-derived CBD products are not legal to sell in the Gem State. The state only allows CBD products with no trace amounts of THC.
Delta 10 as a controlled substance means that it is illegal to possess, sell, or distribute the drug in the state of Idaho.
Delta 10 was found on accident by a company from California.

Is Delta 10 THC Legal in Idaho?
Sadly NO, Delta 10 THC is restricted in Idaho.
What Is Delta 10 THC?
Delta 10 THC only exists in minimal concentrations in hemp. It is an isomer of THC, meaning that it has a similar chemical structure but a different arrangement of atoms.
Delta 10 THC produces mildly psychoactive effects and does not generate psychoactive results as you usually find with Delta 9 THC.
However, it does have some therapeutic properties and may be beneficial for treating certain conditions.
Delta 10 THC is an exciting cannabinoid that has been gaining more recognition in recent years due to a lower psychoactive potency than Delta 9 THC (but higher than Delta 8 THC.)
D10 produces a mild "mental" high that works best during the daytime for many. Delta 10 THC favors a more nootropic, uplifting, and energizing high than Delta 8 THC.
Hemp enthusiasts love Delta 10 THC because of the differences compared to Delta 8 THC.
Can I Buy Delta 10 THC In Idaho?
Have you been looking for a CBD product that is legal in Idaho? Hemp-derived CBD products with trace amounts of THC are illegal to sell in the Gem State.
Idaho State Law has cannabis in mind, but it applies to any tetrahydrocannabinol (THC)-containing product.
Once hemp-derived compounds become legal, and the state legislators loosen up their state laws, give us a call or check our website.
At BiowellnessX, we pride ourselves on what we list on our labels and on what's in the products we sell.
Everything we have to offer is 100% hemp-derived products, so you as a consumer can feel safe and when purchasing from our company. With the strict legal hemp laws in place, you can still find non-detectable THC products such as our Wellness CBD Gummies, Nighttime Gummies, and various other items.
The Legalities: Is Delta 10 Legal In Idaho?
The Idaho Agriculture Improvement Act (Farm Bill) permits the state of Idaho to legalize hemp farming. The hemp plant, a non-psychoactive variety of Cannabis sativa, is a disease-resistant plant used for many purposes, including food and textiles.
The United States government prohibited growing hemp in 1937 because it was mistakenly associated with its psychoactive cousin, marijuana.
In addition to allowing the cultivation of a hemp plant, the Idaho Agriculture Act also allows research into growing other Cannabis sativa plants if they are not developed or used in industrial hemp products.
The bill passed by a vote of 64-7 in the House of Representatives on February 3, 2011, and then passed unanimously in the Senate on February 16. Governor Butch Otter signed the bill on March 21, making Idaho the 17th state to allow industrial hemp farming.
The Idaho Agriculture Imp. Act is a victory for farmers in Idaho, who have another option for crop production. Hemp is a water-efficient crop that can be grown in rotation with other crops, and it does not require the use of pesticides.
However, The Idaho Agriculture Improvement Act also allows research into other Cannabis sativa that may provide medicinal and recreational uses.
The law does not allow individuals to grow crops or possess plants with THC levels higher than 0.3%.
Patients with prescriptions for medical marijuana will still be able to use their medicine in the state of Idaho.
Delta 10 and The Federal Law
This compound may be considered federally legal because of the Farm Bill loophole, but it isn't easy. One argument against this legalization is that cannabis was never meant to be legalized in the Farm Bill, and any psychoactive drugs would have been prohibited.
The D10 molecule is a perfect example of how the Farm Bill has changed hemp legislation.
Legalizing hemp and excluding "tetrahydrocannabinols in hemp" from the federal list of a controlled substance means that these compounds are legal federally. But, because these compounds are present only in minuscule concentrations, their natural extraction is challenging and expensive.
Is Delta 10 A Controlled Substance In The Gem State?
The classification of Delta 10 THC as a controlled substance means that it is illegal to possess, sell, or distribute the drug in Idaho.
Over a dozen states have followed suit and have not legalized hemp-derived THC's yet.
It should be noted that although Delta 10 THC is a controlled substance, there are some exceptions to this rule.
However, possession of Delta 10 THC products for any other purpose remains illegal under state law.
Is D10 THC Legal In All The 50 States?
Not all states follow the same laws. Several states have already put strict rules on these synthetic substances. Each state has the authority to determine its cannabis laws.
You should always check your local jurisdiction for updated Delta 10 laws.
The Brief History of Delta 10
Delta 10 THC was found on accident by a company from California.
They unknowingly bought a fire-retardant-contaminated product. The company noticed strange crystals were forming during lab tests after distillation. It also had a different molecular structure than other cannabinoid crystals, and it turned out it was tetrahydrocannabinol (THC).
With that said, we now have Delta 10 THC. According to Wikipedia, there's also evidence that it goes further back to the 1980s, where it was said to be first discovered.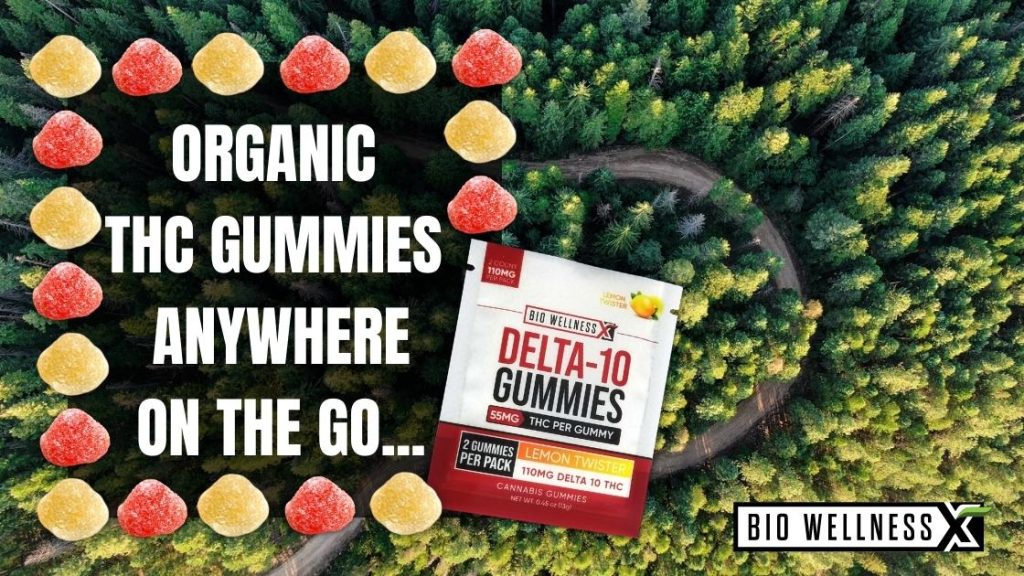 Final Thoughts
As of now, you cannot buy or sell any hemp- CBD or THC products In Idaho that have any trace amounts of THC in them. It's strictly illegal in the Gem State.
Until the state laws loosen, you should not buy any products in-store or online. Until then, it remains illegal, and you should always check your local laws for updates. It's bound to become legal sometime; who knows; it can be sooner than you think.
In the meantime, check our best selling CBD capsules:

References: