The bigger question is, Is Delta 10 Legal in Illinois? There's good news for those that live in this state. Are you free to roam the Prairie State with your Delta 10 THC?
Products containing Delta 10 THC are becoming increasingly popular among especially hemp enthusiasts. More people are inquiring about the benefits of this unique cannabinoid.
Main Keypoints
YES, based on Illinois state law, Delta 10 THC is legal in Illinois.
Delta 10 THC is recommended for daytime use since its effects resemble Sativa strains.
The best place to buy your hemp products is often online.
In 2019, Illinois became one of 10 states with legalized recreational marijuana sales.
Whether Delta 10 THC will be a Schedule I Controlled Substance is still debatable.
Is Delta 10 THC Legal in Illinois?
You will be happy to know that YES, Delta 10 THC is legal in Illinois. Keep reading for all the details.
What Is Delta 10 THC?
This minor hemp cannabinoid has gained popularity in recent years. It's an isomer of Delta 8 THC and Delta 9 THC, the two most common cannabinoids found in marijuana plants.
Delta 10 THC is recommended for daytime use since its effects resemble Sativa strains.
Users say it gives them energy and creativity and are more focused; they also tend to feel a strong sense of euphoria, especially those already enjoying our strong 55mg Delta 10 Gummies.
D10 is a cannabinoid that mimics the effects of Delta 9 THC but without some side effects.
The production process begins with industrial hemp plants and their derivative, cannabidiol (CBD). Chemists then convert CBD into Delta 10 THC.
This cannabinoid shares many similarities in the molecular structure with its counterpart, Delta 8 THC. It's said to have fewer of the more unpleasant side effects than those from Delta 9 THC -such as intense anxiety or paranoia when consumed with a larger dose.

Where To Buy Delta 10 THC in Illinois?
Hemp is now legal for recreational use in the Prairie State. With that, you should be looking to buy Delta 10 THC and Delta 8 THC products from a reputable company.
One of the best places to buy your hemp products is still online.
BiowellnessX can help with that. We sell tested hemp-derived Delta 10 THC, such as Organic Delta 10 Gummies and Delta 10 Oil Tinctures, alongside a broad arrow of Delta 8 THC products.
We have a wide range of THC and CBD oils, edibles, and other cannabis products like tinctures, capsules, and creams.
If you live in Illinois and are near any of the cities below or live there, you'll find countless CBD stores, online and retail stores, all carrying a wide range of Delta 10 THC and Delta 8 THC products, with hemp-derived THC products being legal in Illinois.
Chicago
Aurora
Naperville
Rockford
Joliet
Springfield
Peoria
Elgin
Champaign
Waukegan
Cicero
Bloomington

Legalities of Delta 10 THC
Illinois Law
In Illinois, a newer bill is on the table. The legislation would require testing and labeling cannabinoid products before distribution—a move to ensure product safety for those who use hemp CBD as a treatment option. If passed, the law would also regulate Delta 8 THC and Delta 10 THC, both THC isomers most commonly found in hemp-derived products such as cannabidiol (CBD).
The legalization of hemp is not a simple thing.
With the legalization of recreational cannabis, new rules and regulations arise to ensure that it is safe for consumers. One such regulation is the law requiring dispensaries to list what percentage of THC their hemp products contain on their labels.
In 2019, Illinois became one of 10 states with legalized recreational cannabis sales and the first state in America to legalize through legislation rather than by ballot initiative – but there's more work to be done before these businesses can rest easy.
Federal Law
The legal status of Delta 10 THC on a federally legal level is a little more complicated than the legality of Delta 8.
As a hemp-derived cannabinoid, Delta 10 THC falls under the 2018 Farm Bill, which legalized the hemp plant and all hemp cannabinoids, extracts, derivatives, and isomers.
Because it's almost nonexistent in the hemp plant, chemists create it in a lab. They take hemp-derived cannabidiol (CBD) and convert it into Delta 10 THC.
Many processors use different methods to perform this conversion, and some may leave toxic and harmful by-products in the final result.
Trusted brands use safe manufacturing practices, but not every brand has developed a formula. That's why asking for lab reports of your product is essential. Lab reports indicate that the processor uses high-quality materials to make their products.
Whether Delta 10 THC will be a Schedule I Controlled Substance or not is still up for debate.
Chemists typically rearrange the molecules of hemp-CBD or hemp-derived Delta 9 THC to create this cannabinoid.
Because of that, this could classify it as synthetic THC, according to the Interim Rule from the Drug Enforcement Administration (DEA) in August 2020. The rule stated that "all synthetically derived tetrahydrocannabinols remain Schedule I controlled substances."
The practice is not final, and it leaves space for debate on whether legislators will decide to prohibit or regulate hemp-derived compounds. We can only hope the federal law does not change.
Is Delta 10 Legal In All 50 United States?
Not all states follow the same laws. Several states have already put strict rules on these semi-synthetic substances. Each state has the authority to determine its cannabis laws.
Over a dozen states have restricted THC products.
Those states include; Alaska, Arizona, Arkansas, Colorado, Delaware, Idaho, Iowa, Louisiana, Mississippi, Montana, New York, North Dakota, Kentucky, Rhode Island, Utah, and Vermont.
The other states are legal cannabis-friendly states or gray areas for hemp and THC products.
Those states include; Alabama, California, Connecticut, Florida, Georgia, Hawaii, Illinois, Indiana, Kansas, Maine, Maryland, Massachusetts, Michigan, Minnesota, Missouri, Nebraska, Nevada, New Hampshire, New Jersey, New Mexico, North Carolina, Ohio, Oklahoma, Oregon, Pennsylvania, South Carolina, South Dakota, Tennessee, Texas, Virginia, Washington, West Virginia, Wisconsin, and Wyoming.
You should always check your local jurisdiction for updated laws as the hemp laws and regulations change all the time in every state, especially for Delta 10 THC. For now, the federal law makes it possible to purchase Delta 10 products.
Is Delta 10 THC Safe?
Delta 10 appears to be very safe. Reports indicate it has no side effects.
Keep in mind that research is still minimal and new. Even though there isn't much evidence, it is safe to consume, don't overdo it. And always remember to follow the directions on the bottle. And remember it's THC and acts like it. That always means if you have a drug test coming up you might want to wait to consume THC as it can stay in your body for weeks.
Our data comes from customers who have tried the products.
Final Thoughts
As of now, enjoy your Delta 10 THC in Prairie State. The Illinois state law can change in the future, but hopefully not for the worse. We're counting on more states opening up their regulations on hemp products, and THC edibles in general so more consumers across the country and enjoy the benefits these products offer.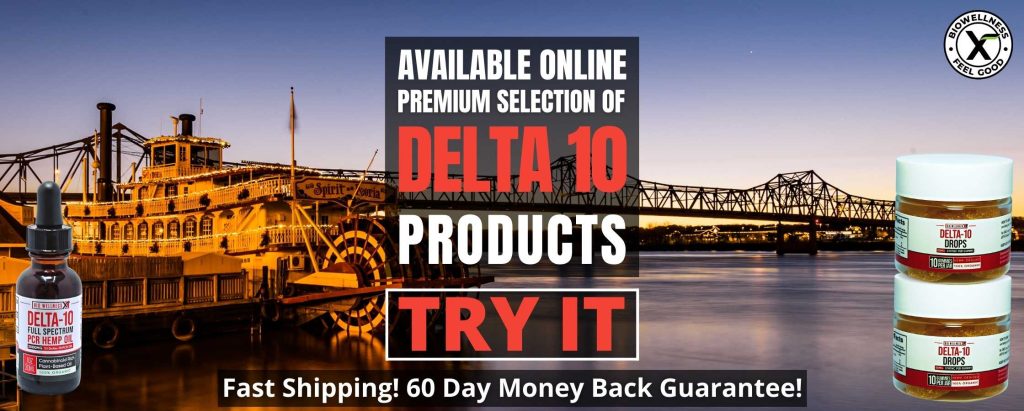 References:
LEGAL DISCLAIMER
The legal status surrounding Delta 8 THC, Delta 9 THC & Delta 10 THC is new and constantly changing. We continuously work hard to do our best to give you the most updated information. We recommend that you always check your current state laws- or federal law before purchasing any industrial hemp-derived products (CBD, THC) in Ohio. The data in this post is not intended as legal advice nor to diagnose, treat or give any medical advice. In any event, do your due diligence and always seek your doctor's advice, especially if you are in doubt or are currently taking any prescription medications. Safer than sorry is always a great idea when consuming new products.
Frequently Asked Questions (FAQ)
How old do you have to be to buy Delta 10?
Most retailers will not let you buy any hemp CBD or THC unless you are 21.
Can I buy Delta 10 online?
Yes, you can buy D10 online if you are in a hemp-friendly state.
Does the FDA approve Delta 10?
As of now, the Food and Drug Administration hasn't approved Delta 10. Neither is Delta 8.