Delta 10 THC makes everything sunny and bright in the Sunflower State!
Delta 10 THC (D10 for short) is a THC that has energizing and uplifting effects derived from hemp CBD. Suppose you've heard about this substance and want to try it but aren't sure if it's legal in Kansas. Let us help!
Is Delta 10 THC legal in Kansas? In this post, you will find out if Delta 10 THC is legal and take a look at the different types of hemp laws in Kansas and where you can buy according to your state's guidelines.
LEGAL DISCLAIMER
The legal status surrounding Delta 10 THC is new and constantly changing. We consistently strive to do our best to give you the most updated information. We recommend that you always check your current state- or even federal law before purchasing any hemp products (CBD, THC) in Kansas. The data in this post is not intended as legal advice nor to diagnose, treat or give any medical advice. In any event, do your due diligence and always seek your doctor's advice, especially do if you are in doubt or are currently taking any prescription medications. Safer than sorry is always a great idea when taking new products.
Main Points
Yes, Delta 10 THC is legal in Kansas.
Delta 10 is an isomer of Delta 9 THC.
Online retailers are the best way to buy your hemp products.
Delta 10 THC is known as the "mood elevator."
The legalities are complicated due to Delta 10 THC being a synthetic cannabinoid.

Is Delta 10 Legal In Kansas?
The gist of it is YES, but you may need to research the laws and regulations because of its complexity.
What Is Delta 10 THC?
Have you heard of Delta 10 THC? It's the latest isomer to hit the market in 2021, though it's still unknown for many, and what the effect this substance will have long-term.
Research shows Delta 10 THC is an isomer of Delta 9. Delta 10 THC is not commonly found in nature, and one would have to use lab equipment to separate Delta 10 THC from Delta 9 THC.
Delta 9 THC has the same molecular formula as Delta 10 THC, but they are arranged differently in three dimensions. These two cannabinoids are very similar in structure and make-up; however, there are a few key differences.
Cannabinoids are in a class of chemical compounds that activate cannabinoid receptors in the body.
There are three cannabinoid receptors: CB1, CB2, and GPR55. Delta 10 THC primarily binds to CB1 and GPR55, while Delta 9 THC mainly binds to CB1 and CB2.
The fact that there are two different types of cannabinoid receptors is why these cannabinoids each have different effects on your body.
We know little about its effects because no formal clinical studies are being done. So far, anecdotally, some people (our team) report feeling more relaxed, and others say increased focus.
Up to this point, we know that this compound comes close to Delta 8 THC in terms of potency — and Delta 8 THC is roughly half as potent as Delta 9 THC. Overall, Delta 10 THC has fewer side effects than Delta 9, which makes it likely to be used more often than its predecessor over the next few years.
Where Can I Buy Delta 10 THC in the Sunflower State?
When you're looking to buy Delta 10 THC, you have many options, primarily if you reside in a "hemp-friendly" state.
Many trusted CBD stores and other local stores carry hemp-derived CBD and THC products.
Products sold at gas stations and mini markets you want to rethink as oftentimes the content of the product is not what's inside, and you could also risk the product's total THC is over its legal limit. We recommend that it would be best if you purchased your products from a trusted supplier and always ask to see lab reports and certificates of analysis as the least.
Still, the best way to purchase your hemp products would be to buy online at one of the many online stores that offer high-quality hemp-derived cannabinoids.
Our products are 100% hemp-derived products, and all our products are made in the USA. We have a large variety of CBD and legal THC products in your state. 
When you buy from us, trust that you can feel safe in knowing that what you are buying is high quality and it's been tested.
We're committed to transparency in our manufacturing process. We produce our own goods and work alongside the third-party labs that test all of our products. Each product page shows our comprehensive lab reports that show the actual cannabinoid percentage of each item. We make sure our products are consistent, so you know exactly what you are getting every time!
The Legalities of Delta 10 THC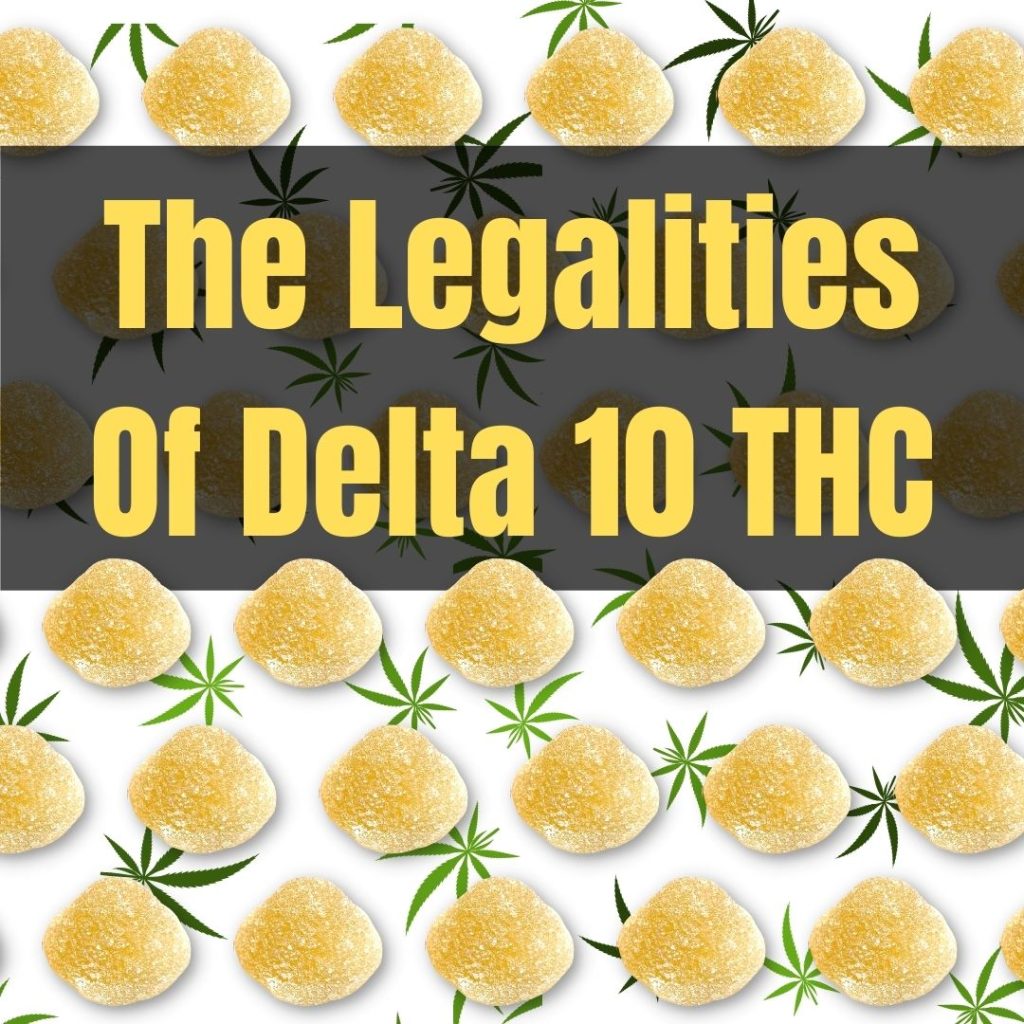 Kansas has not banned the sale and distribution of hemp-derived Delta 10 THC. However, there are some states that have laws that restrict access to Delta 8 THC and Delta 10 THC, but Kansas is not one of them.
Kansas law removes "tetrahydrocannabinols obtained from hemp" from its definition of marijuana and amends its Controlled Substances Act to allow for the sale of CBD products with up to .3% Delta 9 THC.
State Law
Kansas legalized hemp plant and hemp products in 2018.
The state updated its laws via The Farm Bill to legalize hemp with a Delta 9 THC concentration of 0.3 percent or less. This means that all derivatives, extracts, cannabinoids, isomers, acids, salts, and salts of isomers with less than 0.3% Delta 9 THC are legal in the Sunflower State!
Is Delta 10 Federally Legal?
The legalities are complicated due to Delta 10 THC being a synthetic cannabinoid that is manufactured from hemp-CBD. Technically, Delta 10 THC falls under the list of controlled substances because it is heavily processed and semi-synthetic. However, Delta 10 THC is exempt from being considered a controlled substance if it comes from CBD oil derived solely from industrial hemp plants, which was made legal in the 2018 Farm Bill.
What is the current Federal Law?
The DEA released its Interim Rule on hemp in August 2020, which stated that all synthetically derived tetrahydrocannabinols are illegal under federal law. This left many questions unanswered and is likely to be clarified in the release of the Final Rule.
Since the final rule on Delta 10 THC has not yet been released, this article will only address the legal status of Delta 10 THC. It is important to note that Delta 10 THC is a cannabinoid with little to no psychoactive effects.
For now, Delta 10 continues to exist in a gray legal area, but we are keeping a close eye on it.
What's The Difference Between Delta 8 And Delta 10 THC?
Delta 8 THC and Delta 10 THC are two of the newest psychotropic compounds.
Both come from hemp-derived sources, which makes them legal for now (when they're extracted from hemp).
Delta 8 THC has recently taken over the cannabis community by storm, becoming a ubiquitous product that can be found in oils, edibles, vapes, and more.
Delta 10 THC, on the other hand, is still relatively new, but it's making its way onto the market as well.
One of the main differences that we have found is that Delta 8 works more as a relaxant and seems to have a higher effect on pain relief.
Some would say Delta 8 is more on the Indica side, whereas Delta 10 THC is a Sativa feel. One thing to remember is with Delta 8; you get a higher concentration of THC. In contrast, Delta 10 THC (as of right now) comes with all 3 THCs (Delta 8, Delta 9, and Delta 10 THC), CBD, and CBN, along with other minor cannabinoids when extracted. That doesn't necessarily mean d10 will work less, but it has a different effect on your body.
Some of our customers have said it helps with energy, boosts the mood, clears the mind, and keeps you more focused. But just like Delta 8, it does offer a mild euphoric body high too.
Interestingly enough, when you combine one of our Delta 8 gummies with our Delta 10 THC gummies, you boost the overall experience, but you might want to start with just one gummy to start, and from there you can start experimenting more.
Related Article: Delta 10 vs Delta 8: What Is The Difference?
Is Delta 10 THC Safe?
From what we know so far, Delta 10 THC is known as the "mood elevator." It's important to understand there's no concrete scientific evidence showing how this compound affects humans. However, reports showcase it can help you feel happier with more energy.
It also stimulates appetite in people with eating disorders, so they're less likely to skip meals or overeat!
Contrary to popular belief, Delta 10 THC products appear to be safe. Whether you vape, smoke, use oils, or gummies, but again, we can't say anything definitive about its effect.
That said vaping and smoking have been shown to have several severe side effects which is why we always suggest either our delta 10 gummies or our delta 10 oil tincture.
The FDA and Hemp Derivatives
The Food and Drug Administration regulations, as established in 2013, make no distinction between hemp and marijuana. Despite the two being different types of cannabis plants, for purposes of regulation, they are considered to be identical. Hemp is defined as having less than .3 percent THC content by weight, while anything over that is deemed a schedule 1 drug, the same classification as heroin and LSD.
As a result, any product that contains THC, including hemp-derived CBD oil, is illegal, according to the FDA.
The agency has been clear that it does not recognize any difference between marijuana and hemp and that both are prohibited from being used in food or as dietary supplements. The FDA has also warned companies against making medical claims about CBD oil and other CBD products.
Is Delta 10 THC Legal In All 50 of the United States?
It is federally legal, but each state has the right to determine its own state law. There are over a dozen states that have put restrictions on these cannabinoids altogether.
The restricted states include Alaska, Arizona, Arkansas, Colorado, Delaware, Idaho, Iowa, Louisiana, Mississippi, Montana, New York, North Dakota, Kentucky, Rhode Island, Utah, Vermont.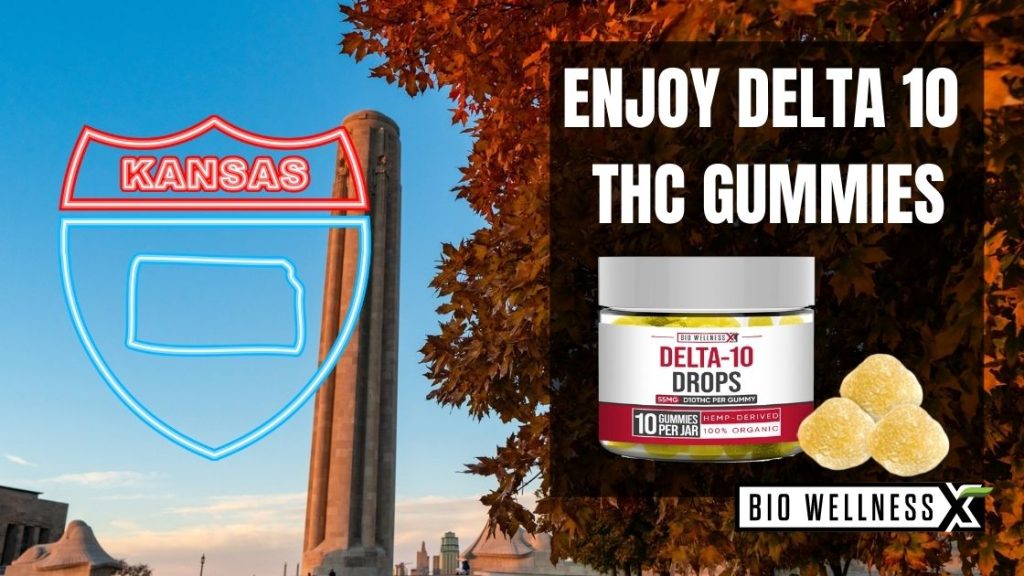 Final Thoughts
As it stands now in Kansas, Delta 10 THC remains fully legal. The hemp regulations in this state don't look like they will be changing anytime soon, which is a good thing.
We're hoping that one day all the states will follow suit and make recreational cannabis and all cannabis products, including synthetic cannabinoids, legal. Until then, continue to check your local and state laws for updated info.
References:
Farm Bill- Hemp Production and the 2018 Farm Bill
State's Controlled Substances Act- Statute | Kansas State Legislature (kslegislature.org)