Enjoy your Delta 10 THC in Maryland is easier than you think!
Maryland has been a bit shy about hemp and the legalities of Delta 8 THC and Delta 10 THC. If you reside in or are planning a trip to the Old Line State, then you are probably wondering if you can enjoy your hemp products freely. Let's check out what our rights are when it comes to these hemp-derivatives cannabinoids.
LEGAL DISCLAIMER
The legal status surrounding Delta 10 THC is new and constantly changing. We consistently strive to do our best to give you the most updated information. We recommend that you always check your current state- or even federal law before purchasing any hemp products (CBD, THC) in Maryland. The data in this post is not intended as legal advice nor to diagnose, treat or give any medical advice. In any event, do your due diligence and always seek your doctor's advice, especially do if you are in doubt or are currently taking any prescription medications. Safer than sorry is always a great idea when taking new products.
Main Points
Delta 10 THC is legal in Maryland.
Online is the best way to buy high-quality Delta 10 in Maryland.
Delta 10 THC is a mildly psychotropic cannabinoid; it is similar to Delta 8 THC as far as effects go.
Maryland excused hemp and "any part of such plant" from the definition of marijuana.

Is Delta 10 Legal in Maryland?
Yes, Yes, Yes! Delta 10 THC sure is legal in the state of Maryland.
What is Delta 10 THC?
Delta 10 THC is a mildly psychotropic cannabinoid; it is similar to Delta 8 THC as far as effects go. According to our customer's reports, both cannabinoids show a lower psychotropic potency than their sister, Delta 9 THC, the main intoxicating compound found in cannabis.
Despite revealing similar strength levels, these two substances exist on different sides of the spectrum in terms of cannabis effects.
Consumers describe Delta 10 as more energizing and nootropic.
This cannabinoid is said to help with creativity and keep your mind sharp. If you've ever tried Delta 8 THC, then you know it's more mellow and sedating.
The most enjoyable part about hemp-derived THC's is that they don't provide intense anxiety and paranoia like the classic Delta 9 THC.
Can You Buy Delta 10 THC in Maryland?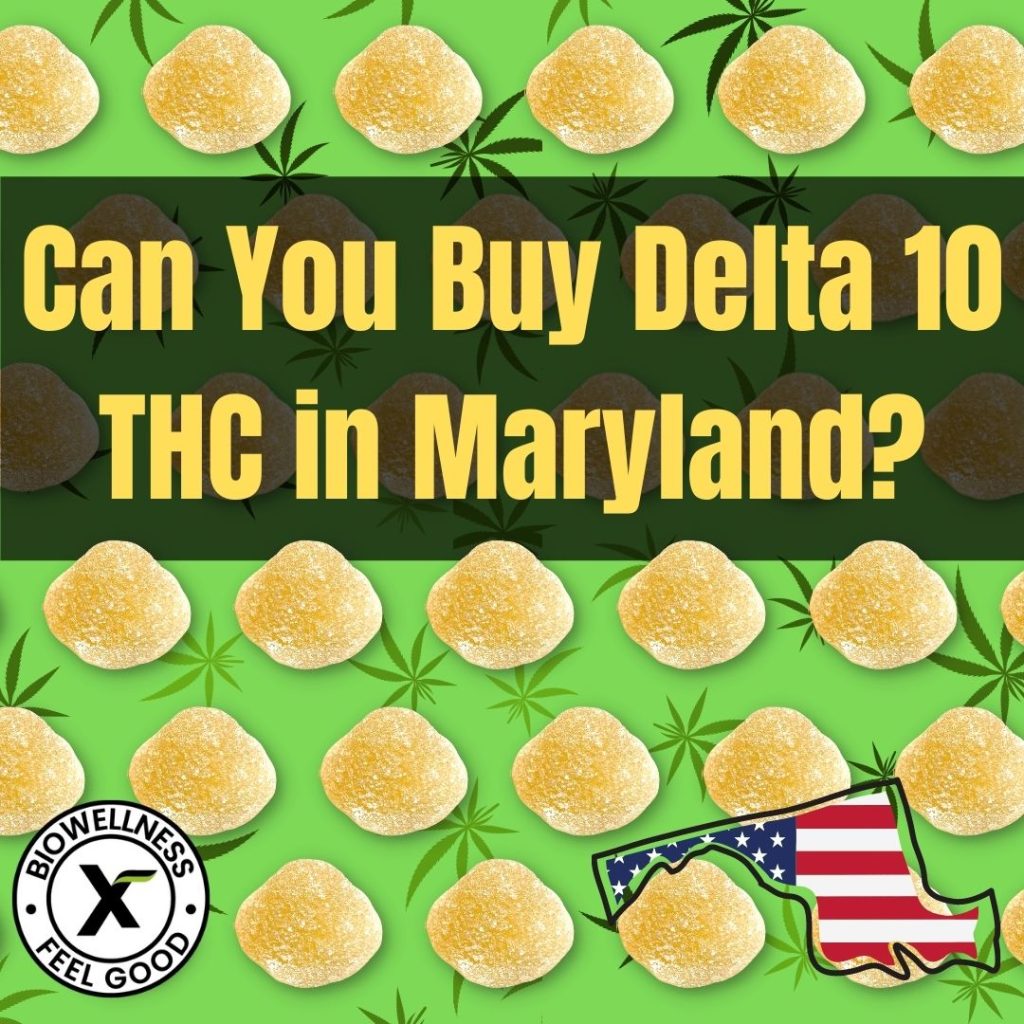 There are many different delivery methods, but online is still one of the best ways to buy high-quality Delta 10 THC in Maryland.
Local stores and smoke shops sell Delta 10 THC products across the state. The difference between the quality of the products sold by trusted brands and unlicensed smoke shops is enormous.
It's vital to check lab reports and ask for Certificates of Analysis on all Delta 10 THC products. There are many copycat wannabes with untested, unsafe, cheap, and fake Delta 10 THC.
You know how we manufacture our products if you're a returning customer. You've experienced the best hemp products and now understand what potent, safe, and 100% hemp-derivatives can do.
We use the highest quality standards in the hemp industry.
Here at BiowellnessX, we believe in our full spectrum, whole-hemp plant extracts.
Third-party technicians continuously test our Delta 8 THC and Delta 10 THC, always certified, and the lab reports are right on the page for you to quickly find.
Our website also contains genuine customer reviews from those who have tried our products.
Our incredible team puts a lot of thought into developing each product.
The Legality of Delta 10 THC
Delta 10 THC derived from hemp is LEGAL in Maryland.
Once the 2018 Farm Bill passed into law, Maryland became one of the states to update its hemp legislation immediately.
The Old Line State then legalized the hemp plant and extracts, isomers, hemp cannabinoids, derivatives, and salts of isomers with under 0.3 percent Delta 9 on a dry weight basis.
Delta 10 THC is legal in Maryland as a hemp-derived THC isomer. Maryland excused hemp and "any part of such plant" from the definition of marijuana. When derived from hemp, Delta 8 THC and Delta 10 THC aren't controlled substances in the state.
Marijuana is illegal in Maryland for adult use. But the state laws did legalize medical cannabis by passing HB 881 into the same laws as with hemp.
What Is The Maryland Medical Cannabis Commission (MMCC)?
The MMCC is a commission in the state of Maryland that supports, operates, and regulates the use and distribution of medical cannabis in the state.
The Commission comprises seven members: five appointed by the Governor to represent each Congressional district and includes one physician and two public representatives; and two office members who serve as advisors to assist with implementing rules for medicinal use of cannabis.
Maryland's medical cannabis program was out in law in 2013 called "Maryland Medical Cannabis Statute." This law allows doctors to prescribe marijuana as a medicinal drug for those legally defined as having terminal illnesses, chronic conditions, or debilitating diseases with severe symptoms.
The Commission also oversees the licensing and distribution of medical cannabis dispensaries throughout the state.
Federal Law and Delta 10 THC
Whether Delta 10 THC is federally legal is always up for debate.
Farm Bill legalized all naturally occurring hemp-derived cannabinoids. This substance is legal federally when derived from hemp rather than marijuana.
Concerning the hemp industry, things mostly lean towards the grey side of Delta 10 THC.
First and foremost, these substances are intoxicating, meaning they will get you high. The main motive for legalizing hemp was to allow consumers to enjoy the rewards of cannabidiol (CBD) and hemp as a non-intoxicating and safe ingredients.
For instance, Delta 8 THC and Delta 10 THC are close to non existing in the cannabis plant. This cannabinoid is semi-synthetic because lab technicians have to process hemp-derived cannabidiol (CBD) into Delta 9 THC and then convert it into Delta 10 THC.
The DEA released a report that said all synthetically derived THCs are not legal. Delta 10 THC doesn't entirely fall under the "synthetic" substances category like Spice and K2. The DEA could reconsider and deem it unlawful because it is entirely synthetic.
Because this substance originates from hemp-derived CBD, this cannabinoid is in a legal grey area. There are currently no laws federally that regulate or prohibit selling hemp-derived Delta 10 THC.
Final Thoughts
Residents and visitors can order their Delta 10 THC products and other cannabinoids without a worry in the Old-Line State.
We hope all states open up someday and make THC fully legal. Until then, feel free to enjoy your THC and CBD in Maryland.
Try and see why our Delta 10 Gummies are so popular
Try our Organic Delta 10 Gummies: They come in two mouthwatering flavors like cherry and lemon. Each gummy has a minimum of 55mg THC, with 50mg is pure Delta 10 distillate. We dare to say our d10 gummies (as of writing this post), some of the strongest on the market. We doubt you can find any stronger than our on the market today.


References:
House Bill 881- 2013 Regular Session – House Bill 1101 Chapter (maryland.gov)
MMCC- MMCC (maryland.gov)