The Cornhusker State Loves Their Hemp Products! Now the question is: Is Delta 10 legal under Nebraska hemp laws? You might be wondering if you're a fan of hemp-derived CBD products. Wonder no more! In this post, we'll explore the legality of Delta 10 THC and whether or not it's available in the Cornhusker State and legal per the State law.
Spoiler alert: It is! Keep reading and find out where you can buy it.
Main Keypoints
Delta 10 THC is Legal in NE under state law.
This compound has less potency than the original strain but still offers all the health benefits of THC.
You can buy Delta 10 THC products without restriction in NE.
The NE Hemp Farming Act allows for hemp production, growth, and cultivation in NE.

Is Delta 10 Legal in Nebraska? Let's Find Out!
Yes, Yep, Certainly!!
Delta 10 THC is Legal in Nebraska under both federal and state law.
So What Is Delta 10 THC and Why Does It Matter?
Delta 10 THC is the newly discovered cannabinoid found in the plant cannabis Sativa, also known as the hemp plant, at minuscule concentrations. To get large quantities of it, chemists modify CBD with various chemicals to convert it into Delta 10 THC, which has created a lot of controversy about whether this is a natural or artificial compound.
The "high" you'll get from using this compound (if that is what you are seeking) will not provoke the same potent feeling as you might find with Delta 9 THC.
Some say Delta 8 THC seems to have a stronger effect; however, it's also much more of an Indica feeling vs. the feeling of focus and energy, which is categorized as a Sativa for those who know.
Delta 9 THC is a powerful compound that can cause anxiety, discomfort, and even hallucinations if consuming larger dosages, and it's not all marijuana strains that have these effects! However, this is mainly why many don't gravitate to MJ and why these milder THC compounds have become so popular.
Delta 10 THC has less potency than the original strain but still offers some relief to those looking for assistance with discomfort or stress in their daily lives by providing an uplifting feeling at daytime hours, with reports of being suitable for evening use for some.
Now keep in mind this is more of a Sativa feeling, so you might not want to take this before bedtime, but more in the earlier evening hours if you feel you need a little boost. If you are looking for that couch luck feeling, you might look into Delta 8 THC products instead.
Related Article: Delta 10 Vs. Delta 8: What Is The Difference?
Where To Buy Delta 10 THC in Nebraska?
Stores in Nebraska are popping up faster than you can say "hemp-derived THC." Many of these stores tend to sell low-quality products at low prices and with little care for customers, making it difficult to find a reputable store or brand.
We all want to get our hands on something that's going to be good enough for us. If you're looking, BiowellnessX got your back!
We make some of the most reliable and top-quality products around, and our customer service isn't too shabby either (we've got many happy customers and reasonable prices).
We're dedicated to bringing you the purest THC products on earth, and we never compromise our standards. Our customers especially love our THC gummies because they give off that nice little buzz. Still, they also have a fantastic taste without tasting like medicine and only use natural and organic ingredients, which shows when you put your teeth in them.

If you need something today, check out the cannabis stores in these local cities listed below:
Omaha
Lincoln
Bellevue
Grand Island
Kearney
Fremont
Hastings
Norfolk
Columbus
North Platte

And don't forget to check out our easy-to-navigate BioWellnessX website; you won't be disappointed!
The Legality and Regulations Surrounding Delta 10 In NE
The Ins and Outs
The people of Nebraska are in love with Delta 8 and 10 THC products. They have been buying up all the hemp they can get their hands on since the State laws were passed shortly after the 2018 Farm Bill! It's not just about growing and having hemp production but also about the agricultural commodity behind it.
The hemp law in NE has officially legalized the plant and all of its derivatives. It also includes extracts and cannabinoids with a Delta 9 THC concentration under 0.3% dry weight.
That means, for the time being, Delta 10 THC products can be bought without restriction in NE.
Medical Marijuana in NE
Nebraska doesn't have a dedicated medical cannabis program, but that might change soon. Advocates were working on getting a measure on the ballot in 2020, which is now pushed to 2024, and if it passes, NE will join the majority of states with medical marijuana programs.
There are many reasons why people support medical marijuana. Some people find that cannabis helps them manage their chronic discomfort, while others find it helps with anxiety, unhappiness, and even PTSD.
Cannabis has also been shown to help manage seizures, which is why users consume it to help with epilepsy.
We're not kidding when we say that NE is one of only 16 states with no medical marijuana program.
As more of us are turning towards "weed" as an alternative relief method, it isn't very reassuring to see such little progress in the Cornhusker State! On the brighter side, we now have the plant Cannabis Sativa, also known as hemp, which can supply many of the same properties as MJ.
What Does The NE Hemp Farming Act Say?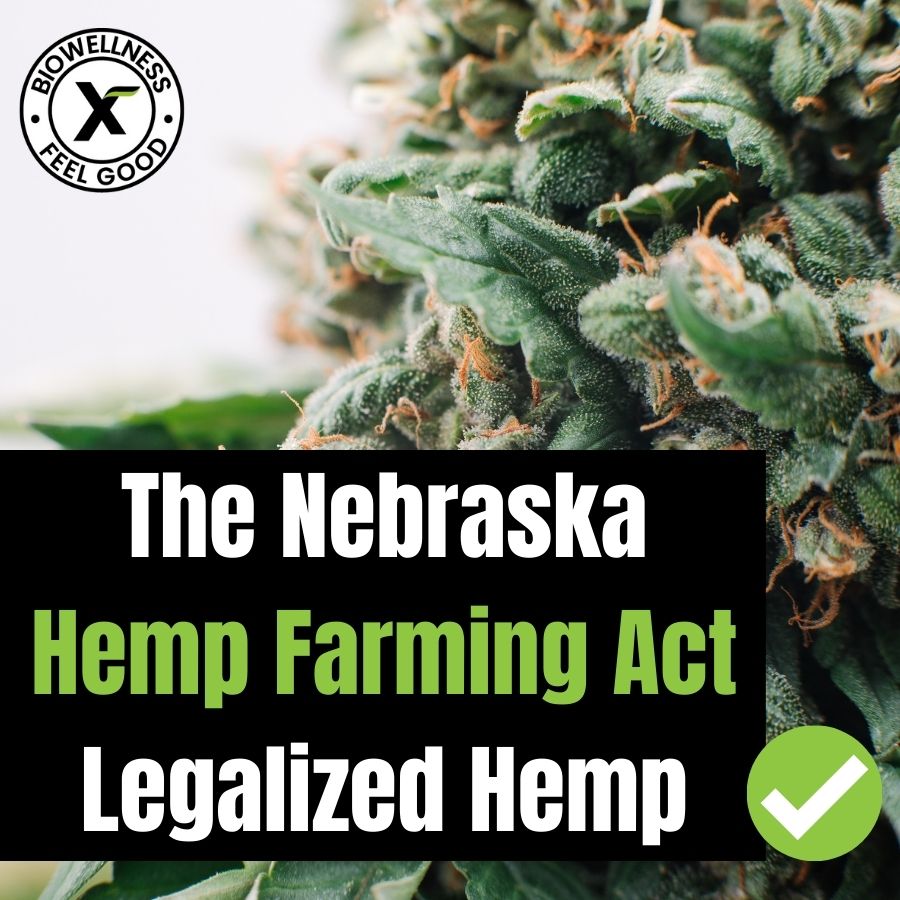 The Nebraska Hemp Farming Act allows for the growth and cultivation of hemp in NE. Hemp is a variation of cannabis with low THC levels (<0.30% delta 9 THC total dry weight basis,) the compound that causes marijuana's psychoactive effects.
The Nebraska hemp farming act allows farmers to apply for licenses to grow hemp and sets out regulations for growing, harvesting, processing, and selling hemp.
Hemp has various uses, including food, fabric, building material, and fuel.
Supporters of the Act argue that it will help farmers diversify their crops and improve their economy. They also say that hemp is a sustainable crop that can replace products from unsustainable materials such as plastic.
Opponents of the Act argue that it will lead to potentially increased use of recreational marijuana and that the State's economy is not strong enough to support hemp farming.
When hemp started to hit the market, we saw a massive boom in growth. That has since slowed down significantly as demand and processing were not there for it. Yet, the market is growing rapidly and steadily.
Federal Law and What You Should Know
When the Drug Enforcement Administration released its Interim Final Rule in September 2020, it threatened to tightly regulate an entire market of newly developed Delta 8 THC products.
The DEA has finally specified what they mean by "synthetic cannabinoids," It turns out those synthetically derived tetrahydrocannabinols are not so different from their organic counterparts. The rule doesn't expressly define "synthetics," but in 2017's Drug Resource Guidebook, the agency says that these chemicals can be created through chemical synthesis rather than biosynthesis like plants do.
The Bill is complicated, mainly because of all the newer intoxicating cannabinoids. Especially when it comes to all the new Delta's, many factors play in – like how 0.3% D9 THC on a dry weight basis can be legal if below, but too much higher could mean incarceration! So, in other words, based on the current bill that was passed in 2018 and the federal law, Delta 10 THC is legal.
The Federal Controlled Substances Act and Delta 10, Should You Be Worried?
Delta 10 is a controlled substance in Nebraska under the Federal Controlled Substances Act. The Act, also known as the Uniform CS Act, was enacted in 1971 and is a model law for states to use when creating their drug laws.
The Act classifies drugs into five schedules based on their potential for abuse and medicinal value. Schedule I drugs have a high potential for abuse and no accepted medical use. Schedule V drugs are known to have a low potential for abuse and accepted medical benefits.
Delta 10 is classified as a Schedule I drug, which means it has a high potential for abuse and no accepted medical use per the DEA. The 2018 farm bill and what it states regarding hemp doesn't make Delta 10 illegal to buy, possess, or sell despite it being a Schedule I drug.
If you live in NE, are visiting, or are currently in another state, always do your research and know what you're getting into when purchasing cannabinoids in your state.
Potential Health Benefits – Is Delta 10 Safe?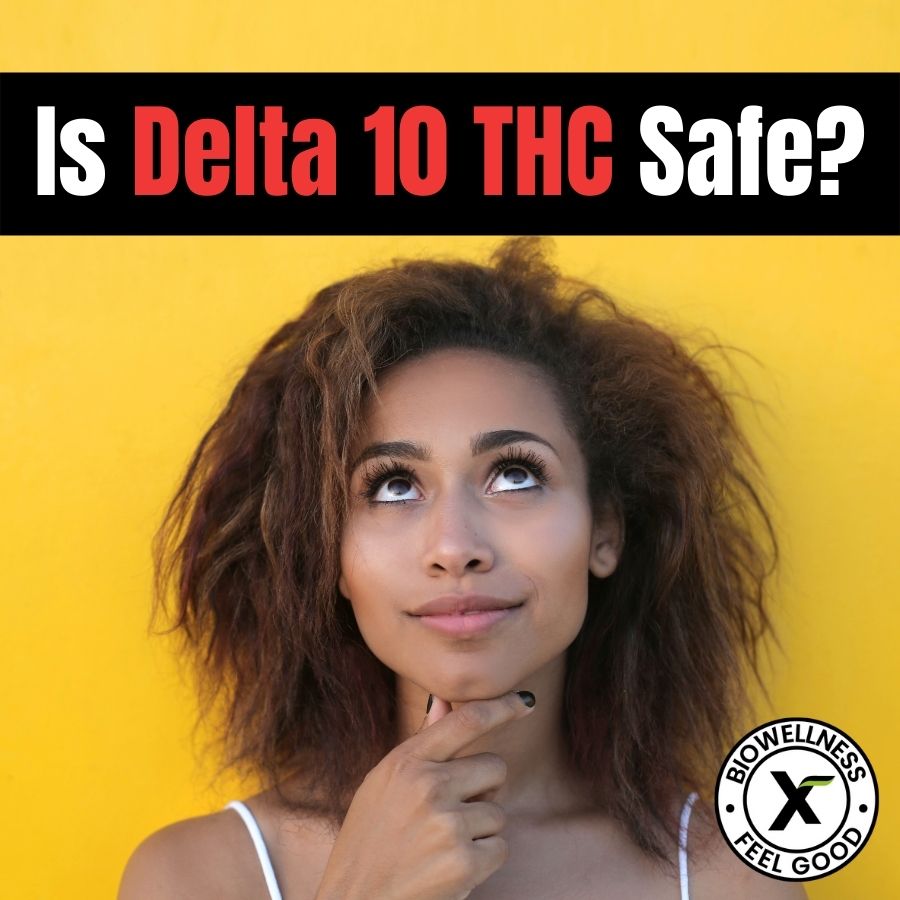 From what we know, Delta 10 THC is known as the "mood elevator." It's important to understand there's no concrete scientific evidence showing how this compound affects humans.
However, reports showcase it can help you feel happier with more energy. It also stimulates appetite in people with eating disorders, making them less likely to skip meals or overeat!
Contrary to popular belief, Delta 10 THC products appear to be safe.
Whether you vape, smoke, use oils, or chew the gummies, again, we can't say anything definitive about its effect, and smoking of any kind has shown to be damaging as well.
The Below List Shows the Potential Benefits Of Delta 10 From What We Have Learned So Far:
Relaxation And Relief
Mild Euphoria (if taken one dosage)
Burst of Energy
Creativity, a Clear Mind, and Focus
Increased Mood
Great For Day Time Use
Overall Well-Being and Health

Many studies show essential benefits in using THC-related products, and the Delta 10 THC compound is no different.
However, this new minor cannabinoid is still so new that we do not know much about it. The above list stems from various online studies, plus the feedback we are getting from our customers.
Related Article: What Is Delta 10 THC? Is It Here To Stay? Here's What We Know.
Final Thoughts – Is Delta 10 Legal Under Nebraska Hemp Laws
Delta 10 is legal in NE, but it's essential to understand the state and federal law before you start packing your bags for a weekend getaway. Ensure you know what's allowed and what isn't before you hit the open road (or the cornfields) searching for your legal THC products.
Even more effortless, if you are ready to try it out, check our best-selling Delta 10 THC Gummies or our Delta 10 oil tincture if you are not so much into the sweet tooth.


References:
Legal Disclaimer:
By reading this information presented, you agree to release the author of any liability that comes from using this data. This post contains no legal advice. Claims about cannabinoids have not yet been approved by the Federal Food and Drug Administration. Read the full legal disclaimer here.
Related Articles

FAQs About Delta 10 THC In Nebraska
Is Delta 10 legal in all states?
You can find Delta 10 in most states, with a few exceptions. Because most D10 stems from hemp-derived material, it automatically goes under the 2018 farm bill and is legal per federal law.
Does Delta 10 show on drug tests?
Yes, it does! It's a THC compound that does appear on drug tests, so you might not want to consume it if you have an upcoming test.
What is the age restriction to purchase hemp products?
To be safe, most stores will not sell any quality hemp-related products unless you are 21.
Is Delta 10 FDA approved?
No, as of right now, Delta 10 and Delta 8 THC is not FDA-approved. Hopefully, this changes in the future, and we can get full legalization.
Is Delta 9 THC legal in Nebraska?
Medical and recreational marijuana and other cannabinoids containing D9 THC in high concentrations are illegal under Federal and NE State laws.
Can I buy Delta 10 THC in gas stations?
You can buy Delta 10 THC in gas stations, but we don't recommend it. Usually, their products are low quality and don't meet market standards. Always buy from trusted, reputable companies!