Are you taking a gamble by enjoying Delta 10 THC in the Silver State? The legal status surrounding hemp THCs like Delta 8 and Delta 10 is causing much confusion in the hemp industry. If you reside in Nevada and like trying new hemp compounds, you probably want to know if they are legal in your state. Is Delta 10 THC legal in Nevada? Where can I purchase safe products? Let's find out.
Main Keypoints
Currently, Delta 10 lives in a legal gray zone in Nevada.
D10 gives a mild high without the unpleasant feelings of anxiety, discomfort, and paranoia standard for THC.
Protected under the Hemp Farming Act, all synthetically derived THC remains a Schedule I Controlled Substance.
Delta 10 THC appears to be very safe. Reports indicate it has no side effects.

Is Delta 10 THC Legal in Nevada?
Currently, Delta 10 THC is in a grey legal area as you can still purchase Delta 10 products, but it comes with restrictions based on passing SB 49 in May 2021.
This new bill defines hemp-derived products with more than .3% Delta 9 THC as marijuana and adds other cannabinoids, such as Delta 8 THC, to 'THC.'
This seems aimed at cannabis producers and not consumers, as in Nevada, adults 21 years and older are legally able to possess up to 1 ounce of cannabis and up to 1/8 of an ounce of concentrated cannabis (separated resin, either as crude or purified, obtained from cannabis with THC above 0.30% THC).
As a Nevada resident and a hemp-derived THC consumer, that means you may not be able to purchase Delta-10 from retailers in their state. Ordering online seems to be your safest bet.
What Is Delta 10 THC?
This cannabinoid is taking the hemp industry by storm, and for a good reason. Delta 10 THC tetrahydrocannabinol is an isomer of Delta 9 THC and Delta 8 THC that occurs in tiny amounts in the hemp plant and is produced entirely through semi-synthesis.
This mildly psychoactive cannabinoid causes mild intoxication, and it's said to be less potent than Delta 9.
You can expect it to give you a mild high without the unpleasant feelings of anxiety, discomfort, and paranoia, which are standard for tetrahydrocannabinol. Shortly after consuming Delta 10, others reported an uplift in their energy levels, a sharper mind, and clarity, making it perfect for daytime use.

Where To Buy Delta 10 THC in Nevada?
The growing popularity of hemp-derived Delta 10 has taken off in the past since the beginning of 2021, and its sparked great interest among new users. If you've never used this hemp-derived cannabidiol or its cousin Delta 8 THC, you are definitely in for a treat.
Online, for many, is still the best choice for purchasing your hemp-derived cannabinoids as you can quickly access the full ingredient list, lab tests, and more.
BiowellnessX is an online company that is a trusted name in the cannabis industry. Our hemp products offer sleep, discomfort, relaxation, recovery, focus, and energy solutions.
Our Delta 10 Gummies are a favorite among our customers because of the boost of energy and additional focus they offer; they are made with only natural and organic ingredients.
If you are looking for a good daytime remedy, you'll instantly love Delta 10 THC.
Check out our website for our full line of hemp and CBD products. We disclose all lab reports and certificates of analysis on our product pages so you fast, and easy can see what is in the product you buy.
If you want to hold the product in hand, you might be able to find some in a local smoke shop or dispensary near any of the cities below:
Las Vegas
Henderson
Reno
North Las Vegas
Spring Valley
Enterprise
Sunrise Manor
Paradise
Sparks
Carson City
The Legalities of Delta 10 THC in Nevada
Nevada passed a law and legalized hemp and all hemp derivatives, extracts, cannabinoids, isomers, acids, salts, and salts of isomers, including a THC concentration of less than 0.3 %.
Tetrahydrocannabinols in Nevada can get a bit confusing because the state lists THCs like Delta 9 THC and Delta 8 THC and their optical isomers (Delta 10 THC is a structural isomer of these two) in its Controlled Substances Act. Simultaneously, they exclude hemp from the state's definition of marijuana and the controlled substances list. Nevada has yet to introduce legislation regarding hemp-derived Delta 10 THC.
Although, the state has legalized adult recreational cannabis use and restricts possession to 1 oz of high-THC cannabis. If you possess 1 oz or more of marijuana, it is punishable by law depending on the amount and past convictions of the defendant.
Per the Nevada Cannabis Compliance Board, "products exceeding 0.3 percent THC, including Delta 8 THC, Delta 9 THC, and Delta 10 THC, would be considered cannabis. A license from the Cannabis Compliance Board would be required to make or sell it."
You can buy THC products for recreational use in Nevada, but only if you're 21 or older. All products comply with specific regulatory and packaging requirements. The products must also register as "THC" rather than hemp products.
With that in mind, the best bet might be to order online as it can be limited to what products you can find in the state.
Is Delta 10 THC Safe?
Delta 10 appears to be very safe. Reports indicate it has no side effects.
Keep in mind that research on D10 is still minimal and new. Even though there isn't much evidence, it is safe to consume, don't overdo it. Remember to follow the recommendations on the bottle.
Our data comes from customers who have tried the products.
Federal Law and Delta 10 THC
Delta 10 THC and Delta 8 THC are isolated from hemp-derived CBD. The legitimacy of this cannabinoid came into question when the DEA released its Interim Final Rule in 2020. The report brought out many questions regarding the legality of these compounds.
Because the report didn't specifically define "synthetic" THC, unanswered questions remain.
If you compare Delta 10 THC and synthetic THC (i.e., Spice), you'll notice they are very different. Spice is an artificial compound that doesn't naturally occur in the cannabis plant. Even the way it is made is artificial, and the producers don't use any cannabis in manufacturing.
Regarding D10 THC, labs use hemp-derived CBD to manufacture D10 THC. It's entirely different because it's a natural THC isomer that occurs in the plant but in tiny amounts that are hard to trace. Officially, scientists have yet to explore the effects of this cannabinoid. Still, it has shown benefits that are very similar to the regular THC we know from the marijuana plant.
Many claims that the Farm Bill legalized all hemp derivatives and cannabinoids like Delta 10 THC and Delta 8 THC and are federally legal because of a loophole in the Farm Bill. The main reason is that Delta 10 is an intoxicating cannabinoid, which technically goes against the Farm Bill. It remains undetermined, and we'll have to wait for the new farm bill to be updated.
Is Delta 10 THC legal in all 50 states?
Each state has the authority to determine its state laws on cannabis. Not all states follow the same laws. Several states have already put strict rules on these synthetic substances.
Over a dozen states have restricted THC products.
Those states include; Alaska, Arizona, Arkansas, Colorado, Delaware, Idaho, Iowa, Louisiana, Mississippi, Montana, New York, North Dakota, Kentucky, Rhode Island, Utah, and Vermont.
The other states are legal cannabis-friendly states or gray areas for hemp and THC products.
Those states include; Alabama, California, Connecticut, Florida, Georgia, Hawaii, Illinois, Indiana, Kansas, Maryland, Mass., Maine, Michigan, Missouri, Minnesota, Nebraska, New Hampshire, Nevada, New Jersey, New Mexico, North Carolina, Ohio, Oklahoma, Oregon, Pennsylvania, South Carolina, South Dakota, Tennessee, Texas, Virginia, Washington, West Virginia, Wisconsin, and Wyoming.
You should always check your local jurisdiction for updated laws as the hemp laws and regulations change in every state, especially for Delta 10 THC.
Federal law makes purchasing Delta 8 THC and Delta 10 THC products possible.
Are you interested in testing Delta 10? We ship nationwide and can deliver directly to your front door.
Final Thoughts
Delta 10 THC seems to be federally legal and legal in Nevada but comes with some regulations, especially for retail and sellers in the state. All that can change, so always check your local state laws before purchasing any such hemp products.
So, for now, enjoy your CBD and THC products, and as we mentioned above, the best bet still seems to buy your Delta 10 products online.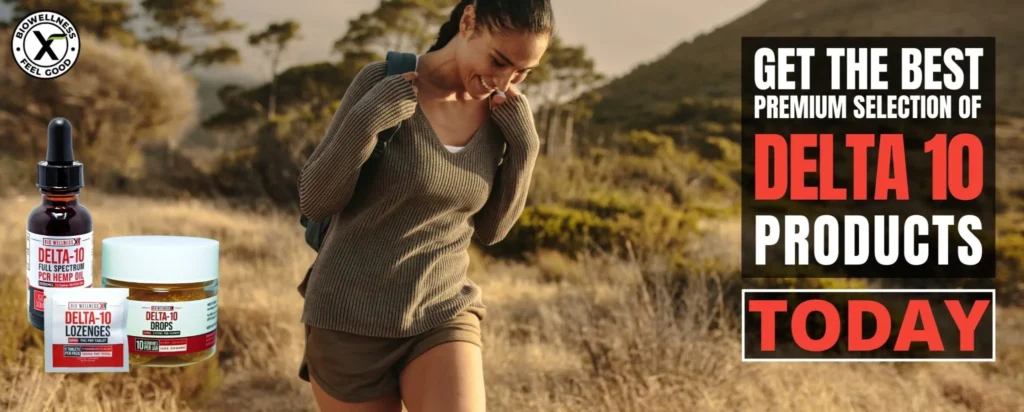 References:
LEGAL DISCLAIMER
By reading this legal information, you agree to release the author of any liability related to or arising from your use of this data. This post contains no legal advice. The legal status surrounding Delta 8 THC, Delta 9 THC, and Delta 10 THC is new and constantly changing. We continuously work hard to do our best to give you the most updated information. We recommend checking your current state's laws or federal law before purchasing any industrial hemp-derived products (CBD, THC) in Nevada. The data in this post is not intended to diagnose, treat, cure or give any medical advice. Do your due diligence and seek your doctor's advice, especially if you are in doubt or are currently taking any prescription medications. Safer than sorry is always a great idea when consuming new products.
Frequently Asked Questions (FAQs)
How old do you have to be to purchase Delta 10 THC?
For safety, most retailers will not allow you to purchase any such substances unless you are 21.
Can I take Delta 10 if I have medical conditions?
Before taking any THC and CBD products, you should always seek your doctor's advice.
Can I buy Delta 10 THC online?
Yes, you can buy Delta 10 online if you are in a cannabis-friendly state.
Does the FDA approve Delta 10 THC?
As of now, the Food and Drug Administration hasn't approved Delta 10. Neither is Delta 8.