Living in the Buckeye State, it is likely that you have heard of one of the most misunderstood compounds called Delta 9 THC. You may also have heard talk of other cannabinoids, both natural and synthetic. But lately, a new cannabinoid has reached the forefront: Delta 10 THC. Let's find out how Delta 10 is legal in Ohio.
Main Keypoints
Delta 10 THC is legal in Ohio.
Delta 10 is a cannabinoid found in trace amounts in the cannabis plant.
D10 THC can be found at your favorite gas station and convenience store.
The 2018 Farm Bill excluded "hemp tetrahydrocannabinols" from the controlled substance list.

Is Delta 10 Legal In Ohio?
The short answer is definitely YES! Delta 10 THC is LEGAL in Ohio. Continue reading to learn more about the current regulation and where to buy premium Delta 10 THC products.

What Is Delta 10 THC?
Delta 10 tetrahydrocannabinol (Delta 10 THC) is a cannabinoid found in trace amounts in the cannabis plant. It's so minimal that you have to convert other hemp-derived cannabinoids into Delta 10 THC. This is also one of the main reasons some say that Delta 10 THC should be listed on the controlled substances act as it's classified as a synthetic substance because it's not naturally derived in large amounts from the hemp plants.
Many gravitate to this THC substance as it often heightens focus, creativity, and energy, attributed to Sativa cannabis strains. You can expect much fewer psychoactive effects than its sister THC compound, D9 THC. Even on larger doses, you shouldn't expect the paranoia or a rush of anxiety sneaking up on you—just another great benefit of these newer THC compounds.
You can still enjoy top-shelf hemp products while getting all THC's health benefits without feeling high out of your mind. It truly is a new era when it comes to hemp-derived THC.

Where To Buy Delta 10 THC In Ohio?
Some states have banned Delta 10 THC; even Delta 8 THC is showing up on the ban list, but Ohio isn't one of them, and we couldn't be more excited about that.
Every state that follows federal law and its regulations on derived hemp products will continue to be at the forefront of the cannabis industry. The Ohio department sure has made a name for itself.
You can find many hemp products at gas stations, convenience stores, and in the many storefronts throughout the Buckeye State. Even online, you see a slew of brands. That's properly how you ended up on this page, too, searching online to gather information about the state law surrounding Delta 10 THC.
If you live in Ohio, it's time to shop legal Delta 10 THC
If you live in Ohio and are near any of the cities below or live there, you'll find countless CBD stores, online and retail stores, all carrying a wide range of Delta 10 THC and Delta 8 THC products, with hemp-derived THC products being legal in Ohio. The same rule goes if you visit its sister state Illinois.
Suppose you're looking for the good ole fashion Delta 9 THC. In that case, you either have to cross the border to Michigan state to get medical marijuana products or recreational marijuana or find hemp products that have less than 0.3% D9 THC per dry weight.
Columbus
Cleveland
Cincinnati
Toledo
Akron
Dayton
Parma
Canton
Youngstown
Lorain
Hamilton
Springfield

When searching for brands, make sure you know what's in them, more importantly, that they are legal. That's why many trusted brands like BioWellnessX always disclose their lab reports – so you, by a quick glance, can see what you end up buying.
You can also find all of our customer and team member favorites on our website – BioWellnessX.
The State Law Legalities of Delta 10 In Ohio
State law and federal law protect the use, possession, sale, distribution, production, and manufacturing of Delta 10 THC.
Hemp-derived cannabinoids like Delta 8 THC and Delta 10 THC are in a legal gray area federally due to a technicality in the 2018 Farm Bill.
The federal farm bill states that it removed hemp, defined as cannabis and derivatives of cannabis with low concentrations of Delta 9 THC to no more than 0.3 percent THC on a dry weight basis, from the definition of marijuana in the Controlled Substances Act (CSA).
The Agricultural Improvement Act of 2018 excluded "hemp tetrahydrocannabinol THC" from being a controlled substance on a federal level.
That means if you live in Ohio or traveling there, the current laws allow you to freely enjoy hemp-derived Delta 10 THC or Delta 8 THC products. You will find the same law and regulations for Delta 8 THC in Ohio. products.
It's one of the few occasions where we should thank the federal government (one of the very few things to thank them for) for giving us this opportunity to embrace the hemp plant.
The Federal Laws of Delta 10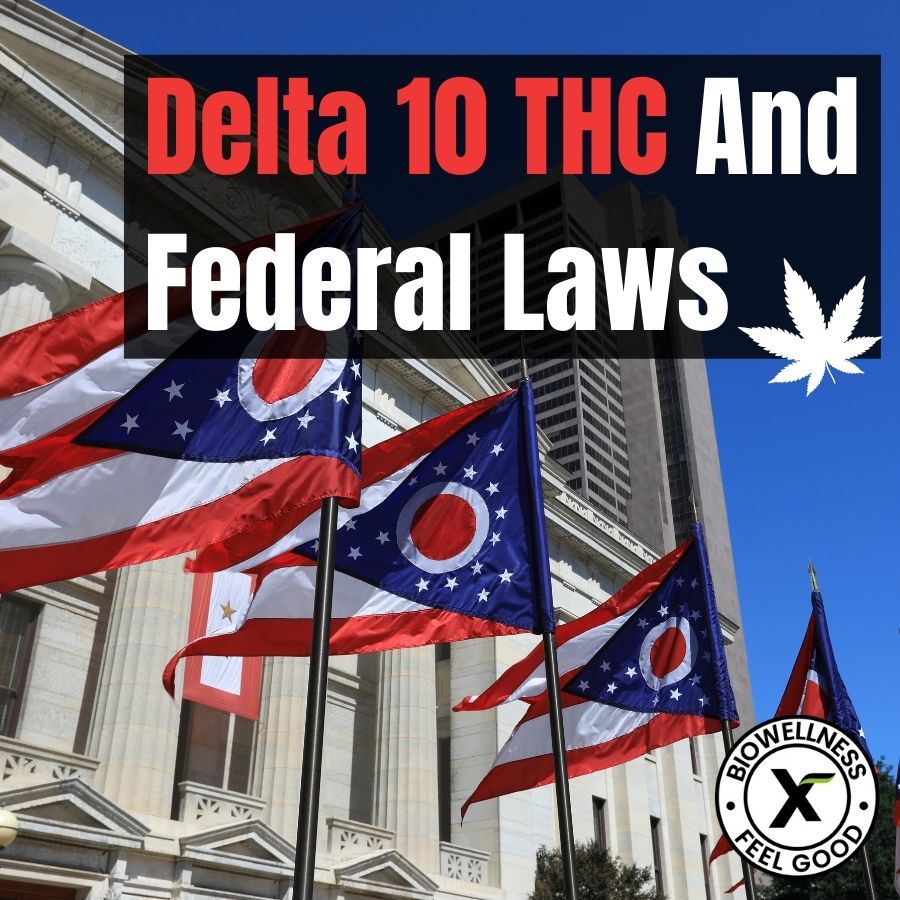 In short, the 2018 Farm Bill excluded "hemp-derived tetrahydrocannabinols" from the controlled substance list, which means Delta 10 is federally legal.
Delta 10 THC refers to a specific chemical compound found in hemp plants. Manufacturers use hemp derivatives and put them through chemical processes to obtain Delta 10 in more significant amounts.
This component has shown to be more heavily processed than Delta 8 THC, which is why it's considered semi-synthetic.
The hemp industry anxiously awaits the Final Rule's release by the Drug Enforcement Administration (DEA) on tetrahydrocannabinol (THC). This Rule will regulate or ban the manufacture, distribution, and sale of hemp-derived compounds.
The DEA stated that "all synthetically derived tetrahydrocannabinols remain Schedule I controlled substances in its Interim Final Rule."
We'll wait to see what might end up happening. The more regulations, the more business will end up closing their doors. Hemp has allowed many newer companies to bloom over the last few years, and we hope this trend will continue.
Want to learn more about Delta 10 THC and why it's here to stay? Check our in-depth article 'what is delta 10'.
Medical Marijuana Program
What is Ohio's legal status when it comes to medical marijuana?
Ohio has a long, complicated history with medical cannabis. The state first legalized it in 2016, but it was only allowed for people who have epilepsy. This meant that patients had to move to another state or break the law to access cannabis-based medicine.
According to federal law, cannabis is still illegal because it houses a psychoactive compound called THC, aka Delta 9 THC. The prohibition creates a lot of gray areas for patients, doctors, and the industry as a whole – despite the support for legalization from both Democrats and Republicans.
So what types of conditions qualify for medical marijuana?
Patients can qualify to use cannabis if they have any of the following conditions:
AIDS, amyotrophic lateral sclerosis, Alzheimer's disease, cancer, chronic traumatic encephalopathy, Crohn's disease or ileitis, epilepsy or another seizure disorder, fibromyalgia, glaucoma (if they also have a terminal illness), hepatitis C (if they also have cirrhosis or liver disease), inflammatory bowel diseases, multiple sclerosis, pain that is either chronic and severe or intractable.
Ohio just added Chronic Pain to the list of qualifying conditions on June 20th, 2018. So you see, for you to use any medical marijuana, you must have some pretty severe illnesses.
How does a patient get approved for medical marijuana in Ohio?
Patients with one of the qualifying conditions can schedule an appointment with their physician to get a physician's certification. So if you are in need or looking to enjoy some THC, the Ohio state laws make it legal for you to purchase any hemp0derived THC such as Delta 8 THC and Delta 10 online in vape stores similar.
Final Thoughts
We hope all states open up someday and make THC fully legal. Until then, feel free to enjoy your THC and CBD products in Ohio.
If this is your first time looking into Delta 10, many gravitate towards our Organic Delta 10 Gummies:
They come in two mouthwatering flavors, cherry and lemon. Each gummy has a minimum of 55mg THC, with 50mg being pure Delta 10 distillate. We dare to say our d10 gummies (as of writing this post) are some of the strongest on the market. We doubt you can find any more potent than ours on the market today. If you have yet to try us, we suggest getting one of our 2-packs, THC Gummies. But be careful, you might end up liking them too much!

Resources:
Ohio's Medical Marijuana Program
LEGAL DISCLAIMER
The legal status surrounding Delta 8 THC, Delta 9 THC & Delta 10 THC is new and constantly changing. We continuously work hard to do our best to give you the most updated information. We recommend that you always check your current state laws- or federal law before purchasing any industrial hemp-derived products (CBD, THC) in Ohio. The data in this post is not intended as legal advice nor to diagnose, treat or give any medical advice. In any event, do your due diligence and always seek your doctor's advice, especially if you are in doubt or are currently taking any prescription medications. Safer than sorry is always a great idea when consuming new products.
Frequently Asked Questions (FAQ)
Is Delta 10 legal in all states?
According to the federal government, Delta 10 is technically legal, but over a dozen states have banned it. Each state has its own state laws regarding marijuana products and other compounds.
Is Delta 9 legal in Ohio?
As long the total D9 THC is below 0.30%. If not, it's considered unlawful, and you can get in serious trouble if caught.
Are there any age restrictions for purchasing Delta 10 in Ohio?
You must be at least 21 to purchase Delta 10 and any hemp product for safety reasons.
Is Delta 10 FDA approved?
No, as of right now, Delta 10 and Delta 8 THC is not FDA approved.
Can you buy Delta 10 online in Ohio?
You can purchase D10 online in Ohio and all other hemp-friendly states.