Good news! You can buy, sell, and grow hemp as Delta 10 THC is legal in Texas! Delta 10 THC has been gaining popularity in Texas as it is similar to Delta 8 THC but has an entirely new user experience. One can't help but wonder if this tetrahydrocannabinol (THC) will continue to be legal and where to order online fast. Let's dive in and look at the current Texas legislature on Delta 10 THC, that's 100% derived from hemp plant material.
Main Takeaways
Delta 10 THC is a cannabinoid compound found in the Cannabis genus of plants.

With the market flooded with low-quality Delta 8 THC and Delta 10 THC products, you must pay extra close attention as a consumer.
Texas doesn't prohibit Delta 8 THC, Delta 9 THC (below 0.30%), Delta 10 THC, or other hemp derivatives, which means they are perfectly legal in the state.
Delta 10 is not a controlled substance and has no legal definition for writing this article.

Is Delta 10 legal in Texas?
Yes, Absolutely! Delta 10 THC is fully legal in Texas.
It's time to embrace your Delta 10 in the Lonestar State!
Keep reading for more legal details.
What Is Delta 10 THC, You Might Ask?
Does It Come From the Hemp Plant?
Delta 10 THC, or tetrahydrocannabinol, is a cannabinoid compound found in minuscule amounts in the Cannabis genus of plants. It was initially thought to be psychoactive by itself. Delta 10 THC can cause psychoactive effects if heated or taken with other cannabinoids like Delta 9 THC or cannabinol (CBN).
So if you want a more intense psychoactivity, you might want to combine with these cannabinoids and other compounds found in hemp.
Related Article: How long does Delta 10 stay in your system?
Delta 10 THC shares a precursor compound with the more famous cannabinoid called cannabidiol (CBD). This compound is shared because Delta 10 and CBD are products of an acid-catalyzed condensation reaction between cannabigerolic acid (CBGA) and tetrahydrocannabinolic acid (THCA).
The hemp plant is a rich origin of THC. It contains the psychoactive cannabinoid in minimal trace amounts, so many convert other cannabinoids (that are easier to obtain) into Delta 10 THC, primarily for cost-efficiency reasons too.
Many have reported they feel mild, uplifting effects that increase focus and energy for creative work when consumed. If you are looking for something similar to Sativa Delta 10 THC might be what you want.
It's said to have some health benefits, but only time will show when more studies can be conducted.

So, Where To Buy Delta 10 Near Me in Texas?
With the market flooded with low-quality Delta 8 THC and Delta 10 THC products, it's essential to know what to look for so you can avoid these lower-quality brands.
A few basic things to remember is always to look at the product's ingredients. What is in it? Is it truly a Delta 10 product, or do they mask it by saying it is, and you'll find a more considerable amount of other compounds like Delta 8 THC and others in it too?
Is a COA, a lab report, available for that product? When you look at it, how old is it? Was the product tested recently, or is it over a year old? If so, you might want to steer away.
Do they use organic ingredients, or do you find artificial ones on the labels?
These are just a few things to consider when looking for Delta 10 products when visiting any local store in any of the below cities. On a positive note, you can most likely find these products all over because of the state's current legalities.
Local Cities Surrounding Texas, You Can Find Delta 10 Products in:
Houston
San Antonio
Dallas
Austin
Fort Worth
El Paso
Arlington
Corpus Christi
Plano
Lubbock

Instead of jumping into the car and driving to a store, most orders Delta 10 products online. In many cases, you'll find brands that have all of the points above checked, along with various reviews so you can get a better feel for how the product works. You should always buy your hemp-derived compounds from a trusted retailer and online store.
Here at BiowellnessX, we offer some of the best consumable hemp products if we have to say so ourselves :). Our hemp products are 100% organic and made in the U.S.A. We also put our products through many lab tests before making them available to the public.
Our customers have been raving about our newest addition, the Delta 10 Gummies; they are the perfect gummy for daytime use, plus some of the strongest you'll find on the market today. You get 50mg Delta 10 THC plus more per gummy, so you'll be sure to feel it when you pop one of our large drops.
For your convenience, we disclose all our lab reports (certificates of analysis) on our product pages. You should never wonder what our products are and if they're safe. Transparency is key.
Give our incredible team a call with any questions or concerns you may have. We're happy to help!
The Legalities of Delta 10 in Texas
Hemp-derived Delta 10 is legal in the state of Texas, and we could not be more excited that the Lonestar State is embracing hemp.
The State of Texas doesn't prohibit Delta 8 THC, Delta 10 THC, or other hemp derivatives, which means they are perfectly legal in the state. Under federal law, this cannabinoid can be derived from industrial hemp with less than 0.3% Delta 9 THC. According to current state law, if made from hemp flower, it will remain illegal.
Luckily, Lone Star State's attempt to prohibit Delta 8 and similar THC isomers failed. The state legislatures attempted House Bill 2593, which would have limited all products containing more than 0.3% THC or synthetically derived tetrahydrocannabinols into an illegal category.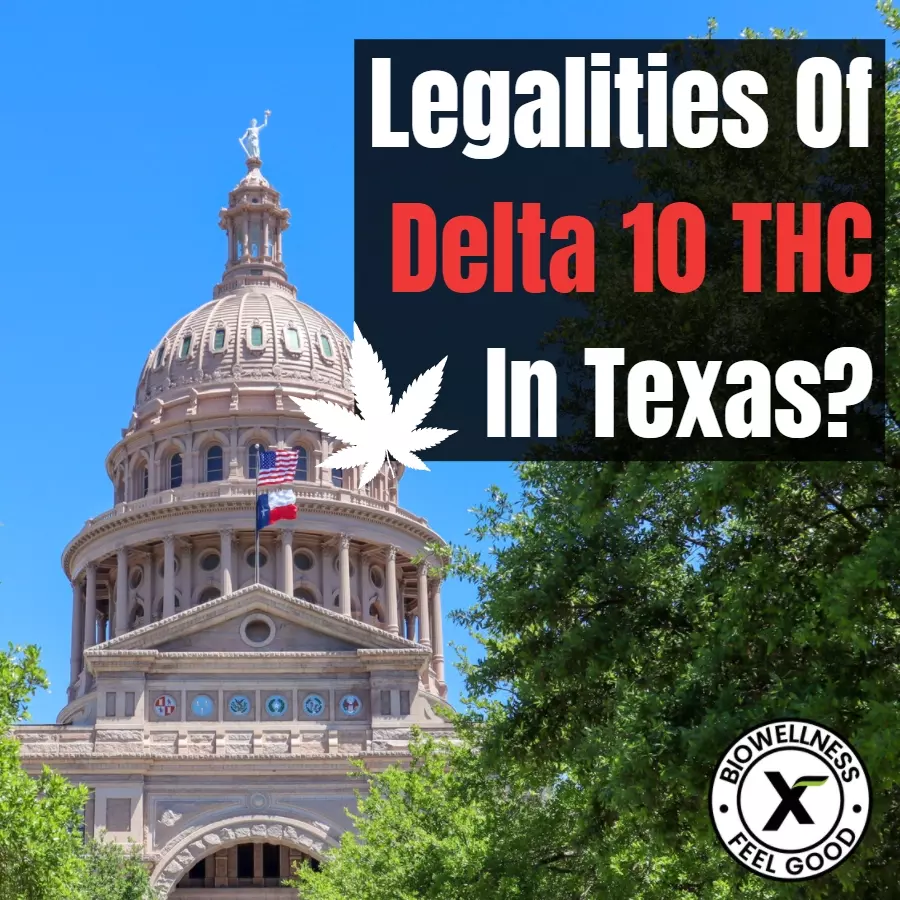 Many local hemp companies in Texas have been fighting with government institutions to protect the farm bill and keep hemp-derived products lawful in Texas.
However, the bill didn't make it past the committee, so you can still purchase hemp-derived products without any trouble from Texas law enforcers.
However, it's essential to know if the Delta 9 THC exceeds 0.30% of total dry weight, the product becomes unlawful, which could get you in some significant trouble…
After the passage of the Farm Bill, Texas legalized hemp-derived tetrahydrocannabinol. The bill also amends its definition of the Controlled Substances Act to remove industrial hemp from Schedule I, which means it will no longer be considered a "drug."
Texas Department of State Health Services Laws
The Department of State Health Services requires all hemp retailers in the state to register with them. For a retailer's products and materials to be considered "safe" by law, they must also meet heavy metal quotas and those about pesticides or harmful microorganisms – among other requirements! Furthermore, Delta 9 THC content cannot exceed 0.3%.
This is good news for consumers knowing that retail stores must do more product testing to offer better safety.
DSHS regulations state that Delta 8 and 10 is not controlled substance in Texas and has no legal definition. This essentially makes it legal for purchase and use without a prescription or license.
Final Thoughts
We're very excited that Texas and its state legislators have taken steps to make cannabis legal on a state level as long the finished product has less than 0.30% D9 THC. This is only the beginning, and hopefully, more states will follow suit soon. But at any given time, all of this can be taken away, so enjoy your consumable hemp products while you can, and maybe one day, it won't be such an "iffy" subject.
Want to check some of our D10 products? You'll enjoy our Delta 10 THC gummies (check our guide that breakdown our d10 gummies here) if you are into the little sweeter stuff. Or, if you are on the other end of the spectrum, our earthy-tasting Delta 10 Oil Tincture mixed with Full Spectrum CBD oil might be of preference as you'll get a wide range of cannabinoids.

✔ Join today and get 15% OFF and a Free shipping coupon on your first purchase!

References:
LEGAL DISCLAIMER
The legal status surrounding Delta 8 THC, Delta 9 THC, and Delta 10 THC is new and constantly changing. We continuously work hard to do our best to give you the most updated information. We recommend that you always check your current state's hemp laws- or federal law before purchasing any industrial hemp-derived products (CBD, THC) in Texas. The data in this post is not intended as legal advice nor to diagnose, treat or give any medical advice. In any event, do your due diligence and always seek your doctor's advice, especially if you are in doubt or are currently taking any prescription medications. Safer than sorry is always a great idea when consuming new products.
Frequently Asked Questions (FAQ)
Is Delta legal in Texas?
Yes and no. Yes, in the sense that the cannabis plant is now looked at as both marijuana and hemp. When Delta 9 THC is below 0.30%, it's now classified as hemp, making any product with Delta legal. If it exceeds 0.30%, it's considered marijuana, making it unlawful.
How old do you have to be to buy Delta 10 in Texas?
You must be at least 21 to purchase Delta 10 and any hemp product for safety reasons.
Is Delta 10 legal in all states?
On a federal level, yes. But each state has its state laws regarding cannabis.
Is It Legal to Grow Hemp in Texas?
Yes, it is, and hemp growers are thriving in Texas. They are definitely taking advantage of all the benefits of growing hemp.
Is Delta 10 FDA approved?
No, as of right now, Delta 10 and Delta 8 THC is not FDA approved.
Is Delta 10 a controlled substance in Texas?
Nope, Delta 10 is not on the controlled substances list in Texas.