Tar heels rejoice! People are having a blast because of the legalization of hemp-derived cannabinoids in North Carolina! The question is: Is Delta 10 THC legal? And if so, where to buy Delta 10 in North Carolina? Let's find out together.
In the last few years, North Carolinians have been buzzing with talk of cannabis. The Leafly report on Delta 8 THC was enough to make state residents green with envy and anticipation; now, they're watching in amazement as Delta 10 THC continues its rapid rise in popularity!
A similar thing happened when people discovered how tremendous CBD could be for pain relief – many found themselves switching from prescription medications altogether because there were so MANY options available (and at much lower prices).
Main Keypoints
Delta 10 THC is legal in North Carolina.
The 2018 Farm Bill removed hemp and its derivatives from the controlled substances list.
There are a lot of cannabinoids in hemp, but Delta 10 THC is found at very low levels.
Make sure you know the source of your Delta 10 THC.
The compound derived from hemp is legal under state and federal law.
North Carolina doesn't have a medical marijuana program yet.

Is Delta 10 THC Legal In North Carolina?
Yes, of course!
Delta 10 THC is legal in North Carolina. Read further down for further details about the current regulation in the state of NC.
So, What is Delta 10 THC, And Why Should You Care?
We know of 120 naturally occurring cannabinoids existing in hemp. Delta 10 THC is one of them. However, it's only found in such trim levels.
Delta 10 THC is known to have a much less psychoactive effect when compared to Delta 9 THC, and because it's not naturally occurring in the hemp plant, chemists use hemp material to convert it into this THC compound.
The manufacturing process behind converting this compound requires knowledge and extreme care and takes specific equipment only a few have.
Related Article: What Is Delta 10 THC?
Delta 10 acts more like a Sativa and is shown to offer mental clarity, focus, and even a boost in energy and mood, which makes it the perfect daytime option when you need that extra little kick in the day. Compared to Delta 8 THC, which works more as an Indica, you can now decide what THC works best for you. 

Where To Buy Delta 10 THC In North Carolina?
While you can find various products containing Delta 10 THC in North Carolina, there are some things to consider before buying. Is the product pure and high quality? Most importantly, do they contain any THC at all, and if so, how much?
That's why we ensure you know your Delta 10 THC source. It's a new cannabinoid discovery, so it pays to be cautious and check lab results before buying anything!
If you live in North Carolin and reside in any of or near the below cities, it might not always be the easiest to find Delta 10 THC in any local shops, whereas if you purchased online, there shouldn't be an issue to find both D10 and any other kind of hemp products.
Charlotte
Raleigh
Greensboro
Durham
Winston-Salem
Fayetteville
Cary
Wilmington
High Point
Concord
Asheville
Boone
Chapel Hill

The high from Delta 10 THC is everything you would want for daytime – it's exhilarating, uplifting, and not as potent as marijuana. If the idea of experiencing something new appeals to you, then give this one a go!
Here at BiowellnessX, we take pride in providing only high-quality hemp products. Our 100% organic ingredients are carefully chosen for their purity and potency so that you can be confident about what's inside your product and feel safe when buying your Delta 10 THC Gummies.
The Legalities Of Delta 10 THC
North Carolina state law does not make any explicit prohibition of Delta 10 THC.
When the Tar Heel State amended its Controlled Substances Act concerning hemp, it explicitly exempted tetrahydrocannabinols from marijuana. This means that "THCs" in hemp products or extracts of the hemp plant are not Schedule VI controlled substances.
All hemp tetrahydrocannabinols are legal in North Carolina.
In North Carolina, the legal status of Delta 10 THC depends on whether it's considered one of the synthetically derived tetrahydrocannabinols. 
Experts have difficulty deciding what these newly developed compounds mean to be considered "synthetic." They also disagree on whether or not synthetic cannabinoids should even fall into this category since they come from hemp and don't have psychoactive properties as marijuana does. Many questions remain unanswered regarding state and federal laws and regulations. 
The North Carolina Department of Agriculture & Consumer Services has discussed the same issue for quite some time now. Whether or not THC products come from hemp extracts or marijuana plants determines their legal status in this state (and others).
North Carolina legalized the hemp plant, so CBD and hemp-derived THC products can be sold across the state.
The compound derived from hemp is legal under local and federal law as long Delta 9 THC is below 0.30%, but that may change if it cannot be classified as "synthetic." Most states have not regulated this newly synthesized THC, questioning its legitimacy. Let's see how long it remains in limbo. For now, we are crossing our fingers that the federal government keeps it legal, but only time will tell.
However, it's been amended to make marijuana a controlled substance. But that might change. More than 100 licenses have been approved to grow medical marijuana in recent months, so we can only hope the state keeps progressing and sets its example in the hemp industry for others to follow.
If you live in the neighbor's state of South Carolina and wondering if it's legal there, you might want to check out the legal state guide for Delta 8 and Delta 10 here.
The Federal Law Surrounding Delta 10 THC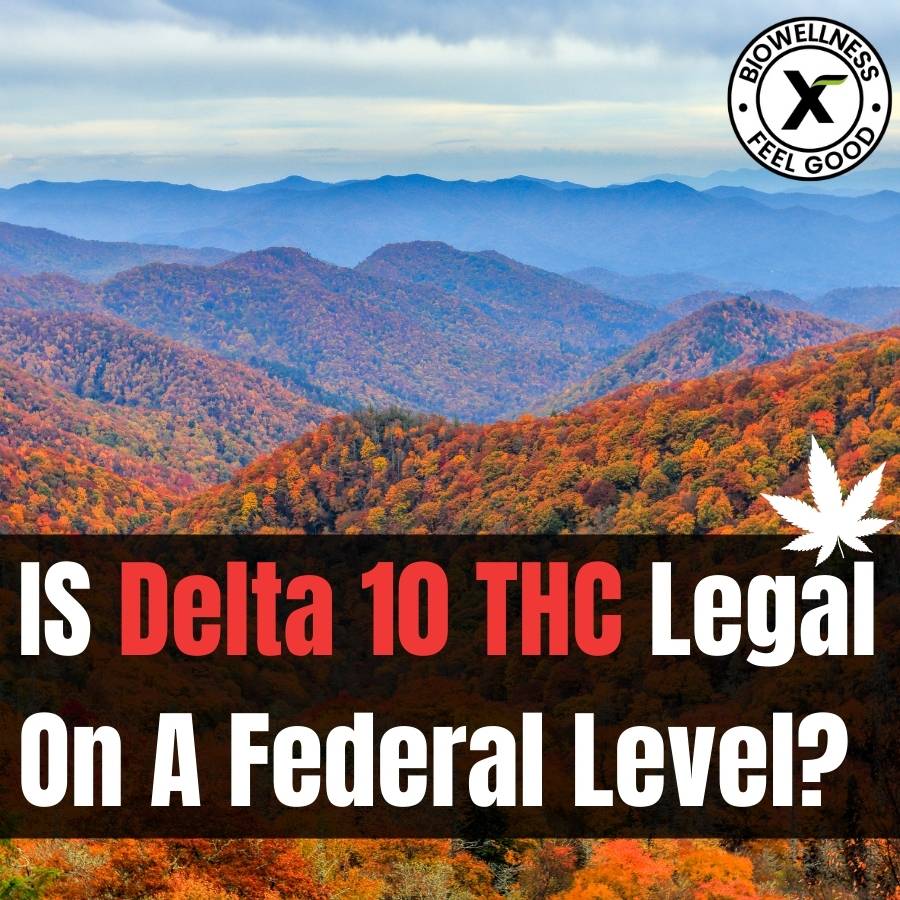 The debate over whether D10 THC is legal or not on a federal level has been going strong since before you were properly born. Well, maybe not that long, but it's been an ongoing debate, that's for sure.
However, this compound exists in a gray area of hemp laws as it's derived from the hemp plant and should technically fall under the Agriculture Improvement Act of 2018 (Farm Bill) as Delta 8 THC does.
Vendors across the country can sell hemp products as long they don't contain more than 0.3% Delta 9 THC, but there are still some restrictions on where these items may be sold due to individual states' cannabis initiatives.
One of the differences between Delta 8 THC and Delta 10 is that while D8 is created by rearranging molecules, D10 requires harsh chemicals.
Some scientists use food-grade catalysts to produce this synthetic cannabinoid but admit it's not always done so healthily in a lab setting.
The confusion around Delta 10 is that it can be considered both a synthetic cannabinoid and derived from natural hemp compounds.
The future of Delta 10 products is unclear, as it's technically not illegal yet. However, this may change when the product becomes more popular. Lawmakers may have no choice but to start implementing restrictions or ban their sale entirely because they're considered "synthetic" versions of marijuana, which can't be sold in stores due to federal government restrictions.
The Short History of Delta 10
Delta 10 was found by accident by a company from Adelanto, California.
They unknowingly bought a fire-retardant-contaminated product. The company noticed strange crystals forming during lab tests after distillation. It also had a different molecular structure than other cannabinoid crystals, and it turned out it was tetrahydrocannabinol (THC).
With that said, we now have Delta 10. According to Wikipedia, there's also evidence that it goes further back to the 1980s when it was said to be first discovered.

Final Thoughts
So, if you're in North Carolina and looking for some Delta 10 products, you don't have to worry just yet.
However, it is essential that you stay up to date on state laws and always purchase from a reliable manufacturer. Thanks for reading!
Legal Disclaimer:
By reading this information presented, you agree to release the author of any liability that comes from using this data. This post contains no legal advice. Claims about cannabinoids have not yet been approved by the Federal Food and Drug Administration. Read the full legal disclaimer here.
Related Articles
References:
Frequently Asked Questions (FAQ)
Is Delta 10 legal in all states?
No, it is not legal in all states.
Each state has the authority to determine its state law regarding cannabis.
Always check your local jurisdiction to ensure the products you purchase are still legal.
What is stronger Delta 8 or Delta 10?
It depends on what you are looking for. Some say Delta 8 THC is stronger and works better when you need relief and sleep, whereas Delta 10 is more potent when offering more energy and clarity.
What is more vigorous, D8 or D10?
In general, Delta 8 THC is more potent than Delta 10. This may happen because of the cannabinoid ratios and CBN content which both produce psychoactive effects but only last for a limited amount of time due to their structure-based properties – something you can't control when smoking or consuming food containing these ingredients!
Is it legal to order delta 10 online?
Yes, definitely. As long as you're in a hemp-friendly state and state law says it is legal, you are free to order online.
Does Delta 10 show up on a drug test?
Unfortunately, YES, it does. Delta 10 is THC; most drug tests will pick up on that.
What is the legal age to purchase D10?
Retailers require their customers to be at least 21 to buy D10. So, if you're under 21, it's illegal.