The legal status for hemp and cannabis products is variable by state, making it difficult to find reliable information on the legal status of Delta 8. If you're thinking about trying the mildly psychoactive Delta 8 THC, then you may be asking and wondering If Delta 8 is legal in Arkansas? Can I buy any delta 8 hemp-derived products?
Is Delta 8 Legal In Arkansas?
Unfortunately, you cannot buy or use Delta 8 in Arkansas. The state prohibits all forms of THC except for medicinal preparations or if you have a qualifying card.
That means that Delta 8 may not be legal or accessible in Arkansas as it is looked at as one of the Schedules I Controlled Substances. A look at the official Arkansas Delta 8 laws can help you to gauge what hemp climate the state has. This state has similar rules put in place to Alaska.
Disclaimer: The information in this article may be out of date due to the variability of state laws. When it comes to regulations like this, you should always do your own research before relying on the legality of Delta 8 and its current hemp laws in your state.
Key Takeaways
Delta 8 is one of many hemp cannabinoids derived from hemp plants, which are legal according to federal law.
Arkansas has legalized cannabis, but regulations limit tetrahydrocannabinol other than Delta 9 THC in quantities less than 0.3%.
Arkansas laws prohibit purchasing Delta 8 sales within the state, so it can't easily be found.
In legal areas, many people buy Delta 8 products made from hemp.

What is Delta 8 THC?
Delta 8 THC is one of the minor cannabinoids found in cannabis. In hemp plants, it only comprises less than 0.1 percent of the chemicals made. Delta 8 makes you feel mellower than Delta 9 and is the only psychoactive ingredient in cannabis found during tests. So it's no wonder so many like it and its popularity surrounding it. Because of the state-of-the-art labs, we are now able to develop delta 8 from other cannabinoids found in hemp plants which make delta 8 hemp derivatives which makes it federally legal.
Arkansas Delta 8 THC Laws
Arkansas is one of many states to have legalized both medical and industrial hemp. It has aligned state law with federal definitions of what comprises a legal hemp plant, which means the limited production of hemp plants containing no more than 0.3% Delta 9 THC on a dry weight basis, which includes all its naturally derived cannabinoids, is currently permissible within the state.
However, the Arkansas Delta-T laws expressly prohibit all forms of THC except for medicinal preparations or if you have a qualifying card. Currently, there is nothing that mentions any form of Delta 8 in this legislation.
However, state law explicitly carves out several instances in which hemp products are illegal.
Arkansas has strict regulations against Delta 8 THC, as it is considered a Schedule VI Controlled Substance.
Arkansas presently restricts the issuance of hemp licenses, but many neighboring states (such as Mississippi and Tennessee) have legalized Delta 8.
Here are some takeaways from the Arkansas state law original text:
SECTION 1. DEFINITIONS
(5) "Cannabis" means all parts of the cannabis plant, whether growing or not, including its seeds, resin, compounds, salts, derivatives, and extracts. Cannabis does not include publicly marketable hemp products, as defined in this regulation.
(6) "CBD" means cannabidiol.
(9) "Delta-9-THC" means delta-9-tetrahydrocannabinol concentration (the primary intoxicating component of cannabis).
(13) "Industrial hemp" means all parts and varieties of the plant Cannabis sativa L. and any part of such plant cultivated or possessed by a licensed grower, whether growing or not, with a delta 9 tetrahydrocannabinol (THC) concentration of not more than 0.3 percent on a dry weight basis. (Adopted by federal law in the Controlled Substances Act, 21 US C. & 801 et seq. "Industrial hemp" has the same meaning as in 7 USC sec. 5940 as it currently exists or as it may be subsequently amended;
7 US Code § 5940.The legitimacy of industrial hemp research
(2) Industrial hemp
The term "industrial hemp" means the plant Cannabis sativa L. and any part of such plant, whether growing or not, with a delta 9 tetrahydrocannabinol concentration of not more than 0.3 percent on a dry weight basis.
(23) "Phytocannabinoids" are cannabinoids that occur naturally in the cannabis plant. The classical cannabinoids are formed through decarboxylation of their respective 2-carboxylic acids (2-COOH), a process that is catalyzed by heat, light, or alkaline conditions.
ARKANSAS DEPARTMENT OF HEALTH – LIST OF CONTROLLED SUBSTANCES
SECTION 1. Arkansas Code § 5-64-215 is amended to read as follows: 23 5-64-215. Substances in Schedule VI.
(a) In addition to any substance placed in Schedule VI by the Director of the Department of Health under § 5-64-214, any material, compound, mixture, or preparation, whether produced directly or indirectly from a substance of vegetable origin or independently by means of chemical synthesis, or by a combination of extraction and chemical synthesis, that contains any quantity of the following substances, or that contains any of their salts, isomers, and salts of isomers when the existence of the salts, isomers, and salts of isomers is possible within the specific chemical designation, is included in Schedule VI:
(1) Marijuana;
(2) Tetrahydrocannabinols;
(3) A synthetic equivalent of:
(A) The substance contained in the Cannabis plant; or
(B) The substance contained in the resinous extractives of
the genus Cannabis;
(5) Synthetic substances, derivatives, or their isomers in the chemical structural classes described below in subdivisions (a)(5)(A)-(J) of this section and also specific unclassified substances in subdivision (a)(5)(K) of this section. Compounds of the structures described in this subdivision (a)(5), regardless of numerical designation of atomic positions, are included in this subdivision (a)(5). The synthetic substances, derivatives, or their isomers included in this subdivision (a)(5) are:
(A)(i) Tetrahydrocannabinols, including without limitation the following:
(a) Delta-1 cis or trans tetrahydrocannabinol, and its optical isomers;
(b) Delta-6 cis or trans tetrahydrocannabinol, and its optical isomers; and
(c) Delta-3.4 cis or trans tetrahydrocannabinol and its optical isomers.
Can I buy Delta 8 Online or in Stores?
Arkansas lawmakers have refused to legalize it and remain determined to enforce this ban. Arkansas designated Delta 8 to be illegal, though it is legal if acquired from hemp plants. The Arkansas State Legislature has previously voted to ban synthetic cannabis. But the federal government is yet to follow suit. So, for now, it would appear that they are currently illegal in Arkansas but not federally.
With it being illegal in Arkansas, you may not find any places to source it online or even stores, for that matter.
Online shops offer a much larger selection, provide third-party testing on each batch for purity, and are typically cheaper than local dispensaries.
At this time, we are not shipping any delta 8 THC to the state of Arkansas and will resume shipping at our earliest possible opportunity. Come back and check periodically. Things can change fast, as we see in other states. In the meantime, you can check out some of our other THC products and NON THC:
Do I Need A Medical Card In Arkansas To Order Delta 8 Products?
As mentioned before, Delta 8 THC is illegal in Arkansas, so it isn't legal to buy or sell it. Even if you have a medical marijuana card, Delta 8 THC isn't allowed. Medical marijuana guidelines differ throughout the United States, which is why it's always best to reach out to your state regulatory board for further insight.
Delta 8 THC is a Schedule I controlled substance in Arkansas. Laws vary by state, meaning that some states ban Delta 8 while others allow it. To purchase products made from THC, you will need to be diagnosed with a medical condition. To find a doctor willing to prescribe Delta 8 THC, you may be out of luck from our research, and there is no available access for the substance, so it's not easy to find an alternative, unfortunately.
What will happen to Delta 8 THC in Arkansas?
US officials are considering legalizing cannabis, including delta 8 THC, soon. Arkansas has not passed any bills or ruled on legislation to make delta 8 THC illegal yet. We will presumably see the legalization of cannabis sweeping soon and expect its derivatives (Delta 8) to be legalized as well. Essentially it will need to come from someone like the governor, similar to CBD's changes not too long ago. When the federal government legalizes cannabis, Arkansas will have to adopt these amendments too.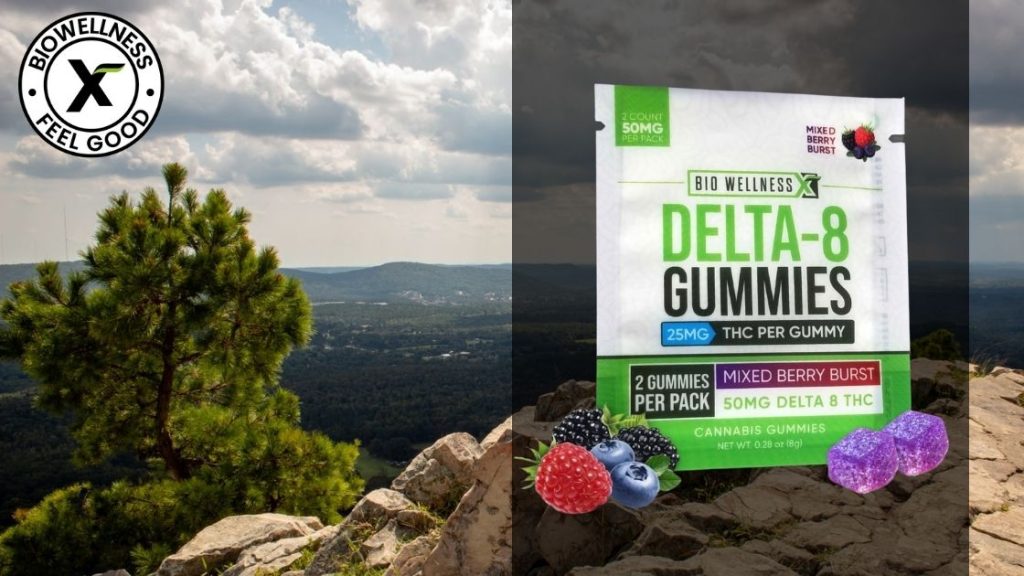 Final word
You have to wait a little longer to be able to see delta 8 products pop up in your local stores or dispensaries. Currently, you are able to find it online, and there are even vendors that will ship but stay alert of what you are buying. If you are looking for other products than high THC, we have a wide variety of high-quality CBD.
Resources

"H.R.5485 – Hemp Farming Act of 2018"
https://www.congress.gov/bill/115th-congress/house-bill/5485
"Drug Fact Sheet: K2/Spice"
https://www.dea.gov/sites/default/files/2020-06/K2-spice-2020.pdf
"ARKANSAS INDUSTRIAL HEMP ACT 2-15-401"
https://law.justia.com/codes/arkansas/2017/title-2/subtitle-2/chapter-15/subchapter-4/
"HOUSE BILL 1415"
https://www.arkleg.state.ar.us/Acts/Document?type=pdf&act=329&ddBienniumSession=2013%2F2013R
"Arkansas Issue 6 — Medical Marijuana Amendment — Results: Approved"
https://www.nytimes.com/elections/2016/results/arkansas-ballot-measure-6-medical-marijuana-con-amend
"Arkansas DRUG POSSESSION LAWS"
https://www.drugpossessionlaws.com/arkansas/