The Peace Garden State Isn't So Hip To Hemp, are changes coming soon? Is Delta 10 THC legal in North Dakota? You're most likely asking yourself this question if you're a hemp enthusiast or are considering becoming one. It's currently questionable as their regulations do not specifically say it's illegal.
On the flip side, there is hope forthcoming as lawmakers discuss a bill to legalize medical cannabis use. North Dakota House passed the legalization bill, and It calls for legal cannabis sales to begin on July 1, 2022.
In the meantime, if you want the benefits of Delta 10 THC, you need to understand what can and cannot be consumed in the state of North Dakota. We'll break it all down so you can better make educated decisions before you purchase any hemp-derived THC products.
Main Keypoints
Most sources you'll find say it's not legal, we would argue it's debatable, and the best bet would be to purchase online.
Delta 10 THC is a milder psychoactive compound that's harder to find in North Dakota.
North Dakota state law is a little stricter when it comes to hemp.
It further banned high-THC concentration products, even if it's hemp-derived.
You cannot possess hemp products that contain more than 0.30% total THC on a dry weight basis.
So far, only a handful of dispensaries have been approved to sell medical marijuana in North Dakota.

Is Delta 10 Legal In North Dakota?
Some would say it's not legal in North Dakota. However, it's not entirely restricted.
If we look into the bill HB 1045 passed in April 2021, it changed its definition for hemp to cannabis not to have more than 0.3% total THC; rather, it was only Delta 9 THC before.
It further updated the Uniform Controlled Substances Act, Chapter 19-03.1, to include Delta 8 THC and other isomers, which means Delta 10 THC; however, it does not explicitly say it's illegal. We can only hope the state of North Dakota will be more clear about its exact stance in the near future.
So while the legal status reminds debatable, your best and safest bet is to purchase your Delta 10 THC products online as you might have a hard time finding any at local stores.
Let's Clarify What Delta 10 THC Is
When researchers discovered this new hemp THC molecule, they could barely identify it because it didn't produce Delta 10 THC in any significant concentration, so it was either looked at as another cannabinoid or didn't even get noticed.
So What is Delta 10 THC? It's an isolated form of cannabidiol that does not cause much of a psychoactive effect or high as you can find with other varieties such as medical Cannabis or recreational Cannabis.
While we can't say for sure since there is no scientific research done, users report that the effects and benefits are similar to THC. They experience a mild intoxication with an uplifting and energizing feeling in their mind and body, which does not cause any discomfort or anxiety levels like Delta 9 THC can do, especially on higher doses.
On another note, you can say Delta 10 is more of a Sativa feel, so many enjoy this THC compound during the day. Comparing it to Delta 8 THC, it's reported that it might seem a little less potent on the "high" feeling. Still, it offers more energy and clarity than D8, which provides more of a sedative feeling for anyone looking for that couch look feeling.
Where To Buy Delta 10 THC In North Dakota?
Delta 10 THC is a very mild psychoactive compound that state laws are trying to limit for the people in North Dakota.
As stated above, the legalities in this state are debatable regarding this compound, even though it's federally legal. You can still purchase D10 products; you have to be smart and follow the regulations. If you have any questions, always feel free to reach out to us or click the chat icon on this same page for immediate assistance.
We would love for you to try our natural and high-potency hemp products here at BiowellnessX. Please take a look for yourself, check out our website. We sell a wide array of CBD and THC products that our customers love, and you have easy access to our lab reports.
Related Article: Learn how long Delta 10 THC stays in your system

Now, if you want to see the product in hand and talk to someone in North Dakota, there are plenty of vape shops and convenience stores that would carry a variety of CBD products with and without hemp-derived THC.
If you live in any of the areas below, you can probably find all kinds of hemp-derived products in your local stores.
Fargo
Bismarck
Grand Forks
Minot
West Fargo
Williston
Dickinson
Mandan
Jamestown
Watford City

Legalities Of Delta 10 THC In North Dakota Further Explained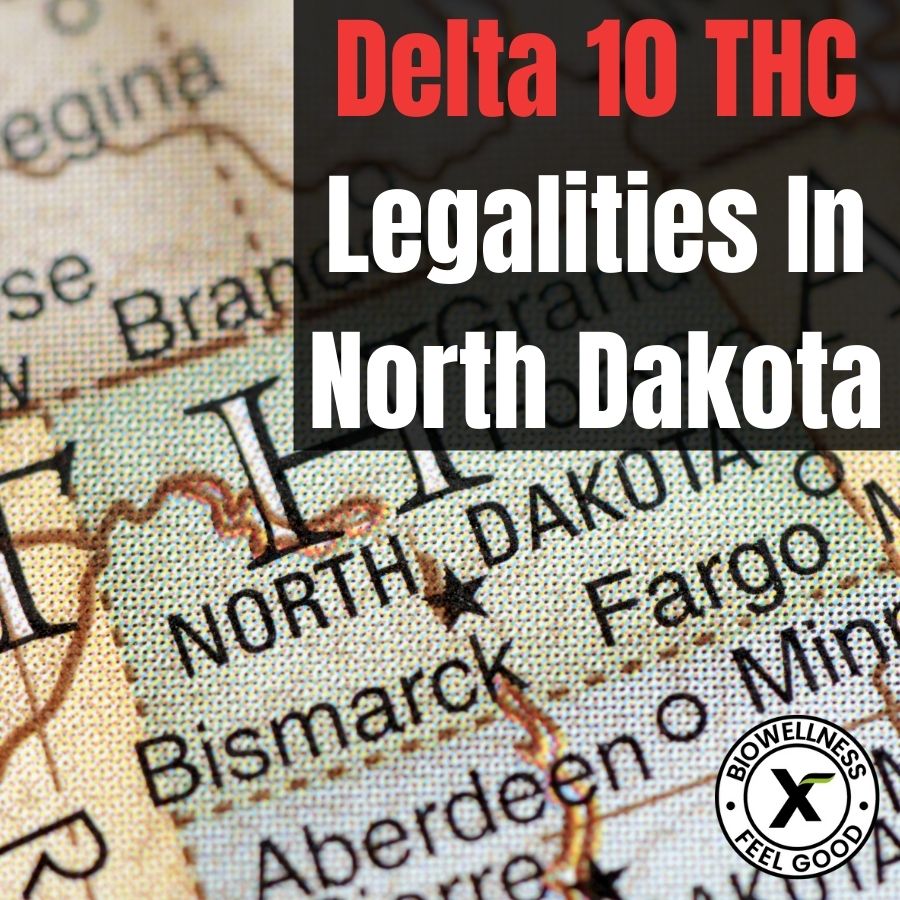 North Dakota's new hemp bill (House Bill 1045) has been a topic of discussion for many people in the state. The original version aimed to align itself with federal law. Still, after some revisions, it became clear that this would not happen due to Attorney General's Office adding more restrictions on sale and purchase practices involving tetrahydrocannabinols (THC).
North Dakota state law is a little stricter when it comes to hemp. Currently, state-licensed growers and processors cannot produce or sell products that surpass 0.3% total THC via "isomerization" (chemical conversion), which includes Delta 8 THC in the list of targeted compounds and other THC isomers, which automatically include Delta 10 THC as well. The definition for these terms has been amended, meaning they will be included from here on out.
From now on, all hemp goods allowed for sale and distribution in North Dakota must contain less than 0.3% total tetrahydrocannabinol (THC) to be legal.
Federal Regulations Related To Delta 10 THC
On a federal level, the government has classified Delta 10 THC and Delta 8 THC as intoxicating effects, leaving it in a gray area. However, that doesn't mean it's illegal to consume.
The Farm Bill has created a legal loophole that allows for the production of psychotropic compounds, regardless of their THC or not, as long it comes from hemp. The farm bill was put in place so states could regulate their sale and use the bill accordingly within their state law borders.
The hemp plant (plant cannabis Sativa) is mainly known for its strong fibers and is notorious for its biggest cannabinoid CBD.
The chemical makeup of Delta 10 THC means it has to go through an artificial process to be produced, simply because it only exists in such miniature amounts. To make a significant amount, manufacturers use hemp-derived CBD, especially for cost-efficiency reasons.
This is also one of the main reasons why hemp-derived Delta 10 THC remains in a gray legal area. It can easily be categorized as fully "synthetic" and deemed illegal under federal law simply because of its "man-made" process of converting CBD isolate into D10 distillate using chemical synthesis with catalysts. Which then is considered semi-synthetic (not natural) and adds more confusion about its legalities. Delta 10 THC is still legal (as long as total THC is below 0.30% on a dry weight basis) in North Dakota as long it follows the state law and is converted using only hemp plant material.
Compassionate Care Act In North Dakota
Can you get Medical Cannabis in ND?
Marijuana is currently a hot topic across the United States, with many states now legalizing medical- and recreational cannabis (marijuana). But could medical marijuana be coming to North Dakota? A recent bill introduced in the state legislature would allow people with certain medical conditions to use cannabis medicinally. The bill should be passed on July 1, 2022, so we'll have to keep an eye on whether that will be the case or not.
So far, only a handful of dispensaries have been approved to sell medical marijuana in North Dakota. The first dispensary opened in December 2017.
Qualifying patients can purchase medical marijuana from the approved dispensaries. The conditions that qualify for medical marijuana treatment in North Dakota are cancer, AIDS or HIV, ALS, seizures, multiple sclerosis, Crohn's disease, and PTSD.
Medical marijuana is available in pills, soft gels, oils, creams, tinctures, and vape cartridges. According to the current state law, it is not yet legal to smoke medical marijuana in North Dakota on a consumer-based level.
Under federal law, medical marijuana is also illegal, yet more and more states are opening up.
Final Thoughts
It would appear that Delta 10 THC is still deemed illegal in North Dakota if you look at most sources online. If you look deeper into the registrations, you'll find it's unlawful if it surpasses the 0.3% total THC. Yet, the language in the bill is not stating clearly, if it's either illegal or legal with restrictions, which means it currently lives in a grey zone, and it's up to debate if this is genuinely an unlawful compound in North Dakota.
As the cannabis industry flourishes, consumers need to stay up to date on changing legislation to make informed decisions about their health and well-being.
For now, you are better off purchasing your hemp-derived THC products online.
Want to be on the safe side? Try our 10mg Delta 9 THC gummies (max 030% THC) which are a huge hit.
They come in our famous 2-packs THC Gummies on the GO, or as 10 counts.
Learn more about Delta 9 THC Regulations here before you buy your next Delta 9 Gummies.
References:
LEGAL DISCLAIMER
By reading this legal information, you agree to release the author of any liability related to or arising from your use of this data. This post contains no legal advice. The legal status surrounding Delta 8 THC, Delta 9 THC & Delta 10 THC is new and constantly changing. We continuously work hard to do our best to give you the most updated information. We recommend that you always check your current state's laws or federal hemp laws before purchasing any industrial hemp-derived products (CBD, THC) in North Dakota. The data in this post is not intended to diagnose, treat, cure or give any medical advice. Anyhow, do your own due diligence and always seek your doctor's advice, especially if you are in doubt or are currently taking any prescription medications. Safer than sorry is always a great idea when consuming new products.
FREQUENTLY ASKED QUESTIONS (FAQs)
Are THC gummies legal in North Dakota?
Yes, they are. As long they follow the current regulations in this state. It can be confusing as many sources claim Delta 8, which means Delta 10 THC is illegal; however if we look deeper into the bill, we will see that it all comes down to a total THC of 0.30% dry weight basis.
Is Delta 10 THC federally legal?
Yes, it's legal on a federal level because of the 2018 farm bill.
Will Delta 10 Get U High?
Yes, you can get a high from Delta 10, but it's not as intense as a high you would get from Delta 9.
Can you purchase Delta 10 online in North Dakota?
Yes, but you need to understand the current regulations. You cannot purchase products with more than 0.30% THC. Because of that, many local retailers are limited to what they can carry, so buying online might be your best bet.