Living with PTSD or chronic pain can make life extremely difficult for military veterans. While many prefer medical cannabis to opioids, it may have some unwanted side effects, and that is where Delta-8 THC proved to be the better choice for veterans.
Main Keypoints
Hemp-derived Delta-8 THC is legal under federal law.
You can buy hemp-sourced Delta-8 products without a medical card online.
Studies show that Delta-8 THC can help relieve chronic pain.
Research suggests that Delta-8 has anti-depressant properties.
Consumers report that Delta-8 helps them with anxiety and other PTSD symptoms.
What is Delta 8 THC?
Delta-8 THC is one of the many natural chemical compounds existing in cannabis and hemp plants. Delta-8 THC provides a smoother, less overwhelming psychoactive experience compared to Delta-9 THC, the primary psychoactive compound in medical marijuana.
Usually, the Delta-9 THC in medical cannabis can be too potent for some people, worsening anxiety and paranoia, which is bad for PTSD patients. However, Delta-8 THC doesn't have the same powerful psychoactive effects and gives more of a relaxing body high instead of a cerebral high.
Health Benefits of Delta 8 For Veterans
Research into the medical benefits of this new hero cannabinoid shows some amazing potential in helping veterans deal with some of the physical and psychological traumas.
How Does Delta 8 THC Work?
Delta-8 THC, like other cannabinoids, works by interacting with the body's endocannabinoid system ECS, which is a vast network of enzymes and receptors throughout the body, helping keep us in balance. The name endocannabinoid didn't come by chance, as the studies show the cannabinoids existing in cannabis and hemp can interact with the ECS naturally, which gives the plant its medical benefits.
Delta-8 THC activates the CB1 cannabinoid receptor helping lower our pain and stress response leading to anxiety and pain relief.
Delta 8 THC for Pain Relief
Chronic pain is something a lot of veterans have to live with, and studies show that Delta-8 THC has analgesic properties, relieves chronic pain, and improves the body's pain management.
Another study shows Delta-8 THC's anti-inflammatory properties can help reduce inflammation-associated symptoms, such as pain and swelling. More about Delta-8 for pain.
Delta 8 THC For PTSD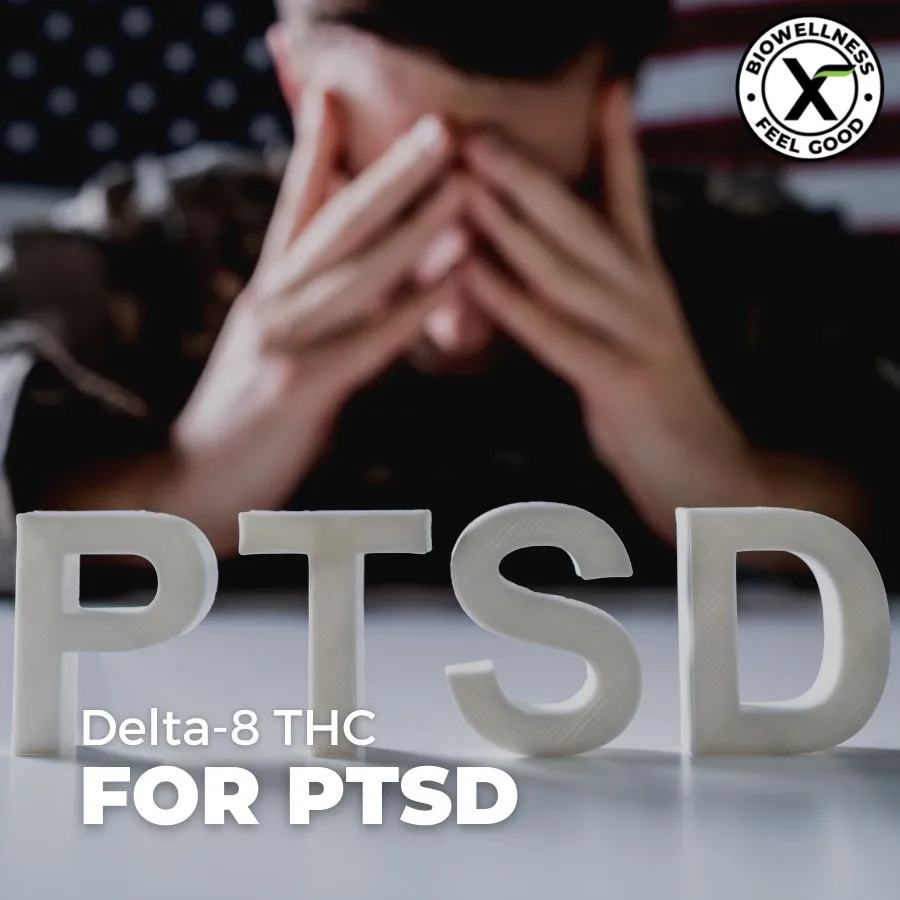 Recent studies suggest that cannabinoids such as Delta-8 THC may help with PTSD by reducing the activity in the part of the brain linked to fear and threat response. Also, other studies suggest that it may aid in extinguishing traumatic memories.
Research suggests that Delta-8 has anti-depressant and sedative-like properties, which can help with can help counter anxiety and depression.
Other studies also show that Delta-8 THC can boost the levels of serotonin and dopamine in the brain, helping alleviate anxiety.
Delta-8 THC For Sleep
Delta-8's benefits for sleep are well documented! Research shows that Delta-8 THC can mimic melatonin (our body's natural sleep hormone), helping veterans get some of the most craved deep sleep.
Another study suggests that Delta-8 has sedative-like effects, which can provide deep relaxation and help with better sleep quality.

Best Sources for Quality and Affordable Delta 8 THC
Many veterans found reprieve in medical cannabis; however, dispensaries often come with heavy price tags and lots of hoops to jump to get a medical card. Luckily, our hemp-derived products are legally available, come with pocket-friendly prices, and are made with dispensary-grade quality!
Discreet Delivery Options for Veterans: At BiowellnessX, we understand the need for privacy; that's why we offer discreet delivery options, disguising the hemp products. You can opt for that option at checkout.
Best Brands of Delta 8 THC for Veterans
Choosing the best brand with high-quality Delta-8 products isn't easy, but we've got some tips to help you decide:
Check for a certificate of analysis or lab testing documents like this one.
Read through the ingredients and make sure it's all-natural and of good quality.
Look at other customers' reviews, and see what they have to say.
Check if they offer a money-back guarantee. (If they'll bet their money on their product, then it's worth a shot.)
Bonus point if the brand offers a special discount for veterans. (Like our 30% veterans discount.)
At BiowellnessX, we put quality above all else; we thrive in providing some of the highest quality all-natural products sourced from organic hemp and free of any harmful chemicals.
Try some of our best-selling Delta-8 products with a 30% discount for veterans.
NOTE: To get your discount code, please get in touch with our customer service team, so they can get you the info.
Side Effects of Delta 8 for Veterans
Most military veterans prefer Delta-8 THC products to medical cannabis as it has lesser side effects.
Some of the common Delta-8 side effects are red eyes and dry mouth, while there might be other rare side effects; you can read about them here.
Delta-8 THC can also cause some unwanted side effects when mixed with other medications that use the same pathways in the brain, like Xanax.
Always consult your doctor before taking Delta-8, especially if you're on medication or have a health condition.
Is Delta 8 THC Legal in My State?
Hemp-derived products containing less than 0.3% Delta-9 THC on a dry weight basis are federally legal, that includes Delta-8 products.
However, some states still don't look warmly on Delta-8. Currently, the states that ban Delta-8 are Alaska, Arizona, Arkansas, Colorado, Connecticut, Delaware, Kentucky, Idaho, Iowa, Michigan, Mississippi, Montana, Nevada, New York, North Dakota, Rhode Island, Utah, Vermont, and Washington.
Final Thoughts – Delta-8 THC for veterans
Veterans have a hard time gaining access to medical cannabis, and the department of veteran affairs isn't making it very easy; that's why the legal alternative and more accessible Delta-8 proved to be a much better solution.
Research shows that Delta-8 THC can help with PTSD, chronic pain, anxiety, and even better sleep. Many of our customers rave about the relaxing and anxiety-relieving qualities of Delta-8.
You can check our fan-favorite Delta-8 products here and enjoy the 30% discount we offer for every hometown hero.
To get your discount code, please get in touch with our customer service team, so they can get you the info.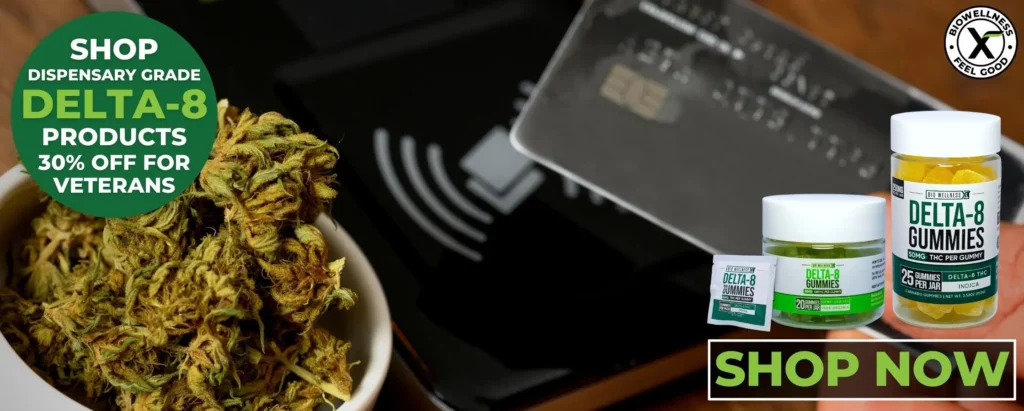 Legal Disclaimer:
By reading this information presented, you agree to release the author of any liability that comes from using this data. This post does not constitute legal advice. Claims about cannabinoids have not yet been approved by the food and drug administration FDA. Read the full legal disclaimer here.
Other related articles:
Are Sativa Or Indica THC Gummies Better For Seniors?
Delta-8 For Elderly And Older Adults – Is It Safe?
Sativa vs Indica vs Hybrid Strains. Which One Is Right For You?
Indica vs. Sativa Edibles – Is There A Difference?
Benefits Of Cannabis Use For Anxiety Among Older Adults
Resources:
FAQs for Delta-8 and Veterans
Can Delta-8 help veterans with PTSD?
Yes! Studies show that cannabinoids such as THC can help with PTSD symptoms.
Do you need a medical card for Delta-8?
Thankfully, hemp-sourced Delta-8 is federally legal and doesn't require a medical card unless a specific State enforces such measures.
Are there legal alternatives to medical cannabis?
Hemp-sourced full-spectrum CBD, Delta-8, and Delta-9 products are legal and have dispensary-grade strength and pocket-friendly prices.