Some people believe Delta 8 is more beneficial than regular Delta 9 THC due to its reported minimal traces of psychoactive responses. But how have Utah state lawmakers ruled on this matter? Is Delta 8 THC legal in Utah? Let's take a closer look at their laws to find out.
Main Keypoints:
The federal law declared Delta 8, 9, and 10 THC legal nationwide; however, states maintained the right to make marijuana laws according to their residents' and jurisdictions' needs.
Utah expanded its laws to provide medically needy residents with quality access to cannabis under certain restrictions.
The future of Delta 8's availability beyond medical use is up in the clouds. Recreational marijuana can become a Utah right with enough research and voter support.
The Utah cannabis laws are abundant, and even with the right to medical marijuana use, synthetic and non-licensed alternatives still flow in Utah.
Is Delta 8 THC Legal in Utah?
At this point, the Utah Cannabinoid Product Board (CPB) does not support any therapeutic use of THC analogs such as Delta 8 THC, which means Delta 8 THC lives in a grey area in the state of Utah.
Furthermore, Utah state laws did not make an exception for any hemp-derived THC in its Controlled substance Act, which basically says all isomers of tetrahydrocannabinols are considered controlled substances; when total THC surpasses 0.30%.
However, the State's Medical Cannabis Program allows the sale, possession, and use of Delta 8 products assuming locals have a medical cannabis card when THC surpasses the legal limit. [5]
What Is Delta 8 THC?
The cannabis plant houses Delta 8 THC, among other dozens of cannabinoids.
Delta 8 THC is one of the less psychoactive compounds naturally contained in cannabis, albeit in smaller amounts than the more potent Delta 9 THC.
Because Delta 8 is only present in tiny amounts in the cannabis plant, you'll mostly find it converted from other hemp-derived cannabinoids like CBD, which naturally fits into the hemp-derived CBD products category as being a federally legal substance.
Even though Utah state law restricts the sale of higher potency hemp-derived Delta products, it's still possible to get them if you have a medical cannabis card, or another way is to find any products with less than 0.30% THC in them.
Delta 8 And It's Popularity
One of the main reasons Delta 8 THC has become so widely popular over the last few years is its health properties. Its healing side is why most choose Delta 8 over regular marijuana, simply because its psychoactive effect is significantly less but offers the same benefits.
You can say Delta 8 is similar to what many would call an Indica strain; hence most use it as an evening remedy for increased relaxation and effective sleep aid.
How is Delta 8 THC Made?
As mentioned earlier, Delta 8 is a natural compound found in the hemp plant, but only in tiny amounts. The more cost-effective way is to utilize other cannabinoids like CBD, using an acidic chemical process to create the more potent THC. You can say hemp-derived Delta 8 is a semi synthetically compound because it's created in a lab. The argument goes that it's a natural compound because it naturally occurs in the hemp plant, even if it's only in minuscule amounts.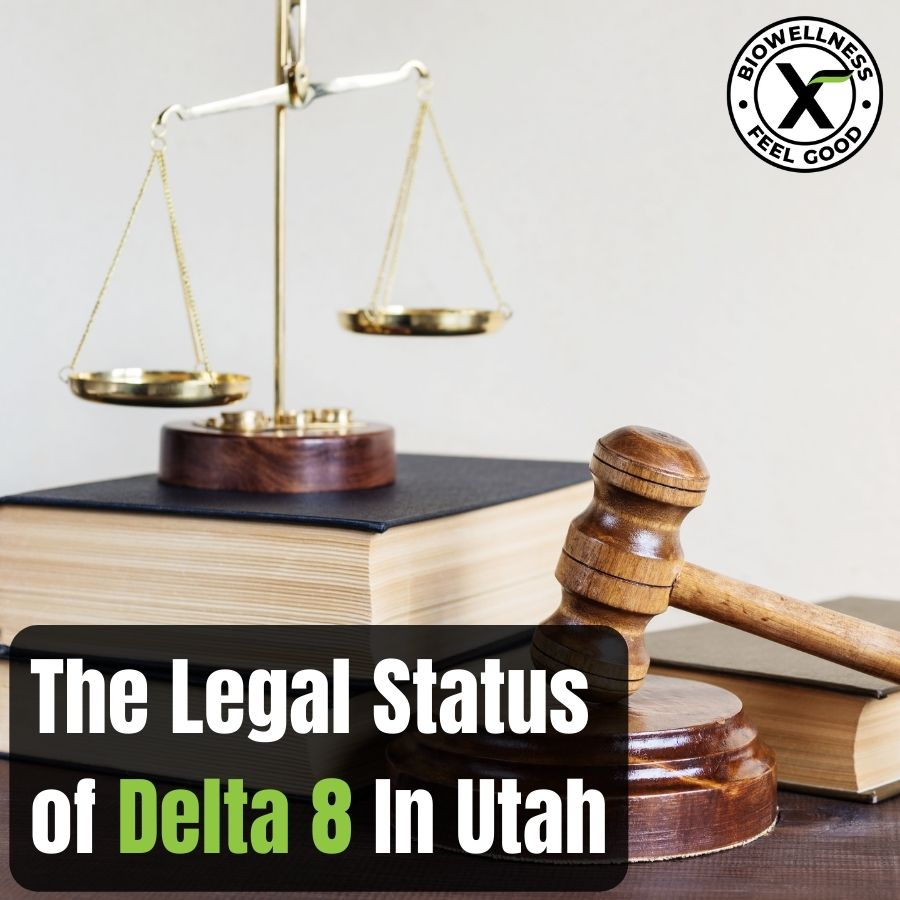 The Legal Status of Delta 8 THC in Utah.
The "Schedules of Controlled Substances: Schedule 1" section in Utah's Controlled Substances Act clarifies that tetrahydrocannabinol (THC) is illegal when total THC surpasses 0.30% total dry weight.
That includes any natural THC in the plant, except for marijuana as defined [here], as well as synthetic equivalents of the substances contained in the hemp plant.
Any synthetic substances, derivatives, and their isomers with similar chemical structure and pharmacological activity to those substances contained in the plant, such as the following:
Δ1 cis or trans tetrahydrocannabinol and their optical isomers;
Δ6 cis or trans tetrahydrocannabinol and their optical isomers;
Δ3,4 cis or trans tetrahydrocannabinol, and its optical isomers;
And since nomenclature of these substances is not internationally standardized, compounds of these structures regardless of numerical designation of atomic positions covered…"
Okay… now, in simple terms?
Hemp-derived THC products with more than 0.30% are against state law unless Utah's Medical Cannabis Program approves hemp-derived Delta products for medicine and research. The program also prohibits optical isomers like Delta 8, although not explicitly stated.
What does that mean for you? If you want Delta 8 products, look for those that have less than 0.30% THC, order online, look for lab reports, and get them shipped to your door.
More info here!
Does the Federal Government approve Delta 8 THC?
Yes!
The U.S. Congress passed the 2018 Farm Bill, which describes regulations on agriculture and food, including hemp-derived tetrahydrocannabinols (THC) and hemp CBD products. The federal government has since protected the right to use derived THC from hemp, such as Delta 8 THC.
Is the Plant Cannabis Sativa (Hemp) Legal in the U.S.?
Yes, it is. The 2018 Farm Bill ultimately revolutionized hemp engagement nationwide by:
Removing the terms "hemp" and "hemp seeds" from the once shared definition of the federally illegal marijuana plant.
Removing all such hemp from the Schedule 1 drug list; no longer associate this part of the plant as a controlled substance!
Protecting such plant and its sale and distribution between states, specifically for its CBD and hemp extracts (containing no more than a 0.3% THC potency).
Many institutions have since interpreted Bill's meaning; and the American Research Group, Brooking Institution, nicely concludes the following in their Hemp Legalization and CBD Status article:
The Bill improved the method for allowing cannabis use with its relevant requirements and limitations of total THC. Even though the hemp plant is legal, it still regulates hemp and its industrial production, and Utah is no exception.
Utah State Law on the Cannabis Plant Marijuana.
Marijuana is illegal and only permitted for medical purposes under the Utah Medical Cannabis Act. The same goes for high potency Delta 8 THC and medical marijuana products. Yup, it is required you have a medical marijuana card.
Thanks to the majority of Utah voters, the Medical Cannabis Act was passed in 2018 for improved access to cannabis, so the state is making progress.
Residents can apply provided that they meet the State's criteria.
How Can I Apply For a Medical Marijuana Card in Utah?
If you live with ongoing health needs and seek pain or stress-related relief–check out this link for all the details below:
Understanding the application process.
Learning about potential wait times.
Learning about card expiration dates and renewal opportunities according to state law.
Are Hemp-Derived Cannabinoids Like CBD Legal in Utah?
Yes, it sure is. However, CBD limits do exist in Utah. Any finished product with cannabidiol, CBD, may contain no more than a 0.3% THC potency. That means it's more important than ever to pay close attention to the labeling and/or any available lab reports that showcase the total THC content in the given product.
With a booming market like THC, many unethical companies are pushing subpar products that quickly can become consumer health concerns or straight-up illegal.

Where to Buy Delta 8 Products In Utah?
Well, as we explained above, the sale of these products is strongly restricted in Utah. However, you can still find numerous products in unlicensed shops across the state that carry many hemp-derived THC products. As a consumer, you must be careful with the product you buy and not get in trouble with the law.
Another option that might be safer is to purchase Delta 8 products online, especially if you can find a reputable brand that offers products with a total THC of 0.30%.
One of those brands is BioWellnessX. With our best-selling 10mg Delta 8 gummies, you have options to still try this compound, or if looking for other hemp THCs like our Delta 9 gummies, you will stay within the regulations without needing a medical card.
Say you would rather burn some gas on your car; there are limited areas where you can purchase Delta 8 products or even medical marijuana if you have a card.
Check out these cities if they're near you:
Logan
Brigham City
Ogden
Bountiful
Salt Lake City
Park City
Lehi
Provo
Payson
Cedar City
St. George
Utah County seems to house most of the state's smoke shops. The remaining communities have a few options: travel far or wait for online Utah dispensaries to reopen their limited shopping hours. Or shopping online gives you immediate access to a wide arrow of products.
Buy Your Hemp Products Online
Just remember that restrictions may apply depending on your region's state laws.
As already explained in this article Utah allows people to buy and use high THC products (Delta 9 THC) if locals have a medical cannabis card. For those that do not have a medical card, there is plenty of low THC- and non-THC options.
Here are some excellent options worth a try:
The great thing about these products is the visible dedication and ongoing research that goes into creating each product type. Each is carefully crafted to offer the best possible experience each time.
Final Thoughts
For now, the Beehive State has begun trusting Utah residents' demand for safe and protected access to quality medical marijuana and industrial hemp products.
It's only a matter of time before the right to recreational cannabis merges into the State's current hemp laws. Just look at the history of Utah's neighboring state New Mexico! They only just declared recreational cannabis legal this April 2022.
Want to try Delta 8? Online might be your safest bet for the time being. Look through your options here.
As a thank you for reading to the end, or at least quickly scrolling through the article, you get 15% OFF and a Free shipping coupon. Just go to our site and claim it.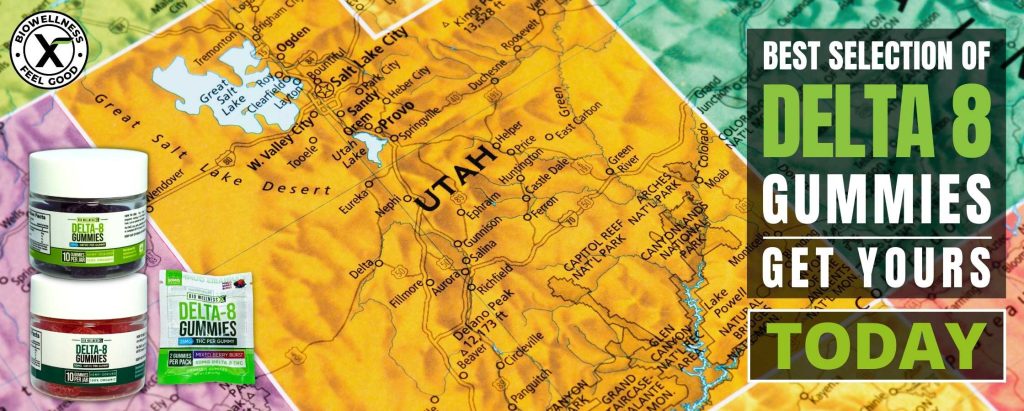 References:
LEGAL DISCLAIMER
By reading this legal information, you agree to release the author of any liability related to or arising from your use of this data. This post contains no legal advice. The legal status surrounding Delta 8, Delta 9, and Delta 10 THC is constantly changing. We continuously work on giving you the most updated information. We recommend checking your current state or federal hemp flower laws before purchasing hemp-derived cannabinoids (CBD, THC) in Utah. The data in this post is not intended to diagnose, treat, cure or give any individual medical advice. Do your due diligence and always get your doctor's advice, especially if you are in doubt, taking any prescription medicines, or have a medical condition. Better safe than sorry is always a great idea when consuming new products.
Frequently Asked Questions (FAQs)
Is Delta 8 THC legal in all states?
No. Even though federal law protects the right to adult cannabis use, each state is free to decide if cannabis products are legal. Marijuana is illegal in Idaho, Wyoming, Kansas, and South Carolina. The remaining states are either fully legal (California, Virginia) or hold mixed laws with strict regulations (Alabama, Texas).
Is Delta 9 THC legal in Utah?
Utah residents can legally partake in Delta 9 products if they hold a current Utah medically-issued cannabis card or if it's hemp-derived and below 0.30% THC dry weight.
Does the federal law approve of Delta 8 THC use and Delta 8 sales online?
Yes! The 2018 Farm Bill allows adult cannabis use, including Delta 8 products. You can order online or in-person to get your preferred CBD, Delta 8, and Delta 9 THC products.
What's the difference between Delta 8 THC and Delta 9 THC?
Delta 8 THC is a toned-down version of Delta 9 THC. Delta 8 THC is still considered a hallucinogenic substance but is highly regulated in many states due to its sometimes questionable origins. Delta 8 resides in hemp plants. Delta 8 can be a controlled substance depending on your state and among other synthetic cannabinoids due to this process. Still, research suggests that hemp-derived Delta, like the isomer Delta 8, offers therapeutic effects.