Delta 8 THC has been making big waves in the world of hemp and cannabis, but is it legal to consume? Well, according to the 2018 Farm Bill, it just might be! If you're living or vacationing in Wyoming, get ready for a hit of your favorite cannabinoid. This post will explore all Delta 8 THC brings with its psychoactive bliss, including if it's legally on the books across The Equality State.
Main Takeaways
Delta 8 THC is legal in Wyoming.
Delta 8 THC is a psychoactive cannabinoid derived from legal hemp, which is permitted under federal law.
To buy Delta 8 THC products derived from hemp, you must be at least 21 years old.
You can buy Delta-8 in Wyoming online or in-store.
Tell Me the Legal Status of Delta 8 in Wyoming!
Wyoming just got way cooler! Delta 8 THC, which is totally federally legal to use in the US, can now be found throughout Wyoming. Yup, that's right! According to Wyoming state law, D8 is now legal. This means more fun times for everyone who lives there – so grab your gummies and get ready to party!
After the signing of the 2018 Farm Bill, Wyoming altered its legislation to legalize hemp products, including cannabinoid products such as CBD. Because of this, hemp-derived products are legal in Wyoming. Hemp is part of the same family as the cannabis plant. However, we call this plant Cannabis Sativa L, which contains all the famous cannabinoids, other isomers, and salts of isomers, along with derivatives in amounts less than 0.3% Delta 9 THC by dry weight.
The hemp plant is high in CBD and has a low THC concentration, whereas the marijuana plant, also classified as a Cannabis plant, has a high THC concentration and low CBD.
When the law got voted in, it also included changes to the known Controlled Substance Act in Wyoming. The bill removed and updated a text to say that hemp and possessing hemp products are excluded from the law. Go Wyoming! For that reason, the compound Delta 8 THC derived from legal hemp is currently legal to sell and possess in the state.

So, Where Can I Buy Delta 8 THC in Wyoming?
It's essential to be careful when on the hunt for a reliable Delta 8 source. Sure, you can pick up hemp-derived products in your local corner store – but why not level up by scooping some stellar online deals instead?
Forget long lines and store hopping – shopping for Delta 8 just got much easier! Now the highest quality products are at your fingertips with shopping online.
Gas stations and convenience stores are a no-go, but shop online, and you can get a BOGO!
Some Quick Tips On Finding Quality Hemp-Derived Delta 8 THC in WY:
It is important to check the certificate of analysis or a similarly reliable testing method
by a third-party lab.
The D8 should have a maximum of 0.30% Delta 9 THC on a dry-weight basis if derived from hemp.
Is your COA consistent with the label? If not, look into it and get all of those pesky questions answered. If there are any discrepancies, it might be time to investigate further! ASK QUESTIONS!
Cheap can be good, but it's never worth sacrificing quality!
You Can Shop Locally For Delta 8 In Wyoming!
If you live in or anywhere near any of the cities listed below, you can run into any one of the local stores and get your Delta 8:
Casper
Gillette
Douglas
Brookhurst
Rock Springs
Ten Sleep
Rawlins
Riverton
Lander
Cody
Reap The Benefits of Shopping Online in Wyoming!
Don't let a lack of motivation to get out stop you from shopping around for the perfect products. Online dispensaries have so much to offer, just waiting at your fingertips – all while relaxing in your PJs!
Shopping online is the ticket! With exclusive discounts, free shipping, and a money-back guarantee – why chance it with your local stores when you can get precisely what you want without leaving home? Plus, who doesn't love being 'lucky' enough to find products that no one else has?!
At BiowellnessX, we take hemp production seriously!
What Are The Effects of Delta 8?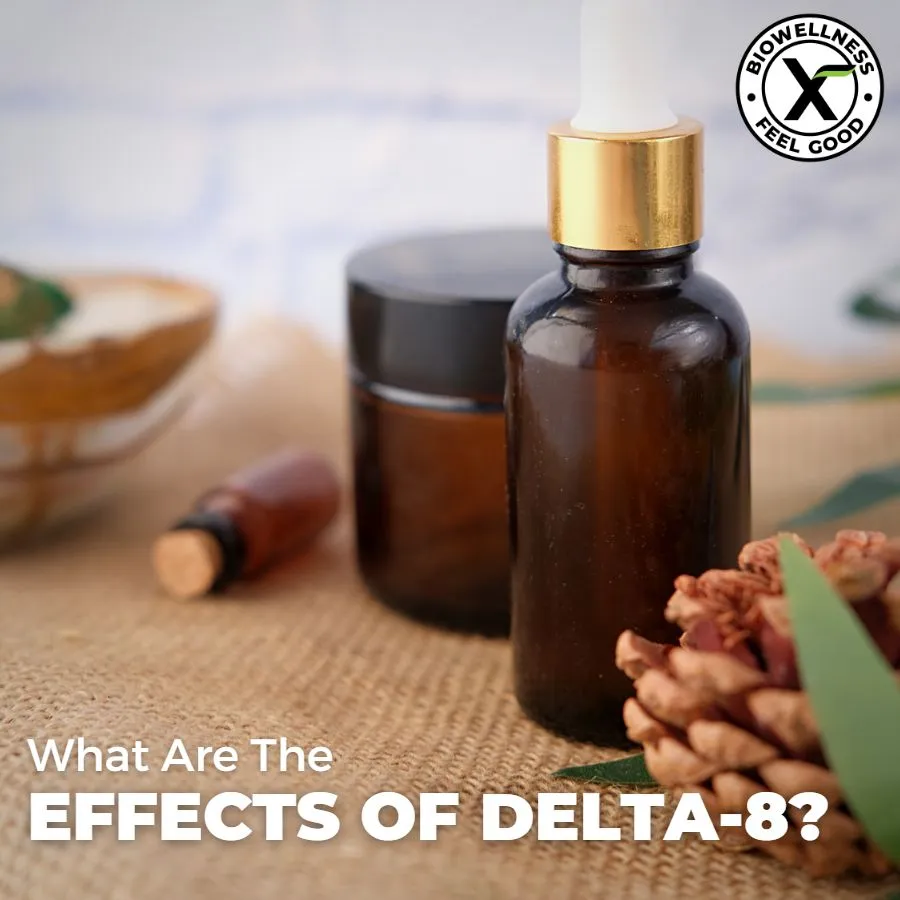 Cannabis is hitting an all-time high as hemp-derived THC sweeps the nation, giving many a much-needed source of relief and prompting them to welcome this new era of natural healing.
Are you ready to experience a new level of chill? Well, Delta 8 THC has many benefits and some pleasing effects. Delta 8 THC is like the ultimate Indica blend, offering all the relaxation and body ease with none of that couch-lock feeling.
Curl up in your comfy pajamas at night because this stuff will make you doze off into dreamland! And if mild aches or pain keep you awake, don't worry – D8 was made for just that kind of thing. Let those worries and woes melt away, giving you an enjoyable psychoactive edge without going overboard. Sweet dreams!
Should I Be Worried About Side Effects?
Well, as with anything in life, there are side effects with Delta 8 THC, but very few experience those. A common side effect of Delta 8 is lightheadedness or feeling like you're in a cloud, but hey, you can feel that way by drinking too much coffee, so is it really a side effect? I think not!
If you're looking for quality, remember to shop around! Low-grade products can be a dangerous cocktail of solvents and chemicals which makes your Delta-8 product unsafe. So if it feels too good to be true – watch out!
There are some other side effects reported, but they are scarce. With Delta-8, slow and steady wins the race, and you should be fine if you start with a small dose.
Ok, So Delta 8 Is Legal, But Is Marijuana Legal In Wyoming?
Wyoming is home to some of the strictest cannabis laws in the country, and if you're looking for recreational marijuana and even medical marijuana, for that matter, you're not going to find it here; sorry, it's prohibited!
Proposed in 2019, house bill 278 would have established a medical marijuana program, but it ultimately got defeated.
Everyone knows that prohibition won't last forever, and hemp laws change all the time, but in the meantime, we are thankful for hemp-derived CBD and other unique legal hemp products.
The State ultimately controls cannabis laws within its borders. People should do their due diligence and look into the laws in their jurisdiction before purchasing any hemp-derived CBD and other products, as the same laws do not carry over into another city or state, for that matter.
Final Thoughts
So, there you have it, Delta 8 is legal in the great State of Wyoming. You can now go out and enjoy all the benefits this exceptional compound offers without worry or stress. Just be sure to do your research before purchasing any products, and always consult with a doctor before using Delta 8 if you have any medical conditions.
Remember to check us out and shop our line of high-quality Delta 8.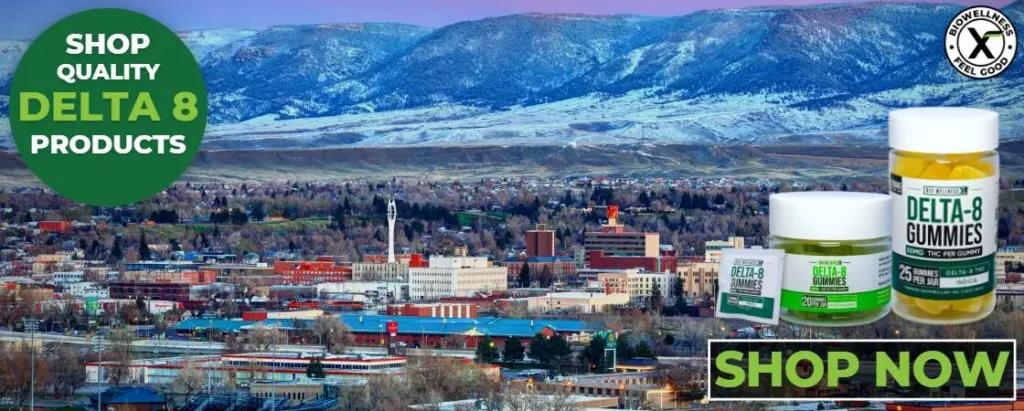 Legal Disclaimer:
By reading this information presented, you agree to release the author of any liability that comes from using this data. This post does not constitute legal advice. Claims about cannabinoids have not yet been approved by the FDA. Read the full legal disclaimer here.
References:
FAQs on Delta-8 In Wyoming
Does each State have the same marijuana laws?
No, each State can make its own State laws on cannabis. Wyoming, unfortunately, has some of the strictest laws in the country when it comes to cannabis.
Can I buy Delta-8 products in Wyoming?
Yes, you can. You can buy hemp-sourced Delta 8 and CBD products in WY.
Does Delta 8 have any psychoactive effects?
D8 doesn't have the icky effects that marijuana and Delta-9 THC usually have, but it does produce an amazing body high that relaxes your body and mind.
Can you get Delta 8 in all 50 states?
Some states have banned Delta 8, unfortunately.