Idaho hemp and THC laws may seem unnecessarily long and even confusing (four scores and yawn!). But no worries…this blog gives it to you straight. Well, then? Is Delta 8 legal in Idaho? Let's find out.
Main Points
Delta 8 THC induces mild psychoactive effects compared to its high-intensity sibling Delta 9 THC.
These psychoactive effects and benefits are usually dosage and tolerance-dependent.
Delta 8 THC is an excellent alternative with similar benefits to regular THC but kinder for those searching for a smoother experience.
Idaho still restricts all Delta THCs, but you can still legally enjoy hemp-derived CBD here.
Is Delta 8 Legal In Idaho?
According to the 2018 Farm Bill, the federal government considers industrial hemp and hemp-derived products legal "just as long as the Delta-9 THC contents are less than 0.3% of total dry weight."
While the federal government is cool with hemp-derived Delta-8, Idaho heavily restricts it and considers any chemical substances classified as THC to be a schedule drug! According to Idaho's Uniform Controlled Substances Act, all versions of THC are classified as the same substance AKA (lawmakers don't really care where it's sourced from, it's all illegal).
Idaho State Law And Legalities Of Delta 8 THC
Even though hemp-sourced Delta-8 is legal within the federal definition, the Gem State says otherwise.
The State defines "hemp" as the plant Cannabis sativa L. and any part of that plant, including the seeds thereof and all cannabinoids, derivatives, extracts, isomers, acids, salts, and salts of isomers, whether growing or not, with a delta-9 tetrahydrocannabinol concentration of less than three-tenths of one percent (0.3%) on a dry weight basis.
However, The State's House Bill 126, "Industrial Hemp Bill," only allows hemp-based products with no THC. But don't give up just yet; we may have a workaround for this.
We suggest you check the latest lab reports for any of these products and contact the company you get them from for confirmation. You can never be too careful with these THC varieties.
What Is Delta 8 THC?
To think the entire history of Delta 8 began with a couple of chemists playing Breaking Bad (go figure, Idaho, ha!).
Delta-8 exists naturally in hemp and cannabis plants, but in tiny amounts; however, chemists found a way to extract from CBD and THC. (That's why some state lawmakers might consider it one of the synthetic substances and restrict it.)
Today's Delta 8 THC helps alleviate pain and anxiety, among many other health benefits, without most of the adverse side effects associated with Delta 9 THC.
The most frequent findings share Delta 8's potential to help with inflammation and stress while elevating your mood and quality of sleep (and so much more). Read more about Delta-8 with our complete Delta-8 Guide.
Where to Buy Delta-8 In Idaho?
Well, you struck out on this one; you can't buy Delta 8 in Idaho, even online (do you see the big but coming here?.) BUT! You can buy other CBD products to get what you need.

Hemp Products That Are Legal In Idaho!
According to the Idaho code, that's meant to provide legislative intent on hemp manufacturing and consumption; there are other hemp plant goodies than can help you out while staying 100% legal.
Broad-Spectrum CBD Gummies
Our Broad-Spectrum Wellness Gummies Plus is in a class of its own! These THC-FREE (Non-Detectable THC) gummies are an excellent alternative for those who want an effective product without THC.
You get a minimum of 25mg CBD, along with other minor cannabinoids, PLUS 5mg of the famous cannabis terpene called Myrcene which works as a sedative and is said to lower daily stress and relax the body and more.
Our Wellness Gummies PLUS is made with our vegan and organic blend to offer the best possible and natural experience!
CBD Capsules For Relaxation
Our CBD and GABA Capsules (Chill out Capsules) are one of our best-selling products! Each capsule is packed with 25mg of CBD, plus our proprietary blend of 6 natural and powerful ingredients to melt the stress away.
CBD Deep Relief Cream
Our 300mg CBD Deep Relief Cream is designed for those that need something with natural effects. Our proprietary blend of natural ingredients like Menthol, Aloe Vera, and Arnica (to name a few) will do just the trick to give you relief and a cooling effect in only a few applications!
CBD Capsules For Deep Sleep
Our Nighttime Capsules are made with pure CBD and contain everything from natural plant-based ingredients like chamomile extract, lavender oil, ashwagandha, lemon balm, and melatonin to support cozy nights in order to improve wellness on all levels by providing deeper REM cycles.
Delta-8 THC Possession Limits in Idaho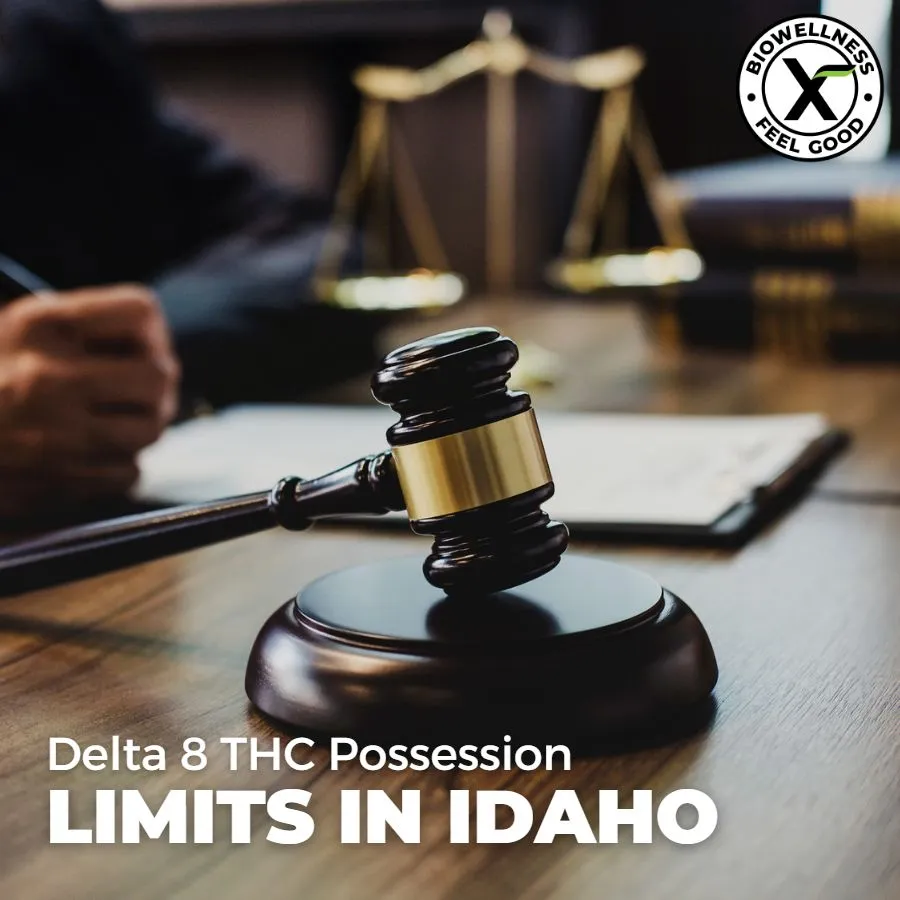 Per Idaho State law on Food, Drugs, and Oils:
"(g) (1) It is unlawful for any person to manufacture or distribute a "simulated controlled substance" or to possess with intent to distribute a "simulated controlled substance."
In short, Idaho lawmakers believe even 0.001% of THC is controlled substance worthy; listing this material in their Schedule 1 drug no-gos (the worst of the drug lists) can get you some heavy penalties.
Is Marijuana Legal in Idaho?
Absolutely not! The State law states:
"All parts of the plant, whether growing or not; the seeds, prohibited parts thereof; the resin extracted therefrom any part of the cannabis plant;…or preparation of the plant Cannabis Sativa L. or its seeds or resin, including Delta 9…of the plant Cannabis Sativa L., fiber produced from the stalks, oil, or cake made from the seeds of such plant material."
So, sadly these narrow classifications on both Miss MJ and hemp-derived THC mean Idaho is strictly sticking to CBD for now.
Final Thoughts – Is Delta-8 in Legal In Idaho
Idaho hemp laws still narrowly identify THC and any cannabinoids of similar chemical structure as controlled substances.
Let's be real, though…this hasn't stopped anyone in the U.S. from finding a product that serves the same purpose from other sources. But why gamble buying questionable chemical substances with no real hemp material?
(Cue the internet!)
Yes, online shopping might just be the remedy for people in medical and recreational cannabis-free states! You can find organic hemp products with unbeatable prices, and did we mention DELIVERY?!
Check out our wide selection of Zero THC products that you can order in Idaho.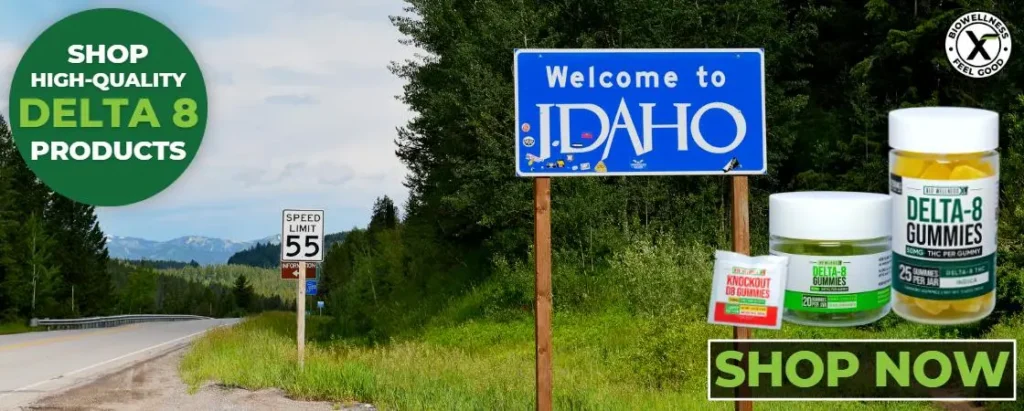 Other topics that might interest you:
Can you buy Delta-10 legally in Idaho?
References:
Legal Disclaimer:
By reading this information presented, you agree to release the author of any liability that comes from using this data. This post contains no legal advice. Claims about cannabinoids have not yet been approved by the FDA. Read the full legal disclaimer here.
(FAQs) On Is Delta-8 in Legal In Idaho
Is there anything other than Delta 8 THC options I can take?
CBD and hemp-sourced terpenes will surely impress you. We CBD have oils, capsules, creams, and soft gelatin capsules for relaxation, sleep, wellness, and more.
Is THC legal in Idaho?
THC is illegal in Idaho, unfortunately, but there's a workaround. Idaho code, House Bill 126, legalized hemp-derived products only if there are zero traces of THC…(the psychoactive substances contained in the plant Cannabis Sativa). So you can check the Non-THC section on our website for various legal hemp products in Idaho.
Is Delta-8 THC legal in all 50 states?
Nope. Even though Delta 8 is legal on a federal level, several state laws carry unfavorable legislative intent on THC, often identifying these hallucinogenic substances as controlled substances!
What is the legal age to buy Delta 8 THC or any hemp material?
Most dispensaries allow people 21+ with proper identification to purchase from their THC and CBD selections.
Is Delta 8 THC a controlled substance in Idaho?
Yes. Idaho laws consider any form of THC, including Delta 8, an illegal substance and have it on its controlled substances list.