Delta 8 THC is undoubtedly a hot topic right now, and THC fans in the Beaver State couldn't miss out on this new Delta on the block, but can they purchase it? And is Delta 8 THC legal in Oregon? Keep reading to find out.
Main Key Points
Delta 8 THC is not legal in Oregon.

Delta 9 is currently legal in Oregon and is available in hemp-derived edible products.

Delta 9 THC is the primary psychoactive component of cannabis and hemp plants.

Delta 8 and Delta 9 share a similar molecular structure.

You can buy hemp-derived Delta 9 in-store and online.

Oregon has legalized recreational marijuana since July 2015.

Medical marijuana is legal in Oregon thanks to the Oregon Medical Marijuana Act.
Is Delta 8 THC Legal In Oregon?
Hemp-derived cannabinoids are legal under federal ruling as long as the total Delta-9 THC contents of the final product are less than 0.3% of the total dry weight.
Of course, each State has its own laws regarding the cannabis plant and its cannabinoids.
Unfortunately, in this case, Delta 8 THC is not legal in Oregon! However, other hemp-derived cannabinoids are still legal!
In order to explain that statement, you need to understand more about Delta 8 THC.
What Is Delta 8 THC?
Delta 8 THC is one of the naturally occurring cannabinoids, but it only exists in trace amounts.
Delta 8 THC shares a very similar molecular structure to Delta 9 THC, the primary active ingredient in marijuana.
So, in order for manufacturers to extract it in large quantities, they started extracting it via a fairly common chemical process from naturally occurring cannabinoids such as Delta-9 THC and CBD.
The chemical process alters the molecular structure of CBD and THC to extract other cannabinoids from it, such as Delta 8 THC, CBN, Delta 10, and THC acetate aka (THC-O).
Learn more about Delta 8 in our complete Delta 8 guide.
Now, let's see how that affects the legal definition in Oregon.
Oregon Hemp Laws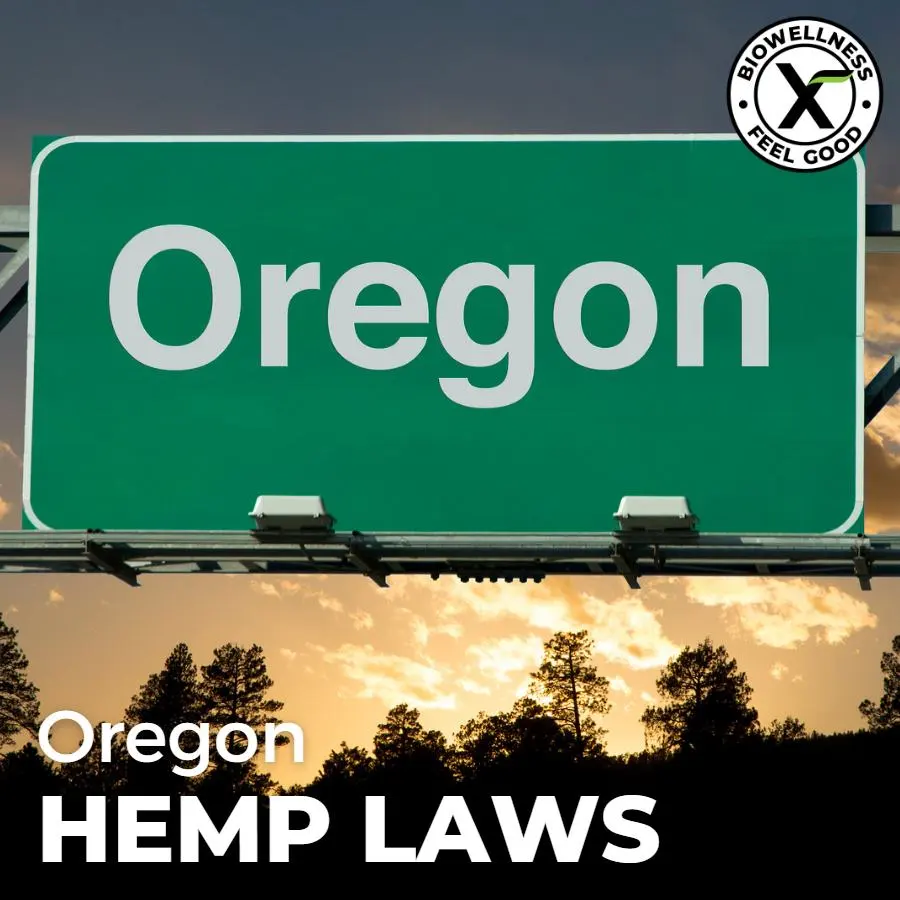 The Beaver state allows extracting naturally occurring cannabinoids such as Delta 9 THC, CBD, and other cannabinoids.
However, the State passed a new law on July 1, 2022, prohibiting "artificially derived cannabinoids" you might ask what that means.
The state officials argue that cannabinoids made with any chemical process that alters the molecular structure of any other compound derived from cannabis or hemp are considered "artificial."
The term also includes non-psychoactive cannabinoids such as CBN.
According to Oregon Liquor and Cannabis Commission (OLCC), "the lack of sufficient testing necessitated the ban," as many Delta 8 products on the market lack testing protocols. That's why reputable brands such as BiowellnessX always test their products for safety and purity. See the lab report example.
So, in conclusion, according to the State's legal definition, Delta 8 THC products are considered illegal, while Delta-9 THC products and full-spectrum CBD products are still legal!

Delta-8 THC Alternatives That Are Legal In Oregon
Now that you know Delta 8 THC products are banned in Oregon, you might wonder what you can buy, where you can buy it from, and which store to go with, don't worry; we're here with some great options.
Delta 9 THC Gummies For Pain Relief
The OG THC! You can get some of the best hemp-derived edible products infused with Delta 9 THC to help with pain, nausea, and more.
Our Delta 9 Gummies can help ease the discomfort with a smooth euphoric experience that will destress your body, leave you feeling very calm and focused, and potentially even increase your productivity.
THCA Diamonds For The Best High
THCA Diamonds are all the rage right now. They contain between 97-99% pure THCA that converts to the purest form of THC when dabbed!
Full Spectrum CBD Gummies For Relaxation
Our full-spectrum CBD gummies Mellow Drops are simply pure hemp-derived goodness! Infused with CBD, THC, and other minor cannabinoids, it'll mellow out all the stress from your body and mind with a touch of euphoria.
Dream Drops For A Good Night Sleep.
Infused with CBN (popular sleep aid), our Dream Drops will deliciously have you visiting dreamland in no time!
Get them now, as Oregon made a short-term exception for edible CBN products to be sold without Oregon Liquor and Cannabis Commission (OLCC) approval till July 2023.

Where To Shop Locally In Oregon
Starting next July, the OLCC will permit licensed marijuana dispensaries to only sell hemp-derived edible products that receive GRAS approval ("Generally recognized as safe") from the FDA.
If you live in any of these cities, many Oregon businesses and locally licensed marijuana dispensaries sell CBD and Delta 9 and all your legal hemp products:
Portland

Eugene

Bend

Corvallis

Medford

Salem

Astoria

Lincoln City

Springfield

Newport
Reap The Benefits of Shopping Online!
Have you ever wanted to purchase Delta 9 but live too far from a dispensary, or do you want to avoid going out in public? If so, shopping online is the best way to get your THC game on! Buying hemp products this way has many benefits, including cost savings and convenience.
Your own personal store is in the palm of your hand or on your handy dandy computer! Shop confidently, knowing you're getting a good deal and an excellent industrial hemp product.
With All That Said, Is Marijuana Legal In Oregon?
Recreational marijuana is legal in Oregon!
Oregon is one of the states in the US that has legalized recreational cannabis (specific amounts.) This means that residents can legally purchase and use marijuana for pleasure.
However, it is essential to note that at a federal level, marijuana is still a controlled substance and is illegal. This means that using, selling, or transporting marijuana across state lines is still a crime.
Final Thoughts On Is Delta 8 THC Legal In Oregon
It's a real bummer that Delta 8 is banned in Oregon. But don't worry; there are still some great alternatives that you can get legally in the Beaver State.
Try some of our mouth-watering Delta 9 Gummies for some pain relief and a smooth high, or maybe whine down the stress of the day with our Mellow Drops.
And if you have questions, hit us up at (747) 236-6616 or check out our website. We will be happy to help you with whatever you need.
Thanks for reading, and happy hemping!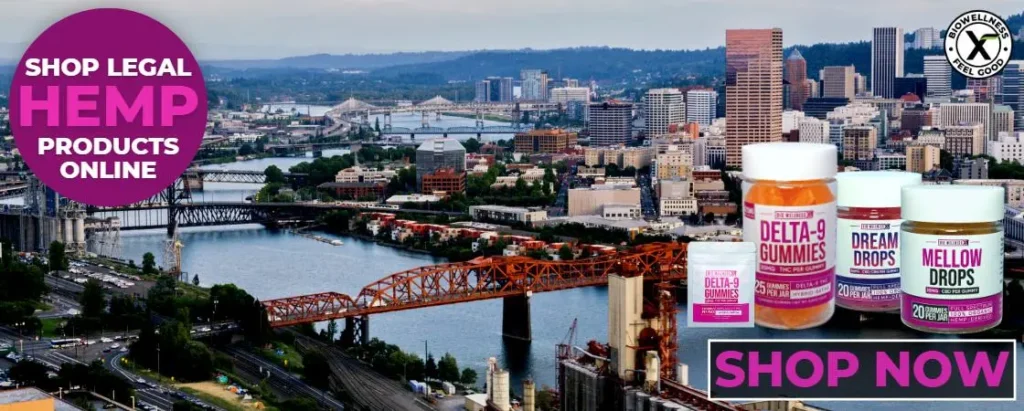 Other topics that may interest you:
Where to Buy Delta 10 THC In Oregon?
Are Delta 9 Gummies really legal?
The new era of legal THC gummies is here.

References:
Legal Disclaimer:
By reading this information presented, you agree to release the author of any liability that comes from using this data. This post contains no legal advice. Claims about cannabinoids have not yet been approved by the FDA. Read the full legal disclaimer here.
FAQs on Delta-8 THC In Oregon
Can I buy Delta 8 in Oregon?
Currently, Delta-8 THC is illegal in Oregon. However, you can still buy other hemp-derived cannabinoid products that are psychoactive such as Delta 9 THC, and non-psychoactive compounds, such as CBD.
Will Delta 8 get me "high"?
In short…yes. Delta 8 THC is a psychoactive substance that can get you high.
Is Delta 8 legal in all 50 states?
Delta 8 is technically legal in all 50 states under federal law since it's a hemp item, but each State can make its own laws on hemp and cannabis. If you're in a State where Delta 8 is prohibited, check our articles on your State, we might have some good alternatives for you.
Does the FDA approve Delta 8?
Unfortunately, as of now, Delta 8 is not FDA-approved.
Can I buy Delta-9 in Oregon?
Yes! You sure can. Delta-9 THC sourced from hemp is legal in Oregon.