Can You Freely Enjoy Your Delta 8 THC in the Land of Enchantment? As states across the nation continue to slowly move forward with legalizing Marijuana (varying from state to state), the 2018 Farm Bill legalized hemp and Delta 8 THC throughout the US under federal law. You must not assume that hemp can be easily accessed and accepted in every state. State laws vary. Many people wonder, "Is Delta 8 legal in New Mexico?"
And if so, where can you buy it? Keep reading this article as we walk you through all the ins and outs of this insanely popular hemp extract!
Main Key Points:
Is Delta 8 THC Legal in New Mexico?
What is Delta 8, and how does it compare to Marijuana?
Where can you buy D8 and other cannabis Sativa products in New Mexico?
History Line: the Legality of the plant Cannabis Sativa in New Mexico.

The Burning Question, Is Delta 8 THC Legal In New Mexico?
YES, YES, YES, and YES!!!!
Luckily, Congress's 2018 Farm Bill [1] passed, which made hemp federally legal and amended the Controlled Substances Act (CSA). The Act separates hemp from the definition of Marijuana, which remains illegal in many states across America.
Many states adopted the same laws following the Farm Bill's enactment, acknowledging the exact definition of hemp, and legalized hemp, hemp products, and hemp derivatives.
That's the case in New Mexico, which developed a sizable hemp program through its Environmental Protection legislation, following federal law.
So rest assured, indeed, D8 THC is Legal in New Mexico.
What Is Delta 8 THC?
Delta 8 THC is a naturally occurring hemp derivative of the plant Cannabis Sativa L. D8 THC is similar to Delta 9 THC, the primary psychoactive ingredient in Marijuana. However, D8 THC is less psychoactive than Delta 9 THC.
Both hemp and Marijuana come from the plant Cannabis Sativa. Hemp is a cannabis plant with a THC concentration of less than 0.3 percentage dry weight. Marijuana is defined as a plant cannabis Sativa with a THC concentration greater than 0.3 percentage dry weight.
Percentage dry weight refers to the percentage of THC, by weight, in a cannabis item (plant, extract, or other derivatives), after removing the moisture.
It is essential to note that both hemp and marijuana are legal forms of THC in New Mexico. However, it is still illegal to transport hemp or marijuana across state lines.
Many seek D8 for both therapeutic and personal enjoyment. Before pursuing a prescription drug, you might give nature a chance to show its powerful impact on health. Human consumption (and yes, animals benefit too) has demonstrated that hemp extracts like CBD and D8 aid in wellness: regulating physiological and cognitive processes, pain-sensation, immune system activities, appetite, mood, memory, and even offering that recreational "high" when desired.
Even though New Mexico specifically legalized Marijuana, many consumers prefer the feeling of Delta 8 THC as an alternative to high-THC Marijuana.


Where To Buy Delta 8 THC in New Mexico?
Online is the best way to purchase Delta 8 THC and hemp-derived products. Not only can you shop for a wide array of goods, but e-commerce stores have fewer overhead costs, meaning you can save big on each retail sale. Not to mention, it saves you the cost of gas– which tends to be a lot with inflation these days.
Let BiowellnessX be your online store of choice! This one-stop shop is operating legally and ships nationwide. Beat the heat, skip the long lines, and order online. It is time to have your hemp products delivered to your doorstep: including organic Delta 8, Delta 9, and Delta 10 THC gummies.
Not all D8 and hemp products are created equal.
We have explored the market. We have tried sampling and lab testing our competitors' gummies.
Aside from the TASTE of our competitors not matching our standards, too often, we see huge discrepancies between the labels and what is actually in the product regarding the THC concentration listed. You may be shorted or even given MORE than you asked for upon purchase. Be sure to buy your favorite hemp product from a trusted source like BiowellnessX.
Shop premium Delta 8 THC Products Here >> We ship nationwide!
We offer complete transparency. You can access certificates of analysis and read customer reviews on our website to help you decide which potency or variety is the best fit for your needs.
Want a sound piece of advice? Do not buy D8 from unlicensed businesses, gas stations, or liquor stores. Even though the United States Food and Drug Administration doesn't tightly regulate hemp, many manufacturers and distributors still care. Stores selling hemp products at low prices do not care about the integrity and purity of the products—stores like this care more about the retail sale profits– not the end consumer.
If shopping online is not your groove and you insist on using gas to get your goods, check out the list below.
Retail Locations That Carry Delta 8 THC Products And Recreational Cannabis, Is Located All Over The state. Especially If You are Living In Or Near Any Of The Below Cities:
Albuquerque
Las Cruces
Rio Rancho
Santa Fe
Roswell
Farmington
South Valley
Clovis
Hobbs
Alamogordo
Carlsbad

The Legality Timeline of Cannabis Sativa in NM:
New Mexico is actually one of 19 States that has legalized the recreational use of Marijuana, the most common name when speaking of the plant Cannabis Sativa. It started with medical use only. Let's go through the timeline together:
2007: According to the New Mexico Department of Health [2], New Mexico became the 12th state to allow medical cannabis through the Lynn and Erin Compassionate Use Act in 2007 (Senate Bill 523) [3]. "As of February 3, 2022, 37 states, four territories, and the District of Columbia allow the medical use of cannabis products." — NCSL [4]
New Mexico's updated law as of June 2019 (Senate Bill 406).
The Act's purpose is to allow the beneficial use of the medical plant cannabis Sativa for qualified patients in a regulated system for alleviating symptoms caused by debilitating medical conditions and their appointed treatments.
The New Mexico Department of Health's objective is to provide certified patients with safe access to safe medicine.

On March 31, 2021, New Mexico Legislature passed the Cannabis Regulation Act [5]. The Act legalized marijuana for adult-use customers age 21 and older. Consumers can purchase two ounces of cannabis or its equivalent in other forms. The first legal sale of recreational Marijuana happened on April 1, 2022.
New Mexico State Law and The Hemp Manufacturing Act
According to the Hemp Manufacturing Act [6], hemp-derived products are no longer controlled substances under New Mexico State Law.
You can legally possess and use Delta 8, hemp extract, and even recreational forms of the hemp plant Cannabis Sativa in your state.
The New Mexico State University Board of Regents approved the hemp manufacturing rule the New Mexico Department of Agriculture proposed.
The rule accompanies statutory language that provides the New Mexico Department of Agriculture with certain administrative authorities regarding the licensing and inspection of lab testing raw hemp and hemp extracts for regulatory purposes.
NMDA also has control of the assessment of people breeding hemp that may possess plants greater than 0.3% and up to five percent THC- (tetrahydrocannabinols or chemical derivatives of tetrahydrocannabinols).
Suppose you're interested in growing or processing hemp in New Mexico. In that case, you'll need to obtain a New Mexico State University Extension Service license. Please refer to the Hemp Final Rule [7] for more information.
Please note that this article is for information only and does not constitute legal advice. If you have any questions about New Mexico State laws or the Controlled Substances Act don't hesitate to contact an attorney.

Final Thoughts
New Mexico has been a trailblazer in the cannabis industry, and we hope other states will follow suit. If you want to try Delta 8 THC products, such as our popular organic Delta 8 gummies or our organic Delta 9 THC gummies, you can easily order them today and get them shipped directly to your front door.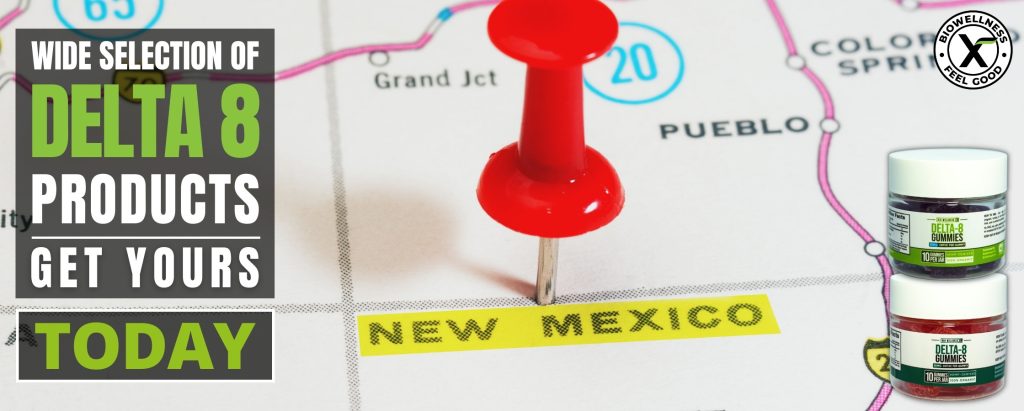 References:
LEGAL DISCLAIMER
By reading this legal information, you agree to release the author of any liability related to or arising from your use of this data. This post contains no legal advice. The legal status surrounding Delta 8 THC, Delta 9 THC, and Delta 10 THC is new and constantly changing. We continuously work hard to do our best to give you the most updated information. We recommend checking your current state's laws or federal hemp laws before purchasing any industrial hemp-derived products (CBD, THC) in New Mexico. The data in this post is not intended to diagnose, treat, cure or give any medical advice. Do your due diligence and seek your doctor's advice, especially if you are in doubt or are currently taking any prescription medications. Safer than sorry is always a great idea when consuming new products.
Frequently Asked Questions (FAQs)
What is the legal age to purchase Delta 8?
Most retailers require you to be 21. There are exceptions for medical marijuana qualified patients.
Does Delta 8 THC Get You High?
Some people describe the high feeling as a clear-headed, euphoric body sensation. Others have said they don't feel anxiety or paranoia, which is typically associated with Delta 9.
Can D8 make you fail a drug test?
Yes, you will most likely test positive if you consume D8 frequently.
Is Delta 8 legal in all 50 US states?
On a federal level, yes, but each state has the right to make its laws regarding cannabis; not all states follow the same laws. Over a dozen states have already banned this hemp product.
Can I Take Delta 8 If I Have A Medical Condition?
Always seek your doctor's advice before taking any products as they might interfere with some prescription medications.
What Is The Best Delta 8 Product To Take?
Some people prefer vaping or tincture, whereas others prefer edibles. D8 comes in many variations and potencies, have fun and explore.