Delta-8 is taking the hemp industry by storm! And if you live in the Constitution State, you may be wondering, is Delta 8 THC legal in Connecticut?
There have been many changes in Connecticut regarding the regulation of cannabis, and hemp-derived Delta 8 THC is legal but, of course, with some strings attached.
Just be careful you don't end up with an illegal product; consider buying online instead.
Main Key Points
Connecticut legalized Delta 8 THC, including limits on related products.
Connecticut recently updated State CBD laws to reflect the federal-level meaning of CBD.
Hemp products with a total THC concentration of 0.3% Delta 9 THC are legal in CT!
Connecticut also passed HB 5389, legalizing marijuana for medicinal use to qualifying patients.
You can buy Delta-8 THC products online in Connecticut.
So, Is Delta 8 Legal In Connecticut?
The short answer is yes; however, it comes with restrictions! Hemp-derived Delta 8 THC is legal as long they have less than 0.3% THC and can only be sold by a licensed cannabis retailer or medical marijuana dispensary throughout the State.
The latest Connecticut laws now match the federal regulation and define hemp as the cannabis plant and any part of that plant, including the seeds thereof and all components, whether growing or not, with a Delta-9 THC concentration of not more than 0.3 percent on a dry weight basis. However, summer of 2021, the State updated its regulations and included Delta 8 THC as part of the total THC dry weight.

Where To Buy Delta 8 In Connecticut?
Many people prefer shopping online from a reputable company like BiowellnessX, where they can get exclusive deals, read reviews, and of course, door delivery!
Checkout our wide selection of dispensary-grade Delta 8 THC products, made from organic legal hemp, and 100% natural
Connecticut residents can buy hemp products, including Delta 8 THC, from licensed dispensaries in these cities:
Bridgeport
New Haven
Stamford
Hartford
Waterbury
Norwalk
Danbury
New Britain
West Hartford
Greenwich
But What is Delta 8 THC To Begin With?
Delta 8 THC is one of the hundred chemical compounds found naturally in the cannabis plant but in tiny amounts. It's similar to the traditional THC but with about half of its psychoactive effects.
Studies show that Delta 8 THC has many potential health benefits. Users report that Delta 8 helps with anxiety, pain relief, relaxation, and sleep; however, you have to find your own way in and see if it works for you as it does for others.
Read more about Delta 8 and its benefits in our full Delta 8 guide.
What Delta 8 THC Products Can I Buy In Connecticut?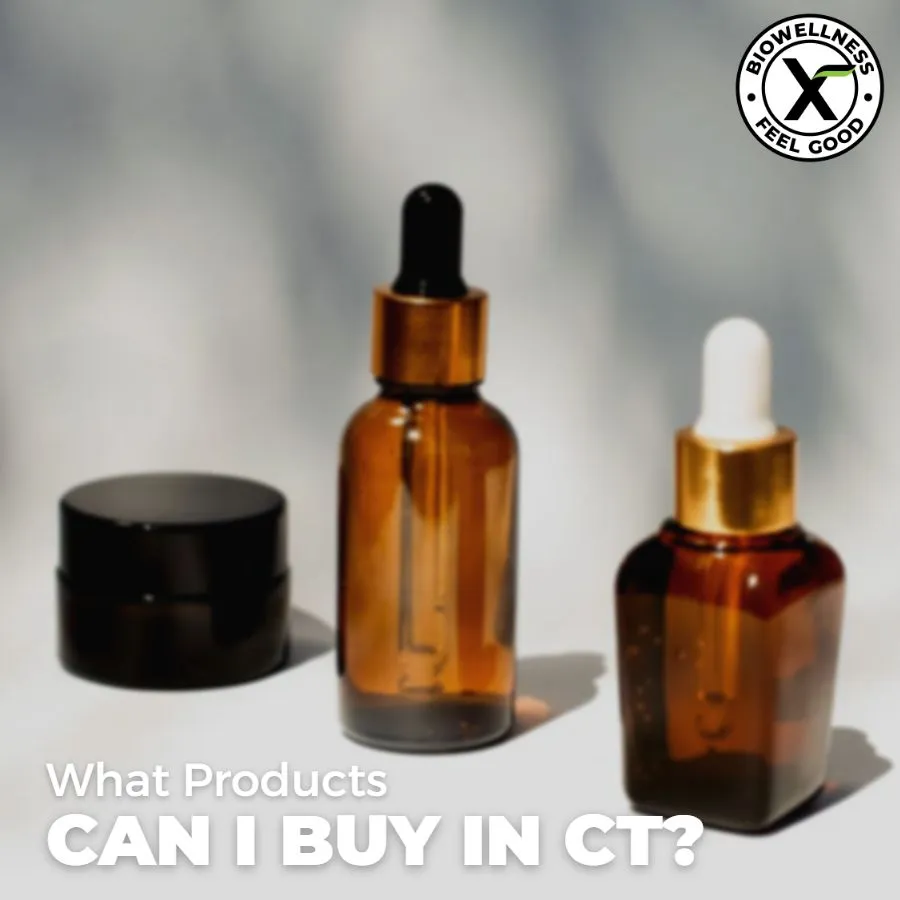 At BiowellnessX, we have something for everyone! All legal and all-natural.
If you're new to Delta 8 THC, consider easing into these 10mg Delta 8 THC gummies, they're also available in 25 mg and 50 mg potencies. With the regulations in CT, you might have better luck finding more potent edibles online vs. local shops.
Prefer a drop of oil instead of edibles? We've got you! Try our Delta 8 oil tincture, available in 500 mg, which complies with the CT hemp laws.
If you prefer something stronger, you might want to consider our 25mg Delta 9 THC gummies.
Do I Need A Medical Card To Buy Delta 8 THC In Connecticut?
You don't need a medical card to buy hemp products with less than 0.30% THC, including Delta 8 THC, Delta 9 THC, or Delta 10 THC
However, you need a medical card for cannabis products with more than 0.3% THC or marijuana-derived products.
Read more about Delta 8 and medical cards in this article.
Connecticut Cannabis Regulations
Governor Lamont signed Senate Bill 1201, safely regulating adult-use cannabis, in the summer of 2021.
You need a medical card to buy hemp products with more than 0.3% THC content, as they're considered marijuana products.
Connecticut identifies "Marijuana" as all parts of any plant or species of the genus cannabis or any infraspecific taxon, whether growing or not, such as seeds, resin extracted therefrom any part of the plant; every compound, mixture, salt, derivative, manufacture or preparation of the such plant, for both its seeds or resin.
However, the Marijuana definition doesn't include the mature stalks, including fiber produced from such stalks, oil or edibles made from seeds of such plant, any compound, manufacture, salt, derivative, mixture, or preparation of such mature stalks, except for the resin extracted from any, fiber, oil, or edible from the original definition as amended from time to time.
What Are Connecticut's Delta 8 Possession Limits
Connecticut's hemp laws do not describe possession limits for Delta 8, but officials can mistakenly confuse it for Delta 9 THC or marijuana products.
Always make sure to buy hemp products with less than 0.3% THC or carry your medical card if you're in possession of THC that exceeds the limit.
Is Delta 8 Legal In All 50 US States?
Yes, Delta 8 is federally legal in all 50 states, thanks to the Farm Bill that removed hemp and hemp-derived compounds from the list of controlled substances! However, each State can enforce laws and restrictions on the use of hemp-derived products aside from federal regulations.
Always check your local and State laws for updated existing cannabis regulations.
Final Thoughts – Is Delta 8 THC Legal In Connecticut
Hemp-derived Delta 8 products are on the rise; luckily, they're legal in Connecticut! Just always make sure to buy quality hemp products that comply with local laws!
If you have any doubts, we are close by to answer the phone or our live chat to help answer any questions.
In the meantime, make sure to check out our best-sellers, which are currently legal and can be sold online in the State of Connecticut: Organic Delta 8 Gummies. For newbies in CT, stick with 10mg to start.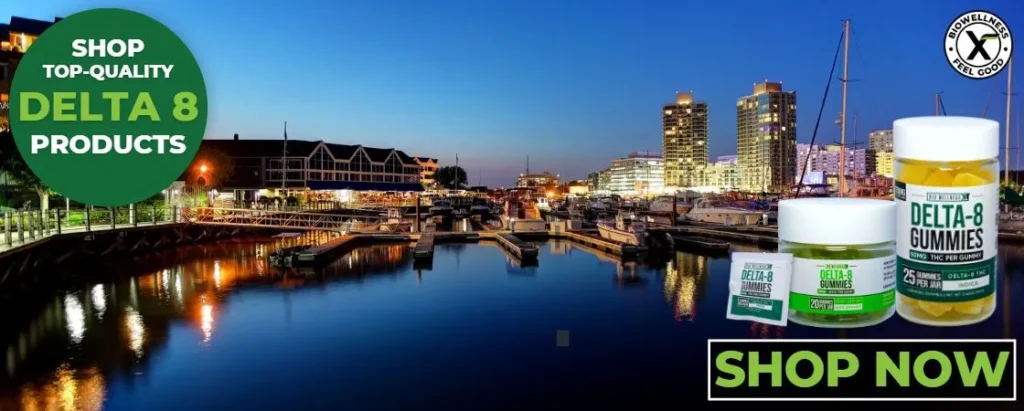 Legal Disclaimer:
By reading this information presented, you agree to release the author of any liability arising from using this data. This post contains no legal advice. Read the full legal disclaimer here.

Resources:

FAQs On Delta 8 THC In Connecticut
Does Delta 8 THC help with any ailments?
Everyone's reaction to Delta 8 is different, but frequent D8 consumers believe it helps with anxiety, stress, pain, and other ailments like arthritis and headaches.
Does each State have the same laws regarding cannabis?
No, each State is different and can set its own laws. Always check your State laws beforehand.
Can I fail a drug test by consuming Delta 8?
Yes, you can. Delta 8 THC is a compound that will appear on a drug test.
Will you feel high from Delta 8?
Many have reported back they do feel a euphoric feeling. It depends on how much you take and how your body acts on it. If this is your first time, we suggest starting with our 10mg Delta 8 gummies and then increasing from there.