The use of dispensary-grade THCa Hemp Flower is quickly becoming a very popular way to enjoy your cannabis. With the convenience of doorstep delivery, it's no wonder why.
This article explores the world of dispensary-grade THCa flower and their delivery to customers' doorsteps. It offers insights into its advantages and guidelines for identifying trustworthy sources.
Additionally, it digs into legal regulations surrounding hemp-derived THCa flower. It also provides recommendations for safe consumption, including dosing and frequency of use.
Testimonials from satisfied customers will be shared with an overview of other available THCa products delivered directly to homes.
We'll explore this growing trend and provide practical advice for those seeking to experience the convenience and quality of dispensary-grade THCa flower delivered right to their doorstep.
Key Takeaways
Accurate dosing and usage guidelines are crucial for the safe consumption of cannabis.
Finding a reputable source and staying updated on legal considerations are important when purchasing cannabis online or having it delivered.
Doorstep delivery offers convenience, safety assurance, and access to high-grade, authentic hemp flower.
Understanding THCa products and hemp-derived options can help individuals choose the right product specifically for their needs and preferences.
What is Dispensary-Grade THCa Hemp Flower?
The recent trend of doorstep delivery for dispensary-grade cannabis flower is gaining momentum. Consumers can now enjoy the convenience, privacy, and free shipping that comes with purchasing cannabis products online.
Dispensary-grade THCa flower is a premium quality product typically high in tetrahydrocannabinolic acid (THCa) and is sourced from licensed farms around the country, ensuring stringent quality control and regulatory compliance.
This top-notch hemp flower gets cultivated meticulously to preserve its premium THCa content and maximize potential benefits. When consumers opt for this premium THCa flower online, they can rest assured that they are getting the same high-quality product they would get from a physical store.
To help readers make an informed decision about high-quality cannabis products, this blog will provide valuable information about dispensary-grade THCa hemp flower. We will emphasize the benefits of doorstep delivery and provide tips on finding a reputable source for purchases. Legal considerations and safe consumption tips will also get discussed to ensure a responsible and satisfying experience for readers.
The Advantages of Doorstep Delivery
The convenience of doorstep delivery for high-quality cannabis products is undeniable. No need to leave your house for premium hemp flower when you can deliver them right to your door! Plus, the packaging is typically discreet, meaning you can purchase your CBD flower with privacy intact.
When you buy THCa flower online, the dispensaries often provide a greater selection of the best hemp flower strains than local dispensaries. Reliable online dispensaries always adhere to local State laws governing the sale and distribution of hemp products, so you can be sure your purchase complies with all regulations.
This innovative approach to cannabis delivery simplifies access while maintaining compliance with regulatory standards. Plus, it's a great way to get your desired products without sacrificing convenience, discretion, or quality. You can purchase top-of-the-line flower from the comfort of your home and get them shipped to you free of charge.
But how do you ensure you get the best quality cannabis products? Here are a few tips for finding the right dispensary.
First, look for one that sells products that are lab-tested and verified.
Second, make sure the dispensary has a good reputation and is compliant with state laws.
Finally, read the reviews from other customers to get an idea of the quality of their products and customer service.
Doorstep delivery of dispensary-grade cannabis flower offers numerous benefits, and with these tips, you can be sure to find a reliable source for your purchases. Now you can enjoy all the convenience, discretion, and variety of dispensary-grade cannabis flower when you buy THCa flower online.
How to Find a Trustworthy Source
Are you seeking a convenient and reliable way to get the highest-quality cannabis products? Doorstep delivery of dispensary-grade THCa flower is a rapidly growing trend, and it can be a great way to get top-notch cannabis products without leaving the comfort of your own home. To help you make the best decision, let's consider the key aspects when evaluating a trustworthy source for your dispensary-grade flower.
Ensuring the hemp strain is federally legal in your jurisdiction is essential. Then, it's a good idea to check out the available flower strains and assess their potential therapeutic benefits. Additionally, you should look into the company's delivery options and make sure they offer doorstep delivery. It's also essential to read customer reviews to verify product quality. Finally, make sure there is a level of transparency about product source and cultivation methods.
By analyzing these elements, you can confidently choose a reputable source for your cannabis needs. With the right research and due diligence, you can find a trustworthy supplier and get high-quality cannabis products delivered right to your door.
The Best Flower Delivery with Free Shipping
Navigating the numerous options for procuring top-tier cannabis products can be tedious. But there is a solution: doorstep delivery of dispensary-grade flower with free shipping. This approach offers convenience, discretion, and quality assurance so readers can make informed purchase decisions.
To ensure a responsible and satisfactory experience, here are four tips to consider when selecting a provider:
Look for retailers offering a wide variety of cannabis flower strains to find something that fits your taste and needs.
Prioritize companies specializing in dispensary-grade hemp flower to guarantee premium quality.
Research brands like BioWellnessX that are transparent about their cultivation practices and provide detailed specifications about their CBD flower products.
Finally, opt for a seller that provides free shipping and customer support throughout your purchase process. This way, your flower delivery experience will be seamless and enjoyable.
The Legal Regulations of Hemp-Derived THCa Flower
Are you looking to get your hands on the best cannabis products available without leaving the comfort of your home? Then you've come to the right place! Understanding the legal regulations surrounding hemp-derived THCa hemp flower is crucial, given its increasing popularity in the wellness industry. The legal landscape for this product varies widely depending on geographic location and federal law.
The following table provides a snapshot of some key considerations:
| Regulatory Aspect | Status | Implication |
| --- | --- | --- |
| Federal Law | Fairly lenient towards hemp-derived products. | Guarantees safe, high-quality dispensary-grade flowers delivered to your door. |
| State Laws | Inconsistent across states. | Determines where THCa products can be legally purchased and used. |
| THC Content Limitation | Mandated at 0.3% by Federal law. | Ensures no psychoactive effects from using hemp-derived THCa flower. |
| Testing Requirements | Rigorous testing required by law. | Rigorous testing is required by law. |
| Mailing Regulations | Strict guidelines imposed by USPS. | Requires careful packaging and labeling of all THCa products for delivery. |
Getting your hands on high-quality legal THCa hemp flower has never been easier! The convenience of doorstep delivery with free shipping is a huge plus, and the fact that it's all legally regulated according to federal and state laws means you can be sure of its quality and safety. Plus, the 0.3% Delta-9 THC content limitation ensures you won't get any legal complications as its legal in most states.
Safe Consumption: Dosing and Frequency of Use
As cannabis use becomes increasingly popular, many people turn to the convenience of doorstep delivery for dispensary-grade flower. From discretion to free shipping, there are myriad benefits to ordering cannabis products directly to your door. But it's also essential to understand the qualities that make dispensary-grade hemp flower unique, where to purchase them, and how to consume them safely.
First and foremost, accurate dosing is key when it comes to safe consumption. It's vital to know the potency of the specific strain you are purchasing and to understand the suggested usage guidelines for optimal safety. Everyone's body reacts differently to cannabinoids, so no universal dosage works for everyone. It's best to start with a smaller dose and gradually increase until you achieve your desired effects.
Additionally, the frequency of use should tailor to your individual needs and tolerance levels.
When purchasing online or having THCa flower delivered directly to your home, you should be sure to find a reputable source. This will help ensure you're getting high-quality, effective cannabis products. And remember to stay up-to-date on your area's legal considerations and guidelines.
By carefully following these steps, you can enjoy the convenience of doorstep delivery with the assurance of safety and satisfaction. With some research and knowledge, you can find the right dispensary-grade hemp flower strain for all your cannabis needs.
Testimonials and Customer Experiences
More and more people are turning to cannabis delivery services for their hemp flower needs. With the convenience of home delivery, no physical store visits are required. Consumers are raving about the quality and convenience of these services, with many praising the high-grade, authentic hemp flower they receive. Testimonials and customer experiences provide valuable insights into the quality of service and products offered by online cannabis retailers.
"It honestly feels and tastes exactly the same as regular flower. For all intents and purposes, it's federally legal weed delivered to your door."
"Gave me a nice full mind and body high that wasn't as overwhelming as traditional stuff. It was a clean headed, super refreshing high."
My new go-to is ordering some DAAANK flower and sprinkling it with some crushed THCa diamonds. It's an experience that's really hard to beat."
These firsthand accounts reveal how convenient these delivery services are and how they deliver top-notch dispensary grade flower straight to your doorstep. Consumers frequently highlight the convenience of home delivery and the product's premium quality. These reviews give credence to the claims made by these retailers about their products' authenticity and efficacy, making them a crucial tool for potential consumers seeking reliable sources for safe and legal cannabis purchases online.
Other THCa Products Available for Delivery
Cannabis delivery is becoming increasingly popular with savvy consumers who understand the convenience, discretion, and cost savings that come with it. Beyond the ease of THCa flower delivery, many other THCa products are also available for home shipment, as well. This gives consumers a broad spectrum of choices on today's hemp market. These goods range from high THCa flower to various extracts derived from the cannabis plant and hemp plant.
THCa diamonds are sought after by many experienced users because of their potency. Cannabis extracts possess higher levels of THCa than traditional flower, while hemp-derived products usually contain lower levels of THC yet still offer many health benefits. Ultimately, those wanting to get dispensary-grade flower sent to their door now have an extensive selection of other THCa products to choose from.
Do you want to try free THCa flower samples? Some suppliers, like BioWellnessX, will offer a free sample for new users. Try it before you buy it through the link above!
When picking a product, it is essential to understand the legal considerations and use it responsibly. Doing so ensures an enjoyable and safe experience for consumers. With the correct information and guidance, customers can make informed decisions about accessing high-quality cannabis products delivered directly to their homes.
Final Thoughts: Get THCa Flower Delivered to Your Doorstep
The cannabis industry is growing rapidly, and with it, the availability of dispensary-grade THCa hemp flower delivery. Whether you're a first-time user or a seasoned enthusiast, you can now enjoy the benefits of this powerful hemp flower from the comfort of your own home.
At the top of the list of benefits is the convenience of doorstep delivery. With a few clicks of the mouse, you can have dispensary-grade flowers at your door without leaving the house. Plus, the discretion that comes with doorstep delivery is a major plus. No more worrying about nosy neighbors or prying eyes as you go to the dispensary.
But it's important to remember that legal regulations and safe consumption guidelines should get followed. With a range of other THCa products also available for delivery, it has never been easier to enjoy the benefits of this unique botanical offering in the comfort of one's own home.
Ready to try our high THCa flower? Go here.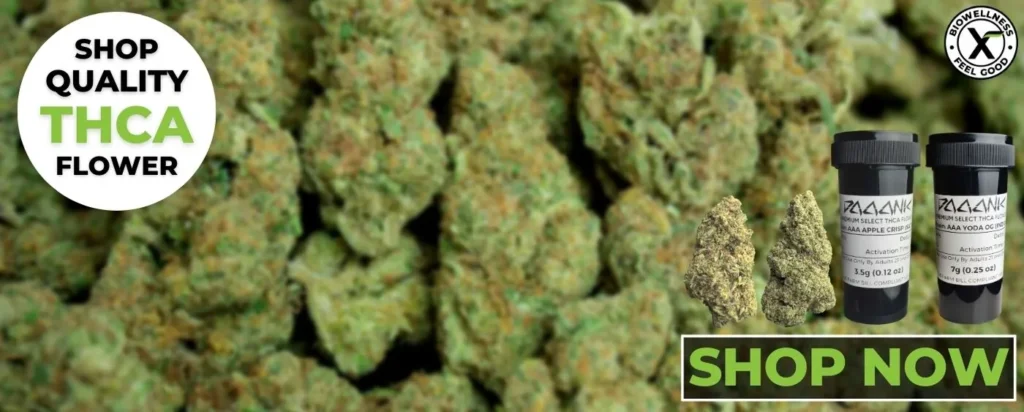 Legal Disclaimer:
By reading this information presented, you agree to release the author of any liability that comes from using this data. This post contains no legal advice. Claims about cannabinoids have not yet been approved by the FDA. Read the full legal disclaimer here.
More Articles About THCa Flower:
References:
FAQs About Dispensary-grade THCa Flower
What is THCa Flower?
THCa flower is actually one of the most abundant cannabinoids found in raw cannabis plants. In its natural, unaltered state, THCa flower remains non-psychoactive, but when it gets heated, it turns very psychoactive.
Why use hemp flower?
More and more people are smoking hemp flower because it has a high concentration of cannabidiol (CBD) and a low amount of THC (less than 0.3%). Additionally, it's federally legal status makes securing THCa flower much easier than the controlled-substance marijuana.
How is dispensary-grade THCa hemp flower different from other types of cannabis?
Dispensary-grade THCA hemp flower differs from other cannabis types primarily in its THC content. It also contains high levels of THCA, a non-psychoactive precursor to THC, often preferred for potential therapeutic benefits without inducing psychoactivity.
Are there any special storage instructions for dispensary-grade THCa hemp flower?
Dispensary-grade THCA hemp flower should get stored in a cool, dark location away from sunlight. Excessive heat or light may degrade the product's potency. Avoid storing it in areas with high humidity to prevent mold growth.