Many turn to Aloha State for some R&R, which makes most of us think, is Marijuana legal in Hawaii? And what are the Hawaii medical marijuanas laws?
The State has a lot of regulations which can be frustrating for some but don't fret; we've got the loopholes you need to know.
Main Key points:
Medical Marijuana is legal in Hawaii.
Hawaii law didn't legalize recreational Marijuana.
Hawaii supports legalizing the possession of recreational cannabis of three grams or less, but you'll pay a fine capped at $130.
You can purchase medical cannabis in Hawaii if you're 18+ years old and possess a valid medical card and a qualifying condition by Hawaii law.
Some hemp products are legal in Hawaii, containing less than 0.3% of Delta-9 THC total dry weight without medical cards.
In Hawaii, hemp-sourced tinctures, soft gels, tablets, and capsules containing less than 0.3% Delta-9 THC are legal for medical and recreational use.
Is Weed Legal In Hawaii?
A simple question with a complicated answer! The short answer is medical Marijuana is legal, but recreational Marijuana is not! Medical Marijuana is legal for patients with a qualifying condition who've been issued a medical marijuana card.
Cannabis for adult use/recreational purposes remains illegal in Hawaii. However, Hawaii has decriminalized possession of 3 grams of cannabis, making it punishable by a fine of $130.
Medical Marijuana in Hawaii:
In 2000, Hawaii was one of the first states to legalize medical Marijuana via legislation when SB 862 became Act 228, which further resulted in the modification of Chapter 329 (uniform controlled substances act) of Hawaii's Revised Statutes.
So what the heck does that mean? This chapter determined the limits to cultivation and listed qualifying conditions.
Even though the legalization of medical cannabis was done back in 2000, the State didn't license any dispensaries until 2018.  
Fun Fact: Hawaii older citizens 65+ are eligible for Medical Marijuana cards without qualifying medical conditions.
How to Apply for a Marijuana Medical Card in Hawaii:
The first thing you need to do is get an appointment with your physical/medical provider. (The Department mandates your current physician provide your a certification indicating your diagnosis with a qualifying condition. Another thing to note is that the physician must agree that the potential benefits of the palliative use of Marijuana would likely outweigh the health risks.
Upon receiving the physician certification, you can submit an online application. The online application for one-year registration requires proof of identity (such as a driver's license or passport) and residency and costs $38.20. 
Once your application has been reviewed, the department will email you the outcome. If approved, you can either print your card or save it on your phone, thanks to 329 cards becoming electronic as of 2019. 
Qualifying Patient Conditions in Hawaii
Post-traumatic stress disorder (PTSD)
Rheumatoid arthritis
Amyotrophic lateral sclerosis 
Lupus
Cancer
Glaucoma
 Epilepsy 
Multiple sclerosis 
Positive status for human immunodeficiency virus
Acquired immune deficiency syndrome (AIDS)
Severe pain
Cachexia (wasting syndrome)
Severe nausea
Seizures, including those of epilepsy
Severe and persistent muscle spasms of multiple sclerosis or Crohn's disease include those of multiple sclerosis.
Recreational Cannabis in Hawaii
Unfortunately, the sit-back and enjoy the sandy beaches state didn't legalize recreational Marijuana. Possessing Marijuana without a medical card could get you some hard times and harsher penalties.
In 2019, however, Hawaii decriminalized possession of small amounts of Marijuana when it passed HB 1383. instead of criminal charges, those in possession of no more than three grams of Marijuana will be fined a value of $130. Possessing more than 3 grams and up to an ounce carries a penalty of 30 days imprisonment and a $1,000 fine. 
Industrial Hemp In Hawaii
Governor David Ige signed Act 228 in July 2016, creating a pilot program allowing the Hawaii Department of Agriculture to oversee the cultivation of industrial Hemp for agricultural or academic research.
In February 2017, the Hawaii House of Representatives Agricultural Committee passed legislation to remove criminal or civil sanctions for the "planting, growing, harvesting, possessing, processing, selling, or buying of industrial Hemp.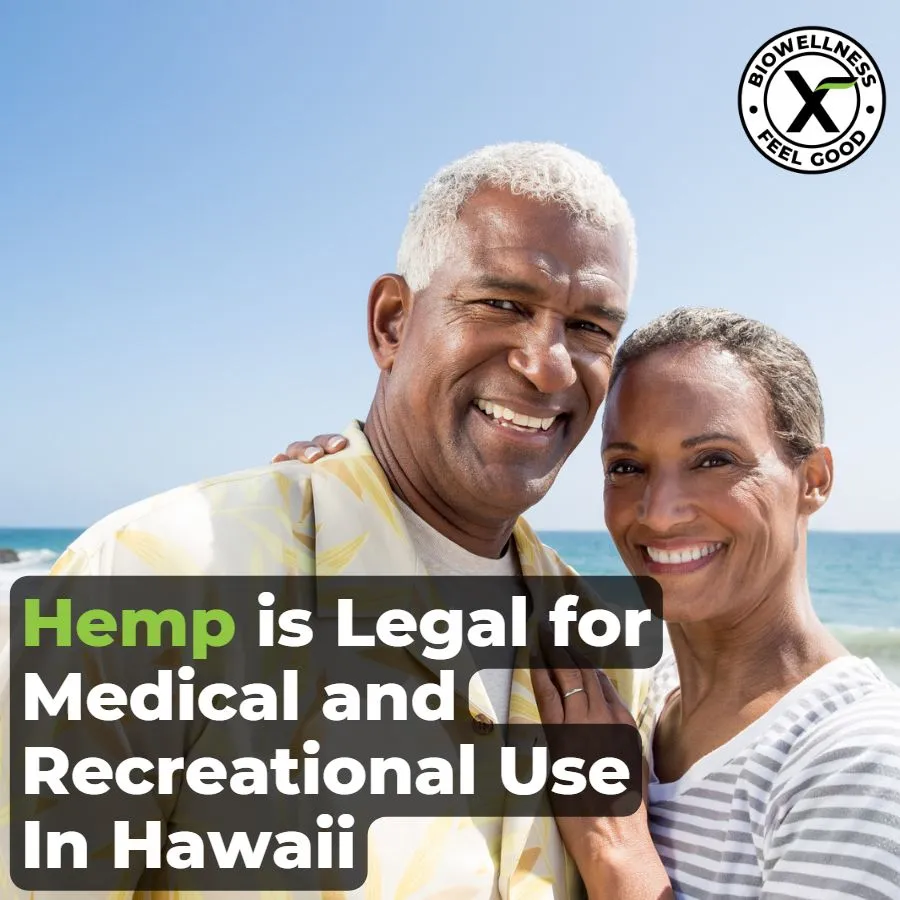 Hemp is Legal for Use In Hawaii
With Hawaii being a medical state and all the restrictions around Marijuana, Cannabis still has another saving grace: Hemp! Hemp is legal for both recreational and medical use.
Since Hemp and all its derivatives were removed from the controlled substances list and were legalized federally in 2018 thanks to the Farm Bill, the Aloha State decided to adopt the same federal hemp laws.
"Industrial hemp" means the plant Cannabis sativa L. and any part of that plant, including the seeds thereof and all derivatives, extracts, cannabinoids, isomers, acids, salts, and salts of isomers, whether growing or not, with a delta-9 tetrahydrocannabinol concentration of not more than 0.3 percent on a dry weight basis. Hawaii HB2689
According to a new state law passed last year, you can't get edible, drinkable, or smokable hemp products without a medical card. However, you can most certainly get some soft gel, oil tinctures, pills, and topicals.
Check out our top pick products that you can get delivered to your doorstep legally in Hawaii. Our products are organic, natural, hemp-sourced, vegan, and contain less than 0.3% Delta-9 THC of total dry weight.
Curious to know if the use of hemp-derived Delta 8 THC is legal in Hawaii too. Read more here.
If you have heard of Delta 10 THC, the laws are very similar to Delta 8; read more.
Hemp Products for Anxiety in Hawaii
If you're battling anxiety, look no further than our CBG PCR oil! PCR stands for Phytocannabinoid-rich; it's "la crème de la crème of full-spectrum oils!" In addition to terpenes, cannabinoids, and flavonoids, it also contains vitamins, minerals, fatty acids, phytonutrients, and other materials naturally present in hemp plants. 
BiowellnessX uses a full spectrum distillate oil, also referred to as PCR. We added 2000mg full spectrum PCR oil and topped it off with another 1000mg CBG extract, making our CBG oil one of the most potent and natural oils today. 100% made with organic hemp and MCT oil. Nothing but nature squeezed into a 30 ml bottle.
Try our organically made CBG Oil with a total of 3000mg of Cannabinoids. Made to give you an experience of a lifetime.
Hemp Products for Sleep in Hawaii
If you need something for those sleepless nights, try one of the most raved-about sleep remedies: CBN PCR oil! When you think oil, think PCR! PCR oil focuses on the benefits of the whole hemp extract and the entire chemical profile of the plant. To get the most out of your CBN oil, try our BiowellnessX CBN oil.
Hemp Products for Pain in Hawaii
Pain is no stranger to most of us of all ages and walks of life, from back pain to sore joints to more extreme forms of chronic pain! If there's one thing our customers swear by for the pain, it's our Delta-8 PCR oil, full of dispensary-grade Delta-8 THC and powered by the purity of the PCR oil.

Where to Buy Hemp Products in Hawaii?
Finding quality hemp products that comply with state law at a reasonable price is no easy feat. Nevertheless, it's possible, thanks to the modern blessing of online shopping and nationwide delivery! Visit BiowellnessX.com and shop for some of the best hemp products on the market!
Why It's Better to Shop for Hemp Online?
Online Shopping allows you to research the brand and get to know it.
You can read online reviews from other customers.
You can see the Certificate Of Analysis beforehand and make sure you're getting a legal, quality product.
Best of all! You get delivered to your door, no muss, no fuss!
Does Hawaii accept out-of-state medical cards?
Aloha visitors, Rejoice! Hawaii allows those from other states with medical marijuana cards or caregiver privileges to apply for the Hawaii Medical Marijuana Program if the state recognizes the patient's medical condition.
Out-of-state medical cannabis patients can apply up to 60 days before their requested start date. All they need to register and provide a valid government-issued medical marijuana card, state ID, or even driver's license from their home state to get their hands on the Hawaii 329 Registration card. It does come at a price of non-refundable application fee of $49.50. Once approved, applicants will have Electronic access to the Hawaii 329 Registration card. Also, Patients who frequently visit Hawaii (more than twice a year) can be signed into law and apply for an in-state card. 
Hawaii Penalties for Recreational Marijuana Possession
Possession For Personal Use
Possessing three grams or less of Marijuana is considered a violation punishable by a $130 fine.
Possession of more than those three grams but less than one ounce is considered a petty misdemeanor which is punishable by up to 30 days imprisonment and/or a $1000 fine.
Possession of 1 ounce or more and less than 1 pound is considered a misdemeanor that could get you a $2,000 fine and up to a year of prison time.
Possession of one pound or more of Marijuana is categorized as a Class C felony which can get you up to 5 years of imprisonment and/or a fine of up to $10,000.
Possession With Intent To Distribute
Possession of amounts between one pound and less than 2 pounds is a class C felony that could land you up to 5 years in prison and/or a fine of $10,000.
In case of possession of 2 pounds or more but less than 25 pounds is categorized as a class B felony punishable by up to 10 years in prison and/or a fine of $25,000.
In case of possession of 25 pounds or more is classified as a class A felony which is punishable by 20 years imprisonment and/or a $50,000 fine.
In case of possession with intent to distribute any marijuana amount within 750 feet of a park or school grounds or within 10 feet of a parked school vehicle is classified as a class C felony punishable by up to 5 years in prison and/or a $10,000 fine.
Sale and Delivery
In case of distribution of less than 1 ounce of Marijuana is a misdemeanor.

Accordingly punishable by up to 1-year prison time and/or a $2,000 fine.
The distribution of one ounce or more but less than one pound is considered a class C felony. Accordingly, punishable by up to 5 years in prison and/or a fine of $10,000.
Distribution of one pound or more but less than five pounds is classified as a class B felony. Accordingly punishable by ten years of prison time and a fine of $25,000.

 

Distribution of 5 pounds or more of Marijuana is classified as a class A felony. Accordingly punishable by 20 years in prison and a fine of $50,000.
Cultivation
Cultivating 25 or more but less than 50 marijuana plants are

classified as a class C felony

. Accordingl

y, that can get you up to 5 years in prison and/or a fine of $10,000.

Cultivating

50 or more but less than 100 marijuana plants are classified as a class B felony.

AccordingAccordinglyl,y that will get you a ten years prison sentence and/or a fine of $25,000.
Cultivation of 100 or more marijuana plants is classified as a class A felony punishable by 20 years in prison and/or a $50,000 fine.
Cultivation of less than 25 marijuana plants on another's property without their permission is a class B felony punishable by ten years in prison and/or a $25,000 fine.
Cultivating 25 or more plants on another's property without their permission is classified as a class A felony punishable by 20 years in prison and/or a $50,000 fine.
Marijuana concentrate
All Marijuana, including Marijuana Concentrates, is classified as Schedule I under Hawaii law. Marijuana Concentrates are classified as a "harmful drug." Under Hawaiian law, hashish, tetrahydrocannabinol (THC), and any other salt, alkaloid, mixture, compound, or derivative of Marijuana qualify as a Marijuana Concentrate.

Promoting a Harmful Drug 1st Degree

Class A Felony, up to 20 years imprisonment and a fine not exceeding $50,000
Possession of one ounce or more of Marijuana Concentrates or
Distribution of 1/8 ounce or more of Marijuana Concentrates or
Distribution of Marijuana Concentrates to a minor in any amount.
Cultivation of Marijuana in Hawaii
Under the Medical Cannabis Registry Program, patients with a qualifying condition could grow cannabis at home.
In 2015, Hawaii realized the grow-your-own policy made it challenging for some patients to access medical cannabis. So, Act 241 created the Medical Marijuana Dispensary Program.
Only medical marijuana patients and/or their registered caregivers can grow Marijuana in the State of Hawaii. You need to register with the Department of Health and have a 329 Card.
Is it Legal to sell weed in Hawaii?
Selling Marijuana in Hawaii is legal but only through state-licensed dispensaries. All other cannabis sales, deliveries, and distributions are considered crimes.
Hawaii public consumption laws
The beautiful state of Hawaii applies smoke-free laws, which also apply to medical cannabis. Also, all out-of-state and in-state registered patients and caregivers are prohibited from acquiring, cultivating, possessing, using, distributing, or transporting cannabis or paraphernalia in all public places. These places include:
School grounds
Parks
Shopping centers
Beaches
Nightclubs
Bars
According to Act 241, you can't transport cannabis inter-island. And you can only transport cannabis elsewhere other than inter-island in a sealed container, not visible to the public, and you can not remove it from the sealed container or use it in any way while in public.
Final Thoughts – Hawaii Medical Marijuanas Laws
Hawaii is Medical Marijuana friendly, it was the first state to legalize Marijuana legislatively. Unfortunately, it has some pretty strong restrictions! While anxiety and sleep problems are amongst the most common reasons for Marijuana prescriptions around the world, Hawaii still doesn't consider them qualifying conditions!
If you need some cannabis goodness to ease your anxiety, knock you to sleep, or just looking to have some good times while in the Aloha state, get you some hemp products that are both legal and dispensary-grade! Triple points for online delivery!
If you're ready to get your hemp hat on, visit our website, www.BiowellnessX.com and enjoy our free delivery on orders of $50+ and some amazing online exclusive discounts!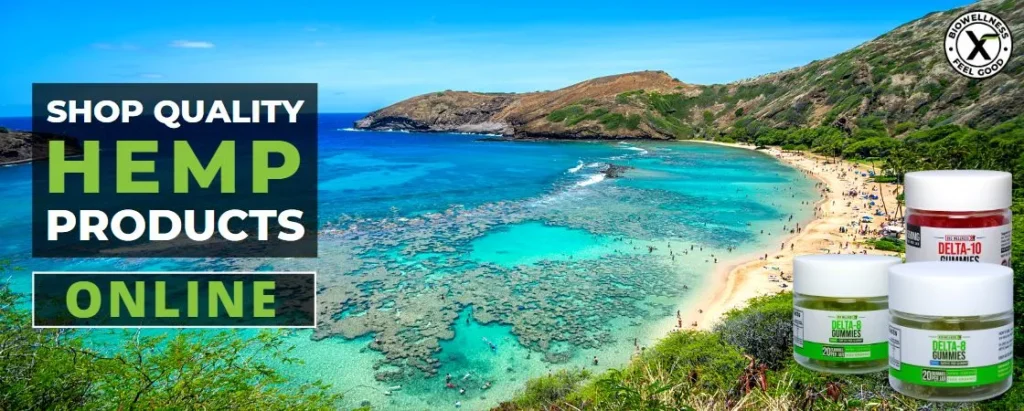 Curious to see what other states have banned recreational marijuana? Read our comprehensive guide!
Not sure where to start? Get Free Delta-8 Samples and test before you commit!
Legal Disclaimer:
By reading this legal information, you agree to release the author of any liability related to or arising from your use of this data. This post contains no legal advice. The legal status surrounding Delta 8, Delta 9, and Delta 10 THC is constantly changing. We continuously work on giving you the most updated information. We recommend checking your current state's laws or federal cannabis laws before purchasing any hemp-derived cannabinoids (CBD, THC) in Hawaii. The data in this post is not intended to diagnose, treat, cure or give any medical advice. Do your due diligence and always get your doctor's advice.

FAQs About Medical Marijuana in Hawaii
Is Medical Marijuana legal in Hawaii?
Yes! It's legal for patients with qualifying conditions with medical cards and registered caregivers to acquire medical Marijuana in Hawaii.
Can you get a medical card for anxiety in Hawaii?
Unfortunately, the marijuana law in the state of Hawaii doesn't recognize sleep problems such as Insomnia and anxiety patients as qualifying patients for Marijuana prescriptions or medical cards.
What can I use for anxiety instead of weed?
You can opt for Hemp-sourced products that are legal in Hawaii, such as Delta-8 oil.
Is medical cannabis covered by insurance?
The law doesn't require health insurers to offer coverage for medical cannabis.
Is Marijuana legal for recreational use in Hawaii? 
The short answer is no! The Aloha state doesn't permit adult use or recreational Marijuana; however, you can get some legal hemp products for health and recreational purposes, such as our Delta-8 oil with less than 0.3% Delta-9 THC.