If you're planning on visiting the Aloha State or living there, you may be surprised to learn that Delta 8 is legal in Hawaii. However, taking note of a few things before deciding to consume or purchase Delta 8 THC products is essential.
This post will help uncover some of the questions you may have.
Is Delta 8 Legal In Hawaii? Hawaii Delta 8 Laws.
You're lucky if you want to purchase Delta 8 hemp products and live in Hawaii. So is Delta 8 THC legal in Hawaii? Yup, it sure is. You are legally allowed to enjoy this new THC compound.
Hawaii Delta 8 State Laws And The Cannabis Plant
With the passage of HB 2689, Hawaii fully legalized hemp. This act removed hemp products from the State's Controlled Substances Act, making Delta 8 THC legal in Hawaii. However, it does come with some restrictions.
Snippet below from the Hawaiian hemp bill: "Hemp" means plant Cannabis sativa L. and any part of that plant, whether growing or not, including the seeds thereof and all hemp derivatives, extracts, cannabinoids, isomers, acids, salts, and salts of isomers, with a delta-9-tetrahydrocannabinol concentration of not more than 0.3 percent on a dry weight basis, as measured post-decarboxylation or by other similarly reliable methods.
Where does that leave you as a consumer? As long your Delta 8 THC product comes from the hemp plant, also known as the plant Cannabis Sativa, and has less than 0.30% Delta 9 THC, the State law leaves you with open hands to purchase D8.
Is Delta 8 Viewed As A Controlled Substance?
The use of any Delta 8 products, such as Delta 8 THC gummies, Delta 8 THC oil, or similar, is not considered a controlled substance in Hawaii.
The State determined that it does not meet the criteria for inclusion as a Schedule I or II drugs.
What Is Delta 8 THC?
Delta 8 THC is a compound found in Cannabis, aka hemp plants. It only occurs in a tiny amount of the plant, which is quite the opposite to some of the more known hemp-derived cannabinoids such as CBD (Cannabidiol), CBN (Cannabinol), CBG (Cannabigerol), and Delta 9 THC (Tetrahydrocannabinol) you can find in more significant amounts.
D8 has a very similar molecular structure to Delta 9 THC, which gives it its psychoactive effects when ingested.
However, it is about half the potency and has less psychoactive than Delta 9 THC, making it an appealing natural relief for consumers who do not want the high associated with other cannabinoids.
One thing to remember is that you are dealing with a high-potency compound that can still get you high despite being a less potent compound and can show positive on drug tests.
Learn more about Delta 8 THC and what it can offer here.
Where To Buy Delta 8 Products In Hawaii Near Me?
You might be able to find Delta 8 THC products in convenience stores like mini markets, liquor stores, and gas stations along the main routes, but you are most likely to see it in head- and smoke shops.
One thing to have in mind, these locations are not required to test their products for THC levels or cannabinoid content of any kind, so make sure to keep an eye out for what you get or put in your body.
Suppose you're looking to purchase a quality Delta 8 product in the Aloha State, tested by a professional lab for its cannabinoid content and safety. In that case, we recommend you buy from a reliable dispensary.
Most people prefer to buy their federally legal hemp products from online shops because of the ease of it, fast shipping, and on-hand information when needed.
Check out any of our THC products for sale, or you can always call one of our customer service reps if you have any questions. We would love to guide you in the right direction.

Shop Delta 8 THC locally In Hawaii
If you live near or traveling to any of the below cities and islands, you'll be able to find various stores that sell Delta 8 THC products:
Tips when shopping Delta 8 THC retail or online
If you decide to go out and ship your THC, at least follow some of our simple advice below.
Always ask for a lab report of the product you are about to buy. You want to make sure what the label says is also what is in the product.
Look at the ingredients used. How clean are they? If you like the brand, don't you want to ensure they only use natural ingredients vs. corn syrup and various artificial colors and flavors?
Avoid gelatin gummies if you can. They melt too quickly. Go with fruit pectin if possible.
Don't let yourself get fooled by low prices. Product quality is often determined by its price. Why settle for subpar when you can get high quality?
Are There Currently Any Possession Limits On Delta 8 THC In Hawaii?
Beautiful Hawaii has no possession limits on legal hemp plant products, including Delta 8 THC or other hemp-derived compounds like Delta 10 THC.
That means you can, as we mentioned above, buy Delta 8 products legally in Hawaii without worrying about getting in trouble with the laws.
Does Delta 8 THC Get You High?
Because Delta 8 is a hemp derivative of THC, you can expect to feel high.
Delta 8 is a less potent compound, which means you can take more without feeling an overwhelmed head-high feeling.
It can still have different effects on people as many variables play in. Read our in-depth article about how Delta 8 makes you feel.
Is Delta 8 Legal In All 50 States?
All states have the right to decide their specific stances on using Tetrahydrocannabinol from Cannabis. Under federal law, Delta 8 THC is allowed under the 2018 Farm Bill.
That also means Delta 8 is legal in Hawaii under State law because of Hawaii house bill 2689. However, we suggest you read more about Delta 8 and its law by your State to determine its legality in your and other areas.
Are you looking for a different State? Search other states and see if Delta 8 is legal there.
Final Thoughts – Is Delta 8 THC Legal In Hawaii
One thing is for sure; we are super excited about Delta 8 compound as it offers a wide range of health benefits and is a generally safer choice over regular recreational Cannabis; plus, you are legally allowed to purchase it.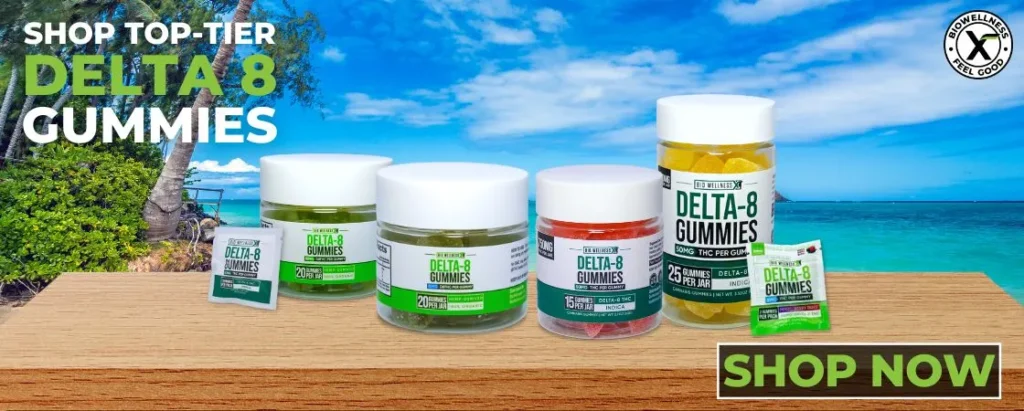 References:
Legal Disclaimer:
By reading this information presented, you agree to release the author of any liability arising from using this data. This post contains no legal advice. Read the full legal disclaimer here.
Frequently Asked Questions
Is Delta 8 THC legal in Hawaii, or should I worry?
THC is only legal if extracted from industrial hemp plants (Cannabis) and has Delta 9 THC below 0.30% of total dry weight.
Can I see your lab results online?
Yes, our company displays our results on our site. Go under the product page, look for Delta 8 products, and you can find a link directly to the recent lab report of that product.
What Is the legal age to buy Delta 8?
It varies from State to State, but in most, you must be 21 to purchase any legal hemp-derived products. Retailers have the right to determine age limits for purchases made on Delta 8 products. Many stores require customers to be older than 21. Currently, there is no regulation in the State which limits the age of persons.
Is Delta 8 safe to use?
Delta 8 is safe to use. Please always do your part and ensure your products are from a reliable company.