The Tetrahydrocannabinolic acid (THCa) flower sector is experiencing a surge in popularity in North Dakota due to its potential therapeutic benefits. This potent precursor of THC is found in raw and live cannabis. Today, it's becoming a popular choice for people looking to gain the health benefits of cannabinoids without worrying about legal ramifications.
When purchasing THCa hemp flower wholesale in North Dakota, it's important to know what to look for and how much bulk hemp flower should Cost. Additionally, it's essential to understand the laws, select quality products, and be aware of the specific storage requirements of the local climate. Transport regulations across state lines must also be considered to avoid legal issues.
This blog examines these topics, provides information about wholesale THCa flower products available in the state, and explains the benefits of buying bulk THCa online. Let's check it out!
Key Takeaways
Bulk THCa flower is an excellent opportunity for retailers in North Dakota to differentiate themselves in a blossoming market.
With the right strategies and due diligence, business owners can correctly source and store it in bulk.
North Dakota's demand for THCa flower retail is one-of-a-kind, offering those who take advantage of it an excellent chance for success. With the correct techniques, you can establish a profitable business.
The laws around bulk THCa flower necessitate caution, but with the proper methods, North Dakota's market for it will surely be a valuable asset to the economy.
Legalities of THCa Hemp Flower in North Dakota
In North Dakota, the legality of high THCa flower gets determined by the state's agricultural commissioner's stringent guidelines, which must not surpass the THC limitations set in the 2018 Federal Farm Bill.
This means any hemp-derived product, like THCa hemp flower, must remain under 0.3% Delta-9 THC by weight. Thankfully, THCa is the raw form of THC and most THCa flower contains less than 0.3% THC. It is essential that potential retailers and resellers comply with all local, state, and federal laws. Protect yourself and your business by doing your due diligence.
That being said, thanks to the 2018 Farm Bill, THCa hemp flower is considered federally legal. Just make sure you remain in full compliance of North Dakota hemp laws.
To fully meet these regulations, potential sellers and growers must have a hemp license proving they comply with state and federal laws.
Where to Buy the Best Wholesale THCa Flower in North Dakota
For those looking to purchase top-tier wholesale THCa flower online in North Dakota, BioWellnessX is one of the best online companies around. Famous for its selection of premium hemp products, this supplier offers a reliable wholesale program with competitively priced THCa hemp flower. All products are rigorously verified by third-party labs, ensuring the highest quality and adherence to industry standards. Their commitment to customer satisfaction and budget-friendly prices make them an ideal choice.
Product Specs:
Premium cannabis strains
Thoroughly tested
Comprehensive selection
Organic farming practices
Indoor, US-based farms
Benefits:
Affordable Rates
Assured Quality
Verified 5-star Customer Reviews
Unrivaled Brand Reputation
Outstanding Customer Service
Drawbacks:
Shipping restrictions may apply depending on local laws.
What to Look for When Buying Bulk THCa Hemp Flower
When it comes to buying bulk THCa flower, there are certain things you need to know to ensure you get the best quality THCa flower product and value.
A high-quality THCa flower should be free of contaminants such as pesticides, mold, and heavy metals.
Plus, you'll want to look for a rich profile of terpenes and cannabinoids to ensure potency.
It's beneficial to research the cultivation practices of the hemp flower too. Organic practices can not only promote environmental sustainability, but they can also raise product standards. Further, do some additional research on the brand's mission statement and reputation within the industry. Choosing a reliable supplier can make or break your THCa flower business.
Knowing what to look for when purchasing bulk THCa hemp flower can help you make wise decisions in this rapidly growing market.
Wholesale THCa Flower Strains Available Today
With hemp becoming increasingly popular, today's market offers a variety of THCa hemp strains. These strains possess different cannabinoid and terpene compositions, each offering unique properties.
To buy high THCa flower wholesale in North Dakota or elsewhere, it is essential to understand the key features of some highly sought-after strains. Here are just some popular THCa flower strains available for wholesale purchase:
Yoda OG
LA Kush Cake
Sunset Cruiser
Baked Apple Crisp
Apple Crisp
Berries and Cream
The demand for wholesale THCa flower in North Dakota has surged, showing that consumers are more informed and searching for hemp products with specific cannabinoid profiles. This highlights the importance of wholesalers providing a range of THCa flowers, enabling customers to find what they need while expanding the reach of the ever-evolving hemp industry.
How to Store Bulk THCa Flower in North Dakota's Climate
Buying wholesale THCa flower online or at a local store in North Dakota requires understanding how to store them in the Peace Garden State's climate. Temperature control is vital for preserving potency and quality, as extreme fluctuations can degrade hemp products.
Additionally, humidity must get managed to avoid mold and dryness.
Lastly, keep the THCa flower in a dark and secure location to limit its exposure to light and prevent accelerated degradation.
With these strategies, one can ensure the therapeutic properties of bulk cannabinoids remain intact.
How Much Does Wholesale THCa Flower Cost?
Prices for bulk cannabinoid products can vary greatly, with three tiers of offerings – Light Dep Pound at around $1,250-$1,500, Standard+ Indoor Pound between $1,500-$1,800, and Premium AAA* Indoor Pound (Bulk) up to $2,200 – covering the wholesale THCa hemp flower market in North Dakota.
The variance in these prices usually reflects the quality of hemp flower products. So potential buyers of THCa flower wholesale in North Dakota are encouraged to shop around before purchasing to get the best quality and price.
The advantages of buying in bulk are clear, yet it's important to do your research. Comparing online retailers is a great way to find the best value and get your desired quality.
Legally Transporting THCa Flower Across North Dakota State Lines
Navigating the complexities of legally transporting cannabinoid products across State borders requires a firm grasp of federal and local laws.
When businesses desire to purchase THCa flower wholesale in North Dakota, they must comprehend the nuances of transporting THCa flower across North Dakota State lines. This process requires adhering to precise rules regarding THC levels from the hemp plant to maintain its legality under State and federal statutes.
For more info on bordering states, check out the blogs below:
Verifying the sources through online stores is essential to guarantee compliance with these stringent legal regulations.
Other Wholesale THCa Products Available in North Dakota
North Dakota has various THCa products, each catering to different consumer needs and preferences. These include:
THCa Distillate: A highly potent THC form that's gone through a distillation process.
THCa Concentrates: Ultra-pure THCa Diamonds are commonly used by medical patients seeking high doses.
THCa Infused Products: Edibles, tinctures, and topicals enriched with THCa for varying effects.
Understanding these options can help investors make informed decisions when investing in North Dakota's growing THC market. With real-world value backed up by factual data, the advantages of investing in this market are clear and potentially lucrative.
Benefits of Buying Bulk THCa Online
Buying bulk THCa products online has plenty of perks, including convenience, a huge selection of hemp flower products, and the potential to save money. Shopping online eliminates the need for physical stores so that you can browse for the best deals any time of day. Plus, online vendors offer detailed descriptions and third-party lab reports so you can rest assured that the product you're getting is safe, effective, and potent.
Here's a breakdown of the benefits of buying bulk THCa online:
Convenience: Avoid trips to the store and save time by shopping online.
Selection: You'll have access to an array of high-THCa flower products, giving you plenty of options to compare and choose from.
Cost Savings: Buying in bulk often comes with wholesale prices, helping you save money.
Transparency: Third-party lab reports provide information on the quality standards and potency of the product.
Rather than dealing with the hassle of going out, you can enjoy the convenience and affordability of purchasing THCa online. This method allows for informed decisions, so you can find the hemp flower product that suits you best.
The Promising Opportunity for THCa Flower Retailers
The popularity of hemp-derived products presents a golden chance for THCa flower retailers. Consumers are becoming more and more aware of the potential benefits of THCa-rich cannabis and hemp buds, and the demand for these items is growing.
Retailers specializing in THCa buds can take advantage of this opportunity and potentially see significant economic returns. But providing top-notch products is critical for success. Quality assurance goes beyond simply offering the best buds; it means adhering to strict testing protocols to ensure products are safe, potent, and up to all regulatory standards. To ensure consistently premium experiences, partner with a reliable THCa wholesale partner like BioWellnessX.
Doing so will build customer satisfaction and loyalty, helping retailers discover their place in the ever-competitive THC industry.
Final Thoughts: Buy THCa in North Dakota
THCa flower has immense potential for retailers in North Dakota. The laws around it necessitate due diligence, but sharp business owners can correctly source and store it in bulk. Factors such as strain selection and shipping are also essential. With the proper techniques, North Dakota's market for THCa flowers could be a great asset to its economy.
It's important to note that North Dakota's climate for THCa flower retail is unlike any other. Its unique conditions create a tremendous chance for those who can capitalize on it. With the correct strategies, you can start a successful business.
Ready to get into the THCa flower game and want a reliable partner? Fill out our THCa flower wholesale form here, and we'll get back to you shortly.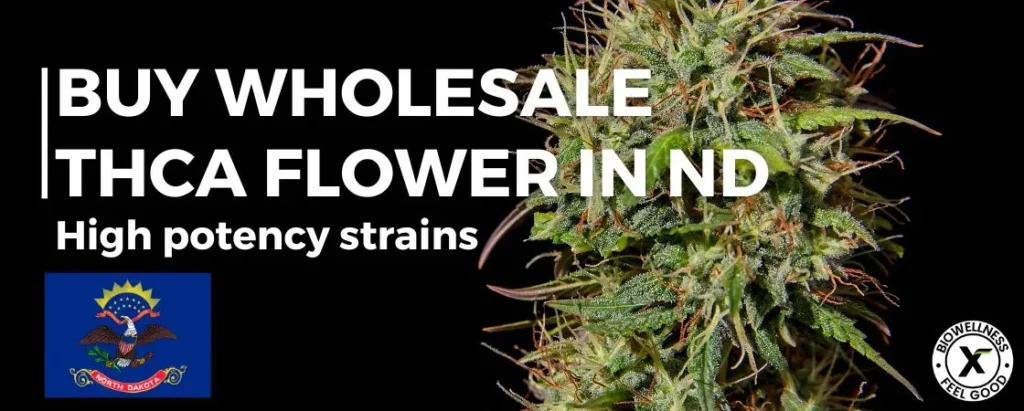 Legal Disclaimer:
By reading this information presented, you agree to release the author of any liability that comes from using this data. This post contains no legal advice. Claims about cannabinoids have not yet been approved by the FDA. Read the full legal disclaimer here.
Other Articles About THCa Flower
Curious if you can get THCa flower wholesale in other states? Check our State posts below:
References:
FAQs About Wholesale Hemp Flower
How is the quality of THCa flower determined, and can it vary between batches?
Determining the quality of the flower is based on a few key factors, like cannabinoid content, terpene profile, and physical attributes. Variations between batches can occur due to various growth conditions, genetic strains, and harvesting practices.
How can I ensure the safety and purity of the THCa flower I purchase?
Testing for contaminants such as pesticides, mold, and heavy metals is vital in guaranteeing the safety and purity of THCa flower. A certificate of analysis (COA) from an accredited laboratory is also essential to verify the product's cannabinoid content and purity.
What is the typical shelf-life of THCa flower, and does it lose potency over time?
THCa flower typically has a shelf-life of 6-12 months when stored correctly. Over time, its potency may diminish due to the conversion of THCa to THC. To preserve potency, keeping it in a cool, dark space and away from light is wise. Additionally, using airtight containers for storing can help protect the flower from any outside elements.
Are there any unique challenges or considerations when cultivating THCa flower in North Dakota's climate?
The icy winters and brief growing seasons mean indoor cultivation methods, such as hydroponics or greenhouses, are necessary for year-round production and flourishing plants. These methods bring many benefits, including increased yields and higher-quality harvests, not to mention higher profits for growers.
What is THCa Flower?
THCa flower or THCa hemp flower is a term used to describe cannabis buds with a high concentration of THCa. THCa is the raw, acidic precursor to THC. So when heated through smoking, vaping, or cooking, THCa flower converts to THC and offers a potent psychoactive experience.