Are you looking to score a sweet deal on Delta-8 in North Hollywood? You're in luck! This blog post will be your guide to the best places to buy Delta-8 and help you find the goods that will send your taste buds into another dimension. If you're ready for an adventure, then get ready set go; let's explore some awesome deals on Delta-8 THC in North Hollywood.
Main Key Points
Delta-8 THC is legal in NOHO!
Delta-8 THC is sold online and in stores in NOHO.
Hemp-sourced Delta-8 is federally legal, containing less than 0.3% Delta 9 on a dry weight basis.
Delta-8 can help with anxiety and also help stimulate the appetite of some customers.
California is a great State to get your hemp-derived cannabis products.

Where Can I Buy Delta-8 THC in North Hollywood, CA?
Ready to take your THC experience up a notch? If so, then it's time to check out some Delta-8 products in local stores and online. From vape cartridges and tinctures that'll have you feeling all kinds of relaxed to edibles loaded with flavor, we've got something for everyone!
The Fast and Easy Way to Get Your Delta-8 THC!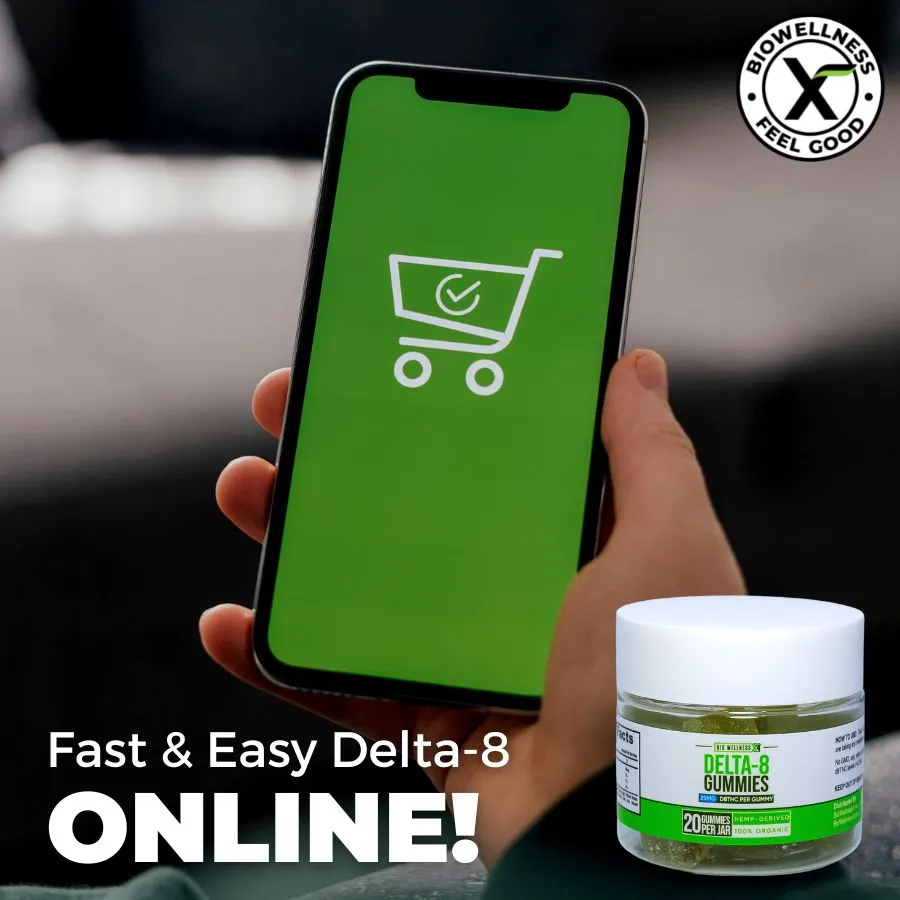 Online ordering can save you time and money on high-quality Delta-8 THC!
Shopping for Delta-8 THC online makes you the master of your own destiny! No pressure from pesky salespeople and lower prices than your usual cannabis dispensary with its large sales tax.
Plus, shopping with a click of a button and without leaving your home is always fun!
Take the stress out of buying Delta-8 by getting your goodies online; relaxation and satisfaction are guaranteed!
At BiowellnessX, our commitment to excellence means you can trust that all of our products will meet the highest standards every time. Additionally, our great service and our money-back guarantee are a huge plus!
For residents in the San Fernando Valley or near Burbank, Glendale, Northridge, and the North Hollywood areas, we offer same-day delivery service. Woo Hoo!
Can I Buy Delta-8 THC in Person?
Of course, you can buy your Delta-8 THC in person! If you need a quick fix, head on over to North Hollywood dispensary, your local CBD shop, head shop, or wellness store. Just ask to see their COA so you can know that their cannabis products are legit. No more worrying about getting hustled!
Listed below are a few hot spots in and near North Hollywood, California, that sell Delta–8 THC.
Local Shops Where You Can Buy Delta-8 in North Hollywood, CA:
iLyfted NoHo – 11669 Vanowen St, North Hollywood, California 91605
Project Cannabis – 10842 Magnolia Blvd, North Hollywood, California 91601
Budega NoHo Dispensary – 5041 Lankershim Blvd, North Hollywood, California 91601
Green Studio – 5637 Cahuenga Blvd, North Hollywood, California 91601
The Kind Center – 1944 N Cahuenga Blvd, Los Angeles, California 90068
Sun Valley CareGivers – 11000 Randall St, Ste E Sun Valley, CA 91352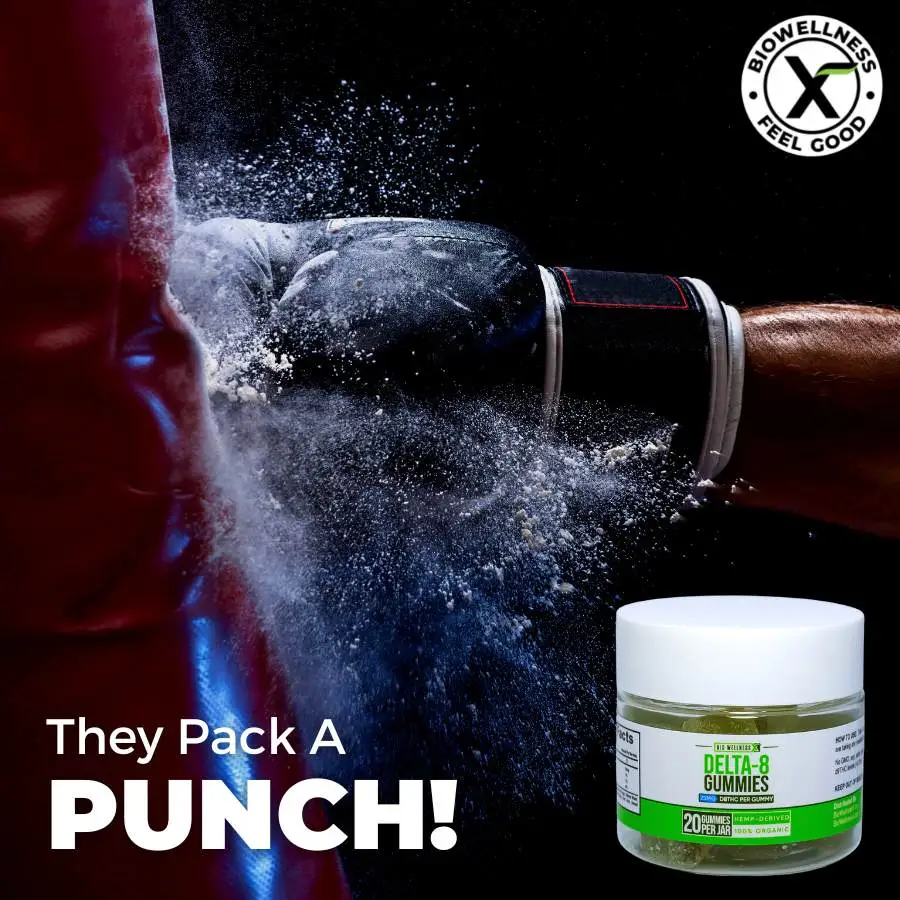 Delta-8 THC: Tiny, Mighty, and Packs a P-U-N-C-H!
If you've ever been to a dispensary in Los Angeles, you've probably heard of Delta-8 THC, but did you know that it's not just your run-of-the-mill cannabis?
Delta-8 is a rare cannabinoid in cannabis plants with lower psychotropic potency than regular THC.
Studies show that Delta-8 has neuroprotective properties and anti-inflammatory properties too!
Plus, instead of feeling anxious and tripping out, the worst-case scenario is just a really relaxed nap. So considering all that this cannabinoid can do, who said getting high was always bad?
What Are The Benefits of Delta-8?
Delta-8 THC is gaining popularity thanks to its ability to provide a milder experience than traditional Delta-9 THC.
Research shows that this cannabinoid has numerous therapeutic properties, including relief from anxiety, pain, and even nausea! So whether you're new to the world of cannabis or an old-school enthusiast now looking for something slightly different, consider giving Delta-8 a try.
What Does The National Cancer Institute Have to Say About Delta-8?
As defined by the National Cancer Institute (NIH), Delta-8 can be defined as an analog of THC with antiemetic, anxiolytic, appetite-stimulating, analgesic, and neuroprotective properties.
D8 binds to the cannabinoid receptor CB1, located in the central nervous system aiding with the relief of many symptoms of anxiety, pain, and more.
What Are The Side Effects of Taking Delta-8 THC?
Delta-8 may cause some people to feel dizzy, and a feeling of dry mouth is probably the most common complaint you'll hear about this type of cannabinoid.
What Kind of Products Can I Find in North Hollywood, CA?
You no longer need to wander aimlessly around the dispensary, wondering what to buy. Instead, take control and make a knowledgeable selection when it comes to uncovering the perfect cannabis product for you.
Don't worry if you don't know where to start; just check out our handy list below and pick something that catches your eye. Your ideal cannabis product is just waiting for you – go get it!
Find our full list here of D8 products!
The Legalities Of Delta-8
Hemp-sourced Delta 8 is federally legal, containing less than 0.3% Delta-9 on a dry weight basis.
Thank god for the hemp plant! The federal government and Cali recognized its medical potential and legalized hemp-sourced products containing less than 0.3% Delta-9 THC of total dry weight. So yes, D8 is legal weed!
Final Thoughts – Where to Buy Delta-8 in North Hollywood, CA?
So, there you have it, the best hot spots to buy Delta 8 THC in NOHO. Be sure to check out all of the options (including us, BiowellnessX) and find the one that is right for you. Our products and our one-of-a-kind service will have you coming back for more!
Order online and get 15% OFF when you use a coupon code, plus free shipping and a 60-day money-back guarantee. We accept all major credit cards.
Legal Disclaimer:
By reading this information presented, you agree to release the author of any liability that comes from using this data. This post does not constitute legal advice. Claims about cannabinoids have not yet been approved by the food and drug administration FDA. Read the full legal disclaimer here.
References:

FAQs About Delta 8 In North Hollywood, CA.
Are Delta 8 gummies and other edibles legal in California?
Yes, because of California's current State laws and regulations, Delta 8 THC gummies are available and legal, as long it's hemp-derived, and the total Delta 9 stays below 0.30% on a dry weight basis.
If California permits both recreational and medical marijuana, what's the difference?
Products from cannabis flower for the medical and recreational markets are basically identical. The variance rests in the quantity of cannabis that can be purchased and the allowable dosage.
Can I take Delta 8 THC while taking medications?
If you have a medical condition or if you are using medications, you should ask your physician before taking any THC or CBD products.