Is the Hawkeye State a cannabis-friendly state?
In general, Iowa's legal status surrounding THC and the cannabis laws are pretty confining. Iowa makes it clear that In general, Iowa's legal status surrounding THC and the cannabis laws are pretty confining. Iowa makes it clear that cannabis is illegal—so much so that they've created specific rules to ban its use. Is hemp-derived Delta 8 THC legal in Iowa? Let's take a look at Iowa's current hemp laws.
Main Points
Oh, No! Delta 8 THC is not legal in Iowa.
Delta 8 THC has little to no psychoactive effects.
You can still find hemp products with less than 0.3% THC legally under the 2018 Farm Bill.
Iowa is a state that is not in a rush to legalize hemp for recreational use.
The DEA's report states that "all synthetically hemp-derived tetrahydrocannabinols remain Schedule I controlled substances."

Is Delta 8 THC Legal in Iowa?
Sadly, NO! Delta 8 THC is not legal in Iowa.
The Controlled Substances Act does not make an exception for hemp-derived THC's in the state of Iowa despite it being federally legal when extracted from industrial hemp.
What Is Delta 8 THC And Why Is It Popular?
Delta 8 THC is a hemp derivative found in the cannabis plant and used in consumable hemp-related products nationwide. For example, Delta 8 can be used as an oil-soluble liquid, making it helpful to consume because it isn't soluble in water. The compound also has potential medicinal benefits, such as intractable epilepsy or neuropathic pain, making Delta 8 THC appealing to those with specific physical ailments. However, the FDA has yet to approve, so it's all based on user cases and recent studies.
Delta 8 THC also has no psychoactive effects, or at least so tiny that the user does not feel it, and it can be ingested orally and has few unpleasant side effects.
Delta 8 THC is a type of THC that does not cause the same euphoric high as Delta 9 THC. It also does not produce any anxiety or paranoia, which shows in higher levels of THC. As reported by users, Delta 8 THC's "high" is more subtle and without the intense anxiety and paranoia caused by high-THC strains. However, you are still dealing with a potent compound with a similar chemical structure as D9, so everything with balanced.
Can you overdose on Delta 8 THC? No, you cannot. However, if you take too much, your body can react to it and cause anxiety.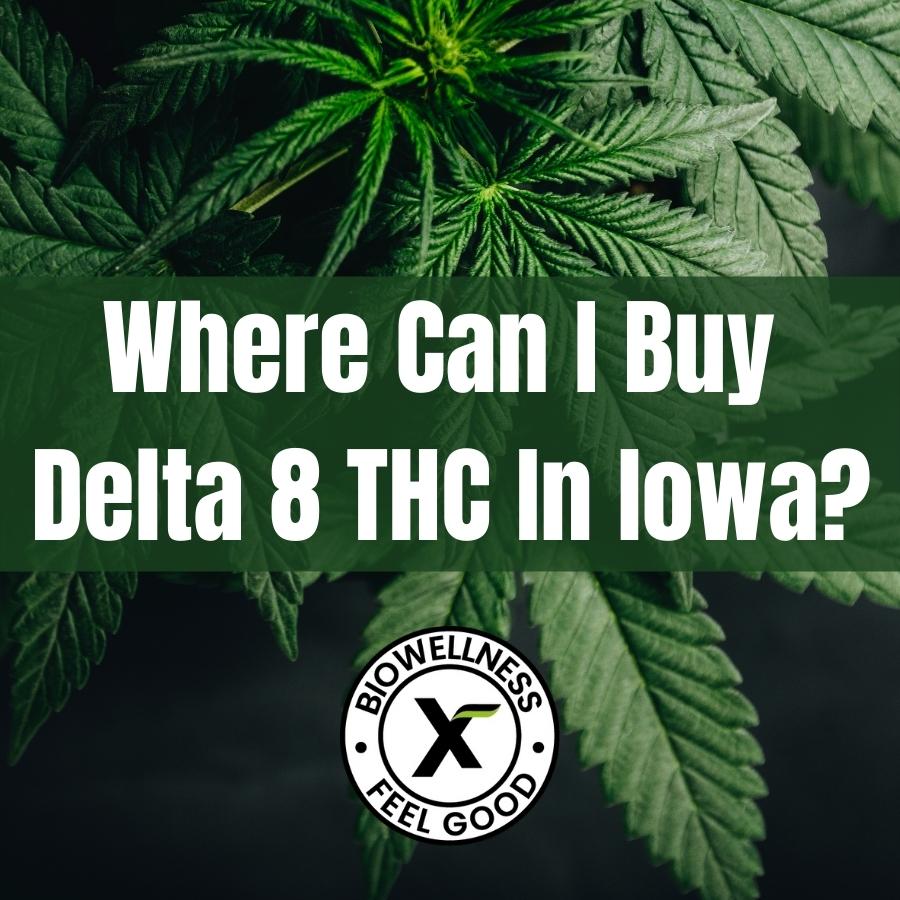 Where Can I Buy Delta 8 THC In Iowa?
The state laws in Iowa have a complicated relationship with cannabis. All cannabis products are not legal for recreational use in the state.
Due to federal law, some people can still sell and buy hemp-related products with less than 0.3% THC legally under the 2018 Farm Bill (Hemp Farming Act.)
However, this situation is different for hemp-derived Delta 8 THC as all tetrahydrocannabinols, their derivatives, and isomers, and such salts are considered controlled substances under current state law.
Can I order Delta 8 THC online in Iowa?
Are you looking for a quality supplier to ship Delta 8 THC products to Iowa? Unfortunately, you won't find one. However, if you live in any of its surrounding states, the case might be different if you want to purchase delta 8 THC legal.
That's because (as mentioned above) the Iowa state law is so strict towards industrial hemp production that it has banned all synthetic substances, making it hard to find a supplier. But more importantly, we recommend against ordering Delta 8 THC online because it's a controlled substance and is illegal in the state and punishable by law.
Iowa is a great place to live, but the state has lagged on legalizing all of the benefits of the hemp flower.
Eventhough Delta 8 THC is Illegal in Iowa, you can still purchase hemp related products.
BiowellnessX is committed to providing the best hemp products available. We offer a wide variety of high-quality CBD gummies made with our proprietary formula.
If you are looking for something a little stronger, check our full spectrum CBD gummies or Full Spectrum Oils with naturally occurring THC. The total Delta 9 THC is below 0.3% dry weight basis and offers great relief.
We believe that the Cannabis plant is the future of wellness. And selling hemp that follows the federal government regulations so you can feel safe and secure when consuming such plant. We provide you with time-tested, high-quality products you can trust. When buying from us, you're buying directly from the maker and know the ingredients of each product.
The Legalities of Delta 8 THC in Iowa
Iowa has a complicated relationship with the hemp plant, also known as the plant Cannabis Sativa. Because the state doesn't make an exception for hemp-derived THC in their Controlled Substances Act, Delta 8 THC is illegal in Iowa.
The state of Iowa lists all THC, synthetic equivalents, derivatives, and isomers with a similar chemical structure and pharmacological activity as illegal.
Iowa does not seem to be in a rush to legalize hemp for recreational use. Iowa legalized hemp-derived CBD products with less than 0.3% THC back in 2014, but only for people suffering from a qualifying condition defined by the federal hemp law.
Legalizing CBD products with less than 0.3% THC was essential to more widespread legalization. Still, it's not enough to satisfy some advocates who are pushing the Hawkeye State to legalize recreational marijuana too.
Federal Hemp Law and Delta 8 THC
Delta 8 THC is a synthetically derived tetrahydrocannabinol manufactured from hemp-derived cannabidiol. It's legal to buy and sell these products because of a loophole in state laws, but more states are cracking down on it is mainly because Delta 8 THC can cause intoxication.
The main reason for this crackdown is that Delta 8 THC is an intoxicating cannabinoid, and people don't want it sold in grocery stores or other public places where children can get their hands on it.
Delta 8 is a potent THC compound extracted from hemp-derived cannabinoids in the cannabis Sativa hemp flower. It's rare to find Delta 8 THC in its natural form, and when you do, it's only in trace amounts. So how does this happen? Manufacturers either use Delta 9 THC extracted from the cannabis plant and chemically convert it into Delta 8 THC – hence the name Delta 9 to Delta 8 conversion process or just "Delta."
You've probably heard that most hemp derivatives on the market are infused with D8 THC made from chemically altered hemp CBD, which is often being used as a reliable method when manufacturing Delta 8 THC.
Cannabis is a plant with many parts, one being the compound known as cannabidiol (CBD). CBD has many therapeutic properties and can assist with various ailments, like offering relief.
But when you extract CBD from the Cannabis plants, the other chemical compound tetrahydrocannabinol (THC) can also be found in the mix.
Isomerization is a chemical process that converts one molecule into its different forms – in this case, Delta 8 THC.
The DEA Rules and Delta 8 THC
The DEA announced in 2021 that it might be scheduling any substances containing cannabidiol (CBD), including CBD-dominant hemp under the Controlled Substance Act (CSA), so we'll keep monetizing.
Hemp is a booming industry in the United States and has been for years, and it's only going to get bigger. The overall cannabis industry is said to grow to $90 billion dollars by 2026, but as with any new thing, there are some legal hurdles to overcome before hemp and CBD can be entirely accepted. One of those hurdles is the DEA schedule. Whether or not this compound should be considered a synthetically derived tetrahydrocannabinol (THC) or an analog thereof.
The DEA has released an Interim Rule defining the legality of hemp-derived tetrahydrocannabinol. The DEA's report states that "all synthetically derived tetrahydrocannabinols remain Schedule I controlled substances." This means any compounds with THC are not legal by law and cannot be sold legally in the U.S. market.
However, an argument can be made for Delta 8 THC because it is hemp-derived and falls under the protection of the Hemp Farming Act. Also, DEA cannot set a rule to whether delta 8 THC is legal or not. It would have to go through congress for that rule to be final.
What does all this mean for hemp producers? We will have to wait and see if and when Iowa Law loosens up.
Comparing Delta 8 THC To Delta 9 THC
Delta THC is a molecule that binds to cannabinoid receptors in the brain and elsewhere. THC has two primary forms, including Delta 11, which can only be found naturally in minimal quantities in cannabis plants or synthesized for research purposes. Delta 11 shows up in the body after it's been broken down.
It cannot bind as efficiently as Delta 9 THC leading some people to say this form of THC is inactive if consumed at low doses. However, studies have shown no difference between the effects of delta 11 THC and regular marijuana when Delta 8, like Delta 9 (regular THC), binds to your body's endocannabinoid system and causes you to feel high. Chemically, Delta 8 and Delta 9 are similar in that they both have a double bond in their structures. This double bond is thought to produce the intoxicating effects that make you feel high.
Delta 8 THC is a minor cannabinoid and can only be found in minimal quantities in the hemp plant, which is why most utilized CBD isolate to convert it over to THC.
Delta 8 is chemically similar to Delta 9, the main psychoactive component of cannabis. While Delta 8 binds to the endocannabinoid system slightly differently, more research is needed to see whether it is less potent than regular THC.
States Where Delta 8 THC Is Banned
Due to different cannabis laws in various states, several have decided to ban or regulate Delta 8 THC.
Currently, Delta 8 is prohibited or has strict rules in 14 states: Alaska, Arkansas, Colorado, Delaware, Idaho, Iowa, Montana, New York, Nevada, North Dakota, Rhode Island, Vermont, Utah, and Washington.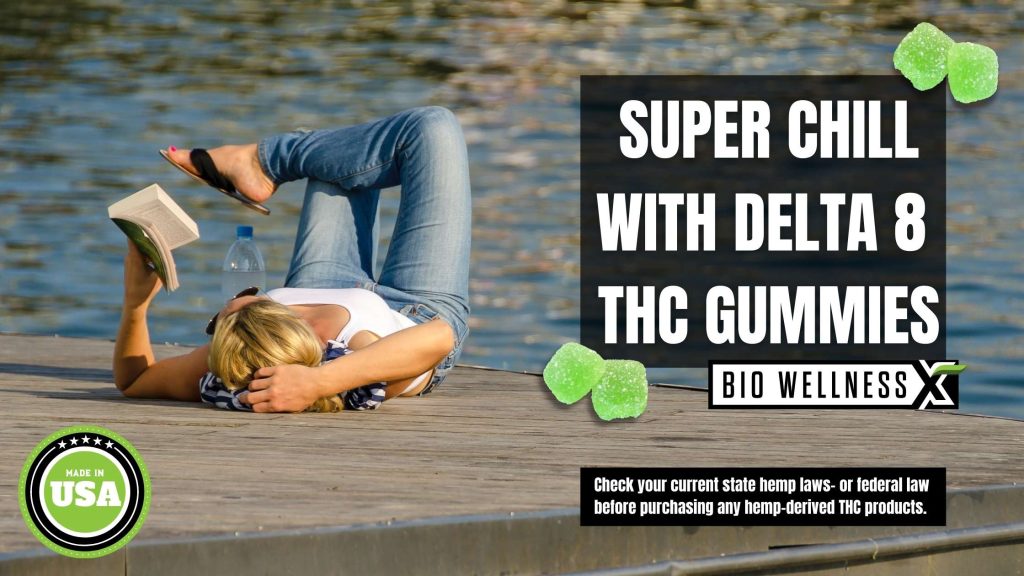 Final Thoughts
With the laws being so restricted in the state, we recommend not purchasing any cannabis-related products until the rules allow. Now that being said, you can still buy products with a max of 0.30% THC dry weight basis, or check out our Non-detectable CBD products that are legal in the Hawkeye State.
If you are in a state where rules are less strict, check out our delta 8 products.
References:
LEGAL DISCLAIMER
The legalities surrounding Delta 8 THC are constantly changing. We continuously work hard to do our best to give you the most updated information. We recommend that you always check your current state hemp laws- or federal law before purchasing any hemp-derived products (CBD, THC) in Indiana. The data in this post is not intended as legal advice nor to diagnose, treat or give any medical advice. In any event, do your due diligence and always seek your doctor's advice, especially do if you are in doubt or are currently taking any prescription medications. Safer than sorry is always a great idea when taking new products.