Do you live in Minnesota? Looking to try Delta 8 THC but aren't sure if it's legal? This article will help you explore the world of Delta 8 THC and other CBD and hemp-derived cannabinoid products in Minnesota.
More importantly, where to buy some of Minnesota's best THC products that comply with the current law? Let's explore.
Is Delta 8 THC Legal In Minnesota? Did the state loosen up?
The state recently opened its laws and regulations for hemp-derived Delta 8 THC products, which means Delta 8 THC products are currently legal.
Minnesota's hemp laws clear the way for the sale and possession of Delta 8 in the state. The state's definition of legal hemp complies with the federal definition, which includes hemp-derived extracts, cannabinoids, isomers, and hemp derivatives, making Delta 8 THC legal in Minnesota as long the total Delta 9 THC is below 0.30% total dry weight.
Minnesota allows Delta 8 THC to be sold as an industrial legal hemp plant product. Sales and manufacturing must follow strict guidelines set out by the department of agriculture if a company wishes to sell, distribute or manufacture Delta 8 THC products, plus it has to originate from industrial hemp material or hemp byproducts only.
The new hemp laws come with restrictions you need to be aware of.
No more than 0.3% total THC is allowed, with five milligrams of THC per serving and an upper limit for total package weight at 50mg THC or less. No one under 21 years old may purchase these items, either!
New labeling requirements have been added to keep everything more transparent, plus, more importantly, avoid the intoxicating effects this compound can offer on larger doses.
We feel this is the right step towards a safer market and progress for the state. The new restrictions took effect summer of 2022.
That means you, as a consumer, can purchase Delta 8 hemp products; however, it comes with the above limits. The state has very similar laws and regulations as its neighboring state Iowa.
Is High THC Cannabis Plant Legal In Minnesota?
Seven years ago, Minnesota passed the Minnesota Medical Cannabis Act legalizing certain forms of medical cannabis (medical marijuana) for qualifying patients on a minimal basis.
The state only allows patients with a state-issued Medical Marijuana card can access certain forms of cannabis, like capsules, tinctures, and vaporizers; however, flower and edibles were not allowed until 2021 and the summer of 2022.
In 2021 the legislature extended the law to allow medical cannabis patients to smoke the flower, and effective Aug 2022, infused edibles such as gummies and chews were now allowed. The same law allowed hemp-derived edibles, as mentioned further up.
As per federal law, possessing any amount of marijuana is illegal on a federal level. This puts the state of Minnesota at risk of losing federal funds if they were to enact recreational cannabis legislation, which would continue to keep marijuana illegal on a federal level.
Where To Buy Delta 8 THC In Minnesota?
Delta 8 THC is readily available in retail stores across Minnesota but might be limited after the recent hemp law. For those reasons, online might be the best source for buying your Delta 8 THC and hemp products.
If you decide to adventure out and visit a local store, here are a few tips to help you find high-quality products, but more importantly, make sure what you buy complies with Minnesota state law.
Ask questions when visiting a store. Look at the label, and ask for a lab report of the product to ensure the cannabinoids and potency advertised on the label match.
Take a closer look at the ingredient list. What do you see? Does it say corn syrup on there? Maybe you can find any artificial flavors in there? Go as clean as possible, and don't let the low price fool you.
Do the store offer any discounts if you are a first-time customer? Or what about a money-back guarantee if you do not like what you bought?
Be smart with your selections, and use the above tips.
Want to know more about Delta 8 THC edibles? Check this review.
Shop Online With Benefits
Shopping online can come with many benefits if you know where to look. As with retail and online, you'll find many lower-quality brands which you want to stay clear of. Especially when dealing with a potent compound like THC.
List the top benefits of shopping online:
Great deals – most places offer first-time discounts.
Access all the info needed about the product
Fast shipping (even free shipping)
Read reviews; what do others say about the product? Do you shop on Amazon without reading reviews?
Access to lab reports of each product. Please take a peek and secure it matches the product label.
Money-back guarantee. Some offer 30 or even 60 days.
Excellent customer support – get your question answered. The quickest way is to call their customer service number.
Buying Delta 8 THC online has extraordinary benefits. One of the reasons is that you can buy directly from a specific brand or manufacturer instead of purchasing through a third-party vendor, which will benefit you financially in most cases.
If shopping online is your jam, check out our best-selling Delta 8 THC edibles.
What's The Legal Age To Buy Delta 8 THC?
With Minnesota's recent legal status update, you cannot purchase any hemp-derived THC products unless you are 21 or above. However, online you can still shop even if you are below. However, most places do make you confirm your age. If you get caught, it could end up in some strict punishments from Minnesota lawmakers.
Final Thoughts – is Delta 8 legal in Minnesota
Now that we know Delta 8 is legal in Minnesota, it's time for you to figure out where to buy it. Do you visit your local retail smoke shop or shop online? One way or another, the new good is you can get your hemp product even when living in this state without worrying about getting into issues with the law. As we state above, restrictions apply, so be smart with what you buy and from who.
Got more questions? Give us a call today, and let's guide you in the right direction.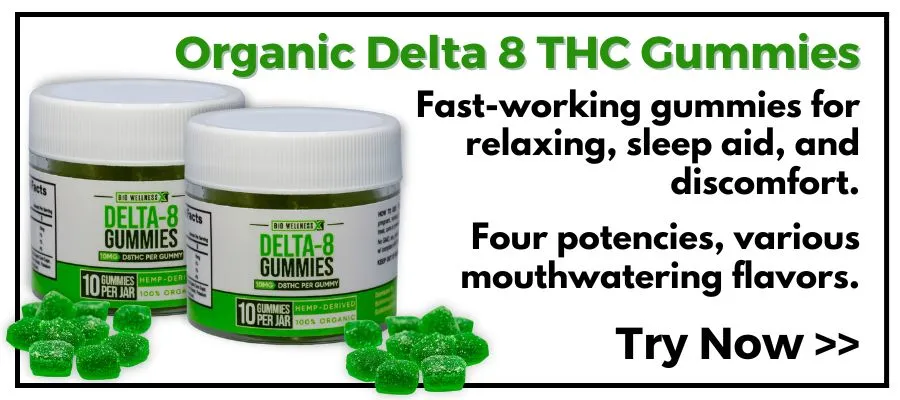 References:
Minnesota law wipes out delta-8 but sets high limit for THC in hemp foods –https://hemptoday.net/minnesota-law-wipes-out-delta-8-but-sets-high-limit-for-thc-in-hemp-foods/
Is Delta 10 THC legal in Minnesota – get the latest update – https://biowellnessx.com/delta-10-minnesota/
Legal Disclaimer:
The efficacy of hemp-derived Delta 8 and CBD products has not been confirmed by FDA-approved research. These products are not intended to diagnose, treat, cure or prevent any disease. All information presented here is not a substitute or alternative to health care practitioners' knowledge, especially with prior medical conditions. Before using any product, consult your healthcare professional about potential interactions or complications.
Frequently Asked Questions (FAQ)
Can I Take Delta 8 If I Have A Medical Condition?
First, you should always seek your doctor's advice before taking any products, as they might interfere with some prescription medications.
What Is The Best Delta 8 Product To Take?
It depends from person to person. Some people like to vape, whereas others have a bigger sweet tooth and prefer gummies or edibles. Others don't like either and prefer the oils. Delta 8 comes in many variations, so it's just a matter of figuring out which method you want.
Is Delta 8 Better Than Delta 9?
Delta 8 THC isn't necessarily better than Delta 9-THC. Delta 8 has all of Delta 9's benefits, PLUS Delta 8 THC products are federally legal in most states and are available through legitimate sources.
Will I Feel High From Consuming Delta 8?
It depends on a few things. To answer the questions, yes, you might feel a euphoric feeling. However, it will not be like you consuming Delta 9 THC. Find your balance and start slow so you better understand the effect of what Delta 8 might do for you and your body.
Will I Fail A Drug Test?
Since Delta 8 is a THC compound, the short answer is yes, and you will fail a drug test as it will likely show up as THC.