Delta 8 THC is currently legal in Ohio, meaning those who enjoy hemp (whether it's with hemp-derived THC or without) can finally get their hands on this mildly potent cannabinoid. But before you go ahead and get yourself some, make sure you understand the legalities behind it, as there are a few essential points you want to understand.
Let's also look at some of Ohio's best places to score some Delta 8 THC and determine if Delta 8 is legal there too.
Key Elements
Delta 8 THC is a minor hemp cannabinoid present in the plant Cannabis Sativa.

Delta 8 THC is around half the potency of Delta 9.
Federal law doesn't explicitly define "synthetically derived tetrahydrocannabinols."
Ohio state law states that hemp is a legal crop.

Is Delta 8 Legal In Ohio?
Absolutely, YES!!
Delta 8 THC is legal in Ohio, and it's been for a while now.
In June 2021, Ohio's state Medical Marijuana Control Program (MMCP) released its guidelines for Delta 8 THC sold in medical marijuana dispensaries; however, as you can read, it does not regulate any products sold in non-dispensaries. As a consumer, that means you are still allowed to purchase Delta 8 products in stores and online.
New To Delta 8 THC? Here's A Brief Overview.
You may have heard of CBD, as you can find it nationwide. Since then, various other cannabinoids have gained in popularity, and in the last few years, one of them is Delta 8 THC. Delta 8 is a minor hemp cannabinoid present in the cannabis plant with less than 0.1% concentration. Because of its minimal amount in the cannabis plant, many utilize an extraction- or isomerization process to convert cannabinoids as CBD isolate into Delta 8 THC.
Delta 8 THC is around half the potency (and a similar chemical structure) of Delta 9 if consumed at equal doses. But unlike its stronger twin, this compound produces a mild intoxication without the feelings of intense anxiety or paranoia like some other cannabinoids can do in specific individuals who consume them at high doses, for instance!
Delta 8 has also been known to have similar effects as an Indica strain, which means you can expect it to work as a sedative, which in some cases can be related to the couch lock feeling when consumed in higher doses. Others have found this a great natural alternative for bettering sleep patterns and mild discomfort.
Where To Buy Delta 8 In Ohio?
The demand for Delta 8 THC has been rising, but which supplier can you trust? With so many CBD stores and shady companies, quality CBD products are hard to come by in Ohio; it's easy to get confused about where your hemp-derived cannabinoids might come from.
It would be best if you didn't buy your Delta 8 THC from gas stations or convenience stores because they offer products that haven't necessarily been screened for quality or product safety. Instead, try an online company like BiowellnessX to ensure what you get is worth it!
Getting your Delta 8 product online might be your best bet!
In a world where THC and CBD products are becoming increasingly popular, it's not surprising that there are different options for purchasing hemp products. You might even find some of BiowellnessX's products in these stores!
However, considering how expensive maintaining an actual retail space can be with costs like rent or inventory, etc., I recommend checking out our website. BiowellnessX is an online store that offers high-quality hemp products at competitive prices.
We only use natural ingredients, and for our Delta 8 gummies, you will find that we only use real fruit flavors, which you immediate can taste when you eat one of our edibles. All products are only made and shipped within the USA, and you get a 60-day money-back guarantee.
Besides buying online, you can also pop into a local dispensary to find the hemp products you need.

Listed below are cities that have dispensaries for you to check out.
Columbus
Youngstown
Parma
Canton
London

Delta 8 THC, The Legalities Surrounding This Fantastic Hemp Product!
Ohio has officially legalized Delta 8 THC products and all cannabinoids, derivatives, or extracts with less than 0.3 percent THC on a dry weight basis. The law was enacted in 2019, so now you can purchase some legal hemp without a prescription or a medical marijuana program patient card. For a detailed walkthrough of the medical marijuana program in Ohio, go here for details.
The State of Ohio updated its Controlled Substances Act to exclude "tetrahydrocannabinols found in hemp and products made from it" from the list of controlled substances. Meaning Delta 8 is legal to possess within the state boundaries if derived through traditional hemp cultivation methods.
To the satisfaction of many, despite being a Schedule I drug, Delta 8 THC is readily available for sale in Ohio.
According to state law, this means that it has no possession limits and cannot be legally possessed by anyone under 21 years old, though most retailers choose their own age restrictions when selling these types of hemp products.
Further State and Federal Laws Details Surrounding Delta 8 THC
Federal Law: The US federal law delayed its response to regulating the hemp industry for a while. As it developed, businesses started exploring new and exciting products made from this plant, leading us here today with Delta 8 THC.
Delta 8 is synthetic tetrahydrocannabinol (THC) made by converting CBD. Chemically converting one compound into another can put it in a different category than what you would find with naturally occurring THCs.
The federal law doesn't explicitly define "synthetically derived tetrahydrocannabinols," but there's a possibility that Delta 8 made from CBD can be considered one.
State Law: Ohio state law states that hemp is a legal crop. The law defines hemp as a cannabis plant, Sativa, with a concentration of no more than 0.3 percent Delta 9 THC on a dry weight basis. Furthermore, hemp cultivation is allowed for commercial, research, and personal use.
The Ohio General Assembly passed Senate Bill 57 in 2016, decriminalizing hemp and set up a pilot program for cultivation and processing.
Ohio Dept. of Agriculture
The Ohio Dept. of Agriculture states that hemp is an agricultural commodity grown in Ohio.
The department also says that it is working with the federal government and the United States Department of Agriculture (USDA) to develop a national pilot program for growing hemp.
The Farm Bill removed all hemp from the Controlled Substances Act, thus making it legal to grow across the United States. However, each state has the authority to create its program regulating hemp cultivation. The Ohio Dept. of Agriculture is currently developing a state program in coordination with the USDA.
Hemp is a multifaceted plant that can be used for many purposes, including making textiles, building materials, and food products. Hemp also has a high yield per acre, and it can be grown in various climates, out and indoors.
There are many benefits to growing hemp.
There are some restrictions on growing hemp, though. Hemp cannot be grown within 500 feet of a school or residential area and must be registered with the Ohio Department of Agriculture.
There are also restrictions on the THC levels in a hemp plant. Hemp plants must have a THC level of 0.3% or less to be considered legal.
The Ohio Dept. of Agriculture is committed to working with farmers and other stakeholders to develop a booming cannabis industry in Ohio. The department is also working to educate the public about the benefits of hemp and the laws surrounding its cultivation.
Final Thoughts – Is Delta 8 THC Legal In Ohio
As you can see, Delta 8 THC is a wonder with many benefits. It's been legal in Ohio for quite some time now, and we sure hope it will stay that way. If you live in Ohio, get your hands on some of this stuff! The feedback we get some our customers is nothing less than impressive.
Try our best-selling Delta 8 gummies. They are currently being offered in 10mg, 25mg, and 50mg, and for the more experienced user, we also offer our 100mg Delta 8 Gummies.
We offer many other Delta 8 products if gummies are not your jam.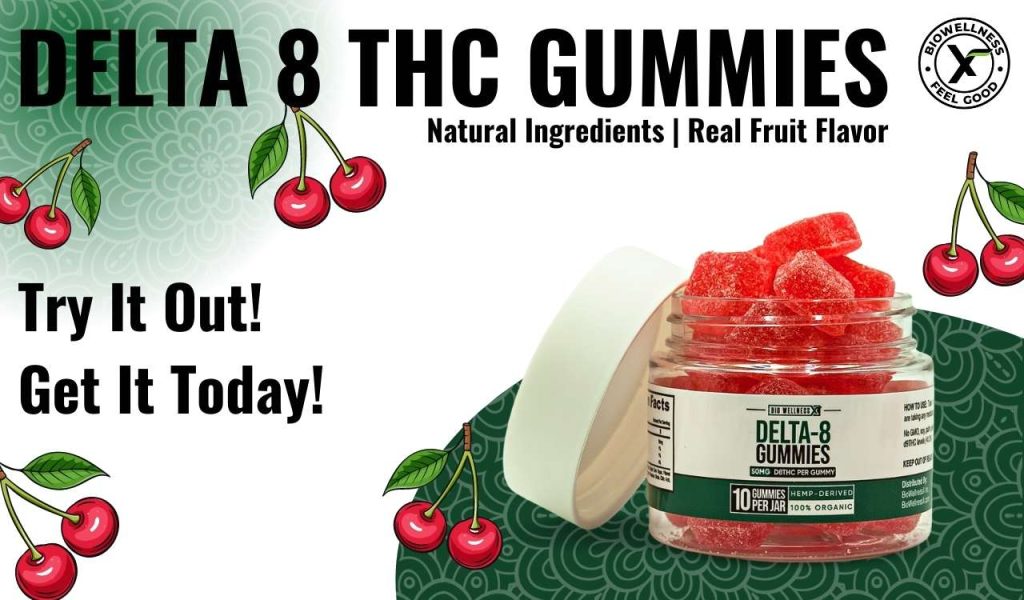 References:
LEGAL DISCLAIMER
By reading this legal information, you agree to release the author of any liability related to or arising from your use of this data. This post contains no legal advice. The legal status surrounding Delta 8 THC, Delta 9 THC & Delta 10 THC is new and constantly changing. We continuously work hard to do our best to give you the most updated information. We recommend you always check your current state or federal hemp laws before purchasing a hemp product (CBD, THC) in Ohio. The data in this post is not intended to diagnose, treat, cure or give any medical advice. Do your due diligence and always consult your health care practitioner's advice, especially if you are in doubt or are currently taking any prescription medications. Safer than sorry is always a great idea when consuming new products.

FAQs About Delta 8 THC In Ohio
Can I take Delta 8 if I have a medical condition?
Always get your doctor's advice before taking any cannabis products.
How will I know a Delta 8 product is safe?
When shopping around for Delta 8 THC products, check for third-party lab testing, company reputation, customer reviews, return policies, customer services, price and value, and hemp source. A reputable brand should have nothing to hide. From hemp source to lab testing to customer reviews and product ingredients, all information should be available for you to view. 
Is Delta 8 legal in all 50 states?
Delta 8 THC is federally legal. Each State has the right to develop its own rules regarding hemp. Many states already have put a limit on what is allowed to be sold or not. According to the Farm Bill, Delta 8 is legal nationwide.
Will Delta-8 make you high?
Even though Delta 8 is said not to have any psychoactive effects as its cousin Delta 9 THC, it still has a level of intoxication effect that resembles a high feeling.
Can you fail a Drug test when consuming Delta 8 gummies?
Sorry to bring you the "bad" news, but since Delta 8 is a THC compound, it will appear on a drug test. So if you have a test coming up, we advise you to stay away from ANY THC compound.