Hey Pennsylvanians, have you ever asked yourself if Delta 8 is legal where you live? Well, don't worry – we are here to answer that very pressing question!
We totally get it; with new laws and terminology popping up daily, it can be hard to track what's allowed and what's not.
So if you've been wondering, "Is Delta 8 legal in PA?" look no further – this blog post has your back! So buckle up – if you're from or visiting PA and are looking for an invigorating ride, then read on for everything you need to know about Delta 8 THC!
Main Key Points
Delta 8 THC sourced from hemp plants is legal under federal law and in Pennsylvania.
Recreational Marijuana is illegal and strictly regulated in PA!
Pennsylvania became the 24th state to legalize medical Marijuana with the passage of Senate Bill 3.
Reputable brands that produce medical Marijuana and hemp products always test their products for safety.
Medical marijuana cards can cost up to $200.
Is Delta 8 Legal in Pennsylvania?
Pennsylvania updated its controlled substance list, and Delta 8 THC is legal in Pennsylvania. All hemp-derived cannabinoids that adhere to the federal Farm Bill 0.3% Delta-9 THC cap, including Delta 8, are permitted in Pennsylvania.
In 2018, industrial hemp was legalized by the federal government, but each state governs hemp differently. In Pennsylvania, the Pennsylvania Department of Agriculture regulates all aspects of the industrial hemp program.
Industrial hemp is a variation of the plant cannabis species that contains less than 0.3% THC on a dry weight basis. THC is the psychoactive ingredient of Marijuana that produces the "high" feeling. Because Delta 8 falls under this category, it is federally legal.
Where Can I Buy Delta 8 in PA?
Pennsylvania's got options! Not only can you find Delta 8 in your favorite local store, but why not shop online?
Never buy hemp-derived products from gas stations; you never know what you'll get!

Buy Delta 8 THC Online in Pennsylvania!
Shopping online is like having a secret treasure trove of goodies – you get to go on an adventure, uncovering great finds and eventually finding that perfect something!
Skip out on the shopping lines and get all the THC goodness delivered straight to your doorstep hassle-free!
Shop Locally For Delta 8 THC in The Keystone State
Are you looking to get your hands on some Delta 8 THC in Pennsylvania? Your search is over! If you live in or near any one of these cities, pop into one of your favorite smoke shops or CBD stores.
Hermitage
Harrisburg
Johnstown
Williamsport
Enola
Hanover
Latrobe
Bethlehem
Carlisle
East York
Shopping locally vs. online?
Yeah, you can shop locally, but why would you when you can get a better deal online AND shop from the comfort of your own couch?
BiowellnessX offers a massive selection of hemp products, free shipping, and a money-back guarantee. Plus, our products are tasty!
Many stores can sell hemp, but the right stores can sell you much more!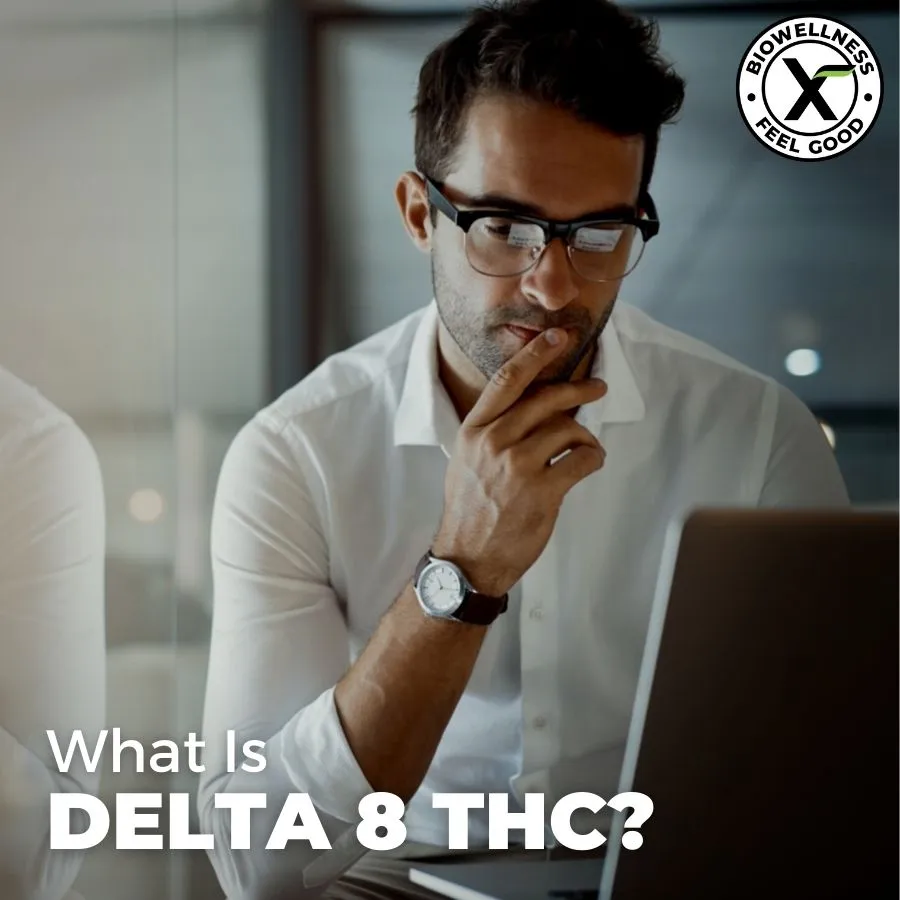 What Is Delta 8 THC Anyway?
Let's get down to the nitty-gritty!
Delta 8 THC is the current hot trend in the cannabis world, but what exactly is it anyway? Well, Delta 8 is a minor cannabinoid present in hemp – and while it has a similar chemical structure to Delta 9 THC, its psychoactive effects are much milder.
Proponents of Delta 8 call it "the good kind of high" because instead of full-on euphoria, you get an uplifting buzz with fewer paranoia and anxiety side effects.
Looking for an alternative treatment to prescription drugs? Try Delta 8!
Some consumers have turned to D8 for its reported milder side effects, and because of the State's complex cannabis landscape: accessing medical Marijuana can be time-consuming and costly.
What Are The Effects of Delta 8?
Delta 8 THC may be a milder form of THC, but don't let that fool you into thinking it's not powerful! This all-natural ingredient offers an Indica effect without the extra intensity that sometimes accompanies edibles and higher concentrations of Delta 9.
In other words, Delta 8 is like the little engine that could; its psychoactive effects may not be as big as Delta-9, but its benefits sure are! So if you're looking for some chill vibes or to catch some quality Zs, give Delta 8 a try.
Are there any side effects from consuming Delta 8 THC?
If you're thinking about trying Delta 8 THC, it's essential to know about potential side effects. We can't promise this information won't make you pause and wonder – but don't worry too much!
The most common side effects include feeling relaxed, having an increased appetite, experiencing mild dizziness, or feeling euphoric.
In most cases, these side effects are relatively mild if experienced – but are reminiscent of being high on 'regular' THC. You could call them the `unexpected bonuses` when consuming Delta 8 THC. Be sure to keep that in mind if you decide to give it a go!
*Always follow the directions on the bottle to get the best results.
Is Marijuana Legal In PA?
Recreational cannabis remains illegal in the State, but if you absolutely need to get your hands on some recreational marijuana, a few cities have made it relatively un-punishable with their decriminalization policies.
Check local and State laws so you know where to go; the legal consequences can be detrimental if you are in the wrong jurisdiction.
But What About Medical Marijuana?
Pennsylvania became the 24th State to legalize medical cannabis with the passage of Senate Bill 3.
Pennsylvania is one of the many states that has taken a step towards legalizing medical Marijuana; however, don't let this fool you – recreational cannabis remains completely illegal.
Pennsylvania's medical marijuana program allows potential medical marijuana patients access to medicine, but not for recreational purposes – as distribution remains strictly prohibited.
How do you get it? Well, you first must find a doctor who can prescribe medical cannabis and then register with the state's medical marijuana program by paying a fee and obtaining a medical marijuana card.
This card surprisingly does not come free – medical marijuana card cost can be anywhere up to $200 – so if you plan on smoking cannabis flower for fun, you better save yourself some cash and try some Delta-8 products that don't require a medical card.
Final Thoughts – Is Delta 8 THC legal in Pennsylvania?
So there you have it, folks! Delta 8 THC is legal in PA. If you're looking to buy some, check our website for the best selection and prices of Delta-8 THC products.
Thanks for reading, and happy hemping!
Related Topics:
References:
Agriculture Improvement Act- PA Farm Bill
Legal Disclaimer:
By reading this information presented, you agree to release the author of any liability that comes from using this data. This post does not constitute legal advice. Claims about cannabinoids have not yet been approved by the food and drug administration FDA. Read the full legal disclaimer here.
FAQs About Delta-8 In Pennsylvania
Can I have Delta 8 THC shipped to Pennsylvania?
Currently, Pennsylvania does not have laws prohibiting the shipment of Delta 8 products within its borders. First, ensure that your product offers less than 0.3% Delta-8 THC to avoid any legal trouble.
Second, check the shipping policy of the company you're ordering from, as some companies may only ship to Pennsylvania if it is explicitly allowed by law.
Will Delta 8 make you high?
When taking Delta 8, one may feel more relaxed than usual and have a slightly heightened sense of well-being.
It is essential to remember the potential effects of any substance before consuming it and to start with a small dose if possible.
Are there any serious health risks associated with taking Delta 8 and other hemp products?
As with anything, there is always a possibility of health risks; you must follow all of the directions on the bottle and remember to start with a small dosage.
Is Marijuana legal in Pennsylvania?
When it comes to recreational Marijuana, the production and distribution remain strictly illegal, and Marijuana sold illegally can get you some heavy fines. However, hemp-sourced Delta-8 can be a great alternative.