From Liberty State Park To The New Jersey Shore. Does The Jersey state love hemp-derived cannabinoids? The main question many are wondering about is, Is Delta 8 THC legal in New Jersey?
Well, if you're one of the many cannabis users living in New Jersey, rejoice!
Delta 8 THC is legal in your state.
This means that you can get your hands on the Delta 8 gummies that are flying off the shelves across the country. These gummies are legal and come with a host of benefits that are sure to improve your quality of life. Read on to find out about this wonderful product!
Main Keypoints
Undoubtedly YES! Delta 8 THC is legal in New Jersey.
Delta 8 and Delta 9 THC differ in their chemical structure.
Buying Delta 8 THC online is a great way to get all your favorite hemp-derived cannabinoids in one place.
It's best to avoid buying Delta 8 THC products at gas stations for several reasons.
If the hemp plant consists of less than 0.3% Delta 9 THC on a dry weight basis, it's considered legal and can be used in human and animal consumption products.
NJ Law states that Delta 8 THC and other hemp-derived THCs are not considered controlled substances.

Is Delta 8 Legal In New Jersey?
Undoubtedly YES!
Delta 8 THC is legal in New Jersey, like any other hemp product.
As long the federally defined THC level is below 0.30%, you can shop till you drop.
A Quick Rundown Of What Delta 8 THC Is
Now that we know Delta 8 THC is legal in NJ let's talk about what it is. While Delta 8 THC (a mildly psychoactive hemp cannabinoid) is only found in small amounts in the hemp plant, it offers a perfect balance. More about that is below. The percentage that this cannabinoid takes up compared to other cannabinoids present within hemp plants is very little, at less than 0.1%.
This is the main reason many started to convert hemp extract such as CBD isolate to hemp-derived THC, utilizing chemical processes that have caused quite a bit of controversy.
The difference between Delta 8 THC and Delta 9 THC lies in their chemical structure.
The two tetrahydrocannabinols have a similar but not identical composition, which results in different effects on the body. At the same time, one may cause anxiety or paranoia – like with most potent cannabis plants – the other will leave you feeling calm yet clear-headed instead! Many today have found Delta 8 to be the perfect evening gummy that offers a more relaxed feeling to enhance sleep, help with body aches, and more.
Delta 8 THC acts more like a cannabis Indica, whereas Delta 9 works more like a Sativa.

Now we understand a little more about what Delta 8 is, let's look at where you can get your hands in this compound. Handcrafted hemp products are available for purchase at certified dispensaries and shops around New Jersey.
For the best experience, go with a licensed company that uses quality hemp in their Delta 8 THC products and offers certificates of analysis on all products sold, including the THC concentration and potency levels! That way, you know the federally defined THC level is correct, so you don't purchase an unlawful product.
You might have seen Delta 8 THC gummies and CBD-infused products such as CBD Gummies sold in gas stations and convenience stores. Gas stations especially tend to sell low-cost products and typically don't screen for quality or offer laboratory testing results. So, avoiding Delta 8 products at these places is best.
Buying Delta 8 THC online is a great way to get all your favorite hemp products in one place.
Online retailers like BiowellnessX offer an extensive selection and variety of high-quality goods at competitive prices than what you typically can find locally.
If you're "old school" and want to see your hemp-derived cannabinoids in person and buy them from a store, and if you are in or near any of the cities below, you can find various stores that sell Delta 8 THC products near you.
Cities Near Me That Sells Delta 8 THC And Other Hemp-Derived Cannabinoids:
Newark
Atlantic City
Jersey City
Cape May
Princeton
Asbury Park
Trenton
Hoboken
Ocean City
Morristown
West Orange
New Brunswick
Montclair
Wildwood
Seaside Heights
Camden

The Legalities Of Delta 8 THC In The Garden State
In a historic move, the New Jersey hemp program legalized the hemp plant, including all parts, derivatives, and those derived from Delta 9 THC concentrations not more than 0.3% on a dry weight basis for agricultural commodities exempted from the controlled substance list in New Jersey. This happened after former President Donald Trump signed the 2018 farm bill.
In New Jersey, hemp is a golden ticket. You can buy all sorts of hemp products derived from or make by processing the plant cannabis Sativa; if the plant has an acceptable hemp THC level of less than 0.3% Delta 9 THC on a dry weight basis, it can be sold for regular consumption, among other things!
In short, New Jersey has some of America's most relaxed marijuana laws. Delta 8 THC is not a controlled substance under federal law, so it falls under Hemp Regulations instead!
Jersey legalized hemp and recreational cannabis as well. The state decriminalized possession of 1 oz or less for people ages 21 and over.
Federally Law And Delta 8 THC
The Farm Bill has officially made hemp and its derivatives, cannabinoids, or isomers legal on a federal level. This means that Delta 8 THC can now be used as long as it comes from the plant Cannabis Sativa also known as hemp, and has an acceptable hemp THC level.
Unlike other cannabinoids that occur in hemp at low levels, Delta 8 takes a lot of plant material to extract. So, manufacturers have found another way to produce it by converting CBD from industrial hemp into this mildly intoxicating compound.
When the Delta 8 formula was first created, it caused quite an issue regarding its legality because it is considered synthetically derived. The cannabis community has been arguing about its legality since it saw the light of the day, with some claiming it's excellent and others saying the government will crack down on it. We sure hope that will NOT be the case!
The question is, Will Delta 8 Stay Legal?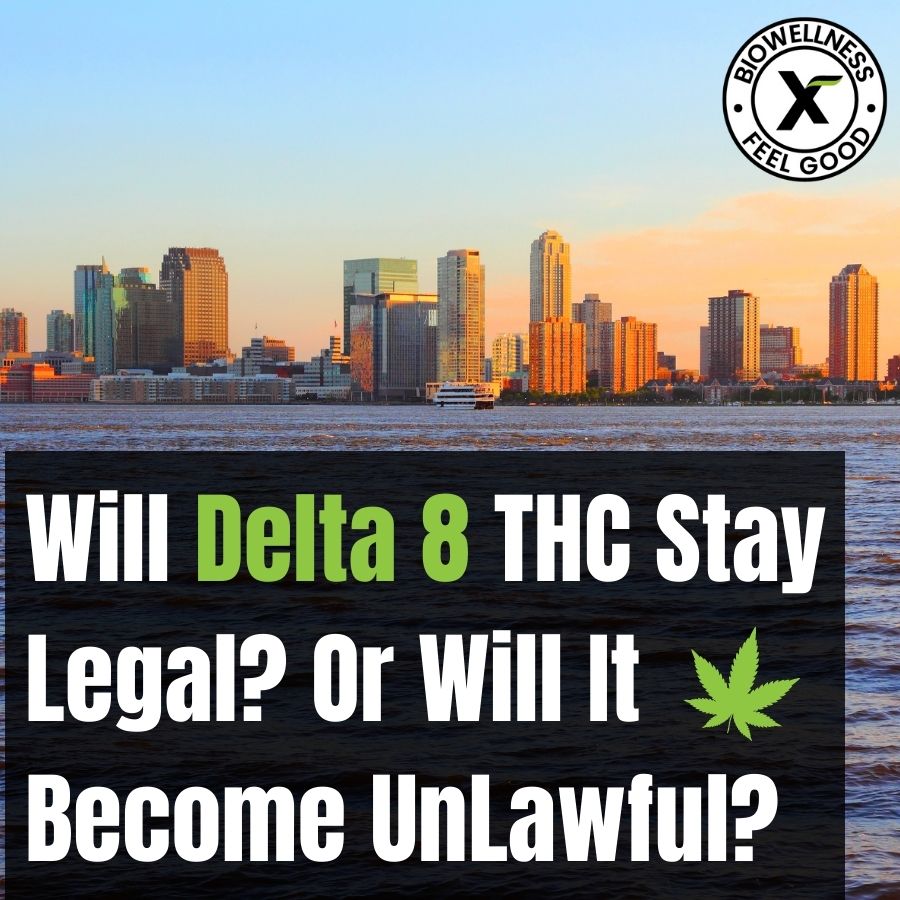 Per Federal Law, the DEA has reaffirmed the ban on producing and selling synthetically derived tetrahydrocannabinol.
As we all know, or if you didn't, now you do, Delta 8 is converted from legal hemp-derived CBD, so we hope it's only a matter of time before more states accept these as natural cannabinoids too!
Some argue that Delta 8 is not cannabis because it can be slightly intoxicating.
However, the hemp plant received federal approval due to its nourishing and non-intoxicating properties – similar traits which make Delta 8 unique among hemp-derived cannabinoids in our culture today. The opinions spread wide, and the regulations about this compound still remain somewhat in a grey area.
So far, Delta 8 is not considered controlled substances in New Jersey. This means that products that contain this cannabinoid do not have possession limits and are legal to possess and consume in the Garden State.
State Law And Delta 8 THC
Delta 8 is a chemical compound found in the cannabis plant or marijuana. A psychoactive component causes users to experience "highs," but it does not produce psychoactive effects like Delta 9 THC. For many years, Delta 8 was deemed illegal under NJ law because of its presence in cannabis.
New Jersey is the perfect place for anyone who wants to enjoy this compound. The state's definition of hemp includes all cannabinoids, extracts, and isomers, which means that Delta 8 can be found anywhere!
New Jersey Law states that Delta 8 THC is not on the controlled substances list.
Delta 8 Possession Limits In Jersey
Hemp-derived cannabinoids, including Delta 8, can be easily confused for the more potent and restricted compound – Delta 9. This happened because of New Jersey's lack of defining any limits for hemp products based on its marijuana laws.
However, without proper documentation or lab testing, it might get you in trouble with law enforcement, who may think your THC has higher amounts than what is present.
While basic laboratory testing confirms THC, extensive research is needed to differentiate between Delta 8 and Delta 9 tetrahydrocannabinol concentration, so make sure you have proper documentation on you if you are out and about.
How Does The Future Look Like For Delta 8 In NJ?
The foreseeable future looks bright for Delta 8. With its growing popularity and legality in more states, hemp-derived cannabinoids are sure to be a mainstay in the cannabis market.
Final Thoughts
We're excited that Delta 8 is legal in New Jersey, and we can't wait to see what kind of products come out of the Garden State. Until then, keep following our blog for all the latest cannabis news, and always check your local jurisdiction for up-to-date state laws.
Before you leave, make sure you check out some of our best-selling D8 products:
Best selling 25mg Delta 8 Gummies
Fastest working Delta 8 product ~ Delta 8 softgels
Our most potent 100mg Delta 8 gummies (ONLY for experienced consumers)

Buy High THCA Flower Wholesale In New Jersey

References: 
LEGAL DISCLAIMER
By reading this legal information, you agree to release the author of any liability related to or arising from your use of this data. This post contains no legal advice. The legal status surrounding Delta 8 THC, Delta 9 THC, and Delta 10 THC is constantly changing. We continuously work hard to do our best to give you the most updated information. We recommend that you always check your current state's laws or federal hemp laws before purchasing any industrial hemp-derived products (CBD, THC) in New Jersey. The data in this post is not intended to diagnose, treat, cure or give any medical advice. In any event, do your due diligence and always consult your health care provider for advice, especially if you are in doubt or are currently taking any prescription medications. Safer than sorry is always a great idea when consuming new products.
Frequently Asked Questions (FAQ)
Does Delta-8 sell in NJ?
It sure does. Based on the New jersey hemp program, you can legally enjoy this hemp-derived THC without worrying about any legal issues. One thing to keep in mind is if Delta 9 THC surpasses 0.30%, it becomes lawful to possess per the federal definition of the 2018 farm bill.
Can I buy Delta 9 in New Jersey?
Yes, the same rule stands as with Delta 8 THC. As long it's hemp-derived THC, you are in good hands. If you are looking for an alternative to D8, our 10mg Delta 9 gummies are a hit among our customers because they are about twice as potent, and they work as a Sativa, making them the perfect daytime gummy.
Are there any age restrictions when buying Delta 8?
The only requirements are that you are at least 21 and can buy and consume your legal hemp products.
Are there any adverse side effects with D8 I should know about?
The studies on Delta 8 have shown that it is generally safe, but some users have reported feeling light-headed or an increased heart rate and dry mouth after using this hemp product. THC, in general, can cause anxiety in some users, but you can avoid triggering anxiety from Delta 8 if you stay within the recommended dosage.
Will Delta 8 Get U High?
Yes, you can get a high from Delta 8, but it will not be as intense as a high you would get from Delta 9. So go ahead and enjoy this fantastic hemp-derived cannabinoid.